44 industry-focused test templates to connect with customers during COVID-19
Image
Since early March, over 1200 COVID-19-related studies have been created in the UserTesting platform. What's most compelling about these tests is the diversity of what's being tested. It's more than simply capturing how easy it is for someone to understand or comprehend something. Companies are using our Human Insight Platform to capture the unique customer attitudes and needs, emotional reactions, and buying plans in the midst of COVID-19. And the results of these tests are helping businesses to plan and understand what might lie ahead.
Although traditional methods of customer research are on pause, there are still fast and effective methods for collecting customer feedback remotely. To help you get started, or spark an idea for a new study you hadn't considered, our research team has created fully customizable test templates to help you better understand how customer behaviors, expectations, and perceptions are changing in the current environment, and likely into the future.
Customer feedback is critical in this volatile environment. Truly understanding behaviors, motivations, expectations, and needs will give companies the insight they need to pivot business models to meet shifting demands. -Janelle Estes, UserTesting Chief Insights Officer
Uncover insights with industry-focused test templates
To better understand how customers are adapting to the impact of COVID-19, we've developed 44 test templates that serve different industries like retail and grocery, travel and hospitality, restaurants and food service, and banking and financial services—even some for general business studies.
Here's a snapshot of the industry-focused questions we have created for retail and grocery.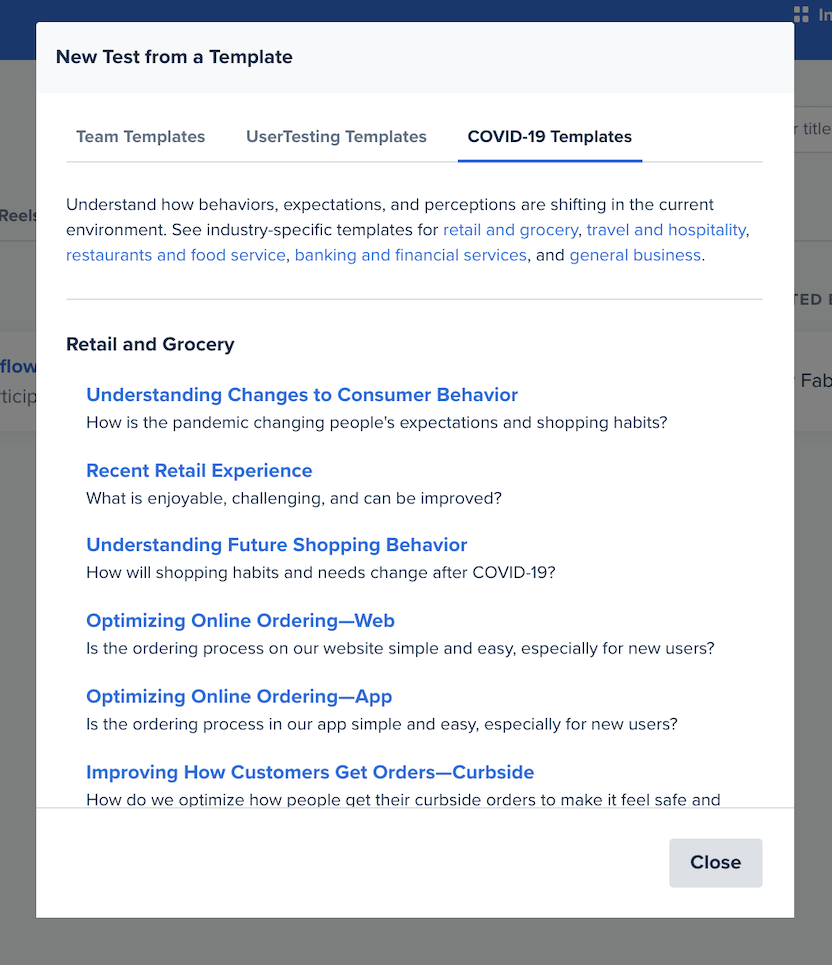 Retail and grocery
The retail and grocery templates help uncover how the pandemic is changing people's expectations and shopping habits. Specifically, how to best optimize online ordering on the web and in-app–especially for new users. 
There are also templates to help optimize how people receive their orders so it feels safe and easy—whether that be curbside, delivery, or buy online pick-up in-store (BOPIS).
Travel and hospitality
The travel and hospitality templates focus on understanding shifts in current and future behaviors, as well as recent travel experiences. For example, these templates can help companies optimize online booking and cancellation processes on the web and in-app, learn if communications around business hours of operation are clear and easy to find, and hear how people feel about a company's response to the crisis. 
Restaurants and food service 
The restaurant and food service templates explore how the pandemic is changing people's expectations and dining experiences for take-out and delivery, as well as how dining needs and behavior will change after COVID-19. 
We have built templates for testing online ordering and how customers prefer to receive their orders via delivery, curbside pickup, carryout, and drive-thru. Templates for testing loyalty programs and the best ways to encourage customer engagement are also included. 
Banking and financial services
The banking and financial service templates will help to better understand what people find challenging or enjoyable about their recent banking experiences. Test plans will also help uncover if your company's mobile banking app is perceived as valuable and compelling–especially for new users. These templates also help to uncover if people can find and understand information about operating hours. 
General business
Regardless of your industry, we urge you to listen to your customers because they're likely expecting the same or better experience and service they have come to rely on. The test plans for general business uncover how the pandemic is changing people's expectations and behaviors, and how their habits and needs are likely to change after COVID-19. 
Hear firsthand how people are reacting to your company's response, and their expectations of your safety measures. Additionally, understanding how people feel towards your business' ads and messaging will help ensure your information has the right tone and is easy to understand. 
Start using the templates now
The new templates are available within Insight Core. UserTesting customers can access them from their dashboard by selecting create from template under the new menu, and then select COVID-19 templates.

For additional guidance, follow this link for step by step instructions on how to access the new templates. Additionally, we're offering customers a complimentary 30-minute Power Session with a research expert to get things started. You can schedule your session using this link. 
Additional resources
Last but not least, here's a bonus list of resources to help you adapt and stay connected with your customers—now and in the future.
And for those who are not currently using our platform (and would like to try it out) we invite you to a free trial of Marketing Insight.
Moving from face-to-face feedback to remote methods
Watch UserTesting's Chief Insights Officer, Janelle Estes, and UX Researcher, Rosa Smith, in this recorded webinar as they share advice for building empathy for your customers, remotely, in just 3 easy steps.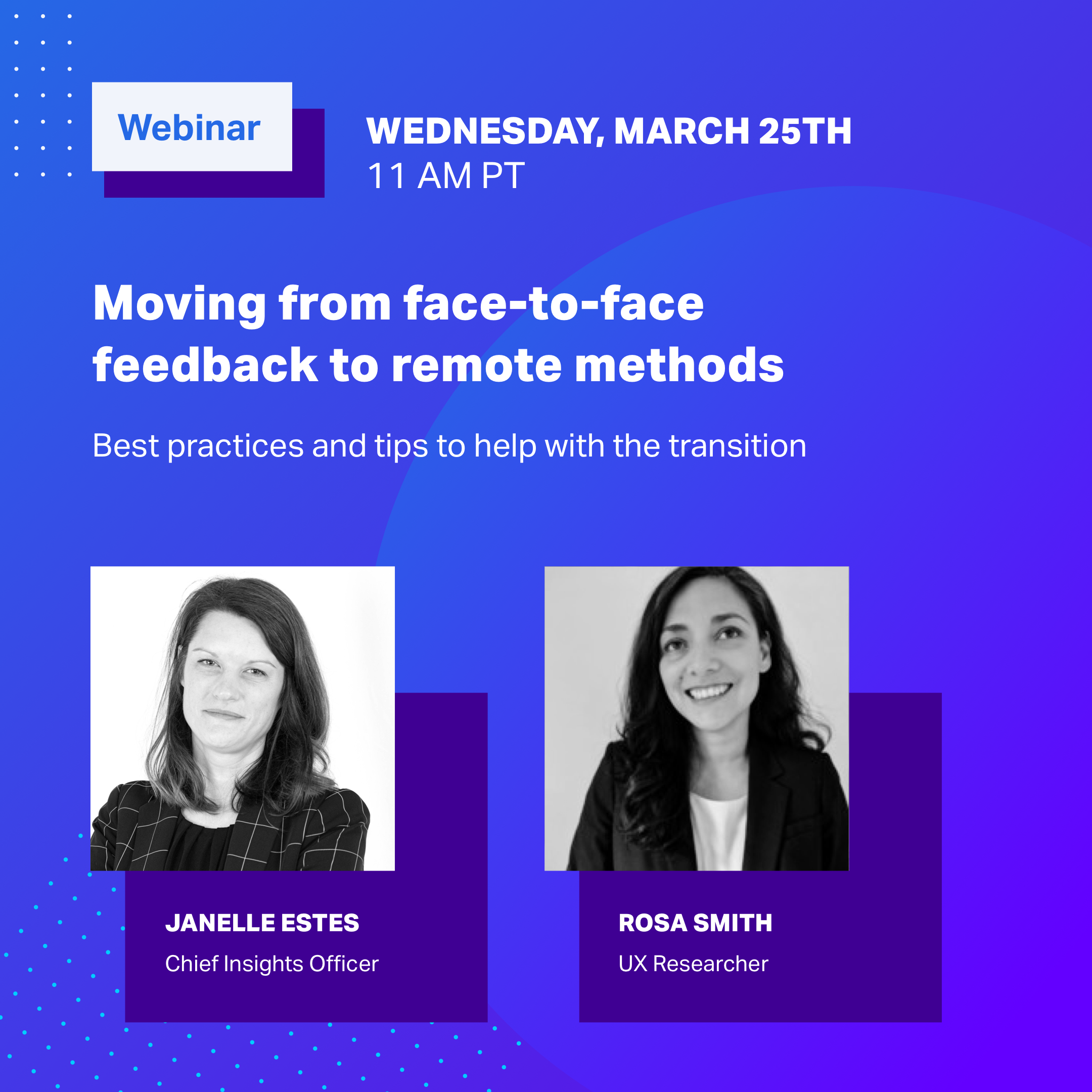 About the author(s)