Taking insights to the next level: July 2020 product releases
Image
Constant innovation for our customers is core to UserTesting's mission and our latest updates to the UserTesting platform showcase integrations and cutting-edge technology that help you extend your reach and expand the spectrum of opportunities—taking your insights to the next level.
Included in the July 2020 Product Release are the following features and updates:
Custom Network—the easiest way for you to collect feedback from your own panels within the UserTesting platform
Additional country targeting filters—so you can reach the right audience
Suggested Sentiment—increasing your speed to insights through sentiment analysis
Jira Integration—putting product feedback where your teams need it most
Camera Tasks for mobile tests—so you can be where your customers are and see everything they experience
Extend your reach with new ways to connect with target audiences
1. Custom Network
Custom Network takes the hassle out of collecting feedback from your own audiences. Create and connect with panels of your users, partners, employees, and more through the UserTesting platform. Efficiently capture insights from your ideal audience by recruiting, managing, and targeting test contributors through the platform while getting feedback through self-guided video recordings or Live Conversations.
At a glance, Custom Network allows you and your teams to:
Simplify the recruitment and management of test contributors
Target your ideal panelist on attributes that are unique to your business through custom filters
Securely get feedback from contributors while complying with even the strictest privacy legislation like GDPR
You can read the deep dive into our Custom Network release, here.
2. Additional country filters
Country demographic filters make it easy to target test contributors living in different parts of the world. Australia, Canada, India, United Kingdom, and the United States are our standard country filters that support the most frequent testing with several screener questions and multiple demographic filters. As the UserTesting Contributor Network grows from global applicants, so does the ability to target and test with contributors in even more countries across the globe.  
We are happy to announce the release of additional country targeting filters—an easy way to target test contributors in more countries. Now easily connect with contributors in Argentina, Austria, Belgium, Brazil, Colombia, Costa Rica, Denmark, France, Germany, Greece, Indonesia, Ireland, Israel, Italy, Japan, Malaysia,  Mexico, Netherlands, New Zealand, Philippines, Poland, Portugal, Saudi Arabia, Singapore, South Africa, Spain, Sweden, Switzerland, Thailand, and UAE—for a grand total of 30 additional country targeting filters.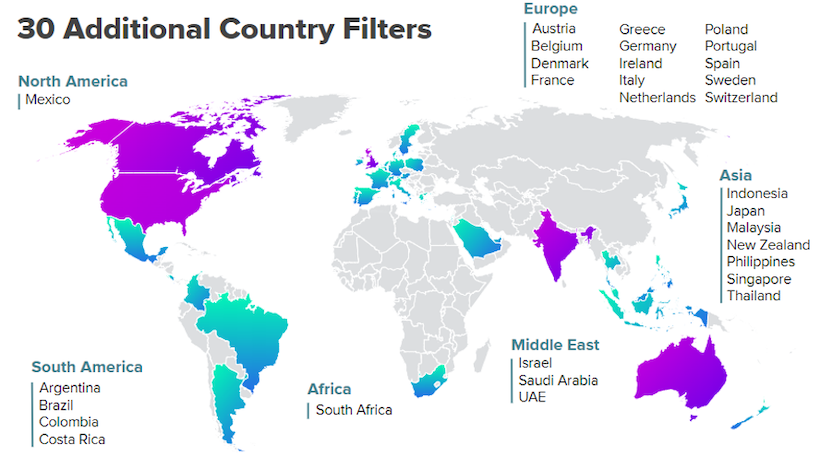 Accelerate analysis with machine learning
3. Suggested Sentiment
In April we released Sentiment Tagging. And continuing along the path of helping customers locate key moments related to sentiment, and leveraging machine learning to provide sentiment analysis at an insanely fast speed, we're pleased to introduce Suggested Sentiment.
Suggested Sentiment automatically surfaces moments of negative and positive sentiment when you are reviewing a completed session in the UserTesting video player. These machine learning-generated indications automatically highlight phrases to help you more quickly locate important and interesting moments of insight—ensuring your time is optimized and spent on high impact analysis.
You can learn more about how Suggested Sentiment works, here.
Bring insights to where decisions are made with a new integration
4. Jira Integration
It's our mission to provide product managers and developers with the technology and integrations they need to collect, share, and leverage customer insights where and when they need it most. 
Starting today, you can now share and view UserTesting video clips directly within Jira, the #1 software development tool used by agile teams, to gain immediate access to customer insights.
You can learn more about our third technical integration, here.
Take mobile testing capabilities beyond the screen
5. Camera Tasks for mobile tests
Learning about your customers' lives—where they are, what they're doing, and how they go about completing everyday tasks—yields a cornucopia of insights that helps you design targeted experiences that meet your customers' needs. 
Available later in July, improved Camera Tasks for mobile tests will provide a streamlined experience when creating tests that uses the contributor's rear-facing camera on their mobile devices. By using contributors' cameras as a direct sightline into their lives and environments, you can be everywhere they are, and see everything they encounter and experience. This is especially important these days where COVID-19 shelter in place restrictions make it impossible to run on-premise lab testing and conduct at-home visits. 
Stay tuned. We'll share more about Camera Tasks for mobile tests on our blog.
Stay up-to-date
We're excited to bring these new innovations designed to help you get feedback more efficiently and effectively than ever before. To hear more about our newest capabilities, please join our July Product Release webinar. 

If you'd like to learn more about any of these features, contact your account team or reach out to us here.
July 2020 product release webinar
Learn how we're helping customers capture better insights by extending our best-in-class testing capabilities.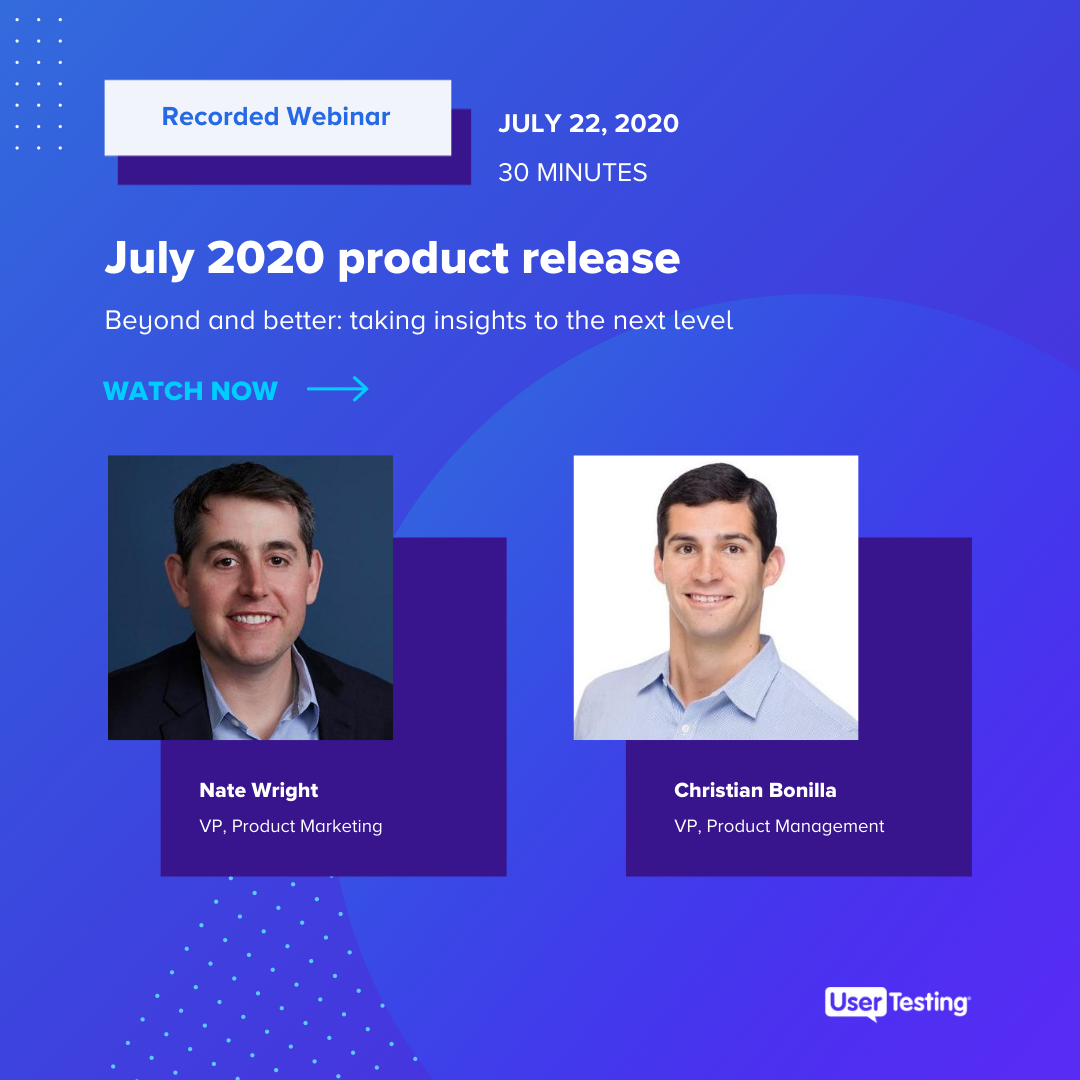 About the author(s)