Marketing Insight: quickly and efficiently helping marketers capture customer feedback
Image
Marketers play a central role in connecting products and services to customers. Quickly fine-tuning positioning, messaging, and campaigns to align with the ever-changing needs of customers, marketers must still balance business priorities like improving brand reputation, increasing customer loyalty, generating demand, driving revenue, and much more. 
As marketers, we traditionally rely on data to guide our decisions. We run A/B tests. We use robust analytics tools. We find out where customers are converting, and where they're not. We know exactly what our customers are doing.
But there's one major problem: we don't always understand why.
If you're like most marketers, you've probably seen your campaign performance or site analytics and wondered what's going on inside your customers' heads. What were they thinking when they abandoned their order? Or when they bounced from a landing page after just five seconds? Why did they unsubscribe from your email list? Would they have converted if you had a different design? Or different copy?
You may suspect you know the answers to these questions, but unless you hear it straight from the source, you're really just guessing. Now more than ever, it's critical that marketers understand their customers' attitudes, motivations, and reactions so they can understand what content will resonate with customers and what will drive them to convert.
Introducing Marketing Insight
Marketing Insight is a fast and intuitive solution that enables marketers to easily solicit qualitative feedback on any concept, campaign, or strategy from a targeted panel of customers. 
Built on top of our powerful research platform, Marketing Insight is designed to accelerate how quickly and easily marketers can build empathy for and gain a deep understanding of their customers. The platform typically delivers video feedback in under two hours and is designed for anyone—not just trained researchers—to use.
How?
Through pre-defined tests that can be launched in moments (Quick Answers), and with automatic highlight reels and pre-formatted reports that immediately identify key insights, marketing teams have the information they need—in hours instead of weeks—to build messages and campaigns that meet or exceed any customer expectation.
Marketing Insight's breakthrough features
Marketing Insight leverages Quick Answers and Live Conversation as the two mechanisms for capturing customer feedback, making it a powerful solution for marketing teams.
Quick Answers
Quick Answers are tests designed and written by research professionals to provide guidance for the most common marketing challenges.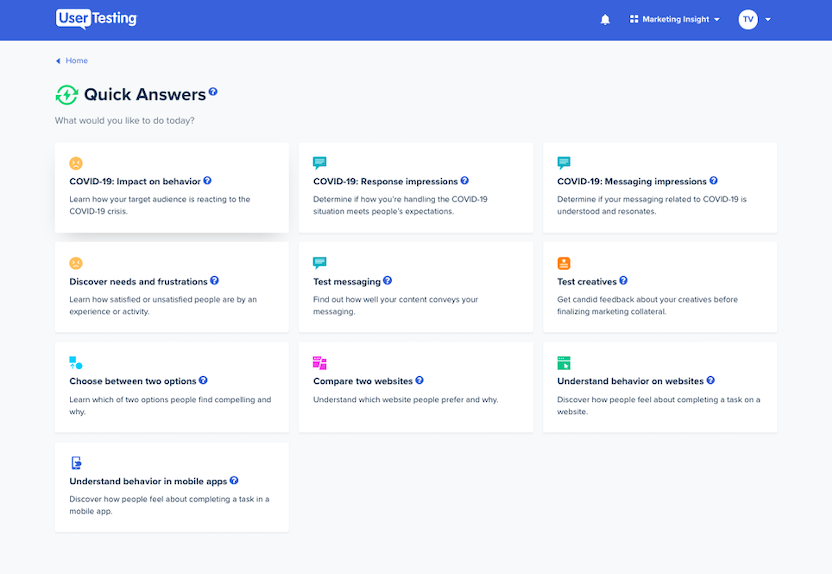 With Quick Answers, you'll get recorded video feedback of real people as they complete tasks and answer questions. The tasks and questions are written for marketers by UserTesting research professionals and are designed to reveal human insight for common marketing outputs and challenges like customer discovery, messaging, creatives, websites, competitive intelligence, and more.
After running a Quick Answer test, marketers will be able to review automatically generated highlight reels of participants explaining why they answered the way they did and review key findings in the results table below. And if a deeper analysis is required, individual sessions, which provide the full recordings broken out by question or participant, can be reviewed in detail.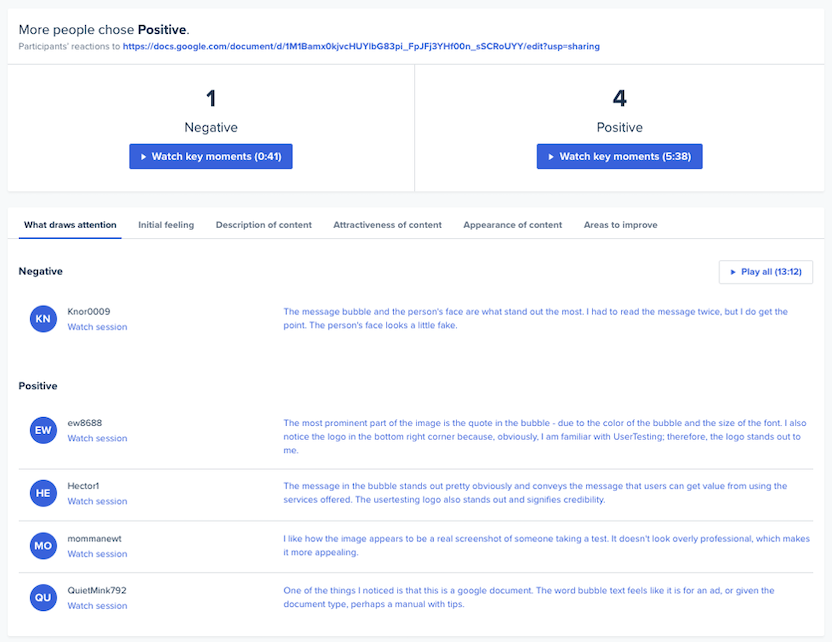 Custom Quick Answers
As part of a new Professional Services offering, marketers can also work with UserTesting research experts to create custom Quick Answers that meet the unique needs of their organizations. This includes designing the Quick Answer test plan and test inputs as well as configuring the summary table and automatic highlight reel that make identifying actionable insights so easy. 
Live Conversation
Marketers can rely on Live Conversation to get insights quickly and face-to-face, no lab required. Through Live Conversation—our remote interviewing solution—marketers can recruit and schedule live video interviews with target customers. This feature allows marketers to listen, interact, and share screens at any stage of a project—usually in under a day—so they're never without valuable feedback.
Create value with customer feedback
During our beta, we worked with over 50 customers who used Marketing Insight to gather fast feedback on everything from emails and digital ads to in-store banners and website redesigns. We heard great feedback from marketing teams about the value of customer feedback throughout the creative process to help them build better campaigns and develop a deeper understanding of what really makes customers behave the way they do. 
Samantha Tazzia, Campaign Planner at Liquid Agency, had this to say:
What makes Marketing Insight different from other platforms is that you clearly understand the rationale behind customer feedback. You can see and hear genuine moments of joy and frustration and that type of feedback is invaluable. Marketing Insight is intuitive and has been easy to use right from the start. It blew my mind to see that I was able to get so much valuable feedback in just about an hour.
Simply put, Marketing Insight is a fast, intuitive, and versatile way for marketers to capture fast feedback on any type of marketing output, and across all marketing channels—digital or otherwise.
Want to try Marketing Insight today?
Sign up for a 30-day free trial to see for yourself how real human insight can bring you closer to your customers.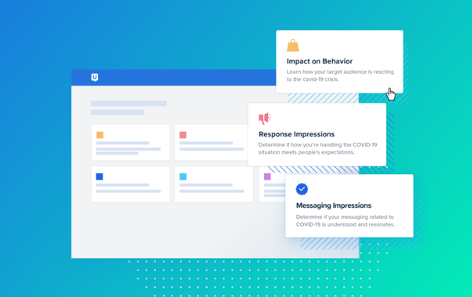 About the author(s)