Discover the moments that matter, faster: October 2020 product release
Image
If you joined us at Human Insight World (HiWorld)—UserTesting's first interactive, online CX event—you heard about our October 2020 product release first during the product keynote on our virtual stage! Nonetheless, we're excited to introduce new features for discovering critical moments on our Human Insight Platform that help you make customer-centric decisions faster. Included in the October 2020 Product Release are the following features and updates:
Interactive Path Flows—zero-in on feedback that matters at a glance with a visual summary of contributor paths highlighting trends and anomalies
Insights Summary—share feedback more easily with editable reports that automatically summarize test details and findings
Quick Answer builder—scale high-quality research across teams with pre-approved test plan
Template access control— ensure your team has the right resources by providing access to use, save, assign, and delete templates
Adobe XD Quick Answer plugin—more efficiently embed human insights within the design process by launching tests directly from the Adobe XD platform
Contributor View—gather deeper insights by capturing facial expressions and emotion as customers react to images, messaging, and other experiences

Build customer empathy by discovering moments that matter, faster
1. Interactive Path Flows
To accelerate and simplify the process of analyzing contributor sessions, we're replacing our current click-path solution with Interactive Path Flows. By representing and aggregating session paths visually (as flows), it's easier for you to identify patterns within the feedback and avoid missing key insights. With Interactive Path Flows, you get to the moments of empathy that help drive customer-centric decisions faster.
One researcher agreed that this feature cut down his time to analyze videos by as much as 50% during beta testing.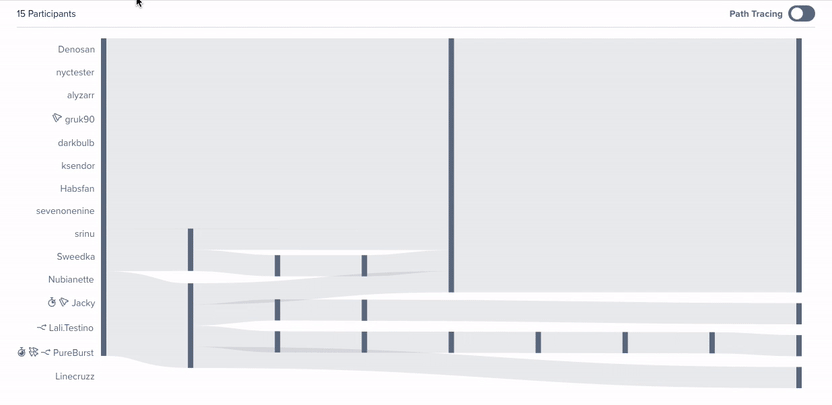 With this new view, not only are the paths aggregated into flows, but you're able to preview the contributors' every click, scroll, and input via thumbnail images of the interactions—focusing your attention on the most interesting moments. Once you've identified moments of interest, you can dive deeper into the feedback by watching the most important videos—all from within one tool. This is especially helpful when testing with a high number of contributors or evaluating complex flows. 
For more information on Interactive Path Flows, and an example use case, you can read the deep dive, here.
2. Insights Summary
Building a muscle for empathy within your organization is more easily said than done. However, with our new insights summary, effectively sharing critical insights with key stakeholders, business partners, and decision makers is now faster and easier—helping you build deep customer empathy across all teams.
The report auto-populates details from any study, like contributor demographics, notes, clips, and tags, for you to more easily summarize and share findings. The report is also highly customizable, giving you the option to decide what editable fields are included, like the study objective, summary, key takeaways, next steps, and more.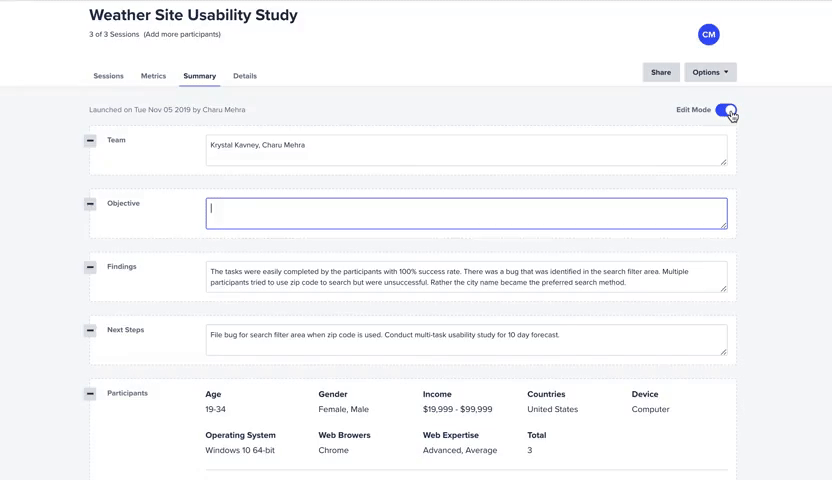 Enable teams to make smarter, faster, customer-centric decisions across the organization 
3. Quick Answer builder
Customer insights are critical to making confident decisions that put the needs and desires of your customers first. Sometimes, however, customer feedback needs to be gathered quickly—leaving little time (and bandwidth) for research teams to carry out all the requests from the business.
Introducing Quick Answer builder, our latest feature that enables researchers to deploy pre-approved test plans that anyone can use to gather fast feedback. With Quick Answer builder, researchers can designate which sections of the test plan are fixed and which can be edited when tests are launched by someone else. Additionally, they can structure the results page to streamline post-test analysis. By leveraging the Quick Answer builder, you can:
Improve productivity by reducing research support necessary to help others collect fast feedback
Accelerate time to insights by making it easier for others to launch their own tests and review feedback quickly
Drive better business outcomes by deploying pre-approved tests that avoid biases and ensure business teams are making informed decisions
4. Template access control
Researchers spend much of their lives mastering the art and science of gathering valuable insights. Much of that begins with test creation, and knowing how to avoid bias, segment audiences, craft the ideal tasks, and much more. But what could you unlock if that knowledge was shared across your organization? 
Template access control ensures your team has the right resources by providing access to use, save, assign, and delete templates—opening up the possibility for UX researchers to enable their business counterparts even faster.
With the template creator in control, you can be confident that you are providing an improved experience for business counterparts—and ensuring that only those who need or want access to specific templates receive it. This includes templates for Saved Audiences, Screener Questions, and Test Plans.
For more information on Quick Answer builder and template access control, you can read the deep dive, here.
5. Adobe XD Quick Answer plugin
The UserTesting platform empowers design and product teams to quickly and easily test their prototypes, streamline the collection of customer/user feedback, and more effectively embed human insights throughout their design process.

Coming soon, you'll have the ability to launch Quick Answers tests (e.g., to validate a prototype) directly from the Adobe XD platform. This will enable you to get feedback on your designs, leveraging Saved Audiences or Invite Network, without bottlenecking resources or requiring you to toggle between multiple tools or software.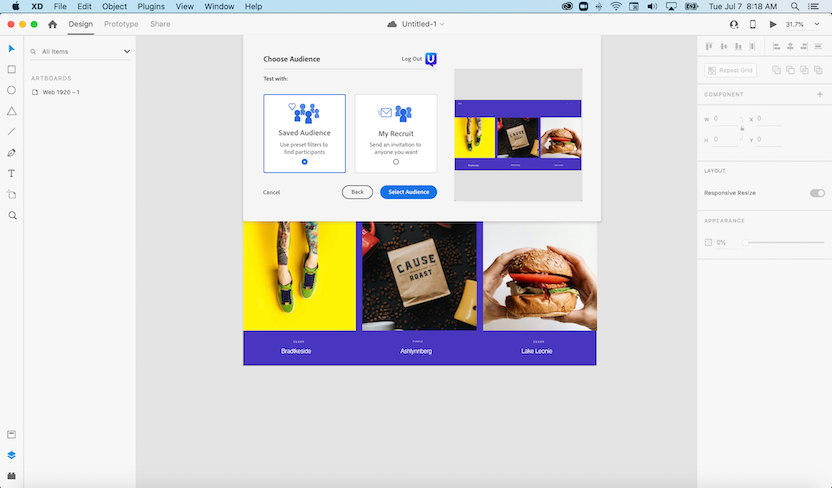 For more information on the Adobe XD Quick Answers plugin—including how it will replace the existing plugin—read the deep dive here and stay tuned for more information during the Adobe MAX virtual conference from 10/20 through 10/22. 
Quickly unlock a deeper understanding of your customers by remotely capturing facial expressions 
6. Contributor View
With our newly launched Contributor View you will see emotions and expressions right alongside the screen recording in our video player. This remote view of contributor reactions moment-by-moment is even more crucial right now, when testing in the lab isn't an option.
Contributor View is especially valuable during analysis, as you are able to create and share clips and highlight reels that display the contributor in a picture-in-picture (PIP) format. This new view is also extremely helpful when working to build a shared understanding of customer emotion among your stakeholders.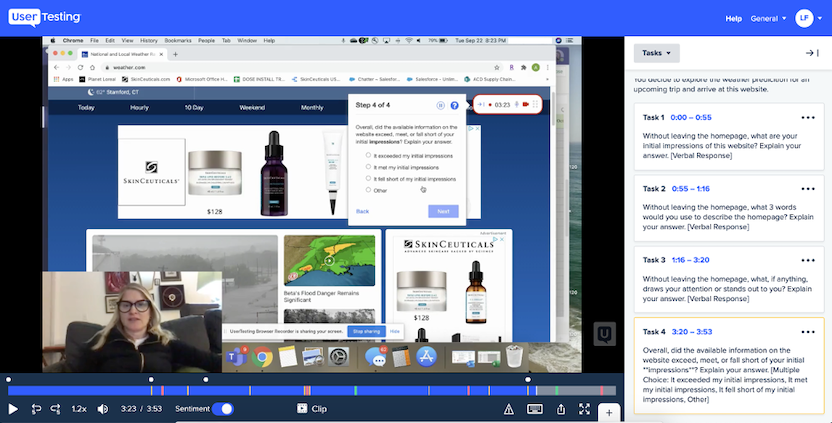 For more information on Contributor View, you can read the deep dive here.
Stay up-to-date
This is our third quarterly release this year. Earlier, we released new features that help you and your teams extend your reach and expand the spectrum of opportunities for testing, as well as features dedicated to making the collection of customer feedback more efficient.
At UserTesting, we continue to listen to you—our customers—and anticipate your needs. That's why we're excited to bring these innovations, designed to help you discover the critical customer moments that matter, faster than ever before. To hear more about our newest capabilities, please listen to our product keynote recorded during HiWorld. 
And if you'd like to learn more about any of these features, contact your account team or reach out to us here.
Human Insight World 2020 Product Keynote
Watch our product keynote that shares our latest product and platform innovations.