Presenting your work to executives: 8 tips for UX designers
Image
Presenting to executives isn't always a walk in the park. And this can be especially true for designers. As working creatives, designers are extremely free-thinking and passionate about their design solutions. However, revealing their work in front of the c-suite or other executives can be extremely daunting. 
The people who are making the final decision about a design element or choice are often far-removed from the creation process. And in some cases, they haven't spoken to an actual customer or solicited their feedback in some time. This can make it difficult for designers to get them to see things through their customers' eyes.
Executive presentation tips for nailing your next design pitch
From website navigation to mobile responsiveness to app designs, UX designers tackle a lot of challenges. And they do so on behalf of the business, product, and most importantly, the customer. So what are the most important things to mention at the executive level? How does one make the best use of their time? What don't they care about?
There's a lot that goes into a design, and it's critical to put equally as much attention into the c-level presentation. When delivering one, leverage these eight tips and tricks:
1. Remind people why they're in the room
Take a minute to set the stage, but keep it to about a minute. Executives are busy—it's not just a myth. Call out who you worked with, what the goal of the project is, and what you're going to show them right off the bat.
Also, remind them what you need—whether that be feedback, approval, funding, etc.
2. Relate your work back to business goals
Tieing your designs back to business goals shows executives that you understand what's in it for them (and the business). By showing a strong correlation between a business objective (like increasing conversions) with customer expectations of your design, you'll definitely earn their attention.
3. Speak their language
More often than not, executives spend more time in front of reports and dashboards than in front-end design work. So if you're redesigning a website, for example, share some projections around how the new design should increase form fills or increase site navigation. Talk about the things that matter to them—it probably doesn't include design speak.
4. Build out a scenario you can speak to
Sometimes what's obvious to you, isn't always obvious to an executive. You're in the trenches every day, and most likely know the customer journey better than anybody else. Stories resonate, so if your project was a massive overhaul informed by a lot of usability testing, share a customer example of what you saw that inspired the changes.
5. Highlight your intimate knowledge of your user
The secret to success for any strong, customer-centric design is knowing that you are not your user. With this in mind, talk about the people your designing for and how you collected input from them in order to make your design decisions. A great way of resolving design disputes is by explaining how your decisions were based on the opinions of customers.
6. Be flexible and ready to answer questions
It's not uncommon for senior leaders to ask you to jump back or fast forward through your presentation to a particular section. All the while, you'll be receiving questions that may feel like an interruption. Be flexible, and roll with the punches. If necessary, be ready to defer some questions to others in the room who may have more expertise than you.
7. Rehearse, and rehearse again
Before presenting, it's smart to do a dry run in front of a peer who will be honest and provide constructive feedback. Try to find someone who has had success doing executive-level presentations, and following through on a project to completion. Ask for very pointed feedback, including if your message is clear, you summarize well, and if you're missing anything.
8. Provide a summary and next steps
Now that you've shown your work and put together a solution that you feel confident in trying out, present a summary of what you discussed and walk them through the next steps. Explain how you plan to measure success, test and receive feedback, as well as any key milestones.
Exhale
No one said that presenting to executives would be easy. However, you were more than likely selected to do so because of your expertise and experience. If you prepare, work hard, and crush your presentation, you'll win over the opinions of very influential people in your organization. Not to mention, you'll earn trust and open the door to lead projects in the future.
Gaining executive buy-in for user research
Learn how to get stakeholders on board to create outstanding products while promoting a customer-centric culture.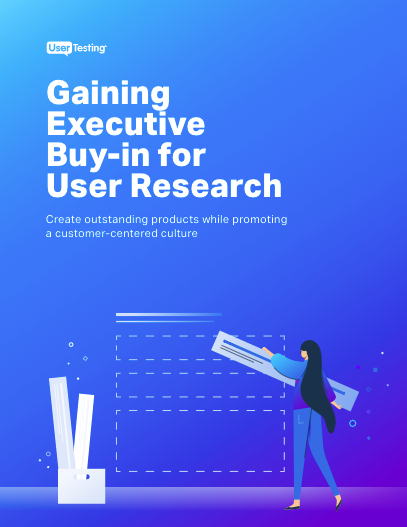 About the author(s)