How retail will survive the pandemic through personalization
Image
When Sean McKee purchased his dark gray Mini Cooper convertible last year, he did so without ever taking it for a test drive, kicking the tires, or taking a whiff of that new car smell.
The former Director of eCommerce and CX at UK footwear retailer, Schuh, was forced to shop virtually due to Covid restrictions. He bought his new ride through a combination of email, video walk-through, and a phone call.
"I would do it again," he said. "It was completely personalized. It was a video for me. It wasn't a generic video. They made it as a result of my query, picked up on what I'd been saying in the query, and reflected it back in the video. And I thought it was excellent. So, I would certainly do it again."
The pandemic has changed so much about retail, but some retail trends will outlast the pandemic, such as providing a personalized experience.
In his Human Insight Podcast interview with Janelle Estes, UserTesting's Chief Insights Officer, McKee discusses: 
His 25-year career at Schuh from storeroom to boardroom
The biggest changes to retail and ecommerce over that time
Keeping a customer focus in a sea of ecommerce data points
The evolution of ecommerce and its acceleration in 2020
Schuh has grown to be one of the UK's best-known fashion footwear retailers with more than 130 stores and a strong ecommerce business. McKee started as a store manager and grew his role there, eventually leading its ecommerce and customer experience teams. 
As a result, he's had a great vantage point for the evolution of ecommerce, as well as the trends that have been happening in recent years. So, his insights can help us understand what to expect moving forward for retail, ecommerce, and the customer experience.
One thing is clear, ecommerce had a breakthrough year in 2020. McKee said ecommerce has been growing its share of sales over time, but the pandemic accelerated that growth.
"All of the trends that we've been seeing for a period of time were accelerated," McKee said. "It really was the trends we knew about, but volumes we were pleasantly surprised by."
According to a report in Retail Dive, retail ecommerce sales were expected to top $795 billion in 2020, up from $600 billion in 2019. And the UK's Office of National Statistics reported online retail sales rose to an all-time high of 33.9%.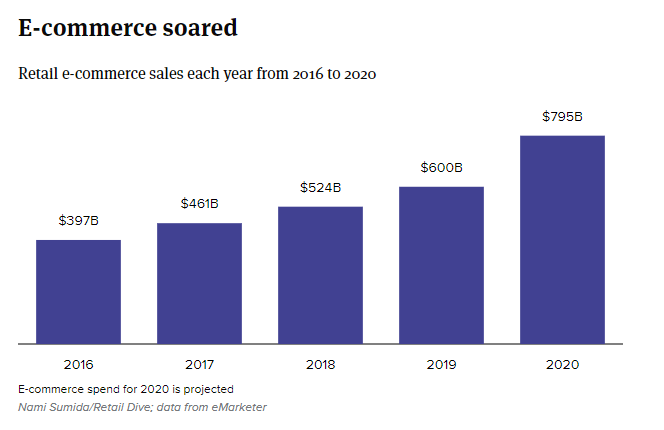 Buy Online, Pick-up in Store
Another emerging trend that was supersized in 2020, and that's likely here to stay, is what's called click and collect or curbside pickup, as well as BOPIS (Buy Online, Pick-up in Store).
According to Digital Commerce 360, as of February 2021, more than 50% of the 211 retail chains in the 2020 Digital Commerce 360 Top 1000, offered curbside pickup for orders placed online, up from just 6.6% in April 2020, shortly after the pandemic started to hit the United States.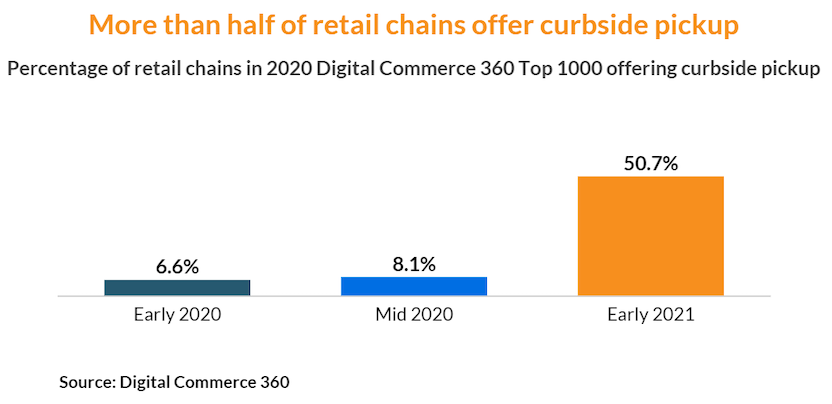 And according to research by GlobalData, 68% of U.S. shoppers say they are going to use curbside pickup at stores more in the future and nearly 60% say they will collect more of their online purchases from inside stores.
Watch the video below to see how Dick's Sporting Goods embraced curbside pickup. 
Omnichannel experiences
This shift to an omnichannel experience was accelerated by the pandemic. Retailers who haven't made that commitment to an omnichannel experience across touchpoints risk being left behind.
But McKee said it's a balancing act between the customer's convenience and getting them into the brick and mortar locations in which a brand has invested.
"You can make it so convenient for the customer that there's just no reason to visit the store," he said. "If the store performs the functions of a warehouse, then you might as well just order it to your house. Whereas you've got to overlay the warehouse elements with the theater and the experiential elements so that stores are still sufficiently essential for you to want to visit. That there is something about the store that the web just can't do. And there are certainly things that the web just can't do. But not many."
You can hear directly from shoppers about their feelings between shopping online and at the store. UserTesting recently launched a study on the UserTesting platform with 10 European shoppers to understand their mindset of returning to the in-store shopping experience, and their recent experiences with online shopping over the past year. Check it out. 
The retail landscape has changed
While some retailers have had banner years, others haven't been as lucky and gone out of business. Others have shuttered for good their box stores that once anchored a mall or shopping center. 
"That's going to have an effect on the quality of retail—whether it's the shopping mall or the retail park or what is the High Street in the UK—because you've got to have reasons to visit," McKee said. 
As COVID-related restrictions ease, retailers will face competition from alternatives that consumers have had to forego, such as spending time with each other. 
"The desire to meet other people, to associate with other people is going to be how we want to spend our time," McKee said. "And it's not automatically the case that you'll want to do that at H&M or a retailer. You might want to do it in a restaurant. You might want to do it in a bar." 
Similarly, the way we work has also changed how retailers will operate. No longer will people just be working in office buildings located in a downtown core or suburban office park. And that will impact the brick and mortar retail stores nearby that supported those consumers. 
"You can't really put this genie back in the bottle," he said. "They've really thought about what's essential. What's not essential. What should they be buying where, and for what reason. People have been bulk buying things they never bulk bought before. There's been all sorts of funny behaviors. Some of that will not be undone."
He thinks retailers still have blue ocean opportunities around augmented reality or the final mile and the experiences customers can have with AR or the experiences they do have with how something they've purchased is delivered.  
"Our ways of consuming have fundamentally shifted," McKee said. "It's fantastic to have choice, but it's complicated to have choice and it creates an operational requirement for the provider of that choice to be really very good."
"What retailers have to think about is the question of experience and what experience looks like because if doing things that were at the experiential end of the spectrum were important before COVID, they're even more important now," McKee said. "Customers really need to have a compelling reason to visit your store because they've just had an education that tells them they can do other things. So, the experiential stuff is important."
Rescue budgets by getting buyer feedback
Guessing what your shoppers want without asking them is risky. Learn how to increase conversion rates quickly.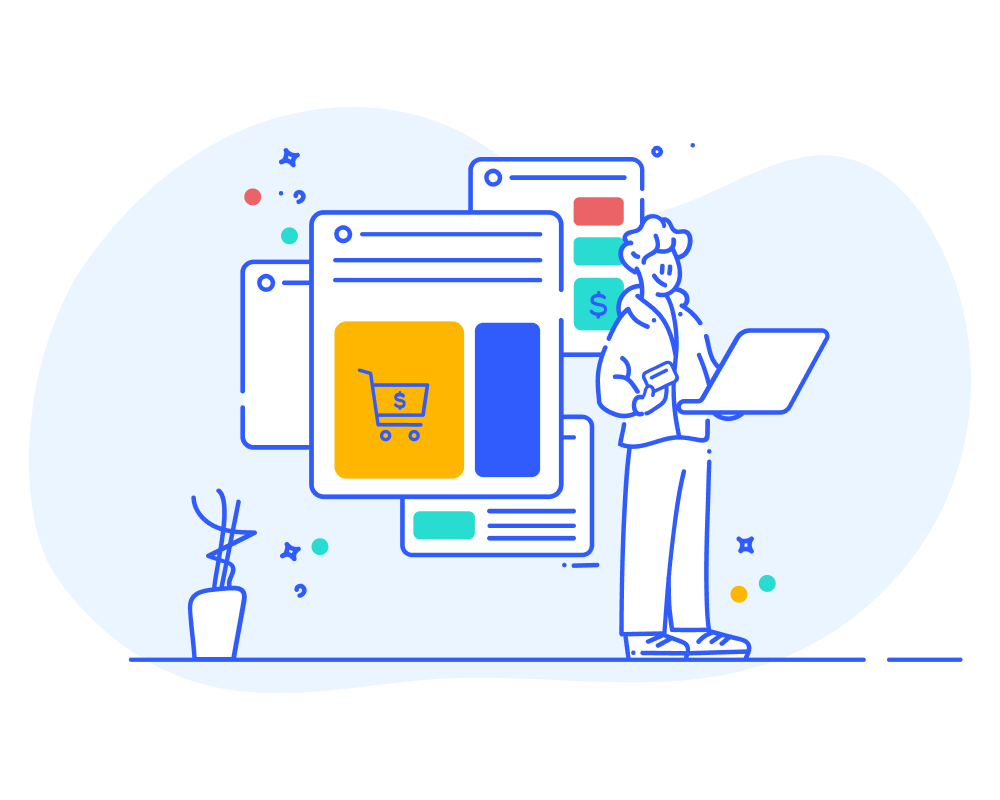 About the author(s)