Leveraging fast feedback to deliver great customer experiences, Q&A with the Starbucks UX research team
Image
In a recent webinar, the UX team at Starbucks, Karmin Mauritz, Sr. UX Researcher, Stephanie Connor, UX Research Manager, and Emmerline Wu, UX Researcher, sat down with us to share how their team has scaled its UX research practice by leveraging human insight.
We had a great Q&A session with Karmin, Stephanie, and Emmerline, and included some of our favorite questions below. You can watch the full webinar here. Enjoy!
How does your team manage and prioritize research requests?
Stephanie: Because we're a small team of only three people, we can't offer research as a service outside of our department—we just don't have the bandwidth to handle that.
Any research we do as a team falls under our strategic priorities as created by the VP of our department and those priorities are then aligned with the priorities of the company as a whole. We translate those priorities into something that makes sense for our group.
After that, we create a quarterly narrative of the things that we're working on that we're planning to ship. We follow those timelines in terms of narrative because we want to be aligned with the designers and developers and we want to make sure that we're building enough time into the process so that we're able to get ahead and do research. Sometimes projects and priorities can shift, however, so we also shift and accommodate our plan as necessary.
There are times though that we can work on projects that are either self-initiated—things that we're interested in or requests from other teams. We try to accommodate those requests but that's only when timing and scheduling can allow for it.
How do you generate the hypotheses for what you're going to test?
Karmin: The initial hypotheses that we know we want to test as the initial research question could come from us, it could come from design, it could come from product managers, or it could come from other stakeholders within the building. Oftentimes what we end up testing is usually decided on as a collaboration between all of those groups.
When we're trying to build a study, we try to include at least one person from design and one person from product to make sure that we have all of the relevant questions answered and we've identified all of the various hypotheses that we have going into it. Then, we'll try to pull in other stakeholders when it's relevant. It's a big, collaborative process.                         
How does how your team share insights and learnings across other teams?  
Karmin:  We share results in a bunch of different ways, depending on the size of the project. For really big studies we'll often schedule a share out to walk anyone that's interested through the results and through the presentation.
We'll make sure to include video clips and quotes whenever possible to help build customer empathy. For less high-profile projects, we'll join existing team meetings to share results and either give a detailed walkthrough or just share a high-level summary depending on how much time we have. We try to share findings that are relevant and interesting to the specific team so they can follow-up with us directly with any additional questions.
We also have our research archive, where we post all of the reports for completed projects and share a link via Slack so anyone internal can then find and access them.
All of this has worked pretty well at helping share the results and generate more interest in the studies themselves. What we've found really good, what works well especially for those really large studies with broad interests is to encourage as many people as possible to attend the live sessions. This really helps people understand the process and see the insights happening in real time and gives everyone a chance to follow up with us on any particular areas of interest or questions they may have.                            
What advice would you have for research teams that are just starting to scale research across the organization?
Stephanie: The most important thing is that you need to be patient but you also have to be persistent. Change like this doesn't happen overnight and that progress is not always going to be linear.
One of the things I thought was really helpful was understanding how your department or your company is organized today and then look for ways that you can suggest small and incremental changes to gather insight from customers—before you're jumping into making decisions about product or design. Even that small step will go a long way in proving the value of UX research and also showing that there's flexibility in the methods you can employ depending on the project.
I've also found that finding a champion in your company who can help evangelize research can be really helpful, especially helpful if this person is more senior than you, so they maybe can influence some other senior members of your organization with it. Having someone who also believes in research can really help bolster your influence on the company and the product that you build.
Want to learn more?
You can watch the on-demand webinar here.
To learn how UserTesting can help you understand your customers through on-demand human insight, contact us here.
Learn effective strategies to structure and scale customer research resources within your organization.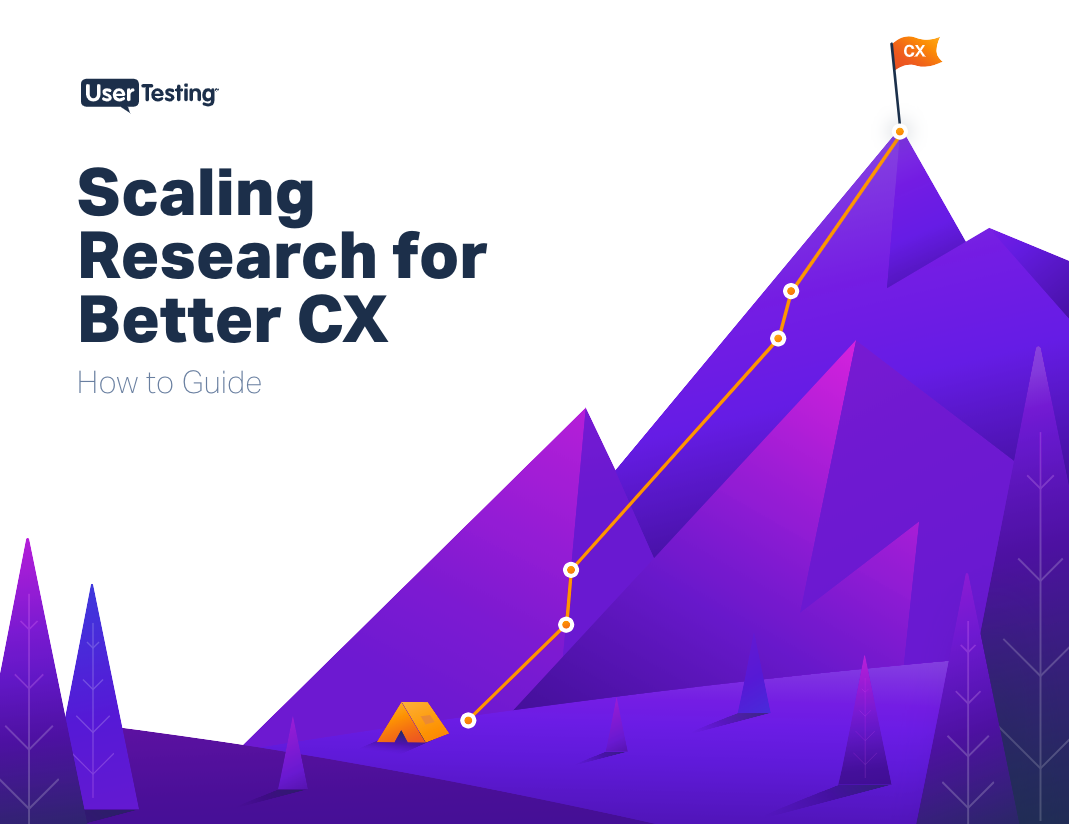 About the author(s)