3 ways startups can improve speed to market
Image
Whether you're an emerging startup, or an established business developing a new product, speed to market is always top of mind. But moving fast isn't without risk. Getting it right the first time can be a make-or-break moment for your new product or business. In this post, we'll discuss why speed to market is so important and how you can avoid the common pitfalls many startups experience when launching a new product prematurely.
What does speed to market mean?
Speed to market is how long it takes a business to take a product idea, develop it, and have it in the hands of consumers.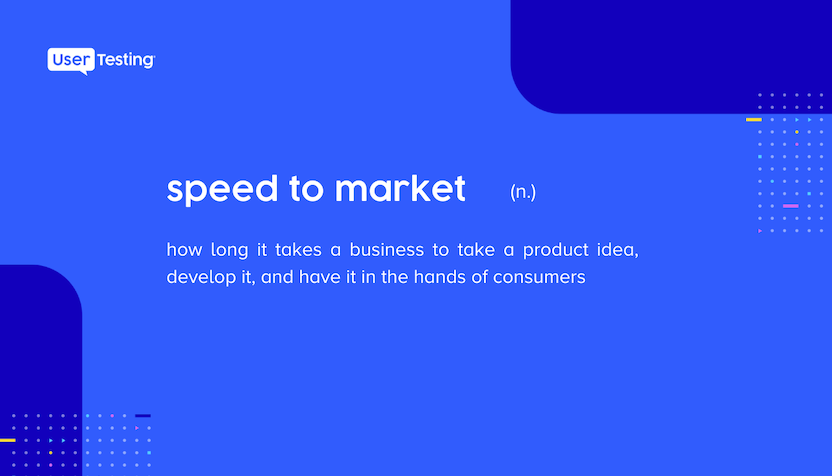 While the concept of speed to market is not in itself confusing, entrepreneurs understand that it can be difficult to achieve. And being slow to market can mean a lot of things. Competitors can establish themselves in the hearts and minds of consumers. A less innovative product can become the go-to solution. Your product can be perceived as a follower of the product that reached the market first. And all of these things can seriously damage your business' reputation and potential success for your product.
So how do you improve your speed to market without rushing in, eyes wide shut?
3 ways you can improve speed to market for your product
We've been talking a lot about speed, but speed to market means more than just moving quickly. In other words, a successful product launch takes more than simply being the first product to market. Here are some ways you can ensure you're product's success and, at the same time, increase speed to market. 
1. Ensure and validate product-market fit
The concept of product-market fit is described as finding a good market with a product capable of satisfying that market. This is an important first step. Just because you've designed a product that provides a solution doesn't mean there was ever a problem to begin with. And, believe it or not, you don't even need a product to ensure product-market fit. 
Doing your research upfront will save you from designing a product that no one needs. You'll even find opportunities along the way for your product to solve problems you may have never even considered. By ensuring product-market fit, you'll increase speed to market by knowing exactly how to address the unique needs of your prospective customers.
2. Test your product throughout its development lifecycle
Your engineering team is committing code every day. And it comes as no surprise that developers are the most efficient at making changes when they still have the code open. Knowing this, if you're able to collect product feedback throughout their development cycles, changes can be made rapidly and with little rework post-launch.
This is especially critical when we consider speed to market because lagging feedback that comes weeks or months later will require developers to re-open their code-base. This can create technical debt and generate lag for the entire organization.
3. Anticipate your business' marketing needs
When it comes to speed to market, often we think about product needs, but that's shortsighted. Very rarely will a new product in the market sell itself. By anticipating your marketing and sales teams' needs, you'll be able to give them a running start. This means you'll need to create materials ahead of time so they have the necessary content and messaging ready and waiting for them at launch.
The benefits of accelerating speed to market through usability testing
By now, it's abundantly clear that speed to market matters—especially for startups without any brand recognition. Not to mention, pivots can stop startups in their tracks. With this in mind, all efforts to improve speed to market should be aligned with what creates value for your customers.
By leveraging usability testing, you'll have the ability to methodically test and validate your product's product-market fit, user experience, and marketing collateral. By collecting customer insights at every stage of your product's development, you won't have to guess what your customers want, need, and frankly have come to expect.
And all of this can be done with a team of one if that's what you're working with. By leveraging a digital usability testing platform, you won't need a team of researchers to be successful. In fact, you'll be able to accelerate your testing and decision-making with the ability to:
Quickly recruit and schedule discovery interviews and usability tests
Accelerate development sprints through instant feedback so you can iterate in hours or days instead of weeks 
And swiftly settle internal design and UX disputes by using qualitative proof directly from your prospective customers
Speed to market is a competitive advantage
You only have one chance to make a great first impression. So, before you go to market with a new product, wouldn't you like to know that you have the right pricing model upon entry? That your messaging and content speaks the language that your customers speak? That you're bringing the best, new features to the table?

By speaking with your customers first-hand, you'll have the human insight required to launch with confidence. But beyond that, you won't have to wonder if you're sacrificing speed to market for a product that could have been better.
The startup's guide to user feedback
Learn why fast, iterative feedback is critical to any startup's success—from concept testing to prototyping, and more.
About the author(s)