Suggested Sentiment: increasing speed to insight with the power of machine learning
Image
At UserTesting, increasing speed to insight is a priority. Most tests (upwards of 80%) are completed by participants within two hours. And once customers receive this raw feedback, we know that they are eager to identify and start sharing these key insights with their team. 
So we are always looking for ways to help customers speed up their analysis. Earlier this year, we released Sentiment Tagging, which customers used over 47,000 times since its April release. 
Continuing along the path of surfacing moments related to sentiment, and leveraging machine learning from our acquisition of Truthlab late last year to provide this sentiment analysis at an insanely fast speed, we are very excited to introduce Suggested Sentiment.
Introducing Suggested Sentiment
Suggested Sentiment automatically surfaces moments of negative and positive sentiment when you are reviewing a completed session in the UserTesting video player. These red and green indications (indicating negative and positive sentiment respectively) run alongside the video's timeline as well as through underline in the video's Transcripts. They are generated by our proprietary Machine Learning framework: from deep analysis of different types of research, use cases, and conversations that flow through UserTesting at a massive volume.
With Suggested Sentiment, you can scan the indications along the bottom of the video player to understand the distribution and frequency of negative and positive moments throughout the test and hover to see the phrases associated with these sentiments. Then, click into exact moments in the timeline to view the part of the video associated with highlighted phrases. 
You can also give feedback on the accuracy of the phrase—whether it accurately represents the assigned negative or positive sentiment—which we use to train our framework to continuously improve the accuracy of this feature.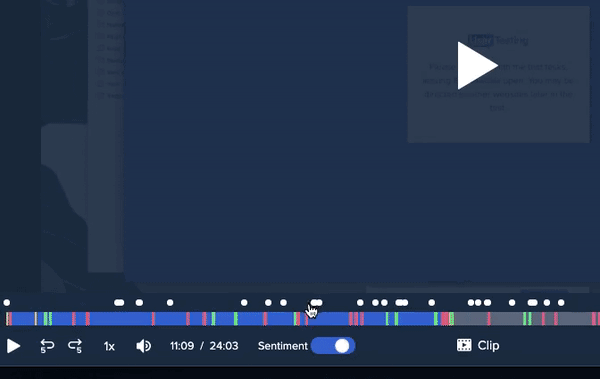 ​
Similarly, you can scan and locate key moments in the Transcripts. When you notice feedback that is important or truly insightful, you can create a clip. If you want to preserve the sentiment that was associated with that piece of feedback, simply use Sentiment Tagging to select the appropriate icon (either negative or positive).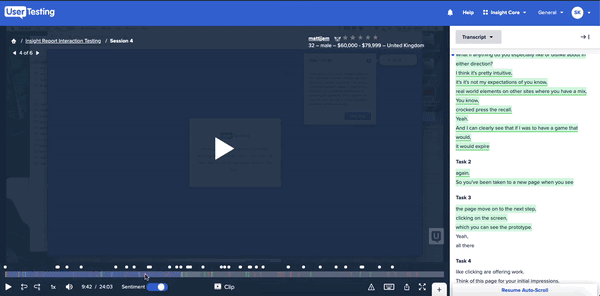 ​
By automatically surfacing negative and positive points of feedback, Suggested Sentiment helps you more quickly locate key moments of insight—ensuring your time is optimized and spent on high impact analysis. And stay tuned for more Machine Learning capabilities to come to support faster, more effective analysis at a speed only achievable with AI/ML technology!
Suggested Sentiment is available to all premium customers across all UserTesting products (Insight Core, Product Insight, and Marketing Insight).
July 2020 product release webinar
Learn how we're helping customers capture better insights by extending our best-in-class testing capabilities.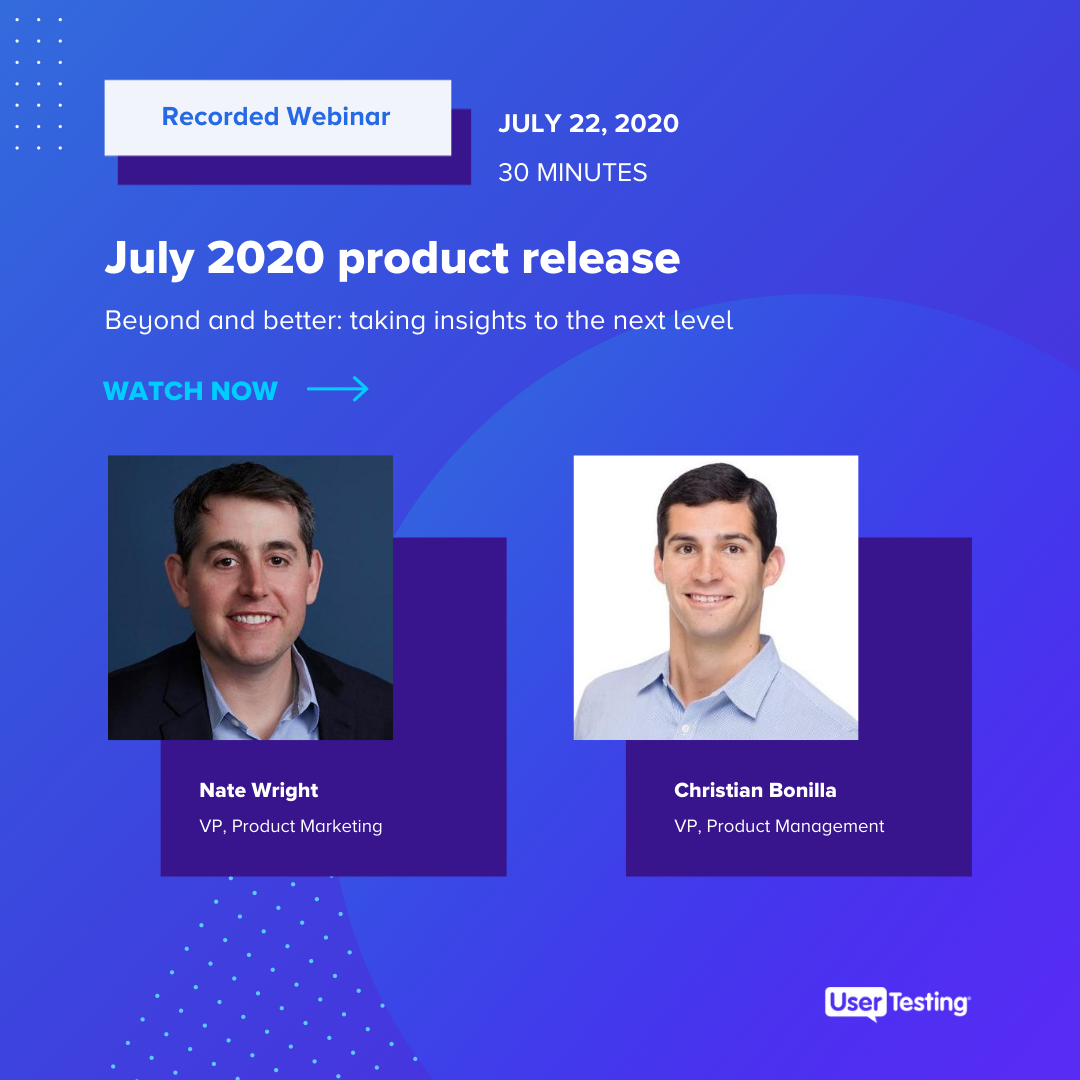 About the author(s)