Streamline test creation with new Test Templates capabilities
Image
Let's start by pointing out the obvious: research can be complicated. After all, people wouldn't dedicate portions of their lives to learn the detailed ins and outs of conducting unbiased and effective research if it were simple and straightforward. That's why many organizations have research teams dedicated to conducting, analyzing, and socializing company-wide research that uncovers industry, customer, and product insights.
While research and feedback have become essential for all successful business teams—UX, product, design,  marketing, and others, it also placed more strain on research teams who have more requests for research than they can handle. So it's no surprise that many of the researchers we surveyed for our CX industry report said they feel they can't keep up with the pace of business today. But what if there were solutions in place to enable and empower all teams to collect feedback? What if you could let your research teams focus on the generative research needed to support innovation and growth?
With our latest feature releases, test creation becomes fast and easy—enabling more teams to get the insights they need, more efficiently than ever. (Oh, and it's research team approved.)
Scale expertise and confidence with Test Templates
Every organization will have a different approach to structuring their research and feedback efforts. And while the approaches may differ, they all share one thing in common: the need for fast, quality, research that meets the highest industry standards. Test Templates empowers any team to do just that. 
Saved Test Plans
With Saved Test Plans, you are able to build and reuse any test plan as a template by saving the URL, scenario, tasks, and written questions. This is a game-changer for those who commonly use the same tasks and questions as it allows you to launch a study in minutes from a template without sacrificing the quality or accuracy of research. 
Saved Test Plans let you: 
Collect customer feedback even faster by turning your most common tasks and questions into templates
Increase customer empathy across the business by creating and managing a library of templates that team members can easily use to quickly and confidently connect with your customers
Empower all teams to conduct their own tests with test plans that adhere to guardrails and best practices you define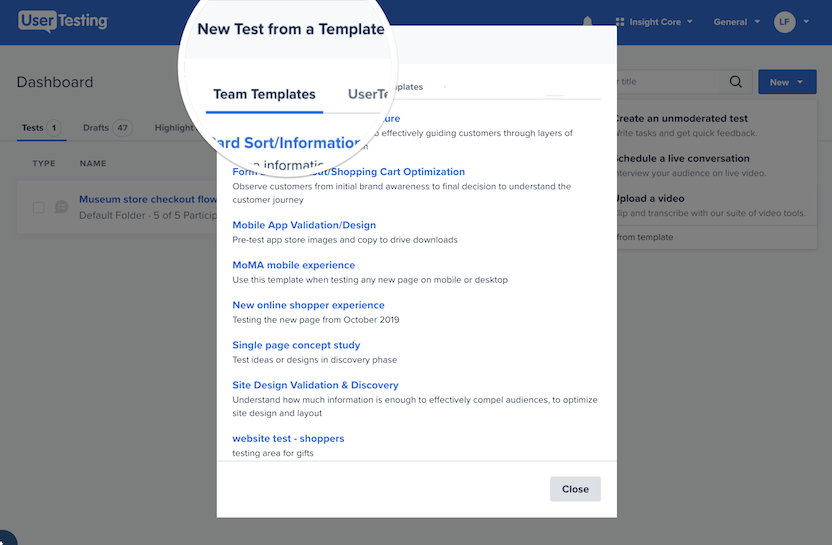 Your Saved Test Plans will appear in-product as Team Templates alongside suggested UserTesting Templates. You will also see new industry-focused COVID-19 templates for you to use as-is or as a framework to help with understanding changing behaviors and expectations during the pandemic.
Saved Screener Question Management
During our Saved Test Plans beta program, we talked to customers who said they were struggling with the number of screeners they had created and saved. They loved the idea of a quick way to reuse common screeners but felt managing them, especially those no longer needed, was too cumbersome. Enter Saved Screener Question Management where you can easily edit and delete Saved Screener Questions to guarantee you are targeting your ideal audiences. 
When combining Saved Audiences and Saved Screener Questions with Saved Test Plans you have a full suite of templates you can use for all elements of test creation!
Template Library
This release also offers customers the new ability to manage Saved Audiences, Saved Screener Questions, and Saved Test Plans from a central location—the Template Library—where you can view and edit then delete what is no longer needed.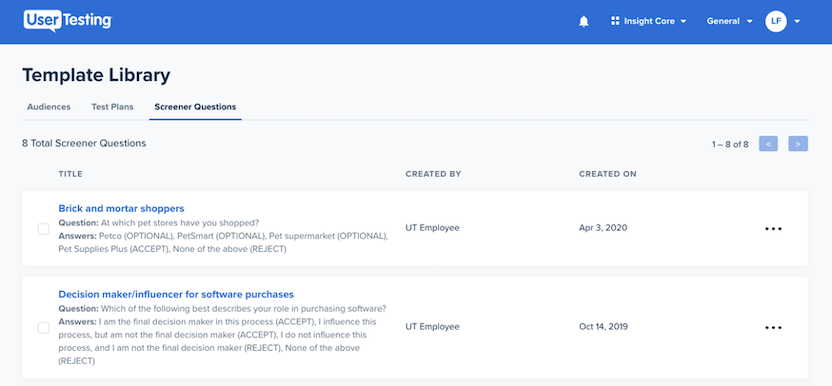 Getting started with Test Templates
Saved Test Plans and the Template Library are available to Premium and Professional subscriptions. Both Standard and Unlimited licensed users can create, edit, and save Test Plans for the account via the Template Library and all users can use Saved Test Plans when creating and launching a test.
You are able to create and save a test plan from multiple places within your account. You are also able to access this feature when saving from the Test View page once you've validated the quality of your test plan. 
If you would like more details on how to save, use, or manage a test plan, please see our Knowledgebase article.
April 2020 product release webinar
Watch the webinar for a full look at our latest human insight innovations, and learn how our exciting new features empower more teams to capture customer feedback more efficiently than ever.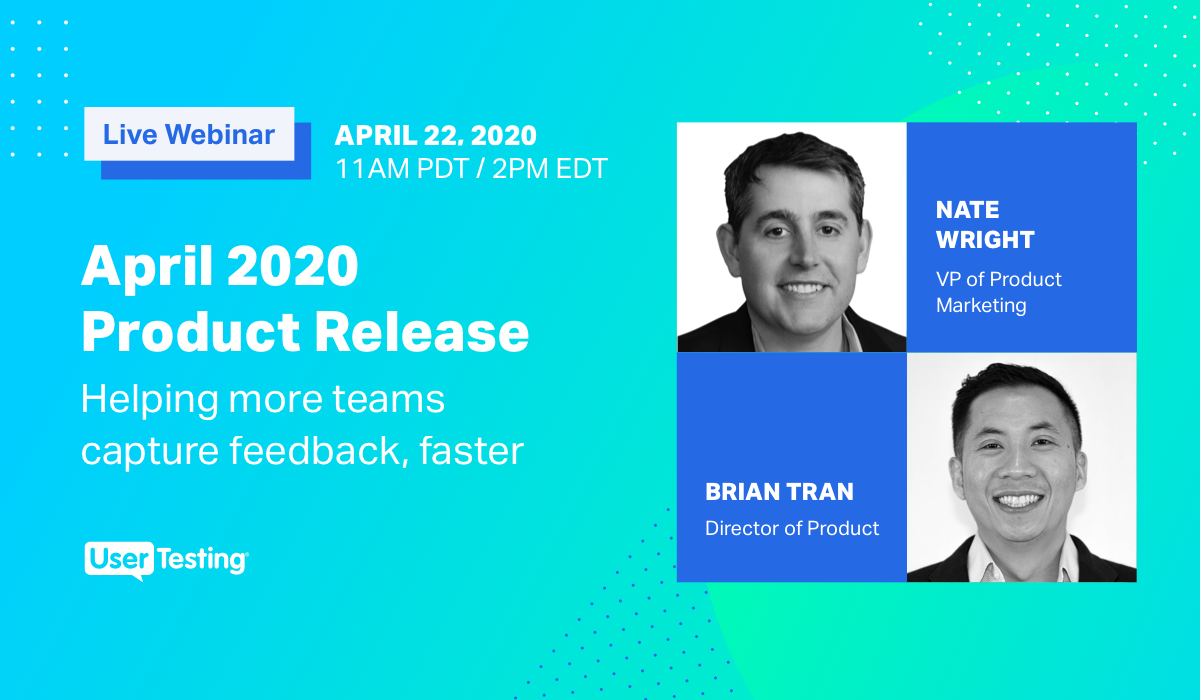 About the author(s)