UserTesting and Qualtrics: marrying the narrative with the numbers
Image
Consumers are exposed to better, more seamless, and personalized experiences both digitally and in-person, every day. This puts pressure on organizations to provide experiences that far exceed the expectations of customers and beat out the competition. Traditionally, businesses have depended on data to understand what customers do, but it doesn't exactly explain why they do it. That's why UserTesting and Qualtrics have joined forces to make it easier for customers to pair qualitative insights and quantitative data, so they can better understand why their customers do what they do, and want what they want.
Qualtrics has recently expanded its partner network and selected UserTesting to be its lead partner in user research and human insights, recognizing UserTesting as a leader in this space. The Qualtrics Partner Network (QPN) provides organizations with access to best-in-class experience management consulting, technology, and services, in order to provide organizations with the capabilities, they need to listen, understand, and take action on qualitative data.
Whether organizations use UserTesting to dive deep into feedback collected on the XM Platform, or they analyze UserTesting's recorded user responses in Qualtrics' analytics and dashboards, our partnership with Qualtrics expands our customers' ability to build deep empathy for their users through human insights. -Andy MacMillan, CEO, UserTesting
Marrying the narrative with the numbers
Consumers spend their lives interacting with businesses. Whether digitally or in-store, businesses have a responsibility to provide customer-centric experiences that invite consumers to fall in love with their brand. However, 75% of organizations believe they deliver on these customer-centric experiences for their customers, but only 30% of their customers agree—we call this the empathy gap.
Clearly, there's a massive disconnect between the experience companies believe they're providing and the experience customers believe they're receiving. In order to close this gap, businesses need to marry the narrative with the numbers, or in other words, effectively couple qualitative data with quantitative data.
Traditionally, businesses have depended on quantitative data—hard numbers and figures that can be collected through analytical tools. And while this data is irresistible to businesses, it really only explains what has happened during an experience, not the why. In order to understand why things happen, businesses need to understand the emotion behind the data through qualitative customer feedback.
Innovation through insights
The UserTesting Human Insights Platform empowers businesses to see, hear, and talk with consumers, customers, and a wide range of customizable panels to gather audio, video, and text responses that drive fast, informed decision-making. By giving organizations richer qualitative data that explains the 'why' more deeply than survey data, statistics, and sentiment analysis alone possibly could, UserTesting and Qualtrics' mutual customers can create deeper empathy. And those deeper insights translate directly into more action.
UserTesting understands that strong partnerships will pave the way for innovation in this experience economy. We believe that no single company is the sole source of innovation, and we look forward to empowering our shared customers through the power of qualitative data.
Which qualitative method is right for you?
Learn how to get the most out of your qualitative customer research through human insights.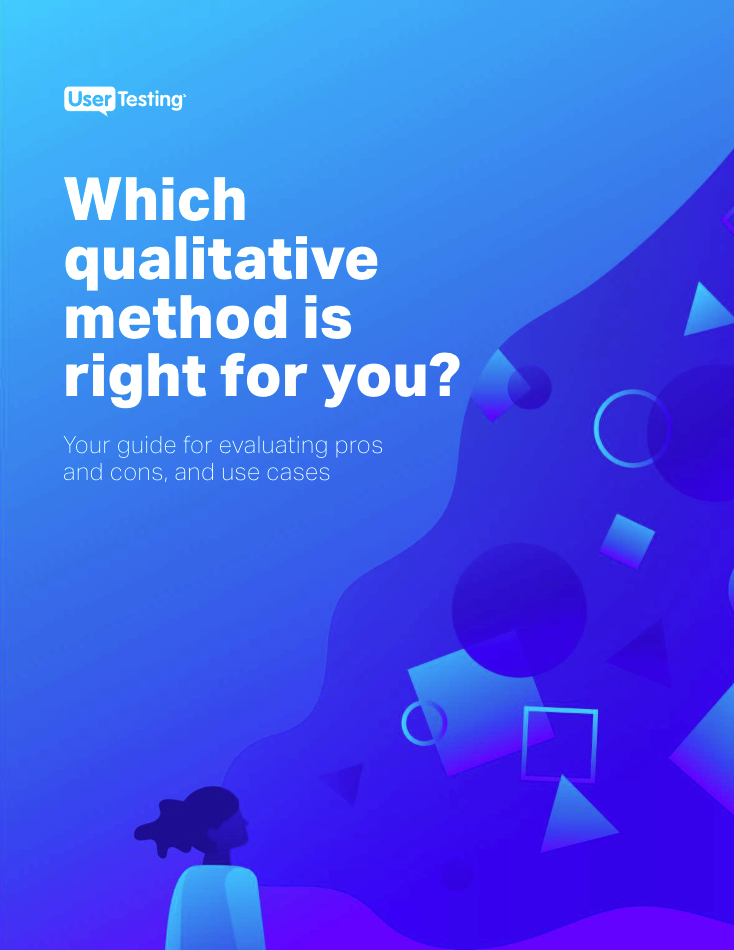 About the author(s)