What is product management?
Image
The phrase product management is often met with a wide range of definitions—even from people within the field. However, that doesn't come as a surprise because the function can be responsible for many different things depending on the type of product, industry, and organization. 
So how would we answer the question: "What is product management?" We'd likely say that product management is the intersection of business, technology, and UX to strategically drive the vision, development, market launch, and continual support and improvement of a company's product(s).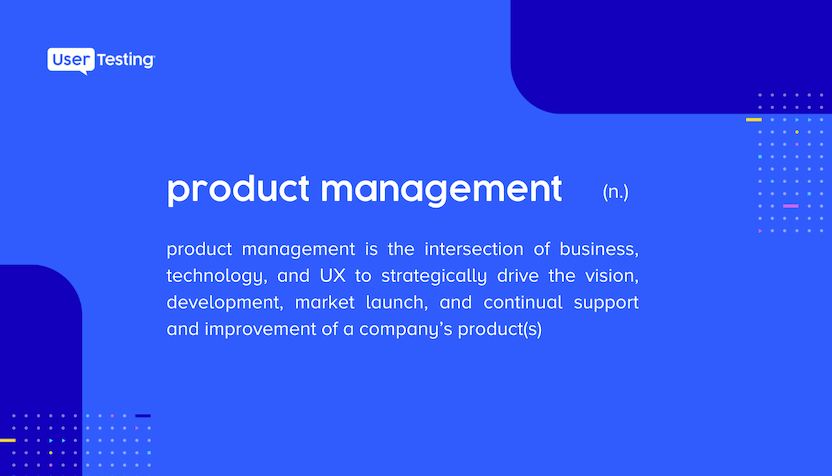 But that's a lot to take in. Perhaps it's an abstract definition for an abstract concept. So let's really dig into what product management is by breaking it down a bit more.
What is product management?
If we think of product management as the intersection of business, technology, and UX, it makes sense that product managers have a lot on their plate. While this is true, it doesn't tell you what they do on a day-to-day basis. From vision to strategy to design to execution, it might sound like product management does it all, but they don't actually own all of these elements of a product.
In fact, product management doesn't really own any of them. Instead, it's product management's job to drive each of these areas of focus and work with various teams to curate the best ideas, set goals, and establish a process.
Being that product management is a highly collaborative role, here are some of the things that product managers focus their time on:
Research: perform research to ensure product-market fit, build user personas, and keep a pulse on competitors
Strategy: create a compelling strategy that's all about articulating how you're going to dominate your market—including goals and objectives, product overviews, and buy-in.
Communication: develop a strategic plan using a product roadmap, get stakeholder alignment including executives, marketing, UX, engineering, etc, and ensure a steady drumbeat of communications throughout the product lifecycle
Coordinate development: once a product manager has received approval on their strategic plan they'll have to coordinate with the relevant teams to execute the plan
Continuous testing and feedback: once the product or feature has been released in the market it's critical that product managers keep a steady pulse on their users, collecting feedback about what's working, what's not, and what can be improved
For further information direct from product managers themselves, check out the below video, where we spoke with three professionals who highlight the qualities one needs. 
What isn't product management?
The easiest way to simplify and explain what product management isn't is by comparing the roles of product manager vs. project manager. 
If you were to look at two textbook definitions of these roles, product and project managers very clearly have delineated areas of responsibility. The most obvious is product managers focus on a product's lifecycle (outlined above), while project managers focus on the lifecycle of a project. Nonetheless, the two roles inevitably overlap and bleed into one another in many organizations.
Unlike a product manager, a typical project manager focuses on five phases within the lifecycle of a project:
Initiating: define the main objectives of a project, its purpose, and its scope, as well as identify key internal and external stakeholders, discuss shared expectations, and gain the necessary buy-in to move a project forward
Planning: work with identified stakeholders to define a plan that will accomplish the project's goal and help the PM oversee scope, cost, timelines, risk, quality issues, and communications throughout the project
Executing: assign the work that's been outlined to the appropriate team members and ensure they're completed on schedule and without issues
Monitoring and controlling: because things rarely go according to plan, a PM must monitor the progress of the project throughout the entirety of its course—ensuring teams hit key milestones along the way
Closing: make sure that all of the activities are complete and the team achieves the intended final result and perform an overall review of the project with stakeholders
Ultimately, the extent to which the roles overlap varies from company to company, but that's ok. As long as the entire company is marching toward the same goal (a successful product), blurred lines between the two roles can sometimes benefit a project's outcome.
How do product management roles differ?
As we hinted at earlier, product management roles can differ greatly—even within an organization. We like to break them down into three different categories:
Builders: These product managers work on existing products. Their responsibility is to improve and add features to meet the ongoing needs of their customers.
Tuners: These product managers are 100% focused on optimization. Rather than building new features, they're all about improving existing features. They're usually either looking at how to get more people to engage with the product or they're working on how to increase growth within their existing user base by, for example, moving users from a freemium version of the product to a paid version.
Innovators: These are a distinct breed! They're building brand new products, maybe at an existing company or as part of a startup. What's challenging about this role is that they need to find a product-market fit for a brand new product. 
Technical vs. non-technical product managers
Technical product managers, not surprisingly, tend to work on a very technical product. That being said all product managers need to be technical enough—as in, they don't need to know how to code but they do need to understand the software's capabilities.
Here are some common differences between technical and non-technical product managers:
Degree: product managers are more likely to have a degree in business, while a technical product manager is more likely to have a degree in computer science or engineering
Focus: product managers focus on overall product strategy while technical product managers focus on capabilities and usability
Teams: product managers work very closely with sales, marketing, and support teams while technical product managers work more closely with engineering and development
Research: product managers aim to understand the competitive landscape from a strategic business perspective while technical product managers are more interested in evaluating emerging trends and technologies
The role of product management in customer experience (CX)
The customer experience is constantly changing. And that means that the wants, needs, and desires of your customers are constantly in flux. While it may be a pandemic that's changed life as we know it today, it could be something different tomorrow.
The impact change has on your business cannot be understated. Often, product managers are left feeling the brunt of this. They're expected to understand who their customer is, what they want, why they need it, all in parallel with executing everyday business priorities. 
To stay on top of changing customer expectations, successful product management means integrating user feedback whenever possible. 
If a product manager feels sure they already know their customer, it's time to check again. Even if they've collected their feedback in the past it's critical to be in a continuous state of learning because customer behaviors and expectations evolve in ways that's challenging to predict. 
While product management has traditionally focused on usability, it's impossible now to ignore its impact on CX. In order to build products that meet customer expectations, we recommend integrating fast feedback loops into any product management strategy.
Related reading: How to build customer-centric products with fast feedback loops
A final word on product management
Product management lives at the intersection of business, technology, UX, and arguably now, CX. This important function plays a critical role in ensuring that products meet customer needs and expectations, new products and features have product-market fit, and that the product is delivering results for the business. 
If you're considering a role in product management, you'll need a passion for teamwork, strategic thinking, and creating one-of-a-kind experiences for people.
How to build customer-centric products with fast feedback loops
Understand the benefits of fast feedback loops and how you can use them to inform your product decisions, so you can confidently build products that meet your customers' needs.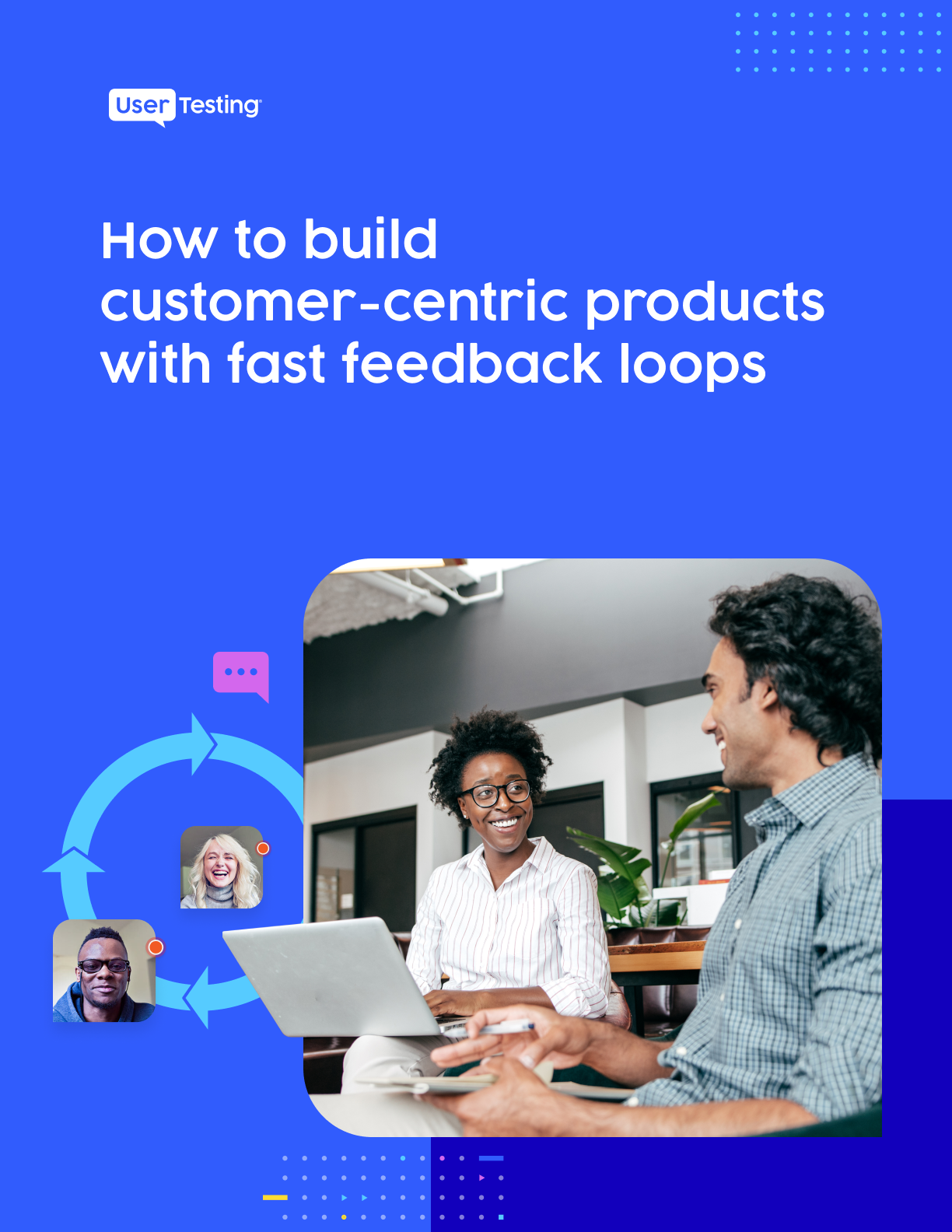 About the author(s)