Why consumers love fintechs—and what finservs can learn
Image
Trendy. Exciting. Those aren't typically words most people would use to describe traditional financial institutions. Yet, in this UserTesting report, "The rise of UK fintechs," that's exactly what we uncovered. And thanks to the increasing prevalence of new fintech trends and organizations, online banking and finance have never been more accessible or innovative for consumers.
Table of contents 
Fintech, also known as financial technology, refers to new and emerging technology that enhances and simplifies the usage of financial services—typically through smart devices and by startup organizations. Think about the last time you deposited a paper check using your mobile banking app, split a bill with a friend using a digital wallet, or tracked your monthly expenses online. These all fit within the fintech space. While many of these services are geared towards consumers, fintech also aids organizations and entrepreneurs alike, who rely on these technologies to automate tasks, manage accounting needs, and provide better user experiences. 
International adoption of fintech is only expected to increase, and as of 2019, 75% of global consumers are users of a type of transfer payment service. More and more services are also becoming readily available, with the Americas leading the global market with the most fintech startups, at almost 11,000. 
Fintech is all around us and a part of our everyday routines. Below are some common examples. 
Mobile banking:

Managing your banking needs from mobile has only gotten more convenient, especially if you don't live near a bank branch or need to take care of your finances on the go. You can now expect to see bank features like mobile check deposits, money exchanges, budgeting tools, bill pay scheduling, and virtual finance assistants. 

Payment apps:

Platforms like these offer convenience when you're paying an individual or a business that offers multiple or digital-only payment options. 

Investment apps:

These services simplify buying and selling stocks and crypto, all from your mobile device. 

Budgeting platforms:

If pen and paper aren't for you when it comes to tracking your finances, enter budgeting platforms. While some may rely on Google Sheets, many free budgeting apps are also available and can even be linked to your bank and credit card accounts. 

Robo-advisors:

These services or platforms manage an investment portfolio on your behalf, typically for a minimal cost, and are ideal for low-maintenance, hands-off investing.
According to Raconteur, "technology has moved from being an exciting element of financial services into the mainstream, thanks to its disruptive power, effectiveness, and wide appeal." And we couldn't agree more. These insights were uncovered in the UserTesting report, "The rise of UK fintechs," which we conducted to better understand the correlation between customer loyalty, customer expectations, and new players entering the UK financial services market.
Fintech start-ups are encroaching upon established markets, leading with customer-friendly solutions developed from the ground up and unencumbered by legacy systems. -Janelle Estes, Chief Insights Officer, UserTesting
3 trends driving fintech CX
While the newest invention in the fintech space is constantly changing, these are the three trends to keep an eye on so you can exceed your customers' expectations.
In-demand products and services:

Fintechs are listening to market needs and are offering up the services customers previously did not realise they needed, such as digital wallets, automatic savings, and instant and hassle-free accessibility.

Trusted recommendation:

When it comes to finances, people rely on trusted friends, family, and colleagues to recommend products and services. Rising fintechs are earning that trust by crafting customer-centered experiences that break away from traditional financial institutions. In addition, fintech organizations are adding referral programs to their marketing arsenal, enticing current and potential customers with bonuses, rewards, and discounts.

Ease of use:

Fintechs are putting the customer at the heart of their products and experiences and customers are taking notice. Seamless and superior digital experiences that exceed expectations are driving customer satisfaction and loyalty.
In a UserTesting panel discussion, facilitated by a Managing Partner at CitrusCollab, CX experts from CreateFuture, Nile, Border Crossing UX, Lloyds Banking Group, and FreeAgent explored the importance of the relationship between design teams and other stakeholders at traditional financial institutions. Teams should work hard to promote the business case for CX research and processes like design thinking—which will not only align with customer expectations but ultimately reach the overall business objectives.
Fintech has been able to thrive in recent years due to its agility, adaptability, and promises of convenience. For traditional finservs to keep up, they can consider digitizing in-person services, prioritizing CX and reducing friction points, and implementing ESG initiatives, among others. 
It's important to remember that the finserv playing field isn't necessarily a battle—it's a journey. Fintechs should learn from traditional financial institutions and vice versa in a complementary way. The ultimate goal is to deliver customer-centric services while achieving business priorities—and keeping a finger on the pulse of the rise of fintechs organizations and trends around the world.
Canadian financial services provider ATB Financial provides services to Alberta's residents and businesses. To better serve their customers, they began working on a digital platform that would simplify banking. The organization's UX team leaned on UserTesting to test the product, understand customer pain points, and pinpoint solutions—just within hours or days. The UserTesting platform became an essential part of multiple product launches, and they now run studies almost every week. Thanks to the platform, the UX team has seen a 200% increase in their testing frequency compared to in-person testing. And it's not just the UX team that enjoys watching user insights, the rest of the organization are viewers as well in efforts to become more customer-centric. 
Superior digital experiences court fintech consumers
There's no doubt that customer experience is a constantly moving target, and the financial services industry is no exception. However, great challenges undoubtedly bring huge opportunities—from the smallest fintech to the world's largest financial institutions.
The rise of UK fintechs
Discover what consumers like and dislike about doing business with fintechs and how to adapt your strategy to meet modern consumer preferences.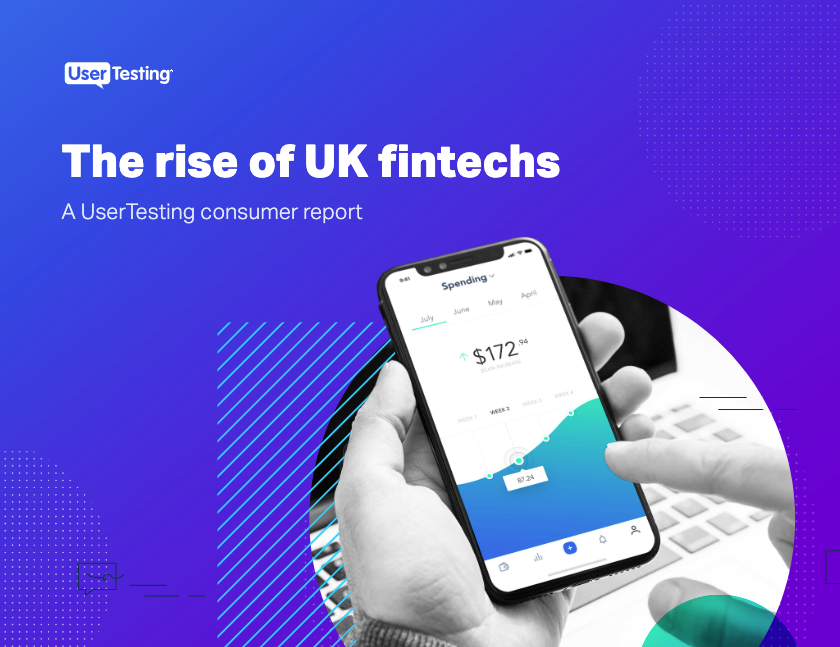 About the author(s)