Why testing your banking experience matters
Image
Retaining customers hasn't been as hard for banks as in other industries, traditionally speaking. However, this is changing. American Banker warns incumbents of complacency. As far as consumers are concerned, banks compete on the same stage as the best digital experiences. 
And consumer expectations are changing. Tolerance for friction points—interruptions in the digital journey—is decreasing. Consumers know when something feels off or frustrating about a website or mobile app. 32% will abandon a brand they love after a single bad experience, and 59% leave after several, according to PwC. 
The problem for banks? It's hard to measure digital friction points and the holistic customer journey. When organizations rely mainly on surveys, net promoter scores, and analytics data to measure their digital experience, they miss the story behind the numbers—the customer experience. Relying on lagging indicators and data exhaust is risky. When poor scores or ratings reach leadership, and the team is directed to take action, how many prospects and customers have they lost? 
Comparing the digital experience of the top 5 US banks
To do this, UserTesting asked 1,500 people to visit the websites of the top five US banks, which included Bank of America, Chase, Citibank, U.S. Bank, and Wells Fargo, and perform three common activities: 
Participants shared their qualitative feedback and provided quantitative metrics that scored five key attributes on a scale of 1 (lowest) to 5 (highest), including 
Ease of use
Efficiency
Trust
Aesthetics
Ease of understanding
We learned that most banks are doing well but still have work to do. While participants tended to praise various aspects of the visual design. "I like how you guys gave icons for each of the sub-categories, like a piggy bank for a savings account," one said after looking for interest rate information on one of the sites. Another said, "I am more of a visual person, and I often ignore words. These icons can help me organize my thoughts while searching for things on this website."
Many of the negative comments were about ease of use. For example, someone looking for a chatbot feature on the website. "I mean, it's easier to use if I scroll down to the site map, and most websites have that, but the actual chat option, when I put in contact customer service, that really wasn't very clear." Another said, "I struggled finding the information I needed and I didn't expect to struggle the way I did" when looking for the interest rate for a savings account. 
Ease of use was the lowest-scored attribute across all five sites, receiving an overall rating of 3.97 on a scale of 1 to 5. Efficiency was next lowest, at 4.03, followed by trust (4.08), aesthetics (4.40), and comprehension (4.59). This means the online experience banks provide may not be as universally frictionless as it should be.
At the same time, there was good news: The highest-scored attribute was comprehension, which means that once people found information, it was fairly easy to understand.
As you read the key takeaways and supporting data, remember that the digital experience of the top 5 US banks is good overall. At this level, it's the small differences that make one experience superior to others. The important lessons to be learned are in the details. 
Access the report to dive into more detail about where the banks excelled—and where they can improve in an ever-changing and increasingly digital landscape.
How well are banks doing?
To find out, we asked 1,500 people to visit the websites of five major U.S. banks—Chase, Bank of America, Wells Fargo, Citibank, and U.S. Bank. Read the report to see digital banking through the eyes of customers.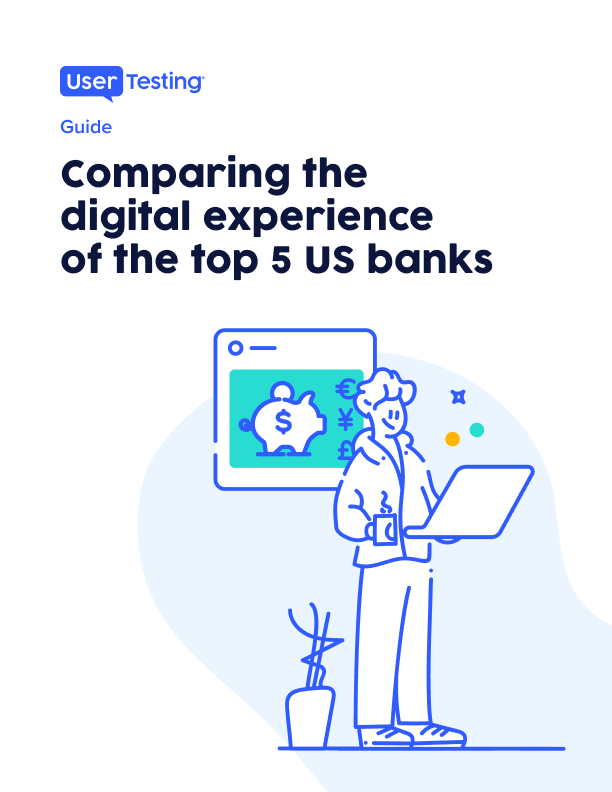 About the author(s)