Celebrating 15 years of human insight: how empathy and trust is shaping customer experience
Image
15 years ago, the release of Apple's new iPhone had technophiles and Luddites alike lining up to get their hands on the first editions. Facebook and Twitter were being used around the world, and digital-first organizations like Airbnb, which are now household names, were just getting their start. Apps were a new word in our collective dictionary, and the customer experience industry wasn't as robust and mature as it is today. But as we became more comfortable with—and subsequently attached to—our technology, the relationship between technology and people evolved. 
Our experiences with technology have transformed from being just another tool to get a job done into something much more integrated into our lives—these experiences now help us manage our health, our finances, our relationships, and even our grocery orders, just to name a handful of examples. 
With that transformation came the need for our experiences to have some heart—some humanity. For example, the straightforward, utilitarian experience of using a calculator wasn't something someone would be excited to use to do their taxes. But a friendly, helpful, non-intimidating piece of software that gently guides people through doing their own taxes by humanizing the experience turned out to be something millions of people loved to use (which is saying something considering we're talking about filing taxes).
As UserTesting celebrates 15 years of empowering some of the world's most innovative and leading organizations to create better experiences for their customers, we wanted to take a look back at how the products and experiences we encounter every day have evolved through human insight over this period of time, as well as look to the future and how it may shape a new era of experiences.
To understand how our customers evolved their strategies over the years, we looked at anonymized data of UserTesting tests to see what topics, if any,  increased in frequency over time. Considering the boon in the customer experience industry, it's not surprising that looking back, terms like "empathy," "trust," and "feel" were among the ones we saw our customers include in their tests more frequently over time. And the rise in digital transformations revealed a similar trend with words like "ecommerce," "digital," and "mobile." 
While the usage of these words is interesting in itself, what's revealing is how the frequency at which those words were used has increased over time. This is in line with what we've seen, year after year, in our annual CX Industry Report. Every year, teams report that understanding and gaining perspective from their customers is more important than it was the year before. Teams went from trying to convince their leadership that getting customer feedback was valuable to having more work than they can handle.
As we look forward, we asked some of the industry's thought leaders about the experience economy over the past 15 years and what they think the future holds. Here's what they had to say:
Shep Hyken: How customer experience evolved from a prediction to the prescription for success
"CX became top-of-mind over ten years ago. Analysts were predicting that by 2020 CX would be a top priority. They were right. While CX evolved over the past ten-plus years, it's been the past two years where we've seen the biggest increase in importance. The pandemic created an opportunity for CX-focused companies to step up for their customers. The laggards struggled. 
One of the most significant opportunities—as in the biggest game-changer—was to create a convenient and low-friction (or ideally, no-friction) experience. Customers rewarded the companies and brands for adapting to the increased need and desire for convenience with repeat business. Furthermore, our customer experience research found that 70% of the more than 1,000 customers we surveyed would pay more if they knew they would receive a convenient experience. We still need to provide quality products and good customer service. That's table stakes. The new CX demands a level of convenience." - Shep Hyken, customer service/experience expert and award-winning keynote speaker
Rebecca Wettermann: Consumers have grown to expect near perfection with every experience
"Whether you call it contact management, CRM, or CX, the basic challenge of engaging with customers remains—and we're still talking about the promise of the 360-degree view of the customer that was championed by early CRM vendors 20 years ago.
What has changed is the consumerization of experience and the expectation of every customer that their interaction, regardless of channel, be frictionless and the way they want it—and there is no "they." This means not just perfect rendering across device types and formats, failsafes for low-speed connections, support for different form factors, and seamless transfer between channels, but also constant iteration. Gone are the days of website launches or yearly product updates; customers (both B2B and B2C) expect ongoing innovation and improvement. Also gone are focus groups followed by design documentation and a handoff to development—companies need ongoing feedback on interaction channels and digital products to remain relevant and competitive." - Rebecca Wettemann, Principal at Valoir
Venesa Musovic and Adrian Swinscoe: How AI empowers empathy in customer experience
"The development of AI over the past decade is what caused the most noise in the CX industry. However, it wasn't until recently that people started questioning the threats of technologies and inequalities amplified by coded biases. Furthermore, major global disruptions like the lockdown and war in Ukraine made not only the everyday person but also company leaders start to look inwards. Concepts that give hope for the meaningful future progress of CX are empathy, emotional intelligence, and humanity." - Venesa Musovic, Lead Editor at Customer Experience Magazine
"We've seen so much change over the last ten years and particularly over the previous two, so it's hard to pinpoint one thing that is the biggest game-changer in CX. However, if you pushed me, it has to be the advancement in the use of artificial intelligence and digital tools to help gather and analyze data, automate simple tasks and suggest next best actions, amongst other things. The advancement of these technologies has helped us better understand and serve our customers and make the lives of the people who serve our customers easier. - Adrian Swinscoe - customer experience consultant and advisor
Human insight: the North star for an ever-unfolding future
Trends, technology, and society will continue to change. And while no one has a crystal ball, the one sure way to stay connected with your customers and future-proof your products and experiences is through human insight. No matter what the next 15 years hold for us, keeping your customers at the center of everything you do ensures that your team stays grounded in what matters most: the humans you serve.
It's been an honor partnering with some of the world's top organizations over the past 15 years to bring human insight to the forefront of customer experience, and we're excited to see what the next 15 years will bring.
Order User Tested today
Learn how the world's top companies use human insight to create great experiences.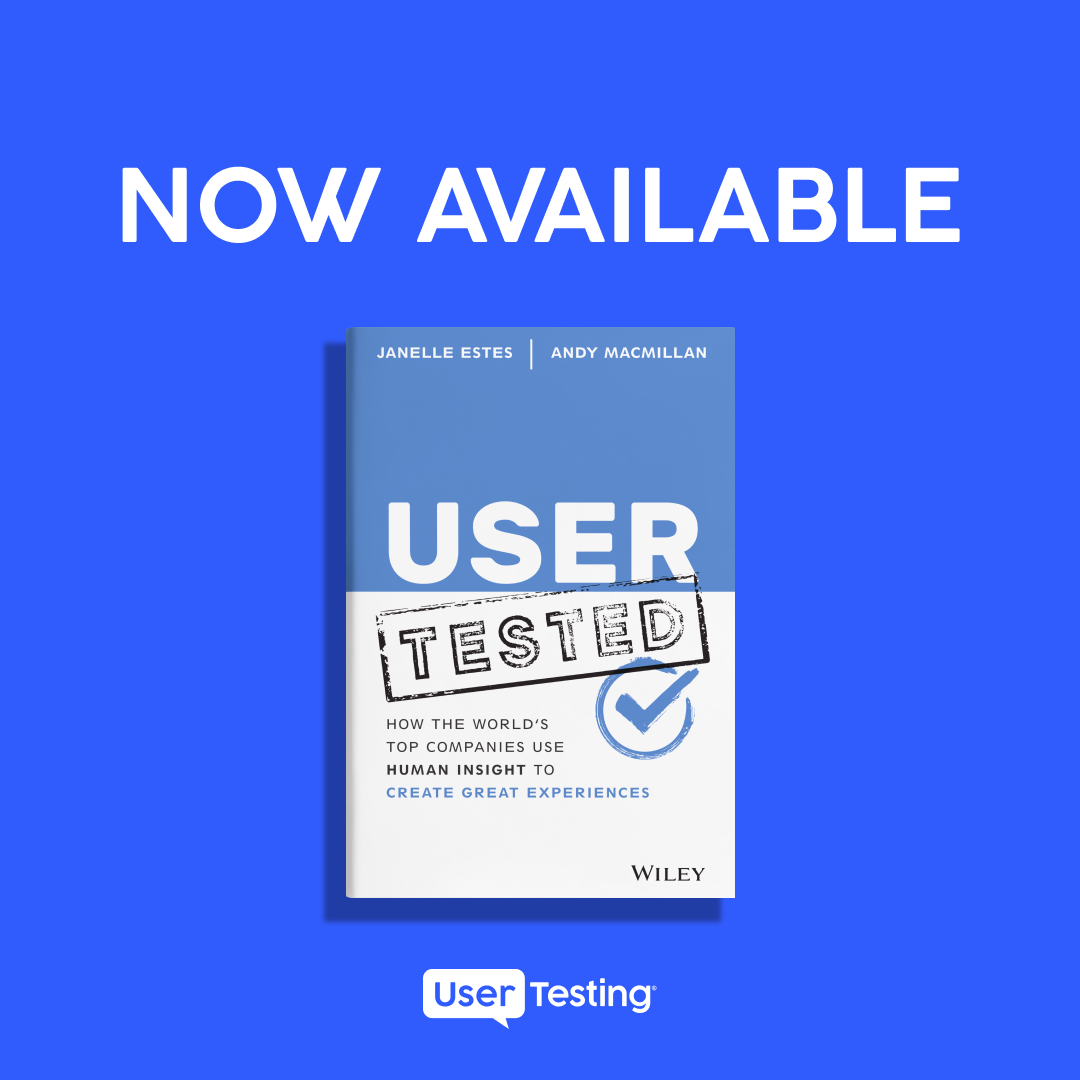 About the author(s)
Janelle Estes
Janelle is UserTesting's Chief Insights Officer and an expert research practitioner fascinated by human behavior and intrigued by data insight. She brings over 15 years of experience conducting large-scale customer research initiatives with both B2C and B2B companies across a variety of industries to help them transform their customer, user, and brand experiences.