How to create effective mobile product pages that convert
Image
As mobile shopping becomes increasingly popular, capitalizing on mobile e-commerce is becoming more critical. If you want to sell your goods or services online, you need mobile-optimized product pages that convert. 
This article will walk you through some critical factors to consider when creating your mobile product pages. Implement these tips to boost your conversion rate and increase online sales.
1. Optimize your photographs
From laptops through to tablets and phones, we're using an increasingly wide range of devices. Each type of device has a different screen size. You need to choose the right images optimized for different devices.
The first thing to consider is the file size. Large image files result in slow load times. If a page takes a long time to load, they will go back to Google and look for another resource. That is a particular issue on mobile, where load times tend to be slower, so optimizing your product page by considering file size is necessary.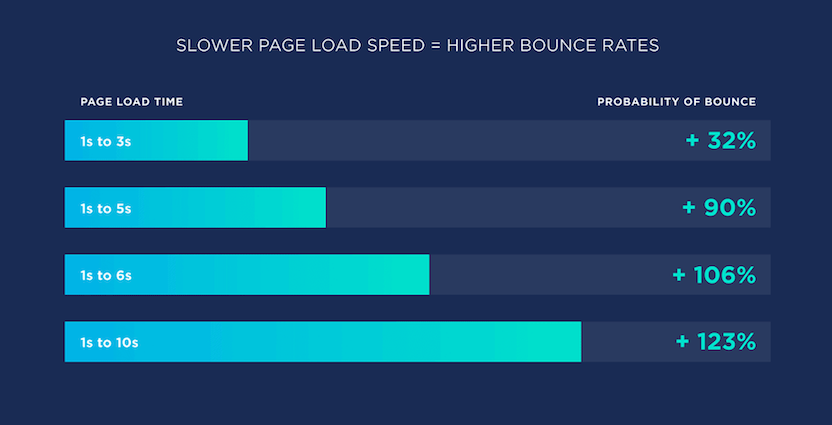 The trick is to strike a balance between high-quality images and file size. You can compress images to reduce the file size without losing too much quality. There are lots of handy tools like JPEG Optimizer and Compression.io to compress images with. 
Another thing to consider is resizing images based on the user's screen size. You can use various tools that host multiple versions of an image with different dimensions on your server. When a user loads a page, the server selects the best image size based on the screen size. Resizing images like this leads to faster load times.  
2. Keep your text to a minimum
On a product page, your copy needs to complement the images. Large paragraphs can put people off, particularly when read on a small screen. Use a limited amount of copy to contextualize your image.
Here's an example product page from Adidas. The instructions are direct. There's no unnecessary prose.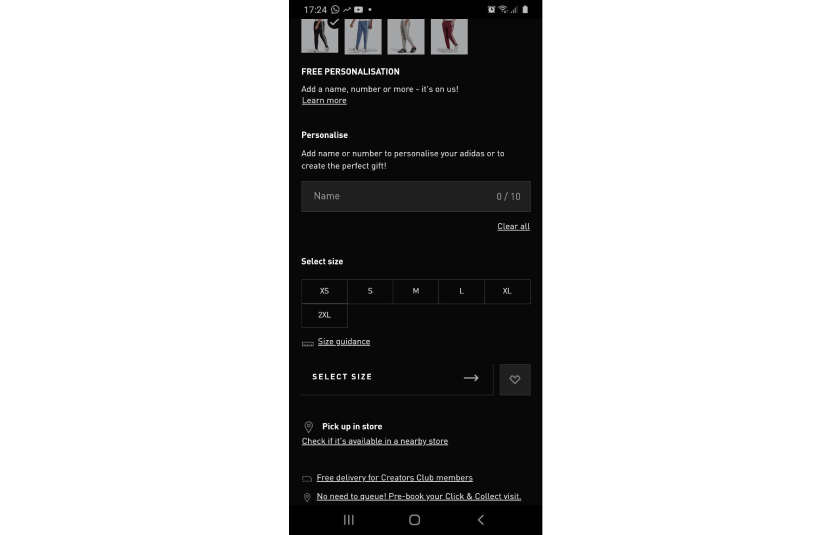 If the visitor wants more information, you can expand certain elements to provide further details. The result is a clean but informative product page that works well on mobile. Also, you should consider using the mobile app development proposal that will allow you to provide more information and details about your product. The viewer can then understand the benefits of downloading it, as well as how they may be able to use this technology in their daily life.
3. Make your product page swipe-and-zoom-friendly
Effortless navigation is essential for an effective mobile product page, so your page needs to be swipe-and-zoom-friendly. Potential customers will be put off if they can't navigate in a mobile-friendly way. 
Here's an example of a swipe-and-zoom-friendly product page from Amazon: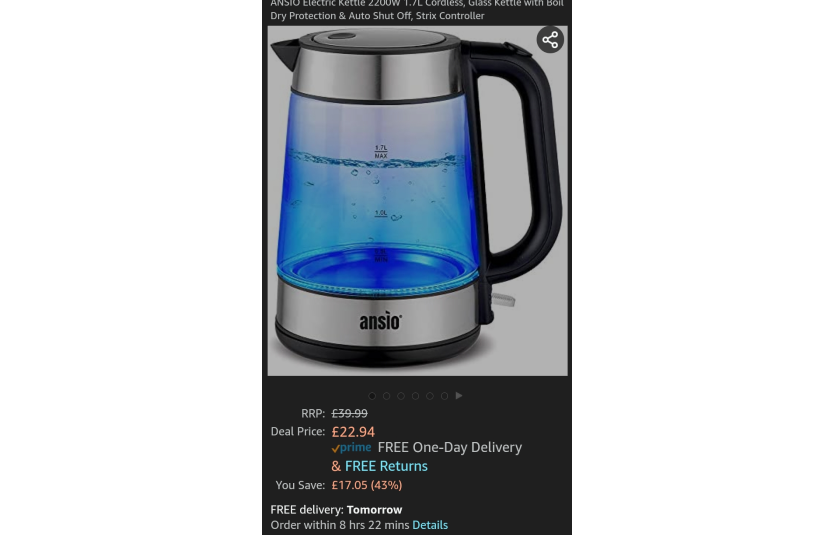 The users can zoom in and out on photos and swipe through them as they please. Useful features like Amazon's image gallery 'dots' can show the user how many images there are. Also, share capabilities like in the example are welcome features.
4. Make the most of product reviews
Product reviews reassure the customer that your product is high-quality and of good value. They also help the customer to trust your website. If the customer doesn't trust your website or has qualms about product quality, they are unlikely to make a purchase. 
G2 and Heinz Marketing found in a study that 92% of buyers are more likely to purchase after reading a trusted product review. The more expensive the product or service, the more time you are likely to spend on research before purchasing.
Realistically, customer reviews are an underutilized CX tool.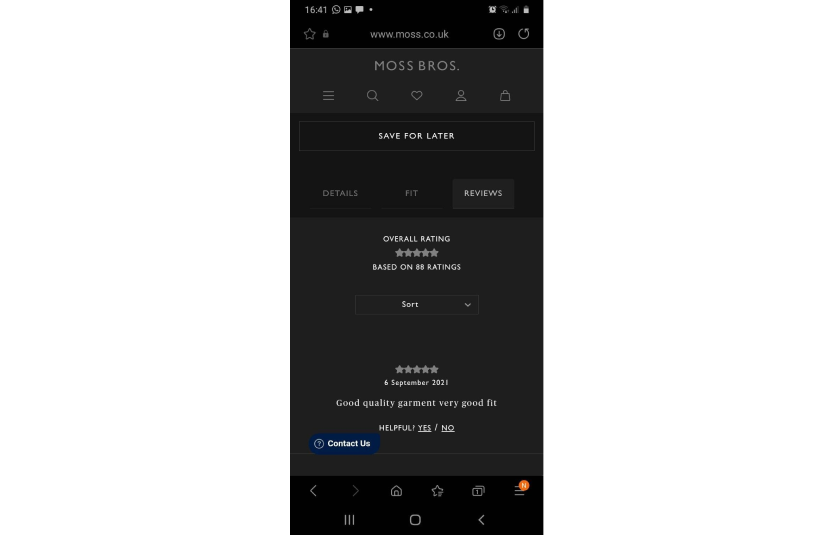 You can make the most of your product reviews by including them in a mobile-friendly way.
To reduce the amount of space used, you can include the product's star rating with the option to expand the reviews if desired. It's also a good idea to place the reviews near the call to action to inspire purchases. 
5. Save data automatically
Mobile users will often add content to a shopping cart and then leave the product in the basket. The average cart abandonment rate varies from year to year, but it's always quite high.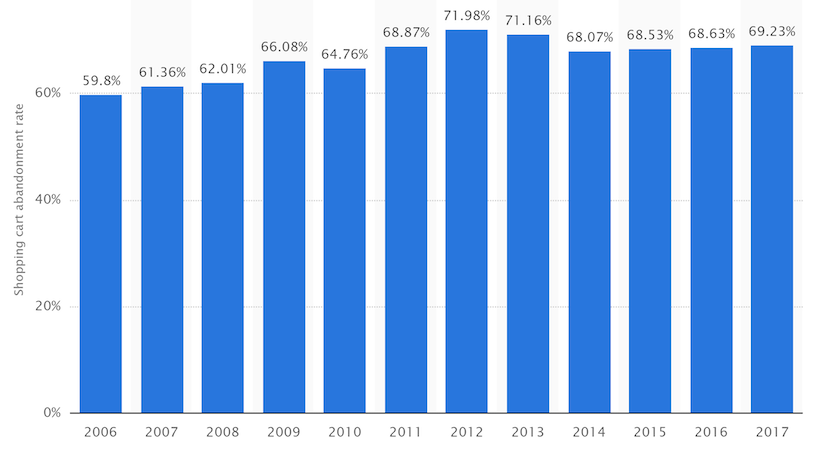 Sometimes cart abandonment is intentional. Occasionally this is due to connectivity issues or other reasons. Regardless of the reason, you want to reduce your cart abandonment rate.
Your primary goal is to make the mobile checkout seamless. Make sure it's easy to click on the buttons and access information through input fields. Secondly, save data from every user session. If you can get the user to return and their product is already in their basket, they are more likely to purchase. You can use data integration tools to tap into the potential of the customer information. 
There are various strategies you can try to incentivize a customer to return to your online store. Most marketers rely on either retargeting ads or a cart abandonment email marketing sequence. One of the best hooks to get the user to return is a time-sensitive discount.
Neil Patel found that 54% of shoppers will purchase products left in carts if there is a discount. 
6. Ensure the "add to cart" button is visible above the fold
Make it as easy as possible for your customers to purchase through your mobile product page. One strategy you can try is placing the 'add to cart" button above the page fold. 
Here's an example from Gucci to show you how to do it: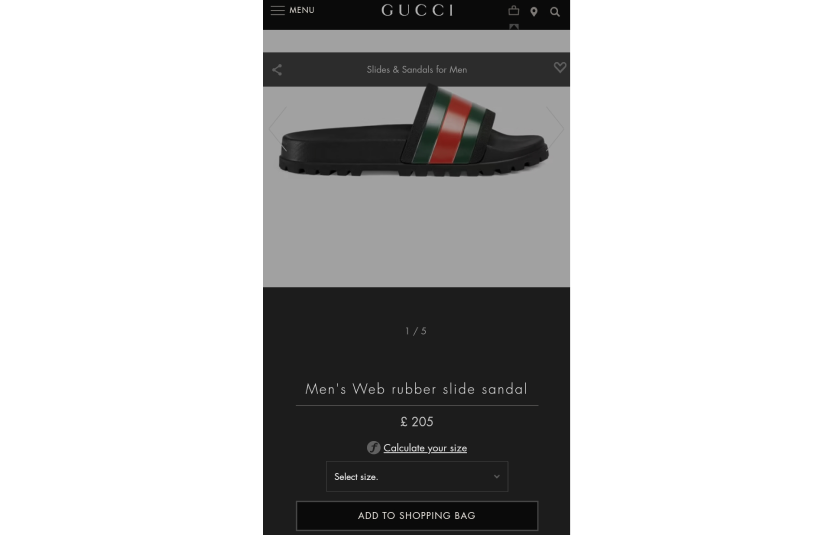 Laying out the "add to cart" button like this makes your customers take action. The customer doesn't have to scroll. The button is impossible to miss. So, take notes from this example when deciding where your "add to cart" button should go. 
It follows, too, however, that your ecommerce website should be visible to potential buyers in the first place. That means you need to ensure good SEO. 
Come up with a quality guest post on authority sites every once in a while for link-building. You won't just increase your brand's exposure to more people. Google will also count those backlinks as votes of confidence for your site. That will give the search engine a reason to put your website up there in search engine results pages, for all potential consumers to see. 
7. Make a list of recommendations
Adding upsell and cross-selling opportunities on your product page is a great way to sell additional products. You can do this by recommending additional products the visitor may like. But make sure the recommended products are similar to the initial product. For example, a customer looking at P.C. may be interested in a mouse and keyboard. 
You also want to ensure you don't overwhelm the customer and put them off the main attraction. So, it's better if the recommendations supplement the main product. 
Here's how Samsung do it with their new phone:
The Samsung phone comes recommended with a 'starter kit' of a flip case, S pen, and charger. Their recommendation is relevant. It supplements the main product rather than overwhelms it. Samsung's recommendations are a good example of the best approach. 
8. Test your pages and use customer feedback
In order to understand why your ecommerce website might not be driving the sales you hoped for, you need to see and hear how people are interacting with your website. Through remote usability testing, you're able to do just that—and more. 
As humans, we often build products and experiences based on our own preferences. And while that may be a good starting point for getting it off the ground, exceptional CX must be built on the collective opinions of others—namely your target customers. 
In this example, see how one consumer is missing out on an important page element on her search results page.
While there are tons of use cases like this one, the important thing to remember is that you are not your user. This means you should constantly be testing (and retesting) your product pages to ensure they're meeting the needs of your customers.
Conclusion
Creating a mobile product page is about being concise with language and mindful of the small space on a mobile screen. An effective mobile product page has all the important information on the first page, so limited scrolling is required. Also, the customer should be able to easily navigate on mobile devices, including images and expanding additional information. 
To do this, you need first to optimize your photographs. You also need to keep text to a minimum and only give the most important information in short, snappy sentences. Product reviews are part of the important information. You can shorten the reviews to just the star rating to save space. Also, the page should be swipe-and-zoom-friendly for a good mobile experience. 
Make sure the "add to cart" button is visible above the fold. Giving the customer recommendations is effective as well. But you need to save customer data automatically, too. Saving customer data allows the user to return to their basket and hopefully make a purchase. 
If you tie together all these elements, creating a great mobile product page is easy. Just remember that with mobile sites, less is often more. The customer needs all the hard work taken out for them; make buying your product simple.
Getting started with user feedback
If you're new to collecting user feedback, use this guide to make user insights actionable and incorporated throughout your mobile product page development process.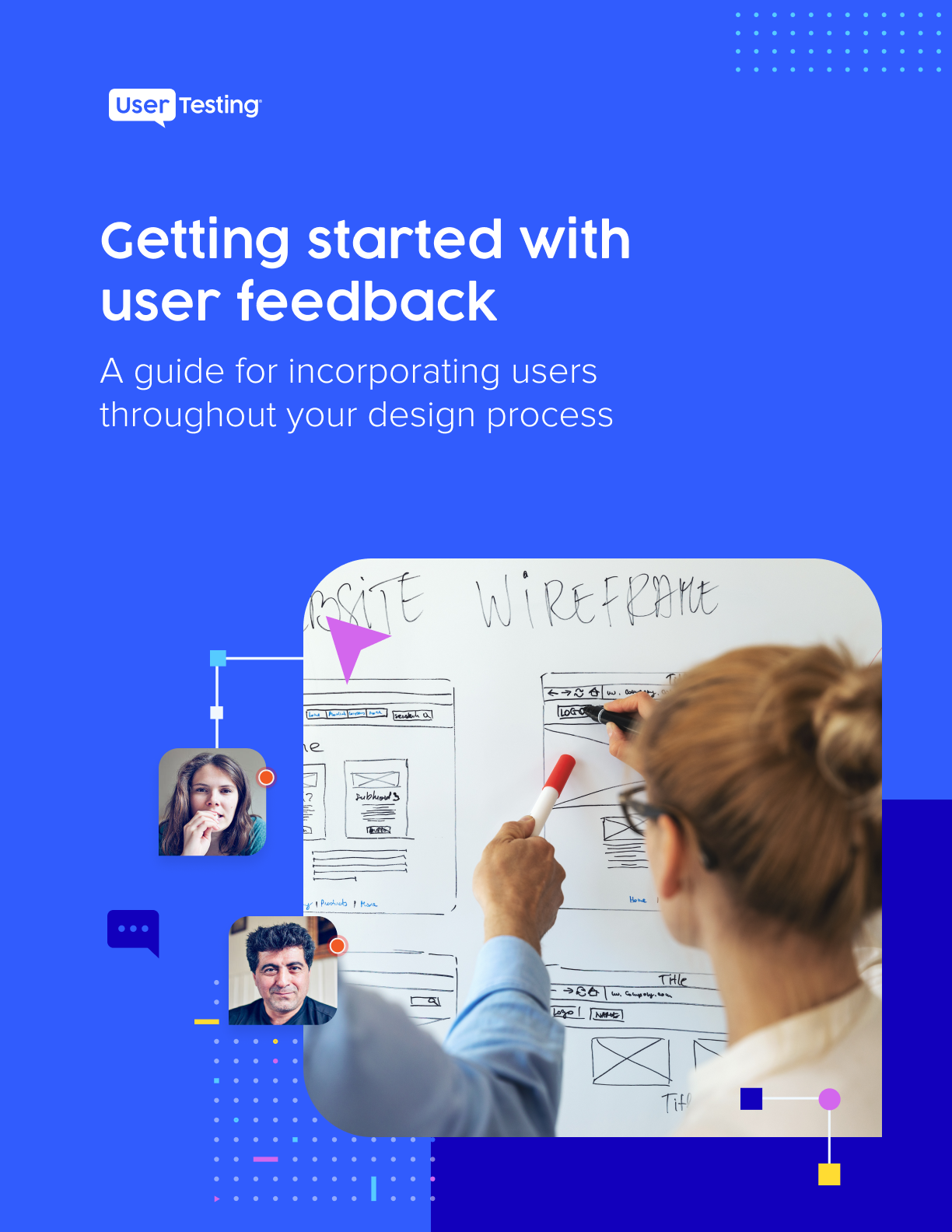 About the author(s)
Matt Diggity
Matt Diggity is a search engine optimisation expert focused on affiliate marketing, client ranking, lead generation, and SEO services. He is the founder and CEO of Diggity Marketing, The Search Initiative, Authority Builders, LeadSpring LLC, and host of the Chiang Mai SEO Conference.