Creating a powerhouse visual roadmap through feedback
Image
Customer feedback is a crucial ingredient for every product. But turning the deluge of data into smart decision making can feel pretty overwhelming.
How to incorporate feedback into your product process
I gathered alongside a couple of veteran product management leaders for a webinar to discuss this topic and break down how to collect feedback, how to incorporate it into your product process, and then use it to empower your organization via a visual roadmap.
Collecting feedback
There are many methods for finding out what users and prospects think about your product. These include:
Customer interviews
Cancelation feedback
UX research 
Trial feedback
Customer support
The sales team and their prospects
Feedback forms
Surveys
Net Promoter Scores
User communities
And while it's great to have so many intelligence sources, product managers can get wholly inundated and overwhelmed. In fact, I suffered from this too. Finally, I hit the brakes and realized that I didn't have to track every little thing that came in through these channels. I found myself spending more time monitoring that feedback than actually digging deep, doing more detailed interviews and discussions with the customers, and working on product strategy. I was missing the forest for the trees in a sense."  
Grouping feedback into buckets helped me to ignore the noise in favor of what mattered. Product managers can't do it all, so it's key to focus on features that would delight customers.
The webinar's audience cited sales and customer service teams (69%) and customer interviews (63%) as their primary methods for collecting customer feedback then surveys (51%) and user communities (22%).
User communities
An audience member asked about the specific pros and cons of user communities with upvoting support. Annie Dunham, the Director of Product Management here at ProductPlan, thinks user communities are a great forum for asynchronous feedback.
"Just having a place where your users are just telling you what they think without you having to schedule interviews," she said. "Another pro can be when your power users start helping each other and inspiring each other to use your products in different ways."
She also commented that "it gives you a lot of visibility into what people are thinking and feeling in the heat of the moment." But she also warned that "it does require management... You need to be dedicated to taking care of it and know what your boundaries are."
I think you should remember that not all users are equal. Some are in your target market, and some aren't.
Brian Tran, UserTesting's Director of Product Management, cautioned that the "most active in your user community could introduce bias." However, he believes they are "a great way to find trends and form hypotheses," before digging into it using other mechanisms.
Incorporating unengaged customers into the process
Not all customers are going to offer up their thoughts and opinions proactively, but they're just as critical to satisfy and delight continually. Brian encourages product managers to follow up with people right after they have a terrible experience or at the highest level of frustration. Tempers may be flaring, but they'll be in a great position to articulate their issues.
Annie also believes understanding why they're unengaged is part of the question. She advises product managers to use asynchronous methods, customer advisory boards, and existing account management and sales relationships that can be piggybacked on.
She added that product managers should also try to incorporate feedback into the beta, including customer service and sales. She recommends using a specific jobs-to-be-done survey to quantify the friction points and opportunities.
Leveraging customer feedback into your product process
The intersection of Desirable, Viable (make business sense), and Feasible (buildable) is where the amazing product lies for Brian. 
"We always focus on desirability because we're customer-focused," he said. "Categorizing ensures you're getting the right feedback...be very explicit about what you're trying to learn before just going out and learning."
He also thinks you should start as broad as possible with customers, refining things down to the specifics iteratively, so you have a broader context. He also recommends avoiding yes or no questions to avoid bias.
Brian continued, urging product managers to focus on where they get feedback by layering other data to identify the key areas. Using the jobs-to-be-done framework, product managers can identify which customer needs are most painful/critical, along with their level of satisfaction getting it solved currently. 
Those underserved needs should serve as a starting point, followed by getting qualitative feedback/interviews with those people. Transforming a data point into a real person helps you tell a story around it, adding customer empathy for a more holistic story.
We asked the audience how much of their product roadmap is influenced by customer feedback. 79% responded that some, most, or all of their roadmaps were driven by input from customers. But how do you use that feedback to select the right direction for your roadmap?
For Annie, she starts by grouping things and boiling them down into problem statements and value statements. "Weigh what's the most important thing we can do as a product team to move the business forward."
"I review everything that's out there and feel how relevant it is. I ask how it aligns with what we're trying to do as a business," she continued, using that as an opportunity to reach out to the customers asking for things, understand their needs, and then move it into engineering to consider what would be involved in implementing it.
"Then I'm able to say based on this feedback and this investigation this is the size of the project," she continued. "We try to build out different batch sizes of projects and then prioritize them against each other, so feedback feeds the prioritization process."
Applying feedback to empower your organization
All that feedback is great for product managers, but others must know what users are talking about. We asked the audience how they share customer feedback across their organization.
Presentations (35%) and personal conversations (27%) were most common, followed by Slack channels (19%) and roadmaps (13%). Regardless of the method, socializing this feedback is key to aligning stakeholders.
"Other stakeholders are also your customers," Annie said. "How you share and communicate should be catered to the specific needs of that 'customer.'" 
What you tell sales is different from executives and engineering, she continued, praising overcommunication. She advocates setting up regular, scheduled sync ups with stakeholders, monthly executive, sales, and customer success updates. "Take them along with you throughout the entire end-to-end journey."
This dialog also requires translating what customers are saying into language the business will understand. I believe figuring out this common language is key to ensure both customers and the organization is satisfied and moving in the same direction.
"Empathetic product managers always want to do the right thing by the customer, but we do have to recognize that there are objectives to move the business forward," Annie added. If the business only cares about the numbers, you have to turn that feedback into numbers that matter to them, like churn and Net Promoter Scores.
Is some feedback irrelevant?
Customers and users have no filter and often provide input that seems irrelevant to the current product strategy. But Annie warns against dismissing it out of hand.
"No matter how crazy it might sound in the moment, it doesn't sound crazy to the customer…they need to feel heard," she said, adding that you need to provide customers asking for something off the radar why the company is prioritizing other things. "Walkthrough why we aren't doing what they asked for but what we are doing and why we're doing it." 
Brian also cautions against rushes to judgment. The feedback may be coming from audiences you're currently not targeting, but they might become a future customer as you grow.
He added that the stage of the product should dictate which feedback sources should be given more credence. Value both prospects and current customers, but early-stage products should focus on keeping actual paying customers engaged. Once you have product-market fit, prospects become more critical.
Turning your feedback machine into a visual roadmap
You could use all the feedback to generate a laundry list of specific features and enhancements to fill out your roadmap. But what we've learned from these experts is to not drown in the details of each piece of feedback but rather to identify the key themes that will enhance the user experience and improve upon key KPIs the organization values.
A visual roadmap is the best way to put these insights into action. Feedback helps you identify the themes most likely to move the needle, and a visual roadmap keeps the focus on outcomes and objectives versus specific functionality.
It can help the whole organization see the value of these initiatives and get everyone aligned and excited about what's to come. The visual roadmap helps you tell your story about how the product will delight new and existing customers even more than before while still growing the overall business.
Customer interview toolbox
Download ProductPlan's customer interview toolbox to unleash best practices and templates for conducting successful customer interviews.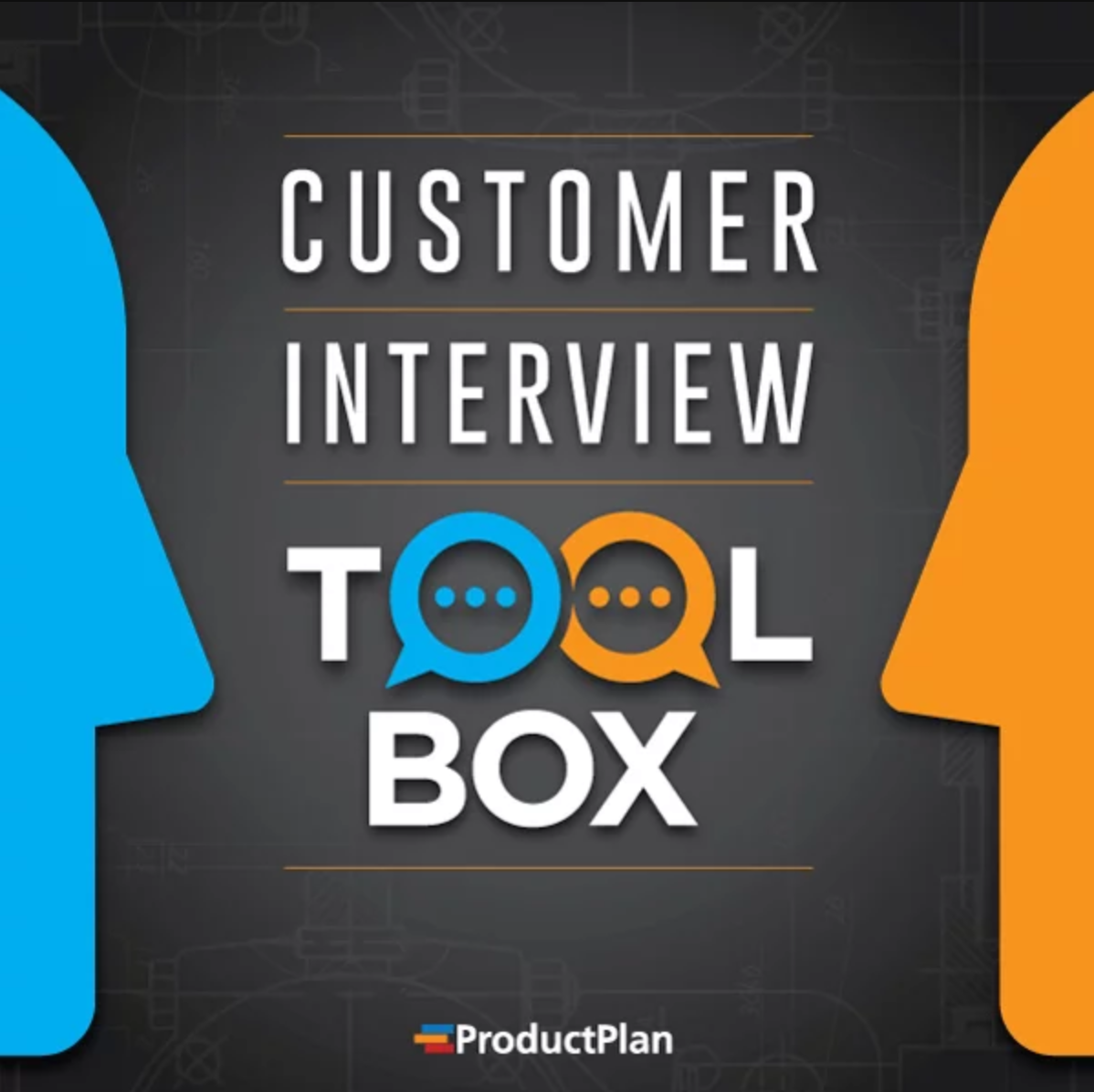 About the author(s)
Jim Semick
Jim is co-founder of ProductPlan, a leading provider of product roadmap software. For more than 15 years, he has helped validate and launch new products now used by millions of customers. Jim is a frequent speaker on product management and the process of discovering successful business models.