Find and share video insights faster
Image
One of the most exciting parts of UX research is diving into study results and make sense out of the data. However, watching and re-watching session recordings to extract insights can be incredibly time-consuming and labor-intensive.
That's why we are excited to announce that we've expanded our video capabilities to help you find and share insights, faster.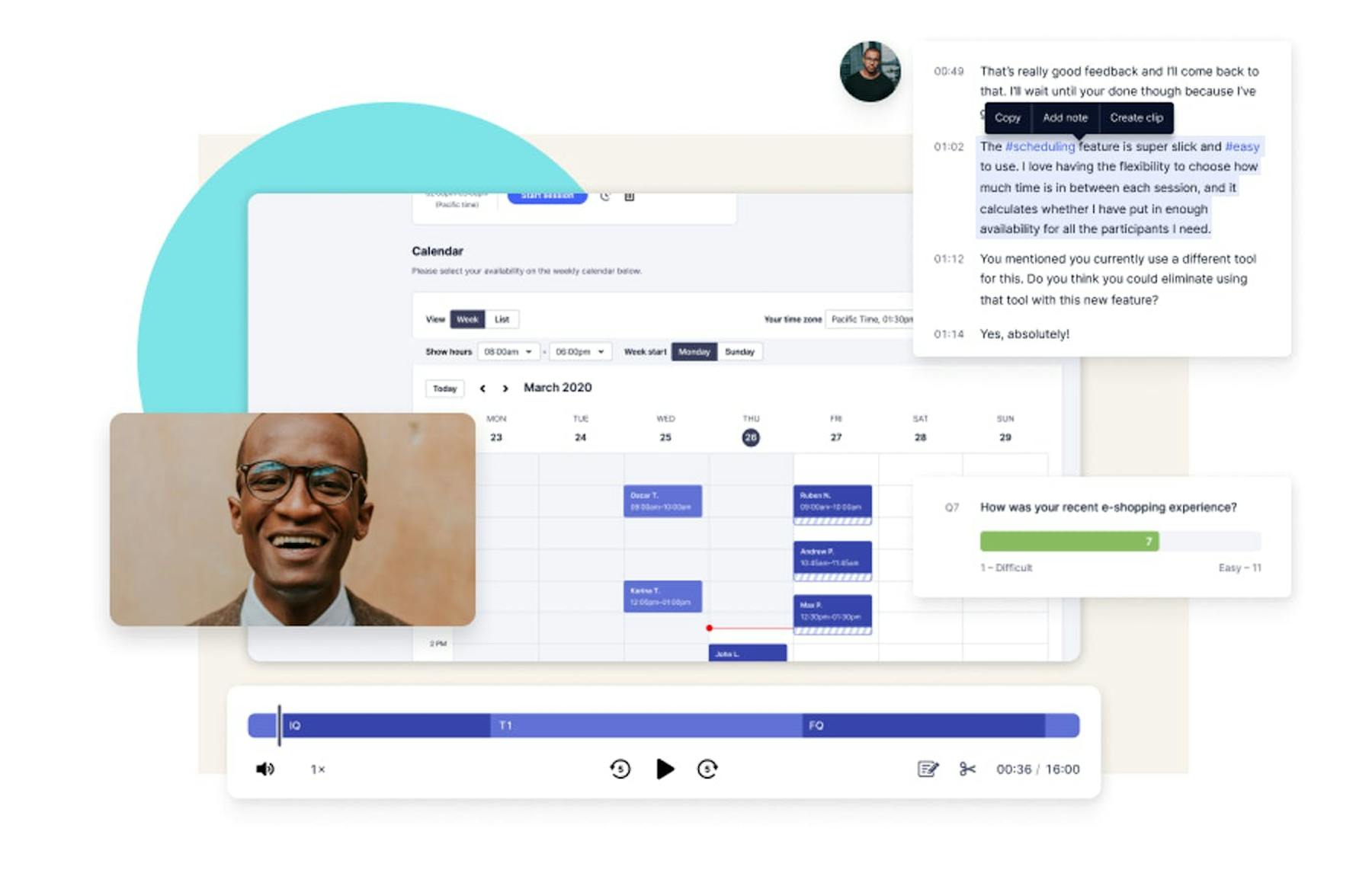 What's new?
Editable transcripts
Synced playback
Interactive side panel 
Collaborative time-stamped notes
Resizable canvas
Playback speed controls
Clip generator
Let's explore these features in more detail.
1. Editable transcripts
Our top voted feature request has arrived: Video transcripts can now be edited.
We've improved the search experience by adding the ability to search and replace text within the transcript. Now when the robots translate "open" as "ocean" you can find, replace, and be on your merry way. 
2. Synced playback
Speaking of transcripts, you can now follow the transcript along while you listen to the recording.
Search the text transcript to find the exact moment you're looking for, then click on the timestamp and jump to that exact place in the video.
3. Interactive side panel
The video player now includes an interactive side panel designed to increase efficiency by reducing the need to open multiple tabs to find or reference study information. 
Study details - The new "Study" tab is designed to give you quickly accessible context about the study and session participant. This time-saving feature eliminates the need to jump between tabs to recall information about the study or how the participant answered screener questions. 
Session dropdown - We've also added the ability to toggle between participant sessions by selecting from the available dropdown or by clicking the left or right arrows. This eliminates the need to have multiple tabs open during your analysis.
4. Collaborative time-stamped notes
Research can be analyzed by a single person or a team of people. To foster collaboration and efficiency, we have introduced a collaborative note-taking experience that caters to both use cases. 
These time-stamped notes are only editable by the person who created the note, and clicking on the timestamp will bring you to that exact moment in the video. This feature is for both moderated and unmoderated videos.
5. Resizable canvas
When analyzing a session recording on your desktop computer, the size of your video player will automatically adapt based on the available space in your browser window and default to showing the side panel.
Previously, the default viewing experience was too small, so we've redesigned it to give you complete flexibility over your viewing experience. 
Select the fullscreen mode in the top right-hand corner of the video player to view your video in a larger player or drag the side panel to make it bigger or smaller. You can even hide the side panel altogether using the side panel icon.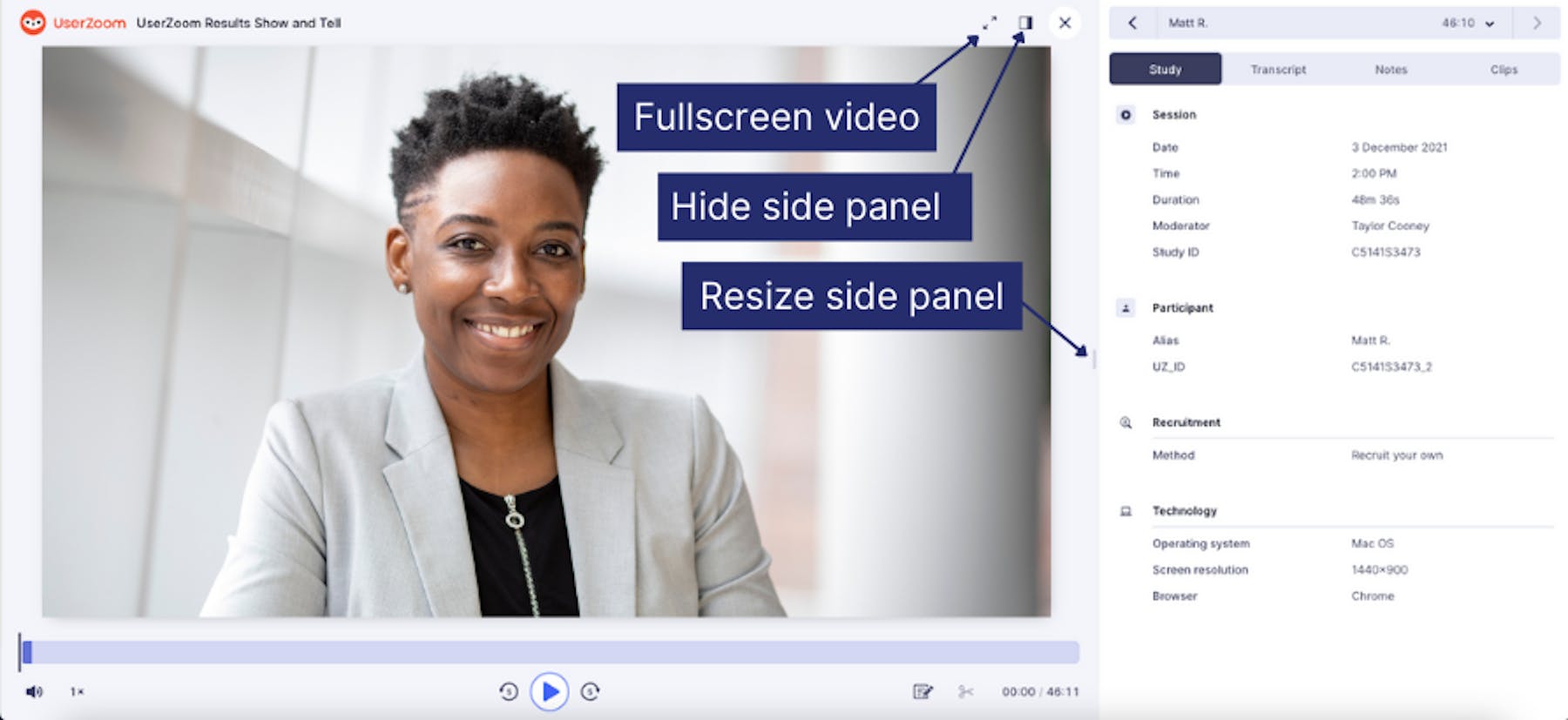 6. Playback speeds controls
Choose the speed you want to listen to and watch your session recordings with new playback speed controls.
Options include: 
0.5x (slowest)
0.75x
1x (default)
1.25x
1.5x
1.75x
2x
3x
4x (fastest)
We've also added buttons to jump backward and forward 5-seconds so impactful moments are not missed. 
7. Clip generator
Clips are a critical component when showcasing research insights to stakeholders because they allow you to instantly condense an issue into just a few seconds. With the new clip creation experience, you can capture those impactful moments and share them with others in your organization. Simply give the clip a proper title and provide a description that helps the viewer with context. 
Summary
We hope that with all of these new features and improvements we've taken the pain out of video analysis and provided you with new ways to boost your productivity and aid collaboration.  
Insights that drive innovation
Get our best human insight resources delivered right to your inbox every month. As a bonus, we'll send you our latest industry report: When business is human, insights drive innovation.
About the author(s)