How UserZoom helped you do better UX research in 2021
Image
While 2021 was another year of uncertainty for the world, two things were certain: UX has never been more critical to businesses and remote UX research is here to stay.
In 2021 alone, UserZoom customers launched more remote studies than ever before—talking with and listening to millions of participants— making it a monumental year for UX research!
It was also a monumental year for UserZoom, from improving on and adding new features in our mixed-methods platform, to our acquisition of EnjoyHQ, and launching QXscore—we wanted to provide a recap of last year in case you missed any of what's new.
Everything we built this year is centered around three key themes that you told us were top priorities:
Quality - to help get the right UX insights for your business to make confident decisions.
Speed and scale - to help you generate, analyze, and collaborate on more experience insights, to make more decisions faster.
Quantify impact - to give you an actionable way to measure your UX and demonstrate its value to business stakeholders.
Let's look at the key ways we made it easier for you to do better UX research in 2021, and beyond.
Table of contents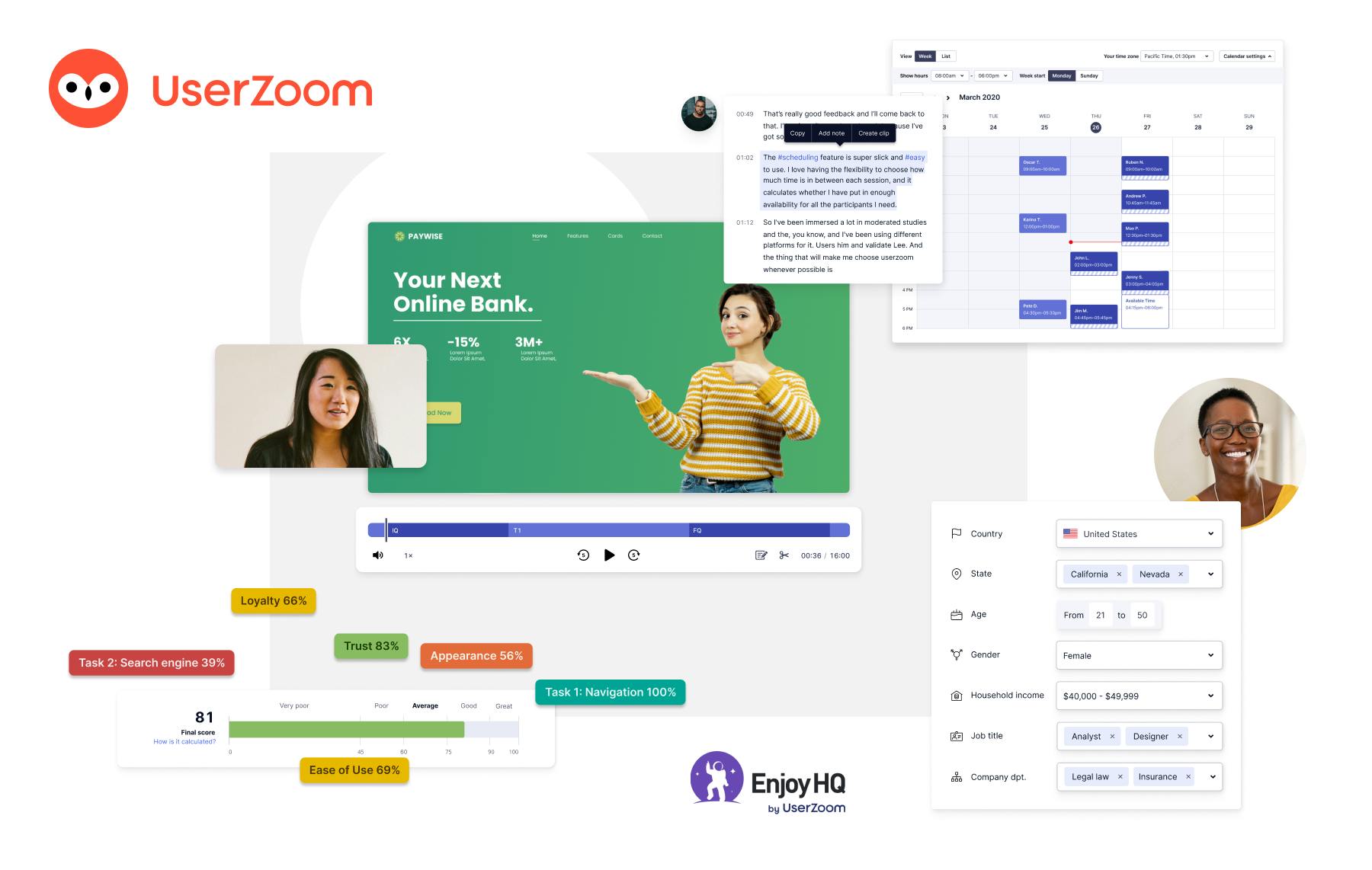 Research design
Entire screen recording 
With entire screen recording, you can now conduct research on experiences that live outside of the browser window, opening up a new world of use cases. These include research on desktop apps, processing-intensive programs such as a video game, or experiences in a development platform or an app store.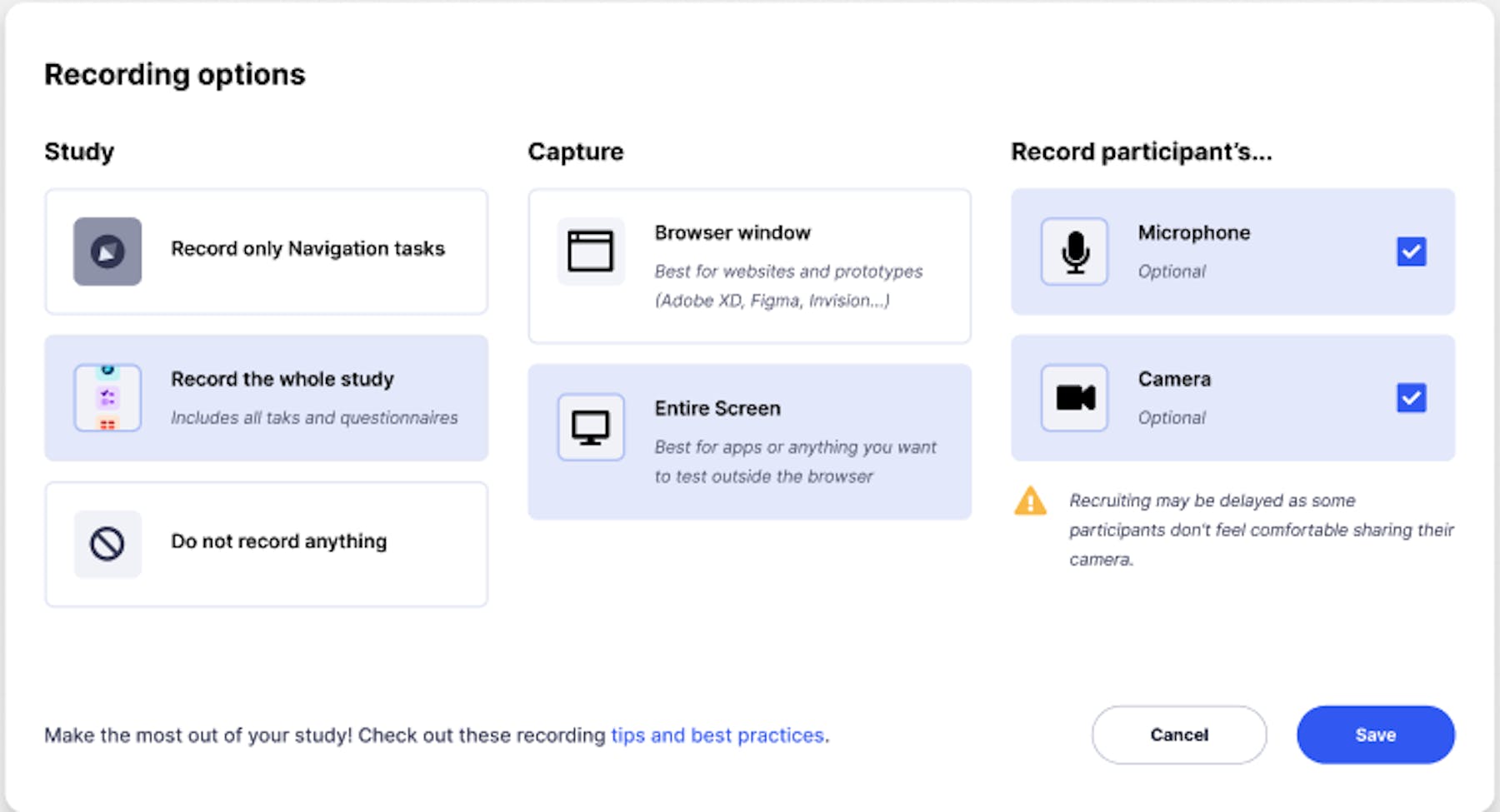 This feature is available for advanced research studies and basic usability studies.
Mobile app testing got easier
This year, we released significant updates to our code-integration (SDK) approach to mobile app testing. We started with improving the ease of installation then leveled up both stability and recording quality. Now we're proud to say our SDK gives you more recording options and research data points than any other solution for testing mobile apps on the market.
We've also been developing a codeless approach to mobile app testing, making getting started with this type of research so much faster and easier. Stay tuned for more information on this soon.
Choose the right method, even faster
UserZoom is a robust UX research platform especially when it comes to the variety and breadth of UX research methods to choose from. Our new study selection flow makes choosing that right method faster and easier, with a single-page, easy-to-navigate flow, with updated visuals and contextual tips that help you make the right choice to answer your research question with high-quality results.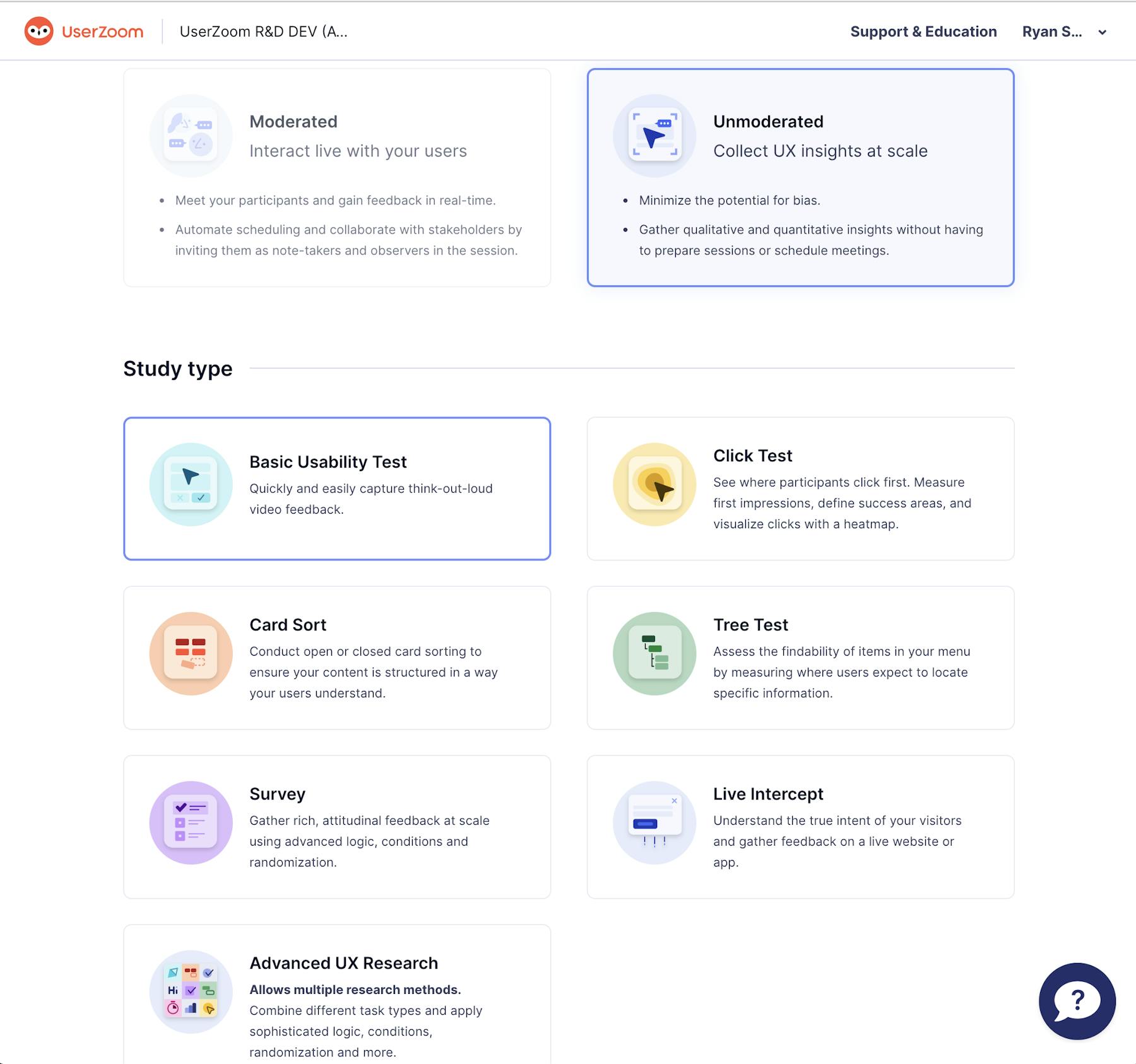 Recruiting participants
Easily schedule and manage your sessions
We made the scheduling of moderated UX interviews more efficient by eliminating the hassle of back-and-forth emailing. Now you can simply set your availability preferences in UserZoom and let participants pick a time that works.
"The calendar feature is super slick and easy to use. I love having the flexibility to choose how much time is in between each session, and it calculates whether I have put in enough availability for all the participants I need!"

Lead UX Researcher, Banking
Automatically recruit participants for moderated research
UserZoom has years of experience automating recruitment for unmoderated research, handling the entire process, and recruiting millions of participants for our customers' studies. With this release, we extended our expertise in automation and recruitment in moderated research.

Manually recruiting for moderated research can create research bottlenecks, due to the amount of time spent finding and coordinating with the right participants. With automated participant recruiting for moderated, we remove all the effort and pain, speeding up recruitment so that studies can be completed in days (and sometimes hours), not weeks.
Find the right participants
We've added additional targeting criteria for both professional and consumer populations to ensure you find the right participants for your studies.
These additional criteria include those for a professional B2B audience, such as job title, industry, department, and organization size. 
With the new criteria, you can now better target within a general audience, through filters such as state/region, ethnicity, mobile carrier, and savings & investments.
Is now still a good time for you?
If participants are more than three minutes late, you can now call them directly from the session. Whether they lost track of time or are experiencing technical difficulties, you can make attempts to re-establish the session. 
While it's not possible to eliminate no-shows completely, this capability, along with automated email and SMS reminders, helps you to get ahead of it! 
Analysis and Results
Find and share video insights faster
We're proud to announce a new and improved way to watch back session videos, making analysis faster, more collaborative, and, dare we say, more delightful. 
It includes a whole new look for the video player, with contextual study and participant details in the side panel, and comes with dozens of highly requested features.
These include additional playback speed controls, a resizable video canvas, and fullscreen mode. Analysis got improvements too, we made transcripts editable, introduced time-stamped collaborative notes, and rolled out an improved video clip creation experience.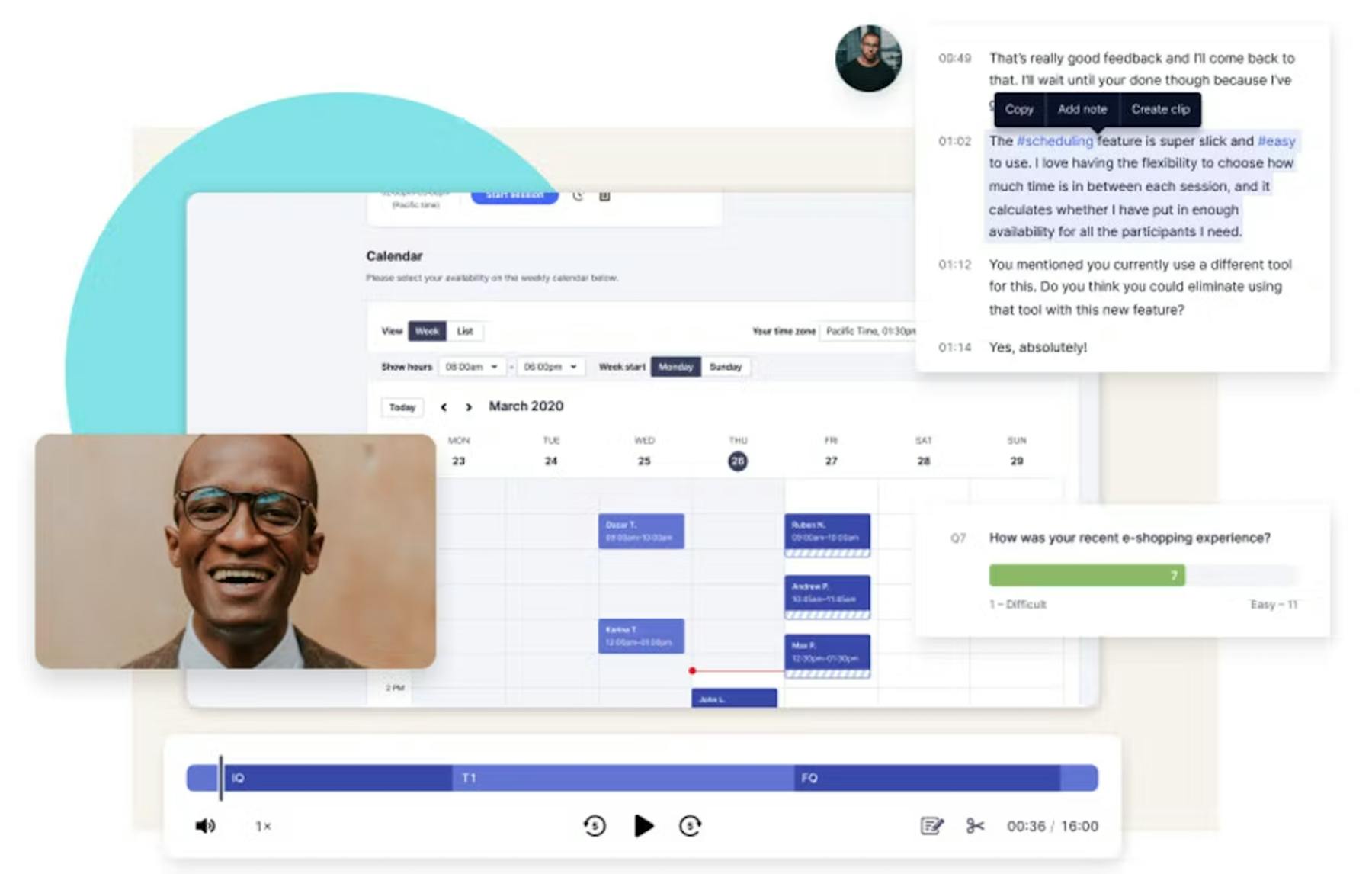 Our new video player and analysis tools are available to all our customers for both unmoderated and moderated studies. 
Welcome to the family, EnjoyHQ
A huge moment for us in 2021 was our acquisition of EnjoyHQ in April. EnjoyHQ allows researchers to democratize customer feedback and insights in one central, searchable research repository. 
Our first integration with EnjoyHQ helps research teams automatically sync their participant video clips for rapid analysis and sharing.
"EnjoyHQ is User Research on Steroids! The more you put in it, the more you get out of it, and you can really answer user questions in no time without needing necessarily new research. Finally, tap into the accumulated user research done throughout the company - no more double work!"

Product Manager, Healthcare Tech
Stay tuned, as you can expect further integrations between UserZoom and EnjoyHQ in 2022.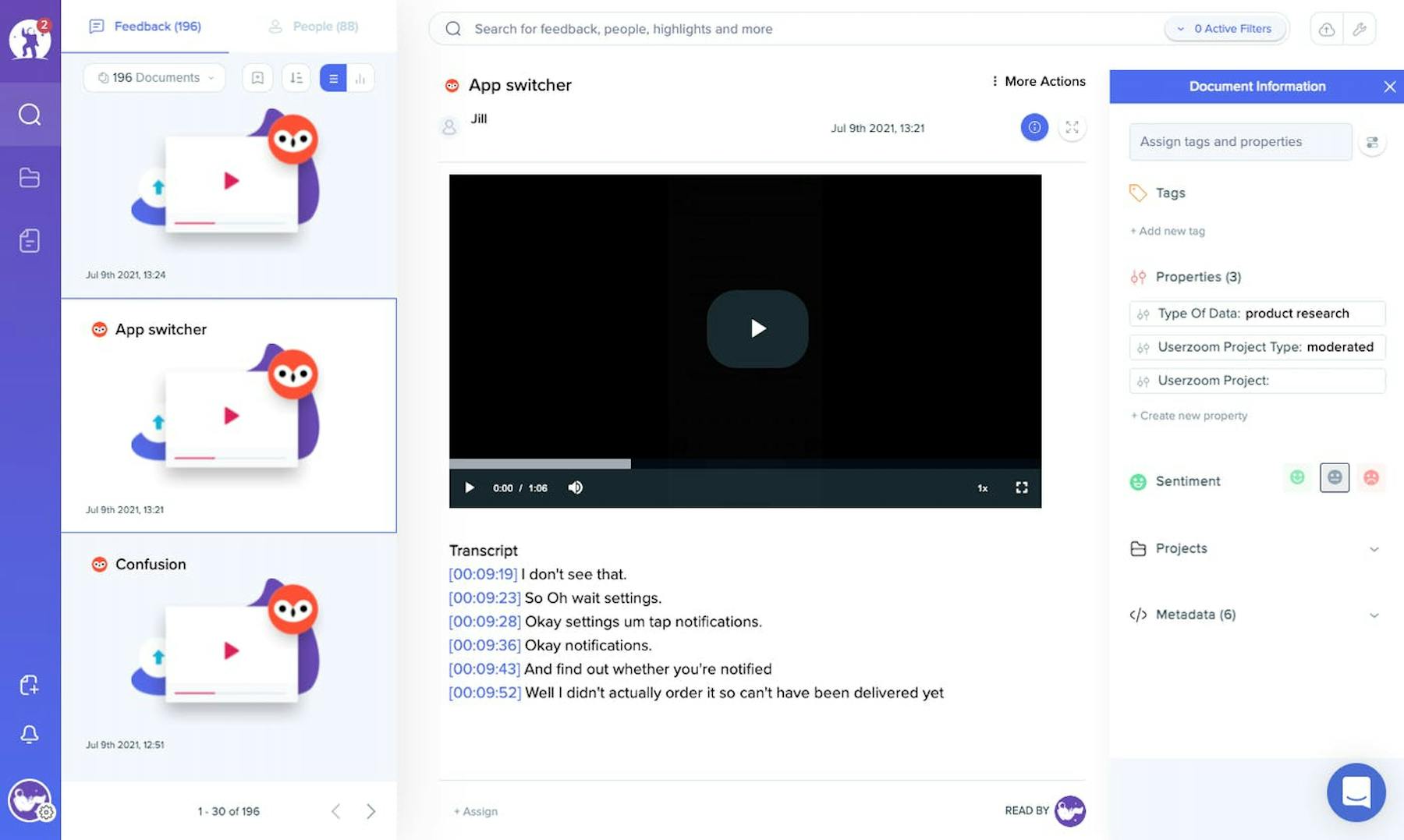 Quantify your impact with QXscore
A key aspect of managing experience insights is to measure them in an effective and consumable way. To that end, this year we brought QXscore, a holistic, easily understood single score for measuring user experience, into the UserZoom platform.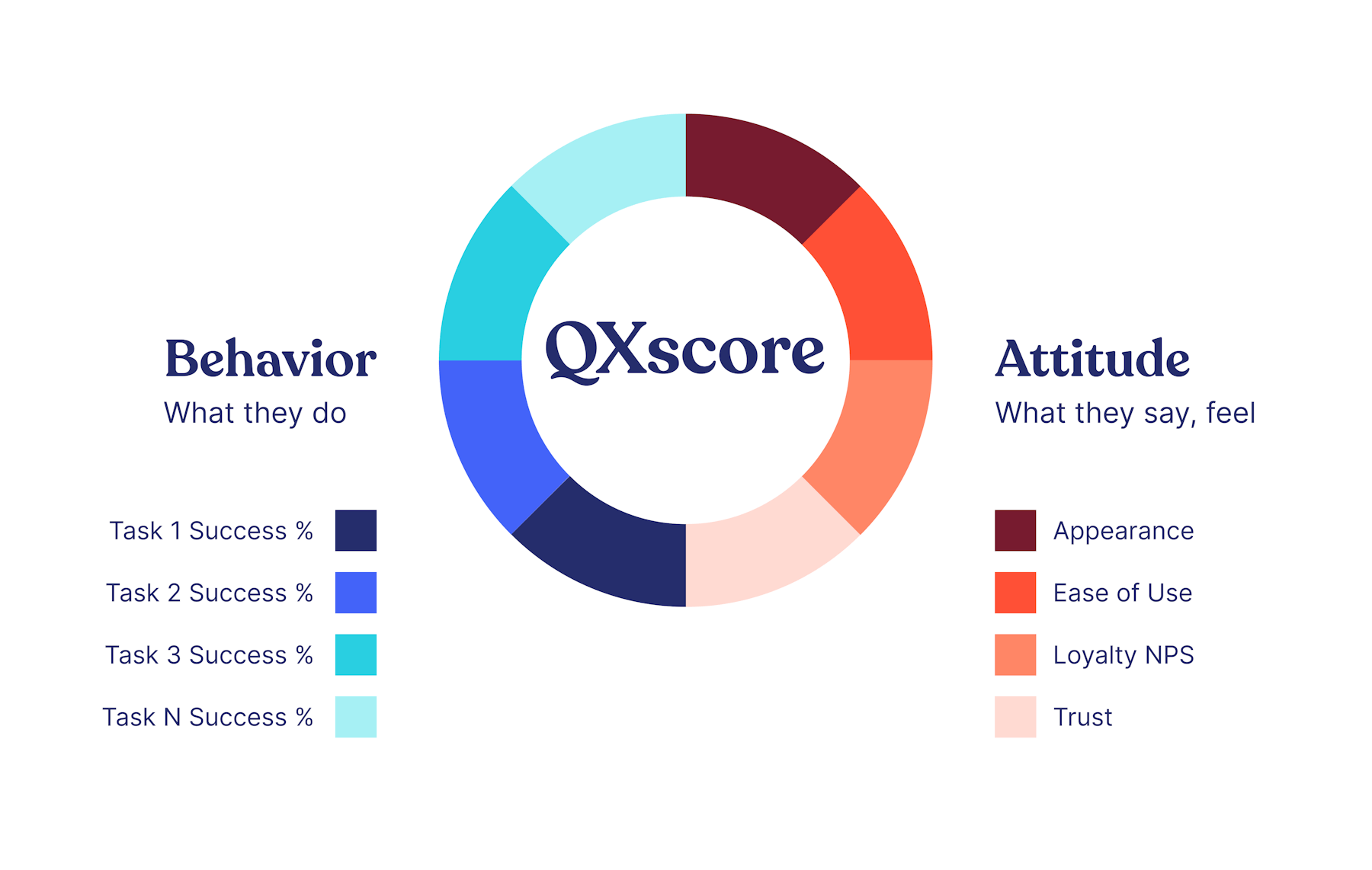 QXscore is the only measure of experience that quantifies both users' attitudes and their behaviors into a standardized score on a 100-point scale. All other user experience measures only include attitudes --what users say and feel -- OR only behaviors -- what users do.
Now you can easily configure a study to capture the QXscore of an experience, and UserZoom will automatically calculate and display it on a UX scorecard.
Accessibility
Research should include everyone
Getting quality insights can depend on hearing from all types of users from all backgrounds, with no barriers to those with accessibility requirements.
In 2021 we partnered with an external organization to fully audit every aspect of our participant experience for accessibility issues. In addition, we conducted a series of research sessions with blind and low-vision participants - focusing on their experience taking part in moderated research. 
Since then, we've made a range of updates to our moderated solution to improve accessibility, with more updates planned for all parts of our platforms in 2022.
UX research consulting and best practices
Get the help you need for quality, scale, and speed
While the UserZoom product team was hard at work building out new enhancements and features, our professional services team was hard at work developing programs to help your team do better research, faster. Get in touch with your Research Partner to learn more about UX consulting sessions and new programs covering:
UX Research Democratization
ResearchOps: Templates Standardization
Embedding Insights across PDLC 
UX Measurement & Benchmarking
ResearchOps: Insights Hub
Thank you
Thank you so much for joining us on this journey so far. As you can see from all of the above, we've strived to bring you a solution that truly meets your ambitions and empowers you to create experiences your customers love. We promise that in 2022 we'll continue to listen and be inspired by our users, and deploy even more exciting, industry-defining solutions to your needs.
Insights that drive innovation
Get our best human insight resources delivered right to your inbox every month. As a bonus, we'll send you our latest industry report: When business is human, insights drive innovation.
About the author(s)