UserTesting Now Lets You Test Almost Any Experience, Anywhere
Image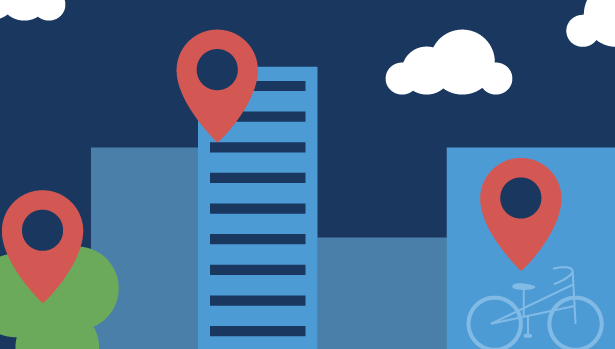 New suite of in-the-wild business services and better, faster mobile tests for everyone (now in public beta)
---
This week we're announcing a suite of mobile enterprise services that dramatically expand what you can do with UserTesting, along with technology changes that will make our mobile app and website tests faster and clearer for everyone.
The changes include:
In-the-wild testing of just about anything. You can now run mobile tests of apps and websites anywhere people can carry a smartphone or tablet---in stores, at work, on the bus, etc. You can also use the camera and microphone on a test participant's smartphone or tablet to record almost any sort of user experience beyond websites and mobile apps, including store walkthroughs and product setup. If you can imagine it, we can probably test it.

Multi-device research (also called cross-channel or omnichannel research) is now easier and faster. If your app or site runs across computers, tablets, and smartphones, we can help you test all of them together. We can also extend that testing into brick-and-mortar settings like stores. So, for example, you could watch a customer order a product online and pick it up in a store.

Better testing of smartphone and tablet apps and websites. New technology allows our mobile tests to have clearer images, faster turnaround, more detailed demographics, and more natural testing.
I'd like to take a minute to explain the changes and how they'll improve your experience with UserTesting.
Introducing the UserTesting mobile recorders
Our smartphone and tablet tests have traditionally been recorded through a webcam connected to a personal computer at home. The webcam was mounted on a stand, and the participant held the mobile device under the camera to perform the test.
This week, we're rolling out software that directly records the screen and audio from the test participant's device. (This technology is launching in public beta today.) The webcam is gone, and we've cut the cord to the computer. That produces several benefits for you:
1. Mobile testing in-the-wild
The first benefit is that our enterprise customers can now test "in-the-wild." You can design tests to be run anywhere the user goes, and ask them to perform just about any task you can imagine. Follow along with your users as they use your app or website in real-world conditions, or ask them to do other off-device activities like shopping in a store or setting up a product.
To help you do "in-the-wild" testing effectively, our research team will help recruit participants who are in the right location and are able to perform the tasks you need. Those services are available to UserTesting enterprise customers. Contact us and we'll design a study that meets your needs.
Here are some examples of what you can test with the mobile recorders:
2. Multi-device testing
One of the biggest challenges in mobile today is multi-device or "omnichannel" design: creating user experiences that are coordinated across smartphones, tablets, computers, and real-world settings like stores. With our mobile recorders, we now can now test user journeys across all three device types, plus real-world settings, with matching demographics and fast turnaround times. It's incredibly easy for anyone to order multi-device tests in our online tool (see below), and if you're an enterprise customer, simply contact your client success manager to help you set up real-world tests for all the devices.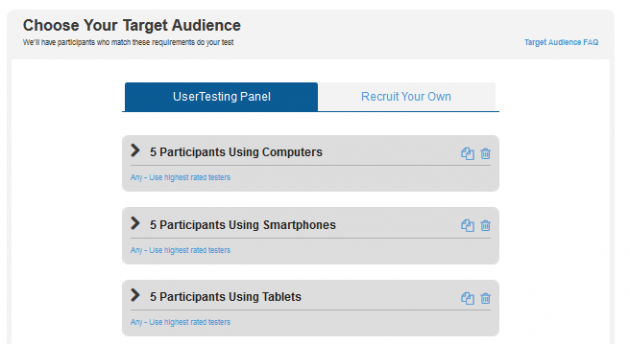 You can now create multi-device tests with just three clicks.
3. Better mobile app and website testing for everyone
All of our app and website tests are dramatically improved by the mobile recorders. Here are some of the benefits:
The mobile recorder reduces our turnaround time on app tests, making it easy for you to incorporate user tests in even the most aggressive agile development program. Do a build in the morning, watch users test it in the afternoon.

Because we're recording the screen directly, it's always in focus and brightly lit, and the user's fingers do not obscure the screen. Plus, of course, we continue to record the user's voice.

Users can now hold the device naturally rather than leaving it flat on a desk under a camera. This gives you higher-quality feedback on usability.

You can see taps, swipes, and other gestures animated on the screen.

The mobile recorder gives a larger subset of our panel the ability to participate in mobile studies. This makes it easier to set up tests with narrow demographics, and helps to ensure that you get "fresh eyes" for tests.

We record full-motion video of the screen, so you can see exactly what the user is doing, and you can follow the action as a user plays a game or watches a video. The recorder won't affect the performance of your app or website.

The recorder works with both iOS and Android smartphones and tablets, and can test both native apps and mobile websites.
For more information on mobile app testing with UserTesting, click here.
Below are side-by-side samples of a camera test and a test with the new mobile recorder:
We took the time to do it right
As we worked on these changes, our first priority was always ensuring that you get the fastest, easiest access to feedback from a broad sampling of genuine users, and not semi-pro beta testers. We spent a huge amount of time making the mobile recorders easy to install and use, so they wouldn't frighten away some classes of users.
As of this week, we're making the new mobile recorders standard for most of our mobile testing. You define tests in exactly the same way, all of the same questions work, and you receive the videos in your standard dashboard.
If for some reason you need to do camera tests, that option will be available to enterprise customers. Contact us for details.
Special testing for iOS native apps
As all iOS developers know, it can be time-consuming to test iOS apps, especially if they haven't yet been released in the app store. We've taken special steps to make the iOS testing process easier. First, we record tests without requiring test participants to "jailbreak" their phones (an intimidating process that would chase away most normal users). Instead, we've created a small recorder SDK that you can easily link into your app.
Second, we take care of all the test distribution hassles for you. You just send us a build with the recorder SDK added, and we deploy it directly to our test participants---you don't have to hassle with UDIDs or TestFlight. To protect the security of your app, the SDK also acts as a "kill switch" so your app can't run outside of the test.
Because the SDK is something new, we want to give you time to get used to it. So we're giving you a choice: for iOS native app tests you'll get camera tests by default for now, but you can choose to use the screen recorder SDK if you want to. I encourage you to give the SDK a try. I think you'll agree that it's well worth the extra step.
(Note that the SDK is needed only for testing iOS native applications. iOS website tests, and all Android tests, do not require an SDK.)
As is the case with any technology rollout, you're likely to have feedback and questions. We've posted a FAQ with more information here and some tips on using the recorder here. If you have questions we haven't answered, or suggestions on things we could improve, please contact us at support@usertesting.com.
Happy testing!
Insights that drive innovation
Get our best human insight resources delivered right to your inbox every month. As a bonus, we'll send you our latest industry report: When business is human, insights drive innovation.
About the author(s)