Live Conversation updates: easier scheduling and faster speed to insights
Image
When we first released Live Conversation, our remote interview solution, we knew that allowing customers to conduct in-depth remote interviews would be a huge time and cost saver.
With the onset of COVID-19 resulting in work and travel restrictions, we saw firsthand how much our customers have come to rely on Live Conversation for getting insights quickly. During the month leading up to the shelter in place announcement (mid-February to mid-March) we saw an over 40% increase in Live Conversation tests launched and sessions completed. This is almost double the growth in usage compared to the same period a year ago.
With benefits confirmed, we are excited to announce a number of improvements to Live Conversation, making it even easier to schedule and conduct remote interview sessions, and then quickly synthesize findings.
Scheduling a Live Conversation session
We introduced an Outlook calendar integration, allowing customers to import their schedule. Customers no longer have to toggle between the UserTesting platform and their Outlook calendar. Instead, they can view available time blocks directly within the UserTesting Live Conversation scheduling calendar, which prevents accidentally double-booking sessions with existing appointments on one's calendar.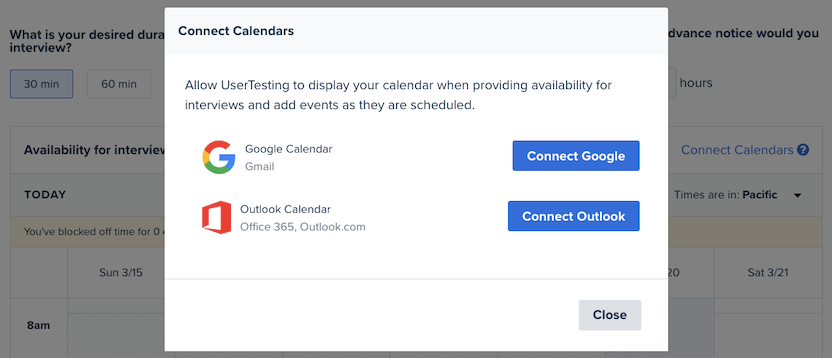 We also introduced easy rescheduling for Live Conversation sessions. When a time conflict unexpectedly arises, customers can click a link within the previously scheduled session to quickly and easily reschedule to a more convenient time.
Conducting the interview
We're very excited to release note taking within a Live Conversation session, allowing a session moderator or observers to take notes in real-time on the same screen as the session. The notes are later synched with the video recording. 
Teams can note key moments as the interview is being conducted—increasing productivity during the session. Or they can collaborate: with observers taking notes, allowing the moderator to focus on the interview.
It also helps consolidate notes—that customers might otherwise take and save elsewhere— making the UserTesting platform a one-stop-shop for all of the team's insights. 
Synthesizing findings 
Finally, Live Conversation Transcripts are now labeled by speaker, so customers can see who said what (by each speaker's name). This update, plus the time synched notes from the real-time note taking feature, means that you can more quickly hone in on key moments when reviewing completed interviews— making synthesizing findings a snap.
To learn more about our other Q1 product releases, read our summary blog post or sign up for our webinar.
Live Conversation is a premium subscription feature for Insight Core customers and is also available in Product Insight and Marketing Insight. Transcripts are available to premium subscription customers across all products.
April 2020 product release webinar
Watch the webinar for a full look at our latest human insight innovations, and learn how our exciting new features empower more teams to capture customer feedback more efficiently than ever.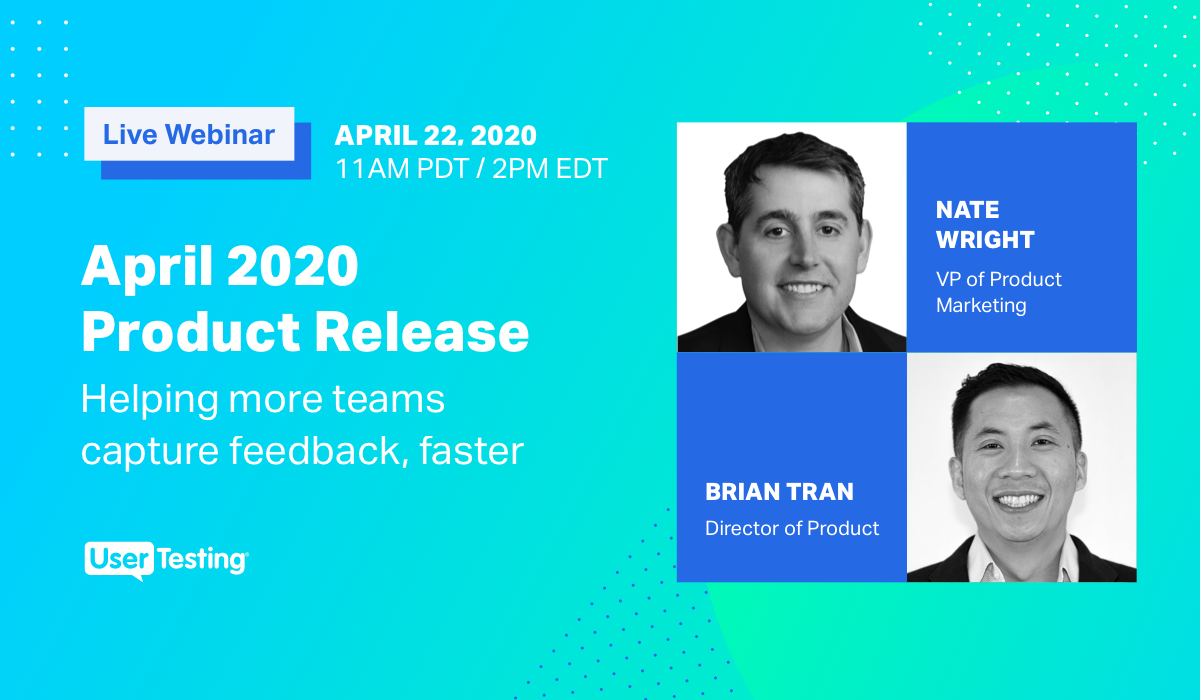 About the author(s)