How to modernise your banking experiences to deliver better CX
Image
If you think about what's transforming business today, whether you're in banking or otherwise, it boils down to the customer experience (CX). And this fundamental shift from focusing on products and services to customer experiences is arguably being driven by industries outside of banking. So how do banks (of all shapes and sizes) keep up with these shifting expectations of consumers?
In this post, we'll outline how CX is changing the game for banking and how you can provide and benchmark your self-service experiences to meet your customers' needs and outperform the competition. 
The changing landscape of the banking industry
Today, companies compete against the best experience their customers have ever had. Consumers have grown accustomed to Amazon-like and Uber-type experiences, which are now expected across all industries. This is a fundamental shift in how you have to market yourself, influence your prospects, and engage with your customers.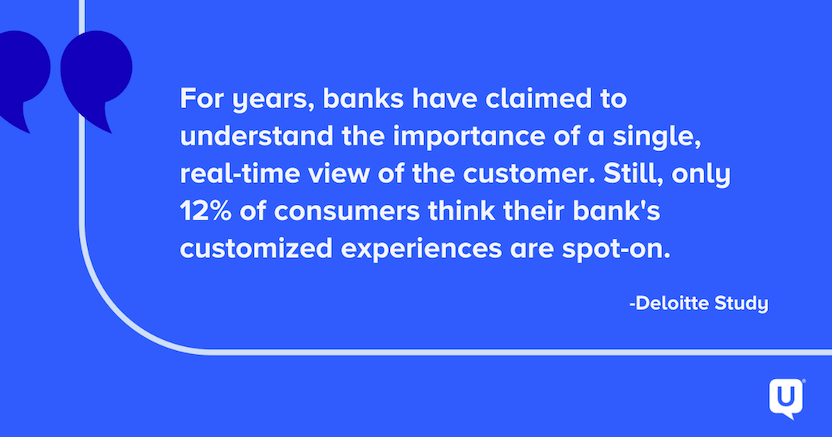 In order to keep pace with the changing expectations of consumers, delivering on CX is a mix of in-person and digital experiences. 
The digital landscape is growing. And it's making it easier for competitors to cater to consumers' changing attitudes and financial needs. As more and more brands try their hand at modernising their CX, it's getting harder for traditional players (using traditional methods) to keep up. 
Related reading: CX vs. UX: what's the difference?
Optimise digital touchpoints to meet changing expectations
More and more, consumers are breaking away from traditional methods of banking—like going into physical branches and reaching out to call centers for support. In fact, 50% of consumers report interacting with their bank through mobile apps or websites at least once a week,  compared to the 32% two years ago. And perhaps even more staggering is that 81% of consumers report attempting to solve issues themselves before contacting support.
4 in every 5 people are attempting to solve banking issues themselves before contacting support.
If these numbers surprise you, or even if they don't, they do relay a sense of urgency for providing digital experiences and solutions that meet your consumers' needs. This idea of digital transformation is not a new concept in the finance world, but it's one with which companies still struggle.
Organizations spend billions of dollars to understand their customers through data, but the insight provided is limited at best. Your business is likely to have a CRM platform to show you what you're doing with your customers, an analytics platform to show you what your customers are doing in your product, and a survey management platform to help you understand your consumers' sentiment. 
However, none of these really help you to understand what it's like to be your customer.
How does it feel to use your banking app or website? How are your digital touchpoints interconnected? How seamlessly can you solve problems on your own? Without answers to these questions, it can be difficult to provide the digital experiences your consumers want and need.
Uncovering consumer banking expectations
When it comes to understanding consumer expectations, the best way to begin is quite simple. Start by asking the right questions to the right audience. 
In a recent test performed on the Human Insight Platform, we asked a diverse group of people to attempt to extend their overdraft using their mobile banking app. During the test, we asked several follow-up questions and some key insights emerged.
The first is that self-service is preferred as a channel:
FAQs emerged as the first port of call as opposed to Live Chat
Some apps are clunky and outdated vs. challenger banks/other industries
Speed and ease of use are crucial customer needs
See for yourself, and listen to some of the highlights from our test.
As you can see, this test reveals how customers feel about an experience that data is not able to provide. In just a few hours, we're able to uncover the personal narratives of real people in order to better understand how they experience banking technology.
Benchmarking banking experiences
Earlier we said that consumers are comparing their banking experiences to the best they've ever had. So who is getting it right?

According to a study run by the UK government which asked customers how likely they would recommend their provider's online and mobile banking services to friends and family, the following rankings emerged: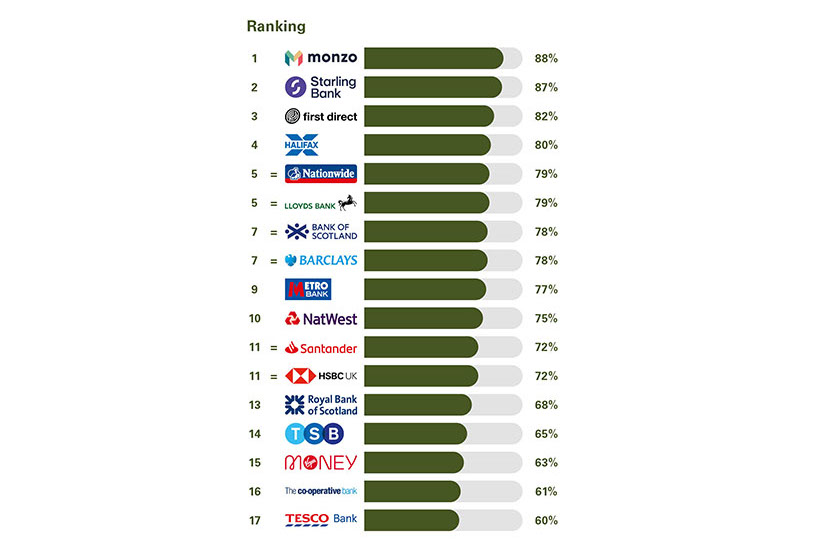 Perhaps not surprisingly, the newer banks found themselves at the top of the list. But why? We could speculate that they're more agile and likely more flexible to change with consumer trends, but surveys like these are useful for guiding you to the narrative. 
What are these leading banks doing to stay competitive?
Well, you can ask consumers what they like and dislike about your banking experiences and give yourself every advantage by staying deeply connected with them. You can even run benchmarking studies against your competition that help you uncover what it is about your competition that you might want to apply to your own business. 
Take a listen to what some people have to say about different mobile self-service experiences.
How to modernise your digital self-service offering
While all banks aim to be customer-centric, the digital world is changing what that means. As we transition into an economy where consumers seek top-notch experiences, it's imperative that you include consumer feedback throughout your development process. Many businesses are asking for feedback way too late. And this can result in a massive waste of time, resources, and bottom line.
By continuously collecting feedback, you'll be better able to ensure that you're delivering the products and experiences your customers actually want. It might not be easy at first. Collecting feedback is a muscle you need to flex over and over until it becomes a natural part of your decision-making process. 
In the end, businesses aren't going digital for no reason. There are real benefits and ROI for banks that make customer-centricity their #1 goal. The best path to customer-centricity is to start talking to your customers and target audiences today.
The rise of UK fintechs
Learn what consumers like and dislike about doing business with fintechs and how to adapt your strategy to meet modern consumer preferences.