Top 8 tips and tricks for conducting remote omnichannel studies
Image
A single continuous experience that spans multiple channels, whether physical or digital, is considered omnichannel. As more interactions along a journey span both the digital and tangible customer experience, research must span all channels. With the extent of research needed to evaluate these experiences, carrying out this research remotely can conserve time and money. At UserTesting, we often partner with our customers to better understand their omnichannel experiences. This post covers some of the most important lessons we've learned.
What's an example of an omnichannel experience?
A task as simple as making a purchase, like a refrigerator, can be an omnichannel experience. A customer shopping for a refrigerator might first use the website to explore the current top models and find retailers that might have them in stock at a brick-and-mortar location. They might then go to the store to see what it feels like to open and close drawers, and to talk to a salesperson—all while referring to the mobile website to check dimensions or other specifications. They might sign up for and use email to track sales to find the right time to purchase the refrigerator—and when ready, order the refrigerator on the website.
What makes a great omnichannel experience?
Great omnichannel experiences are seamless, with each channel providing the appropriate tools for the next step. With the number of interactions customers will have throughout the experience, these handoffs are especially important for customer retention. A fragmented omnichannel experience results in frustration, evidenced by an increased number of customer service interactions to complete activities, low scores in feedback from surveys, or even task abandonment.
Tips for conducting remote omnichannel studies
It's already challenging to test your omnichannel experience, and conducting these studies remotely introduces additional considerations. Remote customer experience research is more cost effective and faster than in-lab or in-person research, but requires some additional planning and logistical arrangement to ensure success.
1. Target the right touchpoints and areas of opportunity
Start with analytics to find areas of opportunity like bottlenecks, dips in satisfaction, and unexpected behaviors. Then, target those touchpoints associated with the channel where the interaction takes place. By using qualitative research, you'll understand the "why" behind the data. When planning, you'll want to consider and identify prior touchpoints that influence the area of opportunity. However, keep in mind that you don't always need to test your entire omnichannel experience all at once to capture insights from a specific touchpoint.   Example: You want to optimize your Buy Online, Pick-up in Store (BOPIS) experience. Your analytics are showing a lower than usual order pick-up completion rate, and you'd like to understand why. Your study participants don't need to go through the entire BOPIS experience to provide insight into that finding. Instead, you can run studies on:
Understandability of communications to identify if there is messaging that is miscommunicating expectations of the BOPIS experience

In-store signage to discover if your customers are able to locate where to go to pick up their order
2. Focus your objectives
Since there are so many touchpoints in the omnichannel journey, it is easy to make the scope so large that it's difficult to get meaningful feedback. Instead, plan multiple studies that each focus on different touchpoints in the experience, and ensure your research objectives for each of your studies cover the scope of just that touchpoint. This will ensure the findings from your study are focused. If you'd like to learn more about peripheral activities, run a separate study. Example: Your goal is to understand and identify any aspects of the BOPIS experience that is preventing customers from completing the experience. You might accomplish this by launching two separate studies:
The first study would ask participants to submit a BOPIS order as a remote, unmoderated session

The second study would be a

remote live interview

just after they've picked up their order to reflect on the experience
3. Create clear tasks and questions
In remote, unmoderated studies, participants need more explicit guidance as they complete tasks so that they do not get derailed from the primary focus area of the test. Provide clear instructions along with explicit stopping points and/or prompts for feedback to have study participants self-report success on the task and share their thoughts about it. Remember to keep your objectives in mind as you create these tasks and questions. Unclear tasks and questions can influence participants' attitude during the study as they become frustrated with the tasks and questions. It can also inadvertently result in feedback irrelevant to your research goals. These are just some examples of how the data you collect can be influenced by the strength of your tasks and questions. Example: To understand the ease of order pickup in the BOPIS experience, tasks and questions must:
Determine how/if the expectations set by previous activities align with the in-store experience

Understand if the study participant can pick up the item successfully on their own using contextual cues inside the store, or if they required assistance and guidance to complete the activity
4. Find the right people
Finding the right participants for in-person studies can sometimes be challenging: where you are, how busy they are, and their availability when you are ready to run studies all play a role in the complicated process that is scheduling participants. Remote studies can make this part of the study planning process easier as you have more flexibility around where you can test when the location is only dictated by access to the internet. As you're planning your study, identify items or characteristics your participants need to have to be successful in your study. These items or characteristics might include devices they own or have familiarity with, ability to make a purchase, and willingness to sign up for an online account. It also can include other attributes that aren't relevant in typical studies, such as geographic location, ability to travel, and ability to commit to the full length of the study. Example: For a BOPIS study, you need to make sure study participants live in proximity to the stores that offer BOPIS and have the means to travel to the location to pick up their purchase. Make sure you include questions in the screener to select only those who live in the right area and can travel to the store.
5. Think through logistics—all of them
It's critical to ensure that the materials you need to provide to participants for sessions are lined up ahead of launch–and that you haven't forgotten anything. Remote, unmoderated sessions offer less flexibility for you to provide materials on the spot. This means that you'll need to use creative ways to provide information like gift codes and other relevant information ahead of, or during, the study with minimal interruption to the organic experience. Example: For a BOPIS study, make sure you provide participants with a means of making the purchase prior to when they actually need it. This can be a gift card, promo code, or something else. That way, when they reach that portion of the experience, they have everything they need from you to complete the activity.
6. Use the right data collection tools
Strategically design studies so you can capture the insights in the medium you are looking for, whether it's using an app/website, real-world experiences, or both. Both digital and tangible experiences are involved in omnichannel experiences, and there are different issues associated with capturing them. Digital experiences can be captured by a screen recorder, such as UserTesting's desktop and mobile recorders. As for real-world experiences, there are 2 ways you can capture feedback remotely:
Instruct your study participants to complete the activity in the location, capturing their thoughts and surroundings in the moment by turning on their phone cameras as they do it

Use the Think-Aloud-After protocol by having study participants complete an activity first, and then a few minutes later–perhaps in their car or outside of a location–record their thoughts. This is especially helpful if permissions requirements do not allow you to record video at the location.
Example: BOPIS grocery shopping study
If you're interested in the decision-making process, you can ask participants to record a video of themselves looking through their pantry/refrigerator, coupons, etc. as they order groceries online

If you're interested in the machine learning capabilities of your product, you can record the screen of the device they are using to understand the helpfulness of the recommendations feature

If you're interested in understanding how the real-world activity might prompt usage of the product or vice versa, have participants complete both video recording techniques above simultaneously
7. Devise a participant communication plan
Think about the timing of sessions and your communication. Time of test is often important because especially in physical settings, access to facilities or people is not offered 24/7. As a result, it then becomes critical how you communicate with study participants ahead of time to set expectations about what they must do. A remote omnichannel study can be an omnichannel experience on its own. Set accurate expectations ahead of time by scheduling sessions with participants, providing a means to contact you, and instructions on what should be done if challenges arise. In remote studies, it's not unusual for a participant to abandon the session when issues arise. Pro tip: In a remote, unmoderated session, inform participants to skip the remainder of the tasks in the session, and just upload the session if they encounter any challenges that prevented them from moving forward. This information helps you observe and troubleshoot pain points in the process instead of relying solely on participants' anecdotes.
8. Be direct and directive
Provide clear instructions to participants if there are unrecorded tasks and activities you'd like them to complete. For example, make sure they are aware if there is a specific task you want them to complete before a session. Alternatively, it's also equally important to make it clear if there is a task you DO NOT want them to complete before a session. Since remote sessions require a clear understanding on the participants' end as well, providing the right information helps them be on the same page as you. Pro tip: Use a chart or a calendar to help both you and the participants track and understand the commitments on each day of the study. Use a list to track the order of tasks to be done.
More human insights = happy customers
While there's a lot to plan for and consider when structuring an omnichannel study, the payoff is rewarding: your team gets a full picture—from your customers' perspective—of what it's like to experience a series of interactions across the touchpoints that matter to them. The intelligence and human insights that you collect can drive improvements and innovation that both make customers happier and have a positive impact on your bottom line.
Ready to get started?
If you'd like to learn more about how UserTesting can help you understand your customers through real-time human insights, contact us at support@usertesting.com.
Weekly demo
Ready to bring products to market that exceed customer expectations? Join our weekly platform demo today.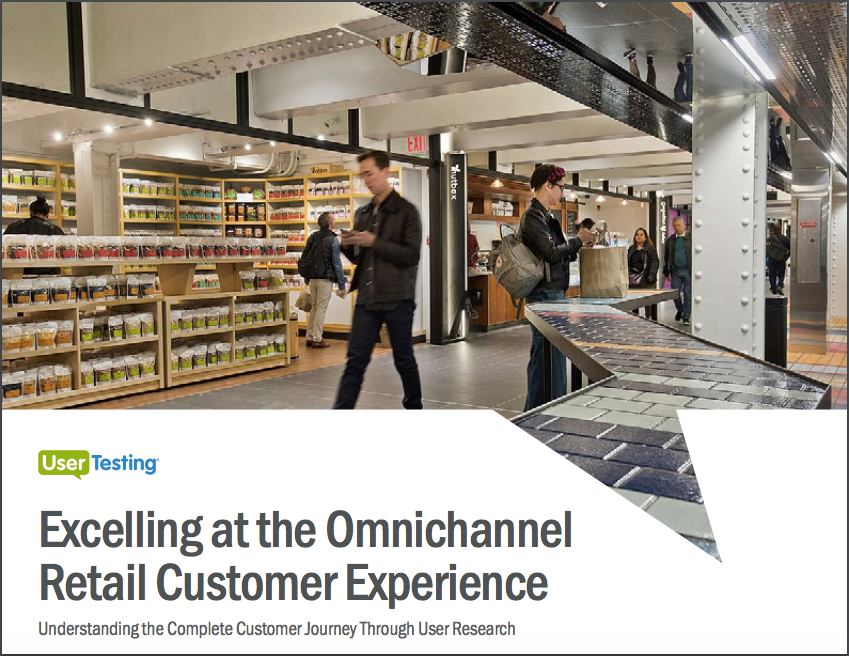 About the author(s)