The Generation Gap of Snapchat: UX for Different Age Groups
Image
Every Tuesday, UserTesting's Research Team studies a different product to share here on the blog. We hope you'll learn some nifty research techniques and get inspired to run some insightful tests of your own. Enjoy, and check back in next Tuesday!
If you're over 25, Snapchat may be a bit of a mystery.
At first glance, the photo messaging app doesn't offer much explanation of why you should use it.
Its description in the App Store explains that it allows users to send pictures to friends, and the pictures will disappear unless the recipient takes a screenshot.
But it doesn't give a logical reason explaining why this is better than, say, sending a photo via text or another messaging app. After all, the potential appeal of sending self-destructing photos (such as keeping private pictures secure from the prying eyes of the Internet… or the user's parents) is pretty much cancelled out if those photos can be captured in a screenshot.
Unlike most apps' websites, Snapchat.com doesn't feature a headline, value proposition, or even an explanation that Snapchat is a mobile app. The bright circles featuring logos of popular publications aren't clickable on desktop. Tapping the circles on a mobile device takes you to a Youtube video about Snapchat's new feature, Discover.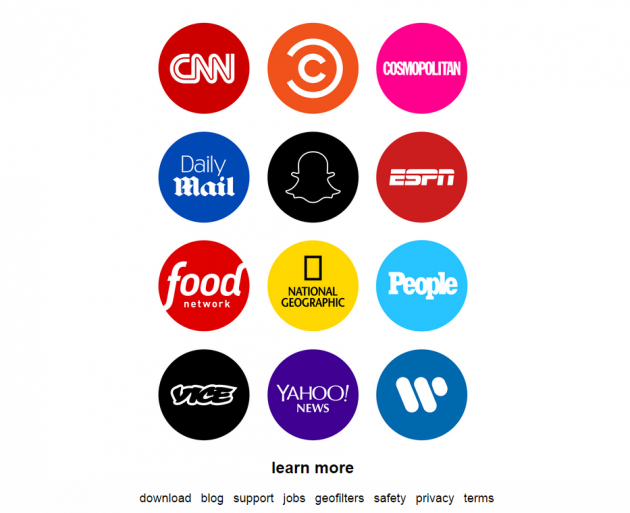 If you're discovering Snapchat through its website, there's a good chance that you won't figure out what Snapchat is or why you should care.
If you encounter Snapchat's billboard on a busy street, you'll see only its logo, a ghost on a yellow background—no copy explaining why you need this product in your life.
Despite this, Snapchat is valued at $10-20 billion and has over 100 million monthly active users. And 71% of those users are under the age of 25.
Generation gap
Snapchat is notorious for making no sense to older users. It has a reputation as the app that teenagers use to share incriminating pictures in a place where parents won't find them. Its interface seems to be designed for a crowd that has grown up using mobile devices and apps rather than the desktop web.
Here at UserTesting, this made us wonder how users of different age groups interact with the app for the first time. Do they get it? Do they like it? Do they feel like it was made for them?
Our study
We ran a study with 18 first-time Snapchat users: six who were between the ages of 18 and 24, six who were 25-40, and six who were over 40.
We asked the users whether they had heard of Snapchat before and what they already knew about it. We asked them to explore the app and describe it using three words. Finally, we asked them to tell us whether they felt like the app was designed for them, and how likely they would be to use it again.
Prior knowledge
All of the test participants in the under-25 crowd had previously heard of the app, and they all understood what it was about before they opened it. Most said they had heard about it from a friend. One said that "everyone and their grandmother uses this app."
In the 25-40 age group, four of the six participants had heard of the app before. Two had heard about it through a friend, and two had heard about it in the news. Five of the six were able to accurately describe what the app was for before they opened it.
In the over-40 group, only three had heard of the app, and those three said they had heard about it in the news. Five of them were able to tell or guess what the app was for before opening it. (Two of those five weren't certain at first, but they figured it out because the name "Snapchat" seems to indicate picture messaging.)
First-time experience
One thing that makes Snapchat unusual is its onboarding process. Many apps offer a tutorial immediately when users open the app for the first time, but Snapchat drops first-time users straight into the camera screen. The first thing the user sees is their own face via the front-facing camera. Several of the participants in our test were startled by this. (One groaned, "The first thing I see is myself with a double chin.")
A few expressly stated they wanted a tutorial to help them get started, rather than beginning on the camera screen. It turns out Snapchat does offer a first-time tutorial on how to send a picture message (also known as a Snap), but only three of our test participants discovered it, and one missed out on the content because he didn't understand that he had to tap and hold the button to play the whole tutorial video.
Older test participants acted more irritated than their younger counterparts by the lack of instructions and labels on the app's icons.
By contrast, the youngest age group was more confident poking around the app to discover each feature and the meanings behind the icons.
Additional features
While Snapchat's primary function is sending Snaps, it also has other features like Stories (collections of Snaps) and Discover (creatively edited Stories that are refreshed every day).
The youngest age group was the most interested in these other features and spent the most time exploring them.
The older age groups were more confused than entertained by Discover and didn't understand what it had to do with Snapchat's primary functionality.
"I'm really not sure about this whole Discover thing. It seems to bug me a bit. I'm not sure what it's about." -Male test participant, 37, United States
Overall appeal
Even though the under-25 age group had the easiest time navigating Snapchat, a few of them still weren't convinced that they needed it. Three out of the six said they felt the app was designed for them, two said it wasn't for them, and one wasn't sure. We asked them to rate how likely they would be to keep using the app on a scale of 1 (very unlikely) to 5 (very likely), and they gave it an average rating of 3.2.
The younger users who weren't inclined to keep using the app said this was because they felt like they could already share pictures using other apps, and they didn't see how Snapchat was better than simply texting pictures to their friends.
Only two users in each of the older age groups said they felt like the app was designed for them. They were also less likely to keep using the app (an average rating of 2.8 for the 25-40 age group and 2.6 for the 40+ age group).
As for why they wouldn't use the app, the users in the older age groups were more likely to point to the generation gap. Several users said that the app seemed like it was for "kids these days" instead of users their own age.
Fun over function
Of the users who did enjoy Snapchat and wanted to keep using it, the primary reason was because they found it fun. Users who said they would keep using the app were more likely to describe it as "popular," "fun," and "cool." None of the users described the app using words like "useful" or "helpful." They simply didn't see the app as a solution for a need.
It's possible that younger users have a higher tolerance for apps that are purely intended to be fun, whereas older users see them as pointless.
But Snapchat's millions of users prove that sometimes, having a point… isn't the point. It's about providing a fun and addictive service that resonates with just the right audience.
Insights that drive innovation
Get our best human insight resources delivered right to your inbox every month. As a bonus, we'll send you our latest industry report: When business is human, insights drive innovation.
About the author(s)