10 valuable insights from The Digital Experience Company
Image
This month, The Digital Experience Company - the new book from UserZoom's co-founder and Chief Visionary Officer Alfonso de la Nuez - hit the Amazon bestseller charts. It's an exciting time to be part of the UX community and heartening to know that there is a renewed appetite for user research and design in businesses of all kinds.

However, we know that there is a world of difference between realizing something matters to your business and implementing it successfully. Stakeholders need to be convinced, teams organized, and systems and processes put in place.

To help you communicate the importance of creating great digital experiences across your organization, we've collected some of the most inspiring, insightful, and valuable takeaways from the bestselling book.
1: Anticipate the market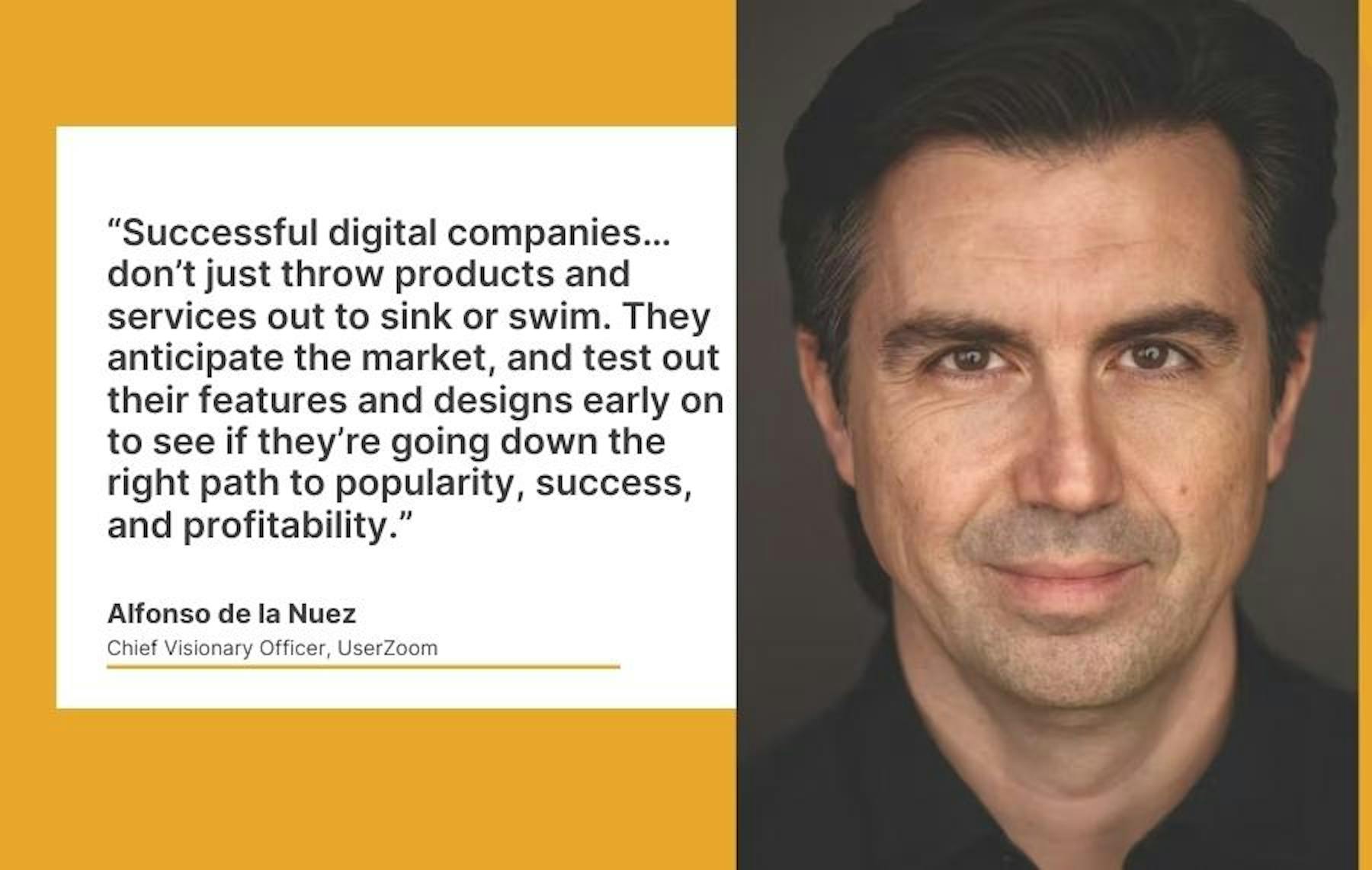 "Successful digital companies… don't just throw products and services out to sink or swim. They anticipate the market, and test out their features and designs early on to see if they're going down the right path to popularity, success, and profitability."
In an uncertain economic climate, every business will look for ways to reduce loss and streamline processes. As Alfonso de la Nuez mentioned in his recent blog post, having a good user research function in place is one of the most effective ways to ensure that every product and service you create is built to maximize success.
2: The user experience is what wins business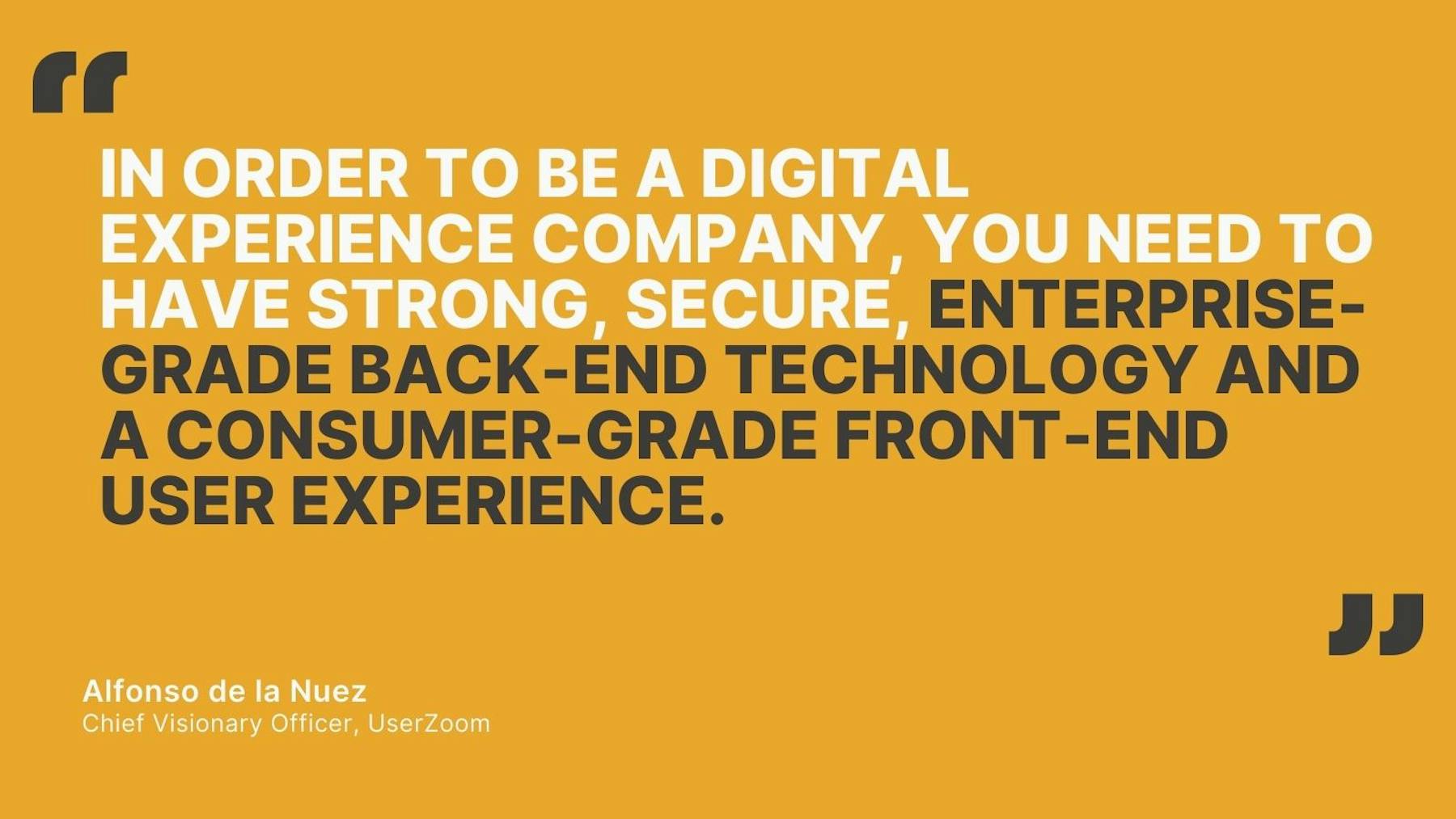 "In order to be a digital experience company, you need to have strong, secure, enterprise-grade back-end technology and a consumer-grade front-end user experience."
In the past, many businesses focused their digital development on the back-end.
While having a robust tech stack is as important as ever, it's key that senior stakeholders remember that customers do not interact with the back-end systems. They care about your front-end UI, and the ease and satisfaction of interacting with it. Technology matters, but the experience is what wins business.
3: UX directly affects the bottom line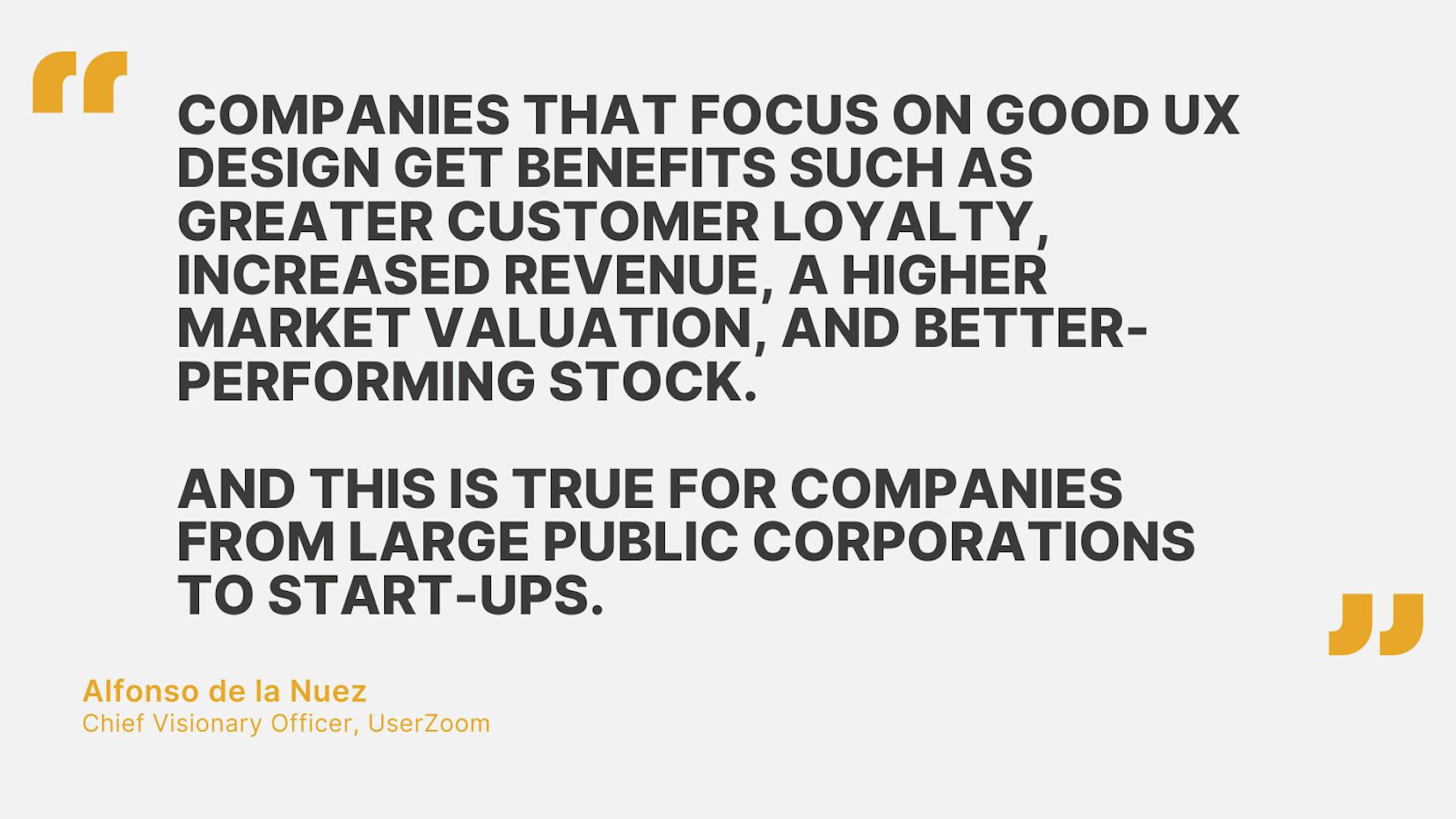 "Companies that focus on good UX design get benefits such as greater customer loyalty, increased revenue, a higher market valuation, and better-performing stock. And this is true for companies from large public corporations to start-ups."
Historically, UX efforts have been led by a range of different departments in many businesses - Insight teams, marketing, and development may all have had a hand in leading UX.
This can lead to organizations using metrics to measure UX that don't highlight its true business value. As The Digital Experience Company points out, the increased commoditization of products and services online means that great UX provides bottom-line value for those that get it right.
4: Digital experience companies are truly customer-centric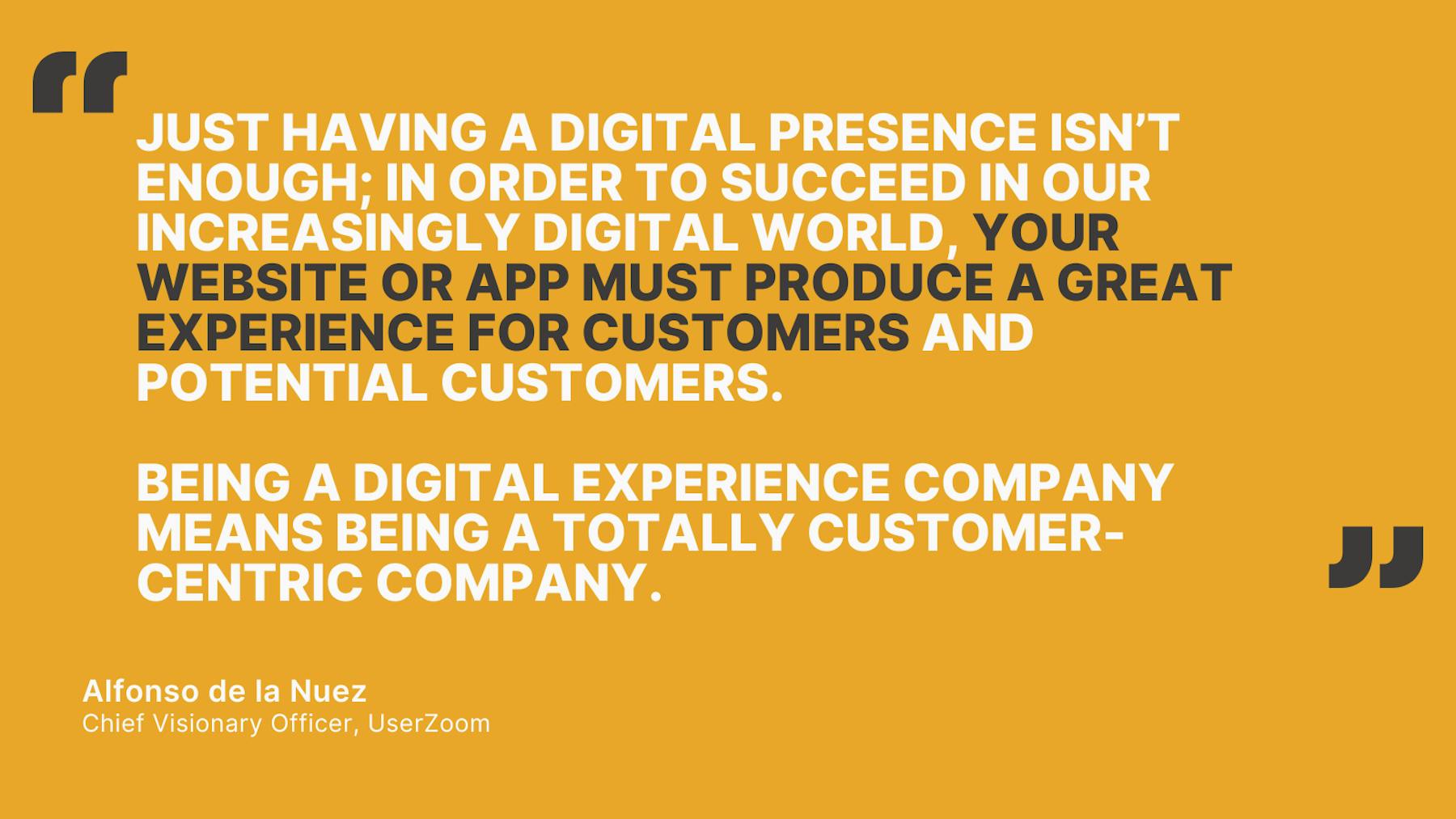 "Just having a digital presence isn't enough; in order to succeed in our increasingly digital world, your website or app must produce a great experience for customers and potential customers. Being a digital experience company means being a totally customer-centric company."
The barriers to creating an online presence are lower than ever in the modern marketplace.
Out-of-the-box solutions mean anyone can set up and run a digital business, but not everyone is prepared  - or able - to go the extra mile to both meet and exceed customer expectations.
If you can create a product or service that is as frictionless as possible, you can stand out from the crowd. This means using user research to gain a deep understanding of customer pain points, monitoring every touchpoint, and creating a feedback loop to integrate that information directly into your product design process.
5: Investing in great UX is your competitive advantage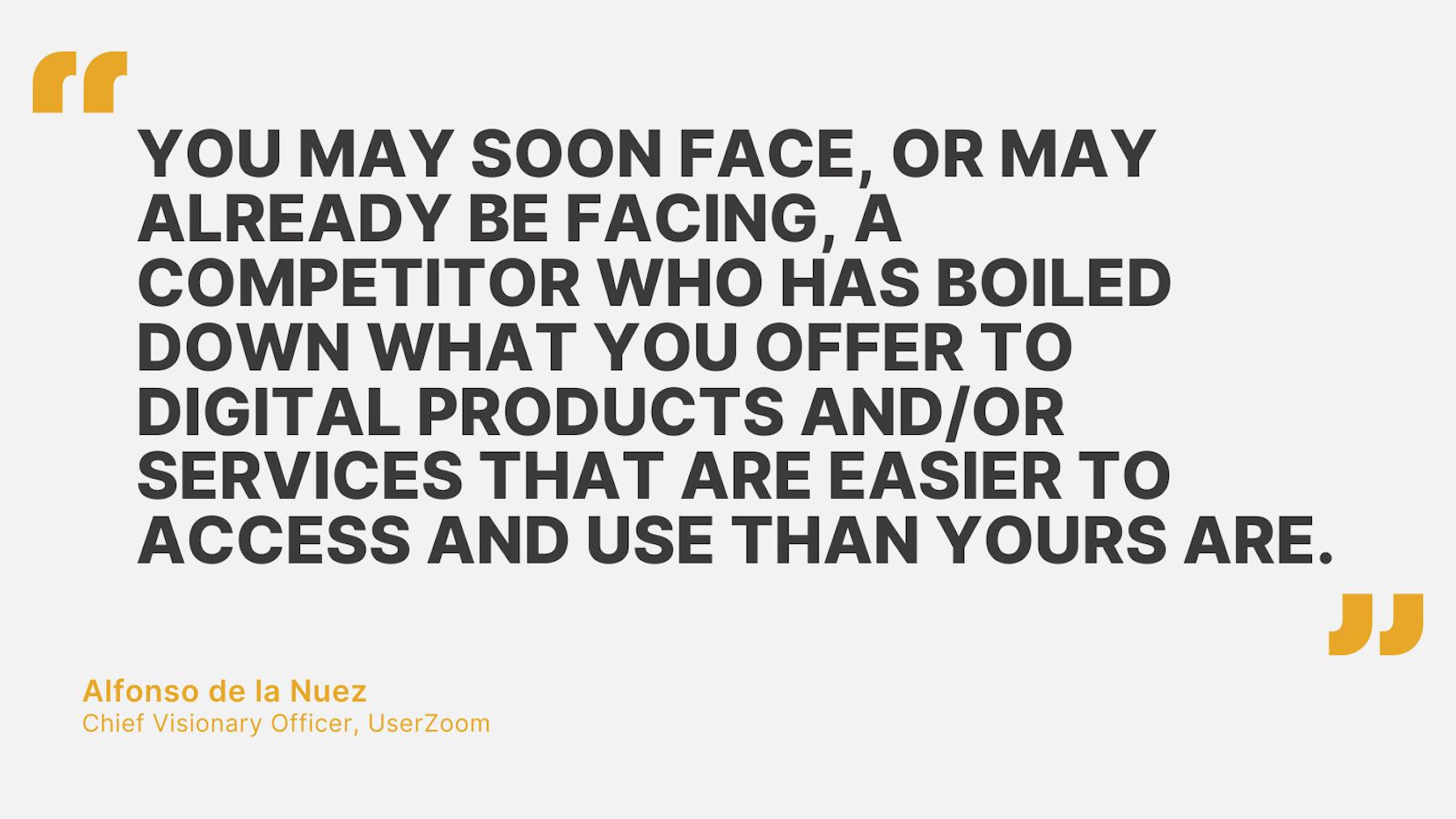 "You may soon face, or may already be facing, a competitor who has boiled down what you offer to digital products and/or services that are easier to access and use than yours are."
Great UX often means simplification. Removing obstacles from the user's path is key to a good experience - whether that means refining your current customer journey, or redesigning it entirely.
Again, keeping up with - and beating - the competition means you need to both understand your customer's needs and make sure that knowledge is embedded across your business.
Over the past two decades, we've seen countless large businesses overtaken by competitors who have made things simpler and faster, concentrating on being outstanding at delivering a core service. This is where every business needs to focus its efforts.
6: User research is the only way to truly understand your customers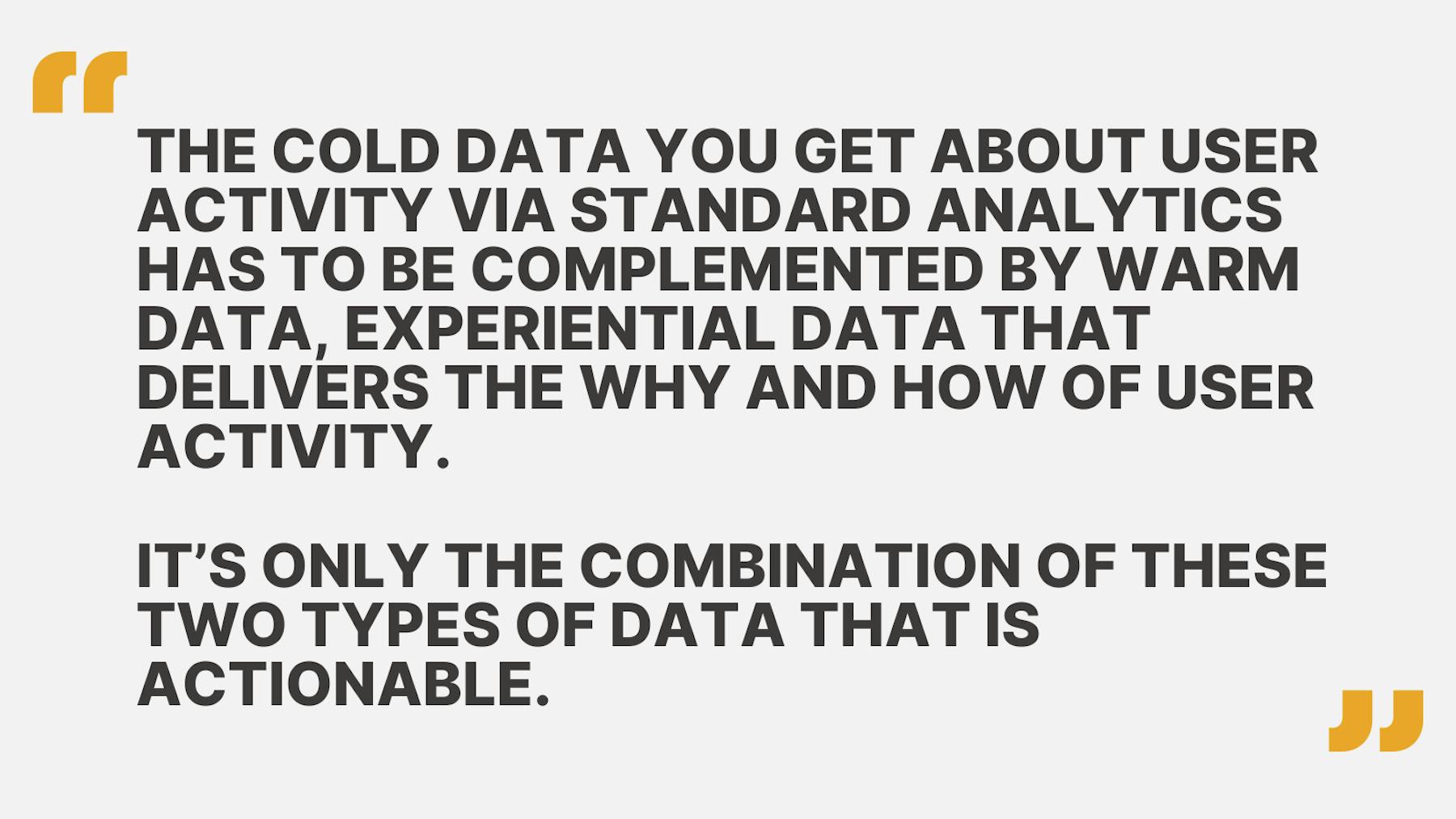 "The cold data you get about user activity via standard analytics has to be complemented by warm data, experiential data that delivers the why and how of user activity. It's only the combination of these two types of data that is actionable."
Analytics data is full of useful information, but relying only on analytics alone can mean you are operating under false assumptions. For example, if people aren't visiting a certain page on your website, does that mean that they can't find it easily, or that they just aren't interested in that information?
Worse, analytics only allow you to measure things that are already live. Using interviews, surveys and more testing methodologies is the only way you can gather genuine feedback at scale and integrate it to make sure you are fixing the right problems in the right way - both before, during, and after a product launch.

Discover the pain points of your current users and what alternatives might be in the market, so you can design an improved product that answers current users' needs and attracts new users.
7: You need to collect the right insights, from the right people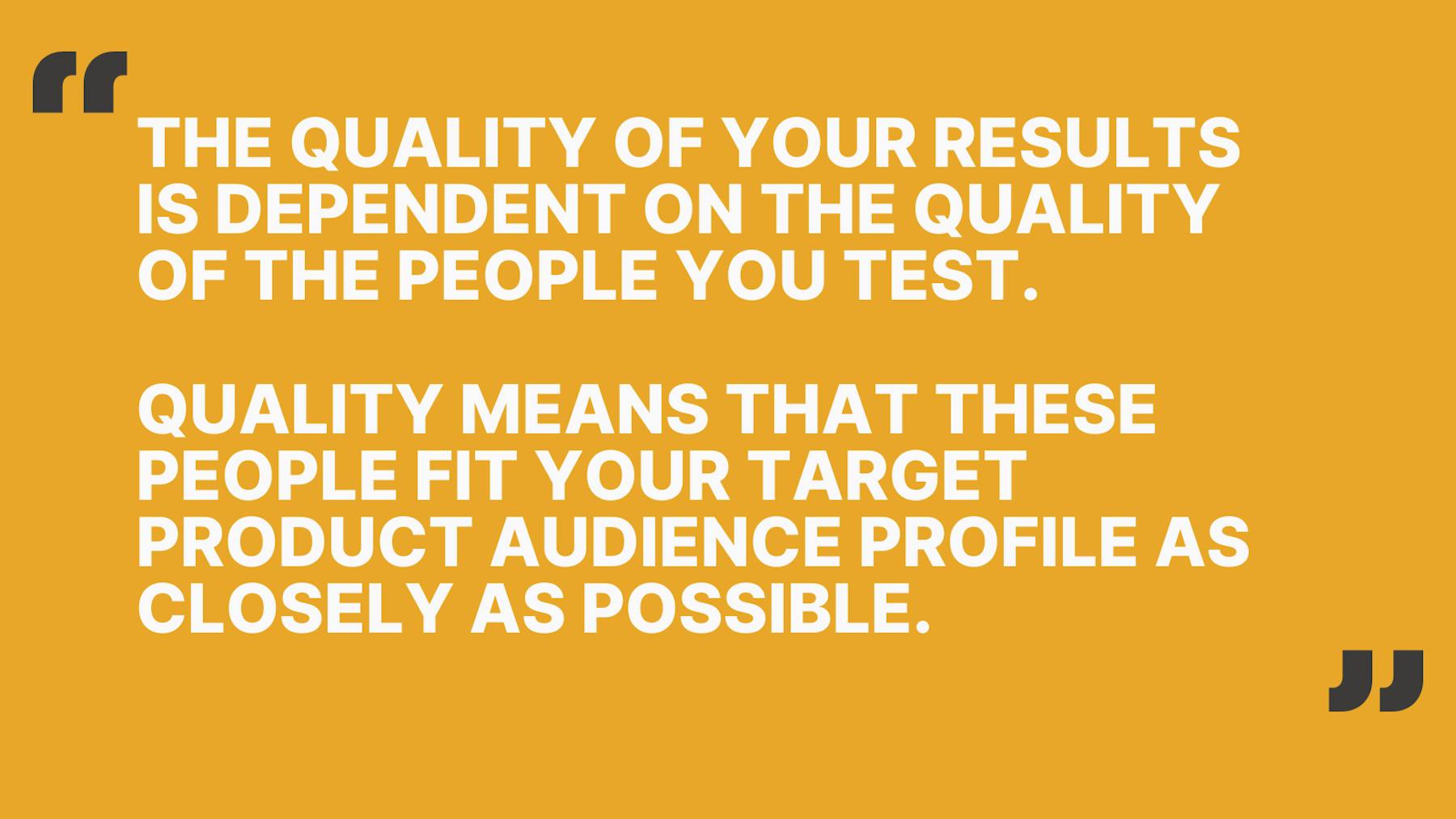 "The quality of your results is dependent on the quality of the people you test. Quality means that these people fit your target product audience profile as closely as possible."
When time and resources are short, it can be useful to run some guerrilla testing - interviewing employees, colleagues, family, and friends - to gather initial insights about a product or service, but to get the best results you will always need to gather feedback from a wide range of people who actually use your product.
The actual number of people you interview will depend on the scale of your ambition and the needs of your business, but collecting this type of feedback is useful both at scale and to create anecdotal examples that can help change the hearts and minds of stakeholders across the business and put UX at the center of the agenda.
8: Research needs to be part of your product development cycle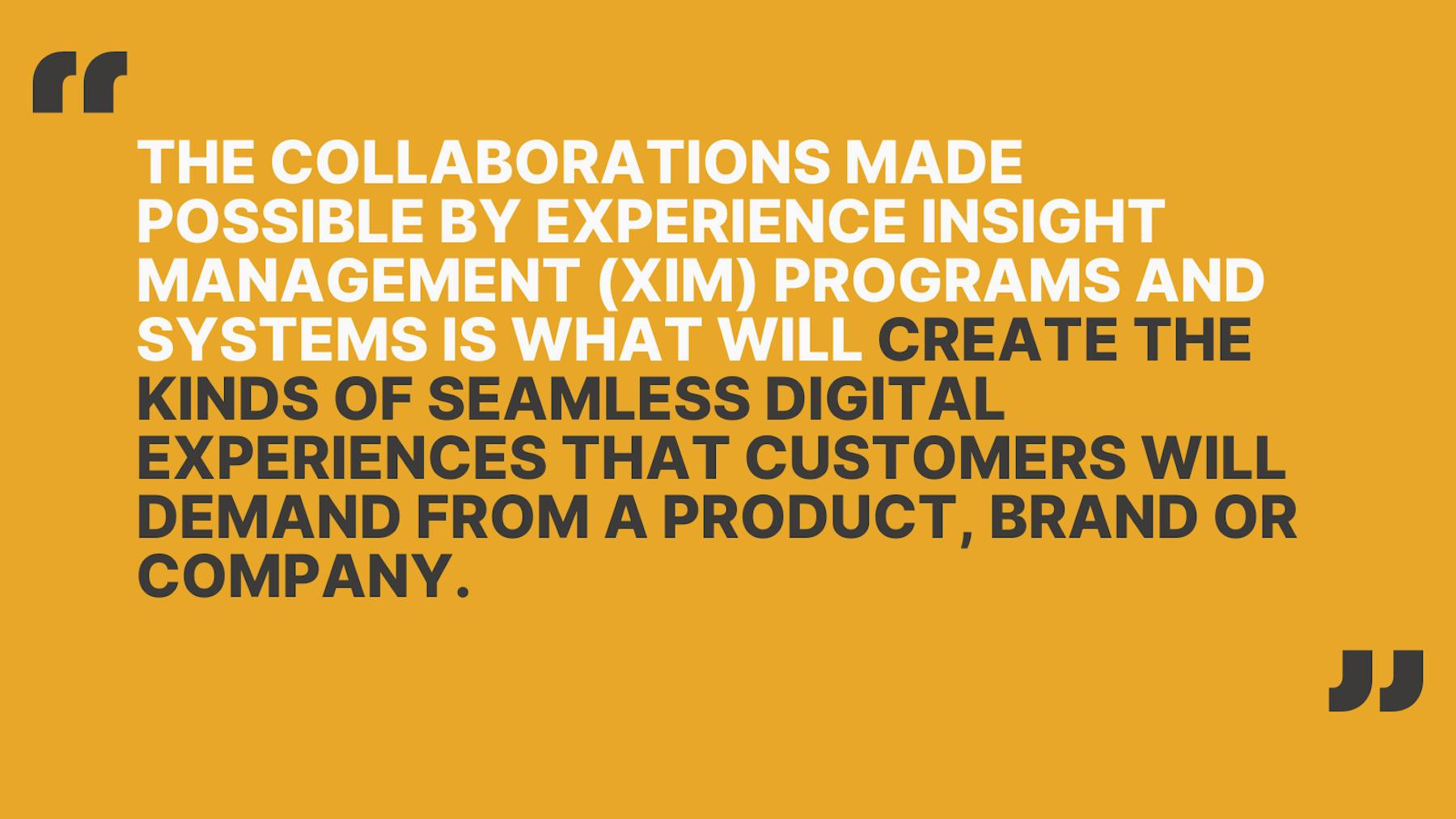 "The collaborations made possible by Experience Insight Management (XIM) programs and systems is what will create the kinds of seamless digital experiences that customers will - and to some extent, already do - demand from a product, brand or company."
Research in isolation is not enough. Customer feedback becomes truly valuable when it is integrated into the product development cycle, and doing so means creating processes and research operations resources that the entire business can access and add to. It's here that XIM (eXperience Insight Management) tools come into their own.
Organizing information in the right way provides a business with a central source of truth which means improvements and changes to digital experiences align with your business needs. 
9: Investing in UX provides ongoing value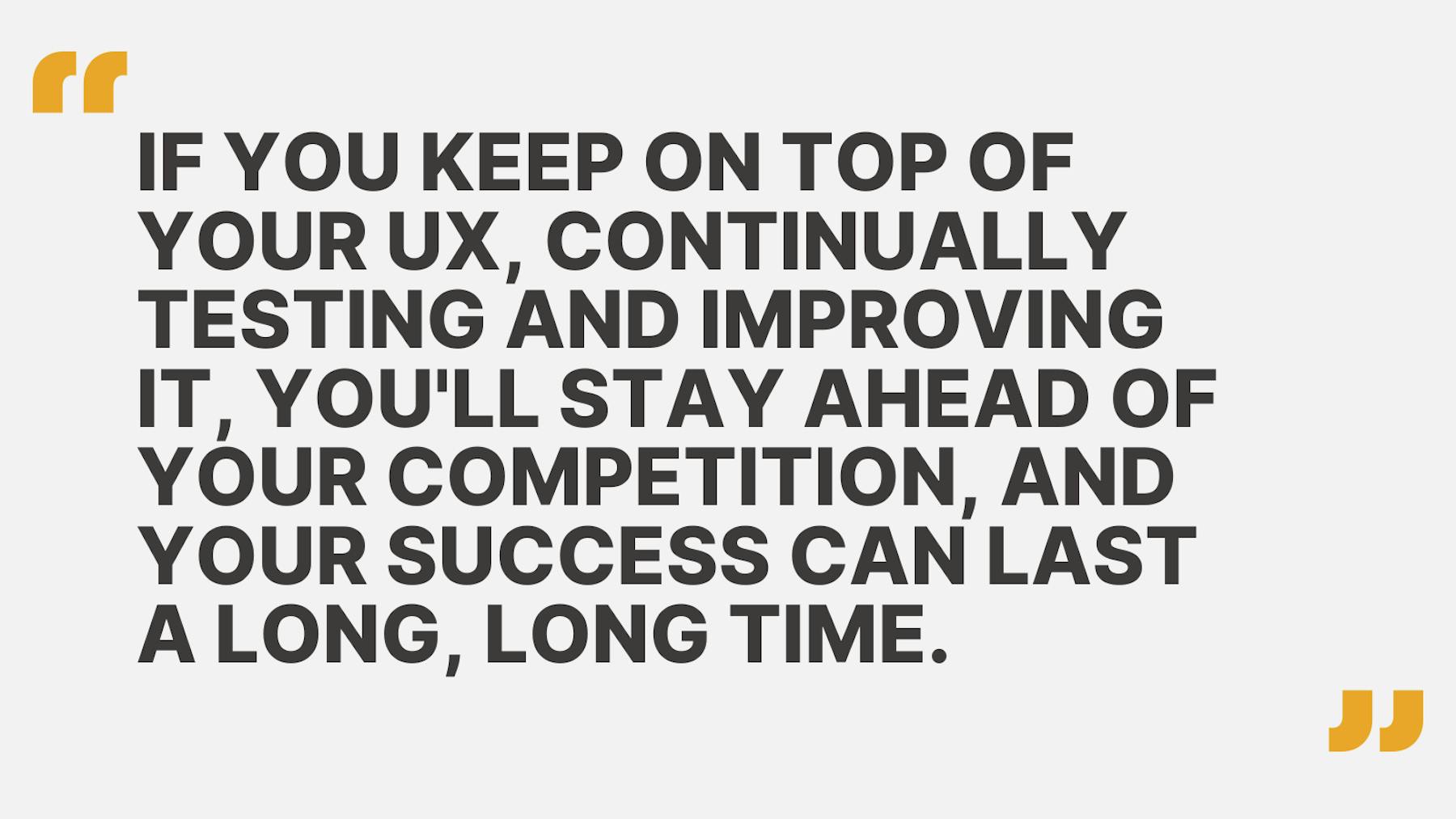 "If you keep on top of your UX, continually testing and improving it, you'll stay ahead of your competition, and your success can last a long, long time."
Creating a great digital experience isn't a one-time project. Customer expectations are constantly increasing, and if you don't keep up, you can be sure someone else will be more than happy to provide a better, more seamless experience.
Investment in UX can start small, but the goal should always be to grow awareness and make sure every part of your business is constantly focused on new ways to provide customers and prospects with a great end-to-end experience.
This may not be easy and may take time, but the potential payoff is enormous. On the flip side, the cost of not keeping up could well be similarly high. Not focusing on user experience simply isn't worth the risk for most businesses. 
10: A great user experience is your best salesperson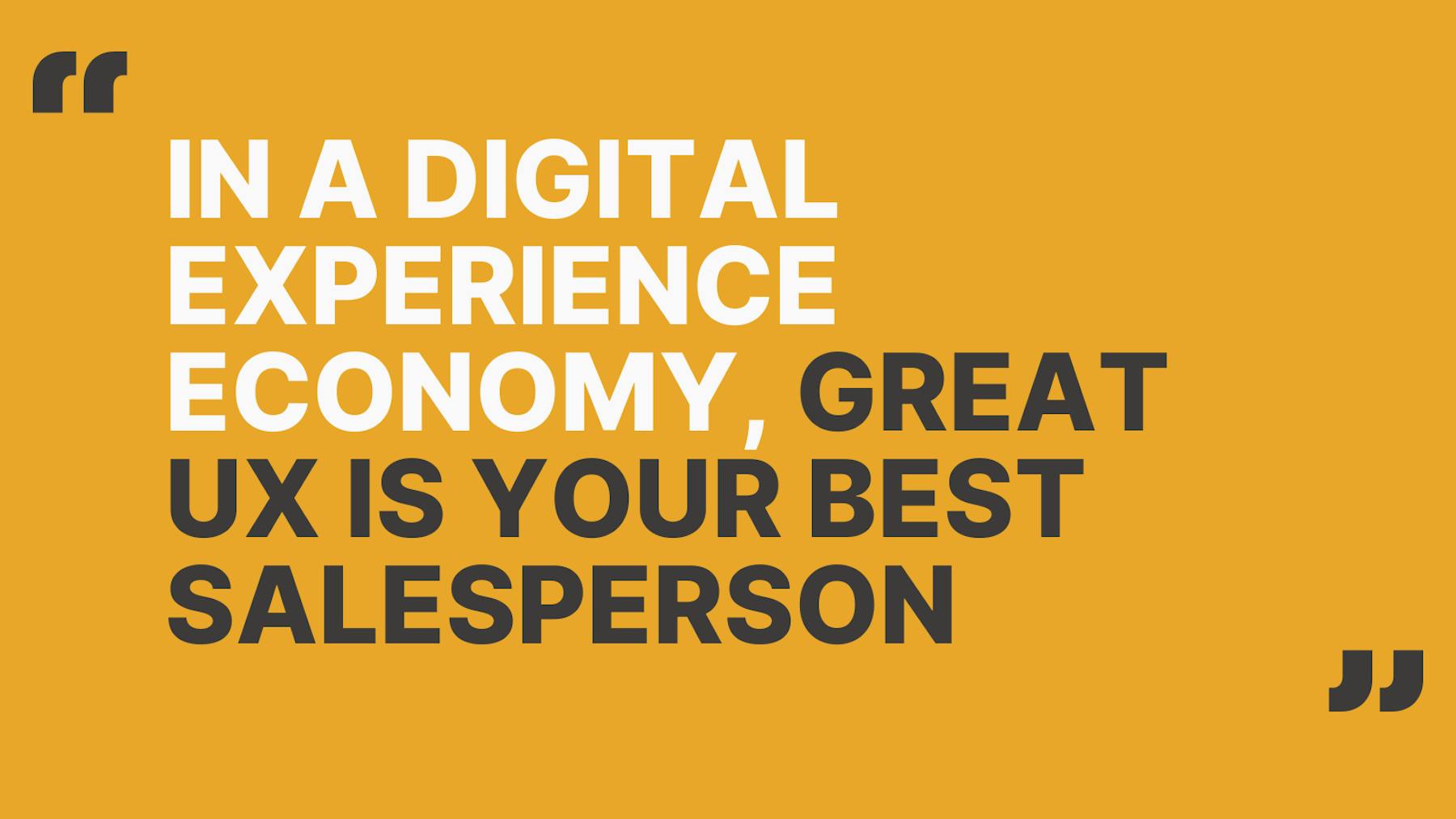 "In a digital experience economy, great UX is your best salesperson"
Finally, we come to possibly the most important point. In a digital economy, a great experience is the one thing that can increase conversion,  drive engagement with your brand, create repeat business, and increase word of mouth (both online and off) recommendations that grow your business.
As Alfonso de la Nuez puts it: You need to understand that you are a digital experience company, because, if you're not, you're going the way of the dinosaurs.

Want to learn more about building a truly customer-centric business? The Amazon bestseller The Digital Experience Company is out now - and if you order it before the end of September 2022, you can snap up a copy for just $0.99! 
Insights that drive innovation
Get our best human insight resources delivered right to your inbox every month. As a bonus, we'll send you our latest industry report: When business is human, insights drive innovation.
About the author(s)