New UserTesting feature: Transcripts
Image
Getting insights from your videos just got easier.
Companies are realizing the power of continuous user testing to make more informed decisions. And more tests means more insightful feedback to review. As part of UserTesting's ongoing commitment to making the process of reviewing user tests more efficient, we're excited to announce a new UserTesting feature: Transcripts.
With Transcripts, verbal comments from user tests are automatically transcribed alongside videos, making reviewing faster and easier than ever before!
Key features
With Transcripts, you now can:
Jump to any point in a video by clicking in the transcript

Create a video clip by selecting the corresponding section of the transcript

Search for keywords and jump to the corresponding portion of the video

Easily copy direct quotes for reporting and presentations to stakeholders
The transcription feature was a dream come true. It helped focus my efforts as a UX researcher analyzing insights as opposed to testing my skills as a typist.

- Lestarya Tuadi, UX Researcher, Intel
How to use it
Transcripts are being offered as a free preview for qualified customers from March 13 to April 12.
To try out the feature, simply conduct a new test during the preview period. The transcribed comments will appear in a new tab in your video player like this: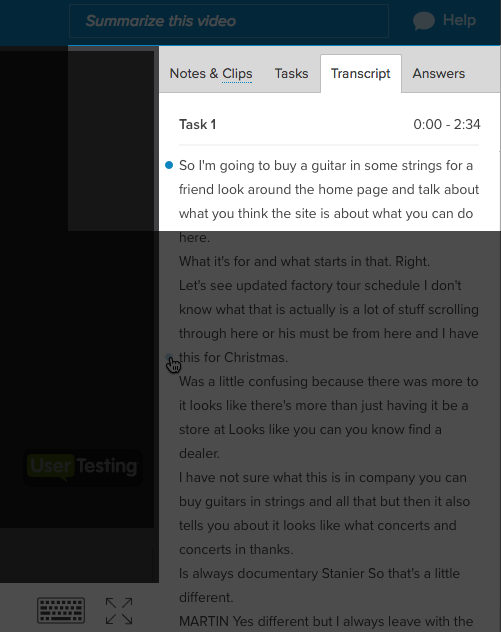 Get the most from Transcripts:
Highlight text to create a clip instantly
If you notice some interesting feedback as you're scanning through a transcript, you can quickly create a clip by just highlighting the text and selecting Make Clip.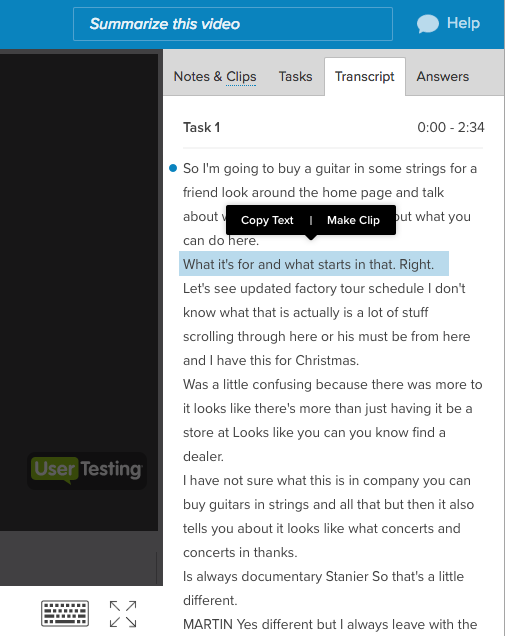 Jump to any point in the video
Transcripts enable you to search a user's comments for keywords or phrases quickly and easily (just use command/control + F). You can then jump to any point in the video by clicking the dot on the side of the transcript.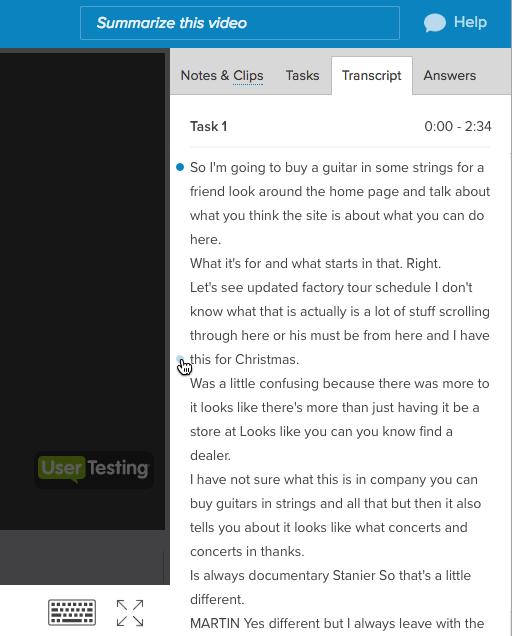 Who this is for
The Transcripts feature is a great time-saving tool for customers reviewing large batches of videos—or anyone who wants to quickly scan through videos for insights. As transcripts are generated via machine-driven speech recognition, they won't be 100% accurate and should be utilized as a tool to help improve efficiency rather than a substitute for reviewing user videos altogether.
We're very excited by the potential for transcription. Although state of the art transcription technology isn't at 100% accuracy quite yet, it's become a powerful tool that significantly boosts productivity.

- Darrell Benatar, CEO
Insights that drive innovation
Get our best human insight resources delivered right to your inbox every month. As a bonus, we'll send you our latest industry report: When business is human, insights drive innovation.
About the author(s)