How to create a UX research plan
Image
The concept of research planning can be met with mixed emotions. Some may say that planning delays action. However, a good plan should really do the opposite by providing a clear guide for action and deliverables. In this post, we'll detail how a well-conceived UX research plan will help streamline your research and foster understanding and engagement from all stakeholders involved.
What is a UX research plan?
A UX research plan can take many forms. It can be a document, spreadsheet, set of slides, or anything else you can imagine as long as it acts as an overview for kicking off the project.
While a UX research plan doesn't have to be a formal document, it shouldn't only live in the mind of a single person. Consolidating ideas, milestones, and deliverables together in one, accessible place allows for a guided conversation that has major benefits on the outcomes of a set of research.
What are the benefits of building a UX research plan?
When it comes to user research, it may seem daunting to be too prescriptive when building your UX research plan. After all, how can you account for everything a user might need, say, or want? Nonetheless, it's important to try, because making progress on your goals is rarely made through random activity. And, there's nothing wrong with making adjustments as you go. 
Even when faced with uncertainty—often compounded by the everchanging world we live in—effective planning facilitates progress.
The benefits of a UX research plan are numerous, but some include:
Fosters alignment: Rarely does UX research involve a single stakeholder. With a written UX research plan, you can ensure that all team members involved are on the same page, marching toward agreed-upon goals. Not to mention, a plan allows you to spot conflicting interests before you're too far down the line.
Engages stakeholders: An effective UX research plan ensures stakeholders are properly engaged with the study and its results. Without a written plan, there's a greater chance that stakeholders won't feel invested and may become observers of the research rather than active participants.
Ensures UX goals are achieved: A UX research plan should clearly map desired outcomes as well as mileposts to define progress. These provide a standard for assessing how the plan is progressing and if adjustments need to be made to keep the plan on track.
How to create a UX research plan
Every organization is different, so the teams within them may be responsible for different business goals. This means that there isn't a one-size-fits-all approach to creating a UX research plan. 
In this section, we'll provide an overview of steps to consider when creating your plan.
A well-oiled UX research plan should include:
A clear problem statement
Objectives for the research
The research method(s) needed to execute the research
An overview of the participants
A test plan
A timeline
How you'll present your findings
Let's get started.
1. Craft a clear problem statement
As with most plans, you should start by clearly identifying and stating the problem that you're trying to solve. A UX research plan is no different. Your problem statement should be clear, specific, and give enough detail that stakeholders understand what the research is trying to solve.
Problem statements don't just stem from nowhere. Some great sources for inspiration might be your support team which deals with customer issues on a daily basis, customer reviews on your website, or feedback from social media. Understanding what data already exists—and what you still need to know—is a fantastic starting point for building a strong UX research plan.
Once you've put together your problem statement, it's time to define your objectives.
2. Define your objectives
Think about defining your objectives as telling the story of what you're doing, why you're doing it, and what you expect to learn from your UX research. The objectives you set should be the driving force behind every task you assign and every question that you ask research participants.
This means it's important to be specific. Setting clear objectives will help you define the project scope and the questions you have to ask participants to get the information you need. If the scope is too broad, anything and everything becomes a research question—which becomes overwhelming to manage.
If you like to think visually, consider this chart.
Start with a problem statement, define the objectives you need to address the problem, then build out tasks and questions that will uncover the necessary information from your participants. 
Once you have a clear understanding of what your problem is and how you're going to aim to solve it, you'll need to choose the right research method for your plan. 
3. Selecting the right UX research method
Next, you'll have to choose the research method that will achieve your stated goals—based on the objectives you've already identified. Before we jump into individual research methods, or the tactics used for conducting UX research, there are big-picture questions that need to be addressed first. And that's: What types of UX research are there?
We won't dive too deep into this here, but here's some additional reading that might help you understand the type of research you'll need to conduct:
Once you understand the types of results you're trying to achieve, make sure that the research method you choose delivers the evidence you need to make informed decisions.
Related reading: The UX research methodology guidebook
4. Select your participants
One of the most important factors that contribute to a successful UX research plan lies in choosing the right participants (and the right number of them). There's some debate out there over how many participants you should include in UX research, and the right answer depends on what you're trying to learn.
Research shows that five test participants will uncover 85% of a product's usability issues.
If you're trying to discover trends amongst users, then you'll need a larger sample of participants. This will help you establish quantitative findings so you can present a more convincing case to your stakeholders.
Aside from the number of participants, you'll have to consider how closely your study participants should match your target audience. 
When you're narrowing down your participants there are typically two schools of thought: cast a wide net and test with a large, general demographic, or get super specific with your requirements and seek out a very specific user. Naturally, there are situations when one will be more appropriate to your research needs than the other.
Defining who your participants should be will require you to go back to the goals you've set and the questions that need answering.
5. Build your test plan
There's a certain art to crafting a great test plan. Admittedly, it can take a bit of practice. From moderated user interviews to unmoderated usability tests to prototyping—test plans can take many different shapes and sizes. Lucky for you, our education and research teams have come together to build out this outstanding resource for building test plans.
Check out all of our articles on the UserTesting Knowledgebase for building a test plan. 
6. Lock in a timeline
Establishing your research project's timeline is an essential step in creating a UX research plan. Estimating how long the research project will take place and when the findings could be expected are necessary considerations in any project.
Even if not exact, determining an approximate timeline (e.g., 2-3 weeks) will enable you to manage stakeholders' expectations of the process and the results.
7. Present the results
Finally, determining how you'll present the findings of your project from the start ensures they will be impactful and implemented across the organization. Setting this understanding from the beginning will also determine if all of your stakeholders have been properly identified. It can be frustrating to find out that you need to present to an executive halfway through a project.
Ultimately, for the purpose of your UX research plan, it's important to choose a presentation medium that's appropriate for your key stakeholders. Perhaps it's a UX research report, a set of slides, or even a Jira ticket for your product team; the point is, you want to deliver the information to stakeholders in a way they're comfortable with—and will be most receptive to.
Using a UX research plan template
So now you've built a UX research plan from scratch. While it may seem like an arduous process, we can assure you that it's well worth your time. Being able to confidently embark on a project with clear deliverables, milestones, stakeholder buy-in, and a plan for presenting results is a major feat—one that will be recognized and appreciated by all of those involved.
Nevertheless, time is money. So once you've gone through an entire UX research project, we encourage you to hold a retrospective meeting to identify all the ways you could improve the process. Once you uncover what went well and what can be improved, turn your UX research plan into a template for you and your peers to leverage within your organization. 
Need some inspiration for your next UX research project? Check out our list of curated test templates to get you started.
ROI of UserTesting
Learn how organizations using the UserTesting Human Insight Platform can realize $2.03M in value and 665% in ROI over a three-year period.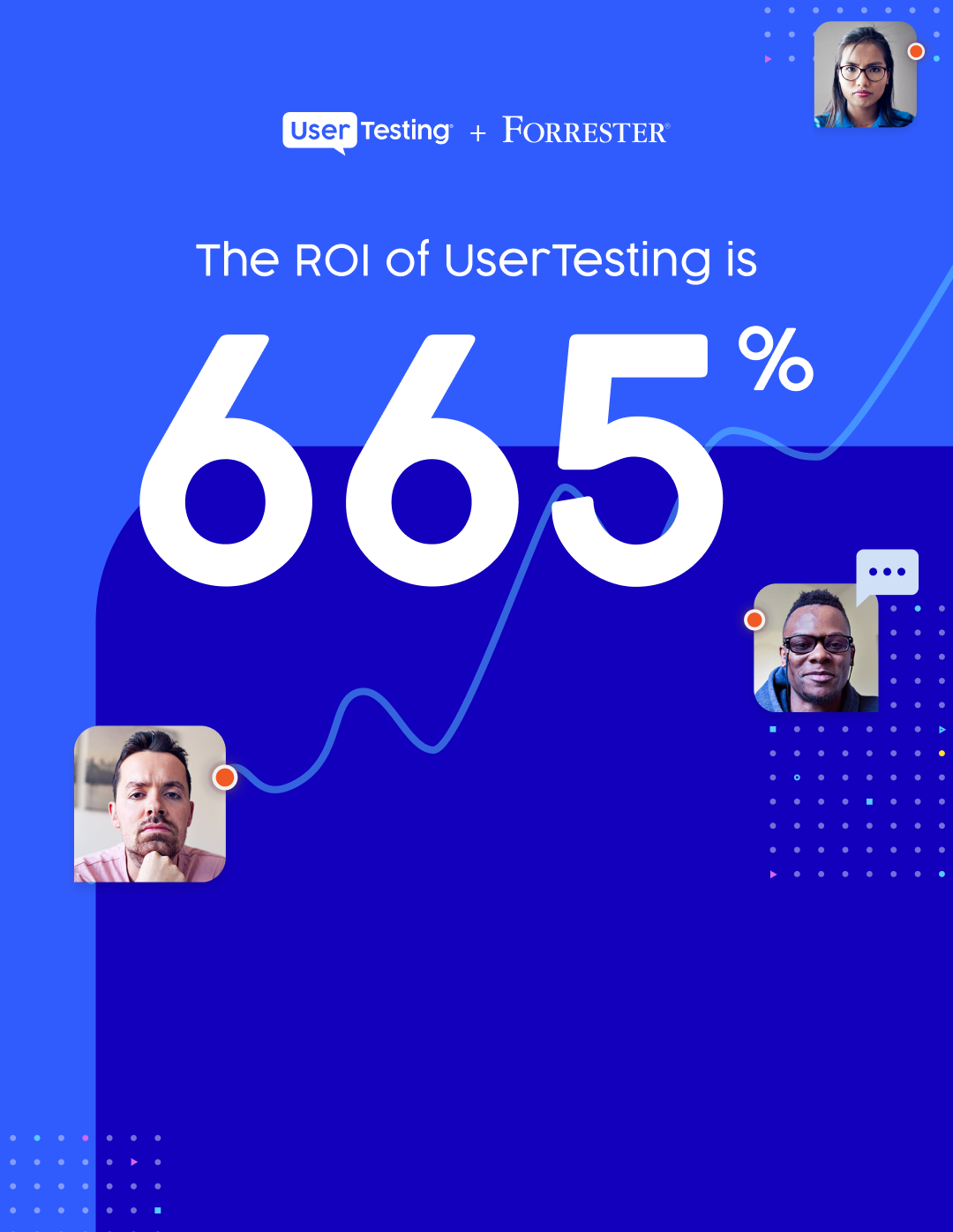 About the author(s)