New innovations that improve speed and quality of insights: April 2021 Product Release
Image
At UserTesting, we believe all teams should build empathy for their customers and bring real human insight into any decision. Our latest updates to the UserTesting Human Insight Platform showcase new features and innovations that improve the speed and quality of insights—empowering everyone to collect feedback and make decisions with confidence, and without ever sacrificing quality.
Included in this April 2021 Product Release are the following features and updates:
Template gallery—launch tests even faster with streamlined access to personal and account-level templates, as well as easy to explore professionally curated templates
Approval flow—ensure any team is conducting research that aligns to best practices you define by requiring a review and approval of a drafted test before its launch 
Tree testing—get feedback about site navigation, content hierarchy, and content labels to improve engagement, conversion rates, and customer satisfaction
Qualtrics integration—easily augment survey data with human insights for a deeper understanding of your users' experiences
Smart tags—get to moments that matter faster through purpose-built machine learning algorithms that help you identify and understand insights in your video feedback, as well as smart tags for written tasks to help analyze written feedback
Discover, create, and launch tests through best practices in order to bring real human insights to any team
1. Template gallery
With our all-new template gallery, you can launch tests faster by accessing UserTesting templates—as well as your own—in an easy-to-navigate interface. 
Templates can help you collect customer feedback more efficiently, especially for new users, empowering anyone in your organization to launch tests more quickly. With UserTesting templates you also get a series of over 50 templates (designed by research experts) to help you gather feedback as you discover new opportunities, build great products, and optimize experiences for your customers.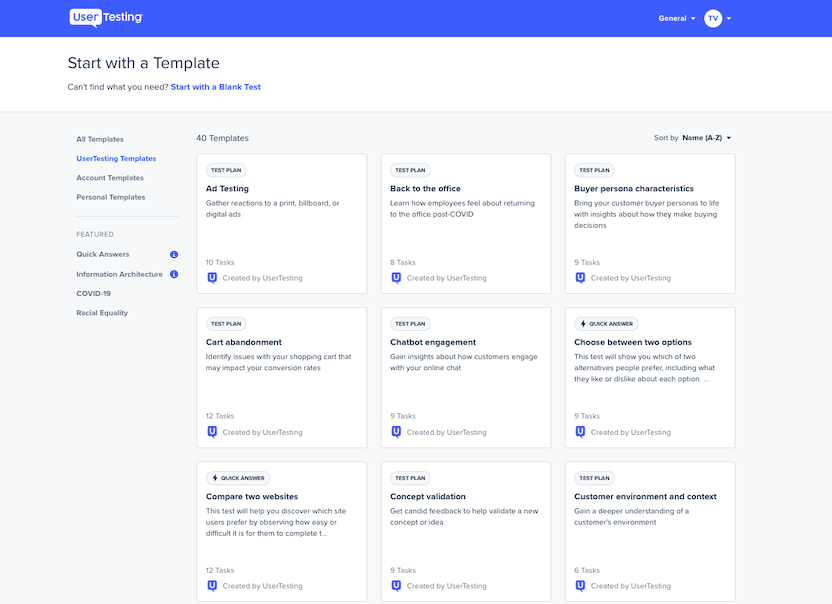 For more information on the template gallery and how to use it, you can read the deep dive, here.
2. Approval flow
Our latest enhancement, approval flow, is purpose-built for customers who want to empower teams that may not have the training or experience needed to launch their own tests. Approval flow settings can be applied to any team member who is creating audiences and test plans from scratch, launching Quick Answers, or conducting Live Conversations—so you can be sure all research follows best practices you have defined.
For businesses who want to empower others—like marketing, design, and product, for example—a review and approval process is typically manual, multi-step, time-consuming, and can even create bottlenecks in your workflow. Now, with approval flow, all reviews, notifications, and approvals happen right within the Human Insight Platform. We've also added email notifications so you can keep work moving and never miss a virtual "tap on the shoulder" from anywhere on any device.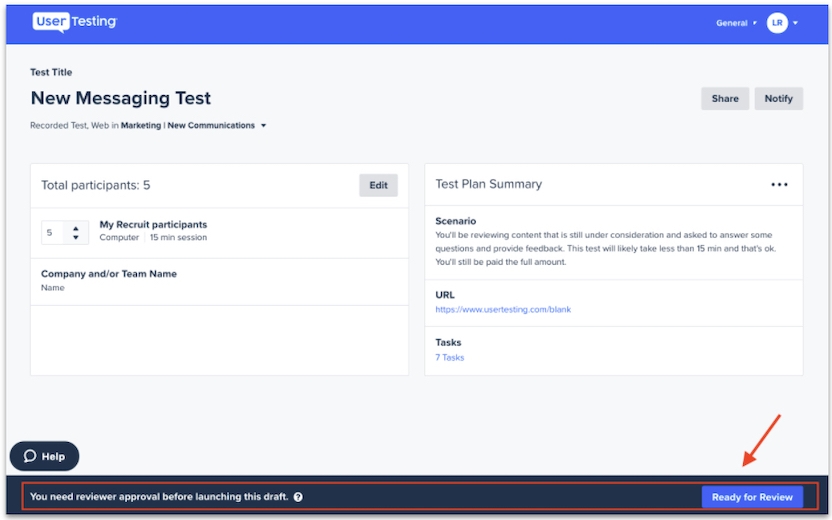 For more information about using the approval flow feature, check out our Knowledgebase article.
Pair analytics and video feedback to understand the "why" behind customer expectations
3. Tree testing
Designing an intuitive information architecture—or site navigation—is foundational to building effective digital properties, regardless of your business objectives. Tree testing is a research method used to provide feedback about site navigation and content labels—generating user insights that can help improve engagement, conversion rates, and customer satisfaction.
Typically, tree testing is executed as a remote, unmoderated study providing analytics about your site navigation and content labels. But with tree testing now available on the Human Insight Platform, you can also capture video feedback to pair with the analytic data.
For more information on tree testing and when to use it, you can read the deep dive, here.
4. Qualtrics integration
Our latest integration with the Qualtrics XM platform empowers our joint customers to augment Qualtrics survey results with human insights. By enabling an easy, efficient way to combine qualitative and quantitative insights, stakeholders are equipped with the holistic view of their users' experiences necessary to make people-centric decisions in every business example. 

After creating a Qualtrics survey, users will navigate to UserTesting and set up a Invite Network test leveraging their choice of Qualtrics-specific test templates—exclusive to customers using the integration.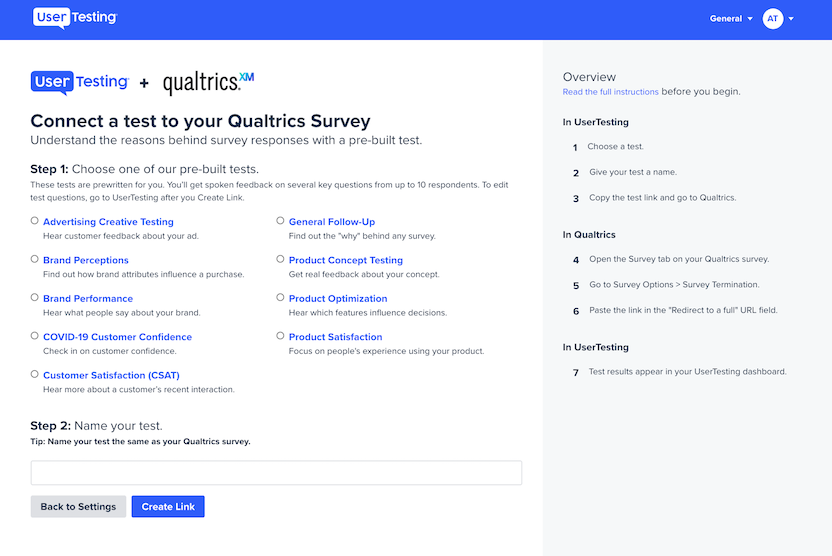 For more information about the UserTesting and Qualtrics integration, check out our Knowledgebase article.
Use machine learning to rapidly find and understand important moments
5. Smart tags
Smart tags make it easier to find and understand important moments in your feedback videos with a purpose-built machine learning model designed to evaluate video feedback in real-time. With this release, we're building on our sentiment analysis solution and automatically detecting suggestions, expectations, and expressions of sentiment, like confusion or delight. There are ten tags in total including trust, ease, aversion, and more.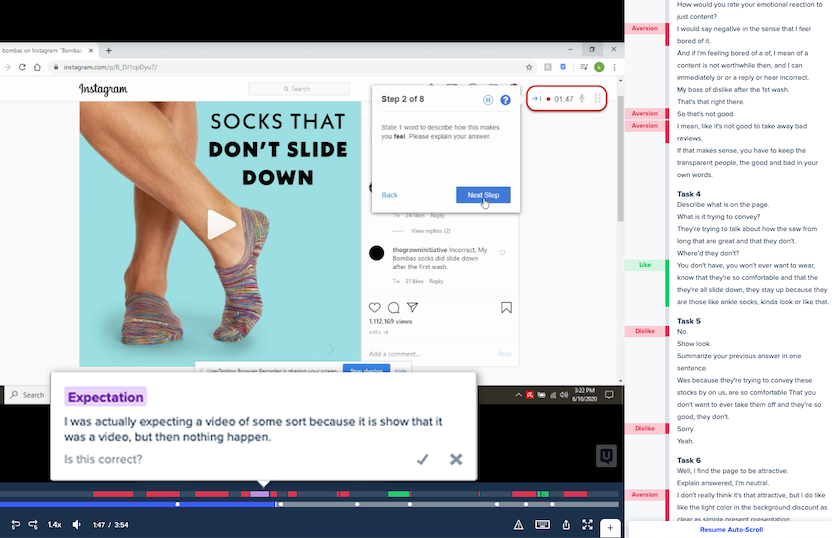 Smart tags not only improve speed to insight but ensure teams aren't missing critical insights by making it easier to parse through the feedback, which can otherwise be time-consuming and tedious. 
6. Smart tag for written tasks
Smart tags for written tasks apply our purpose-built machine learning model to also evaluate written responses—helping accelerate analysis across multiple test types. The tags can be found in-line with the written responses on the metrics tab in your results dashboard.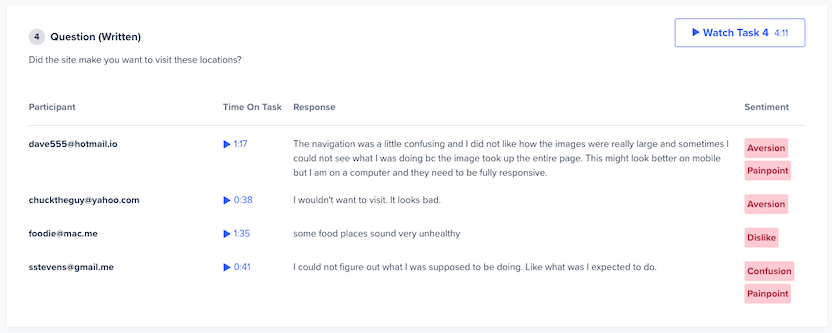 For more information about smart tags, including smart tags for written responses, you can read the deep dive, here.
Stay up-to-date with our product releases
We release product updates on a quarterly basis. So, if you'd like a full recap of our January 2021 Product Release, you can view our blog. As always, we're excited to bring these new innovations designed to improve the speed and quality of the insights all of your teams collect. 
To hear more about our newest capabilities, please join our April 2021 Product Release webinar. 
And if you'd like to learn more about any of these features, contact your account team or reach out to us here.
April 2021 Product Release
Learn about our newest innovations that improve the speed and quality of insights to help everyone make decisions with confidence.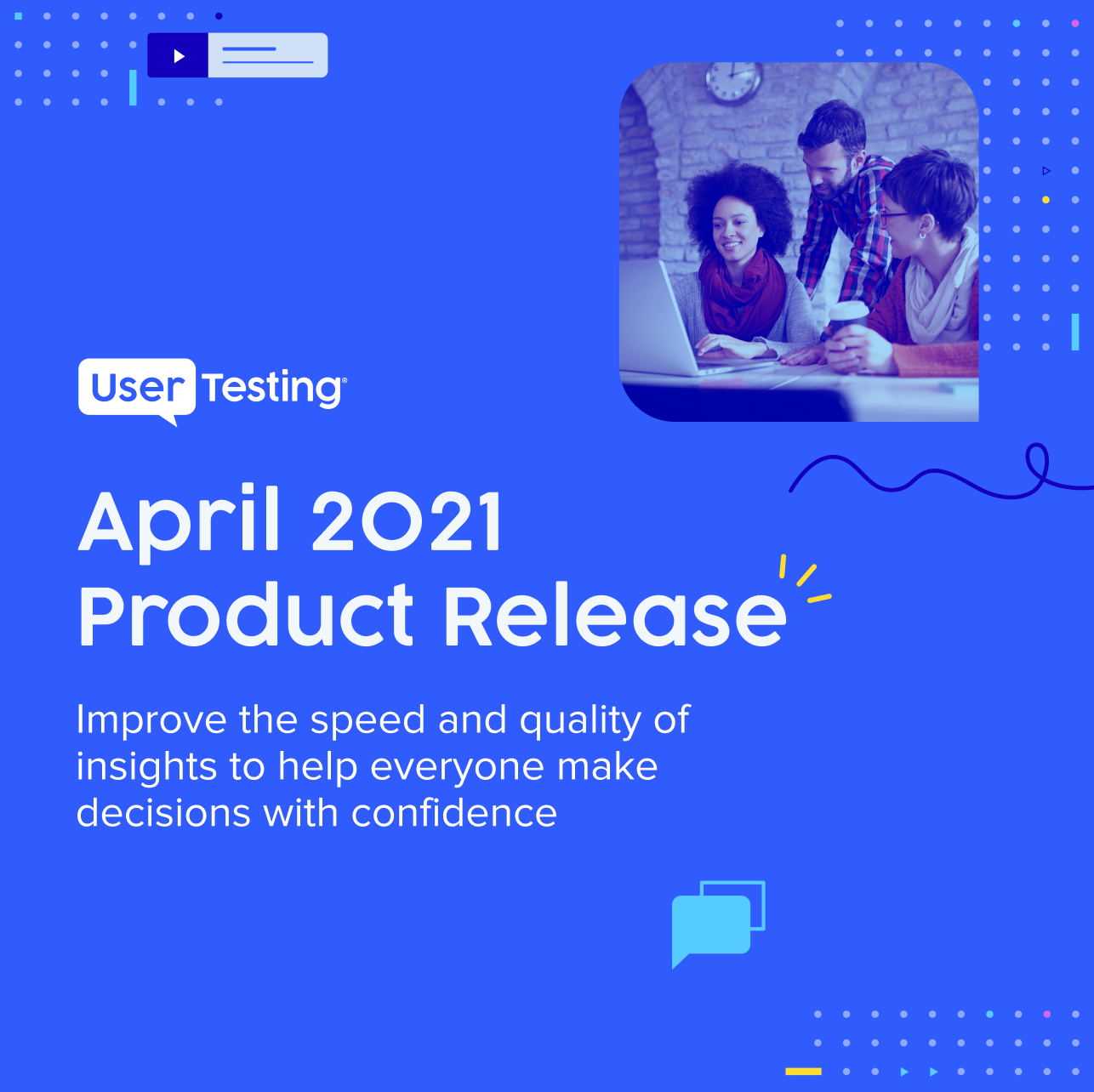 About the author(s)