3 ways to empathize with consumers during a cost of living crisis
Image
In recent years, we've all been living in unprecedented times. Fresh out of a pandemic and now facing new territory with uncertain market conditions, the cost of living crisis is reportedly an even bigger threat to organizations than the pandemic.
Despite the ongoing uncertainty of the economic climate, industry-leading professionals have seen a rise in spending in the lead-up to the holiday period compared to previous years. A recent survey revealed that even with rising inflation costs, 40% of consumers planned to start shopping for holiday gifts earlier than in previous years. 
Take holiday TV advertising, for example, it can be a large investment across the globe and can be key to influencing spending patterns while maintaining brand loyalty. Holidays throughout the year can invoke heightened emotions, and your brand messaging can make or break a reputation when trying to influence customers through advertising. Traditionally, we've watched magical imagery in holiday ads. But recently, we've seen a major shift with many large brands highlighting the importance of family and friends over material objects in their holiday advertising. 
So how can you balance the need to grow your business while showing empathy for your customers and their problems? Below are three takeaways to keep your customers at the center of your messaging and advertising—in hard times and good times.  
1. Fostering an empathetic connection with your customers
Today, it's more important than ever that businesses cultivate customer empathy and tune into the current environment and their customers' expectations. Keep in mind that: 
Organizations should understand the varying needs of their customers and how the cost-of-living crisis impacts them and their spending  

It can be said that "no news is good news," however, customers are more apprehensive than ever about how businesses can help them during the changing economic environment.

For example, even if customer surveys or NPS data don't indicate any red flags, you still don't know the why behind those scores if you're not talking to your users 

While you don't have to completely change your brand messaging, perform a gut check with your audiences to ensure your communications come across as intended
A British supermarket recently released a holiday ad showing farmers comparing sun tans while creating produce for traditional holiday foods. While initially a seemingly innocent concept, it unfortunately attracted a lot of negative attention and complaints from skin cancer patients and their charities. This goes to show that without testing your ideas and messaging ahead of time with your target audiences, you risk missing the mark. Potential missteps can have a profound impact on your brand's reputation and potential revenue, with customers deciding to shop elsewhere. 
Below, watch the following highlight reels where UserTesting contributors give feedback on holiday advertisements, their recent interactions with brands, and holiday shopping. 
John Lewis 
Department store giant John Lewis has traditionally favoured more light-hearted entertainment in the form of cartoon animals. However, this year, they've attracted positive attention by shifting its brand message to raising awareness for families taking homeless children into care.
Co-op Supermarkets
Primary food provider Co-op has taken a major step to align with the mood of the times. Using their advertising budget, they've invested in the communities impacted by the cost of living crisis through nationwide community food initiatives.
McDonald's
McDonald's is among many of the brands that have started emphasizing bringing families together and less so on the importance of having material gifts.
2. Provide convenient, seamless experiences 
When dealing with the stressors of a high cost of living, consumers want the most value for their money, and will quickly look elsewhere if they experience frustration with a product or experience. Today's consumers are often inter-connected, facing almost endless product choice, aware of the technological possibilities, and ready to embrace new experiences. Because of the increased demand for access to simple digital experiences, customer loyalty and adoption can depend on a seamless, frustration-free experience. Prioritize the following: 
In a world where you have channels across multiple digital and physical touchpoints, your customer's end-to-end journey should be as seamless as possible

to prevent user frustration

and churn

Remember that affordability has different definitions depending on who you ask. Provide versioning products and services to increase choice for those with various income brackets 

Promote and guide the customer through a seamless experience

from physical to digital channels

Understand where customers connect with you. Some consumers may not have access to modern technology, so supporting those with limited options can diversify your audience—and boost inclusivity
3. Get ahead of the competition
Today's consumers are savvy and well-informed. Customers expect more from the standard business leader. Getting your message right the first time and ahead of your competitor can be the differentiator in preventing your customer from taking their money elsewhere. Consider the following: 
Inflation has customers hunting for deals and cutting costs

With the rise of buy now, pay later plans and consumers reportedly starting their holiday shopping earlier each year to spread out the costs, it's essential to get a view of what your competitors have on offer

Ask your customers what they expect to see within your industry to get ahead of the curve and become a leader in your space

Understand where to spend your innovation planning to deliver affordable and sustainable products and services 

Consumers care about brand values. For example, Vinted, the secondhand clothing resale app has taken a golden opportunity to align its message to the climate. The rising concerns for climate change mean the public wants to see brands doing their part for the environment and incorporating sustainability. In this case, consumers and sellers on Vinted can recycle preloved items for cheaper rates than what's found in stores, saving money on holiday expenses while benefiting the environment
While we can't control the ongoing economic challenges we face, we can make strides towards better connection with our consumers to better support them. By leveraging these three key areas and truly understanding the customer experience, you'll be armed with the confidence in knowing your customer's priorities—and how to exceed their expectations.
Guide
Access this free online guide to see how the top retail and ecommerce brands leverage the UserTesting Human Insight Platform to make better decisions to improve their digital experience and increase conversions.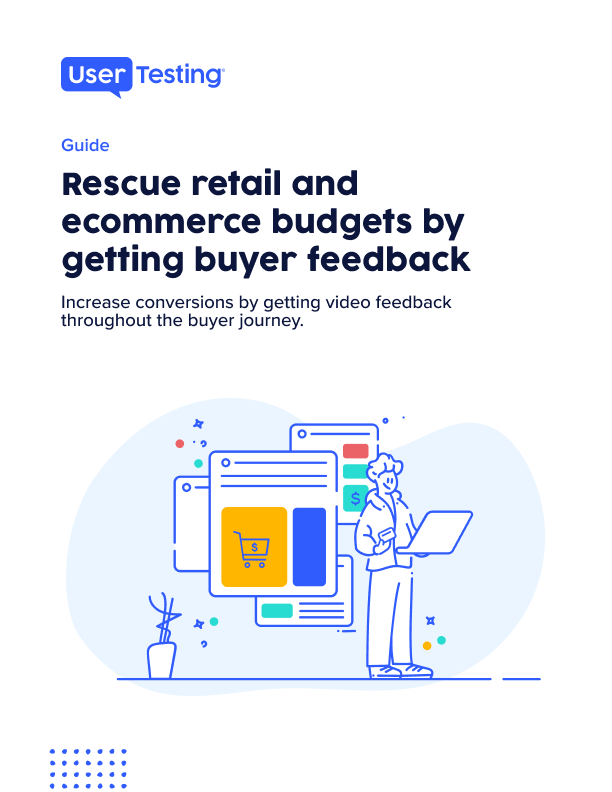 About the author(s)