Executive alignment drives customer-centricity: insights from a C-level strategist
Image
Knowing your audience is foundational for marketers, UX professionals, and project managers alike. However, not all audiences are customers or even users. Sometimes, your audience is made up of internal stakeholders, like executives.
So why do we—as marketers, UX professionals, and project managers—who spend so much time developing our external audiences, have a hard time communicating with our executives?
It's like we're fundamentally breaking the rule of knowing your user.
"Our users are business people," said Tamara Adlin, who's the Chief Product Officer at Blockchange Ventures and a C-level strategy and CX consultant. "We're not remembering to use all the skills we have in this regard. Instead, we're treating it as some different kind of problem. It's not a different problem. They're users of us. We're the products."
In her Human Insight podcast interview with Janelle Estes, UserTesting's Chief Insights Officer, Adlin discusses: 
Her seminal book, The Essential Persona Lifecycle: Your Guide to Building and Using Personas
Her magic trick to achieving executive alignment
Startups and the Catch 22 of the MVP
Customer-centricity is more than just a trend
One trend over the last year has been a renewed focus by companies on taking a customer-centered approach as the best way to meet consumer needs and deliver positive business outcomes. 
In our eighth annual CX Industry Report, a survey of over 4,700 professionals from around the world across a variety of industries, we found that 45% increased their investment in customer feedback and research during the pandemic, and 72% expect the frequency of collecting customer/user feedback to increase in 2021. 
Yet there remains the empathy gap between claiming to be customer-centric and what your customers actually believe. 
According to a study by Capgemini, it's been shown that although 75% of organizations think they're customer-centric, a mere 30% of customers believe this to be the case.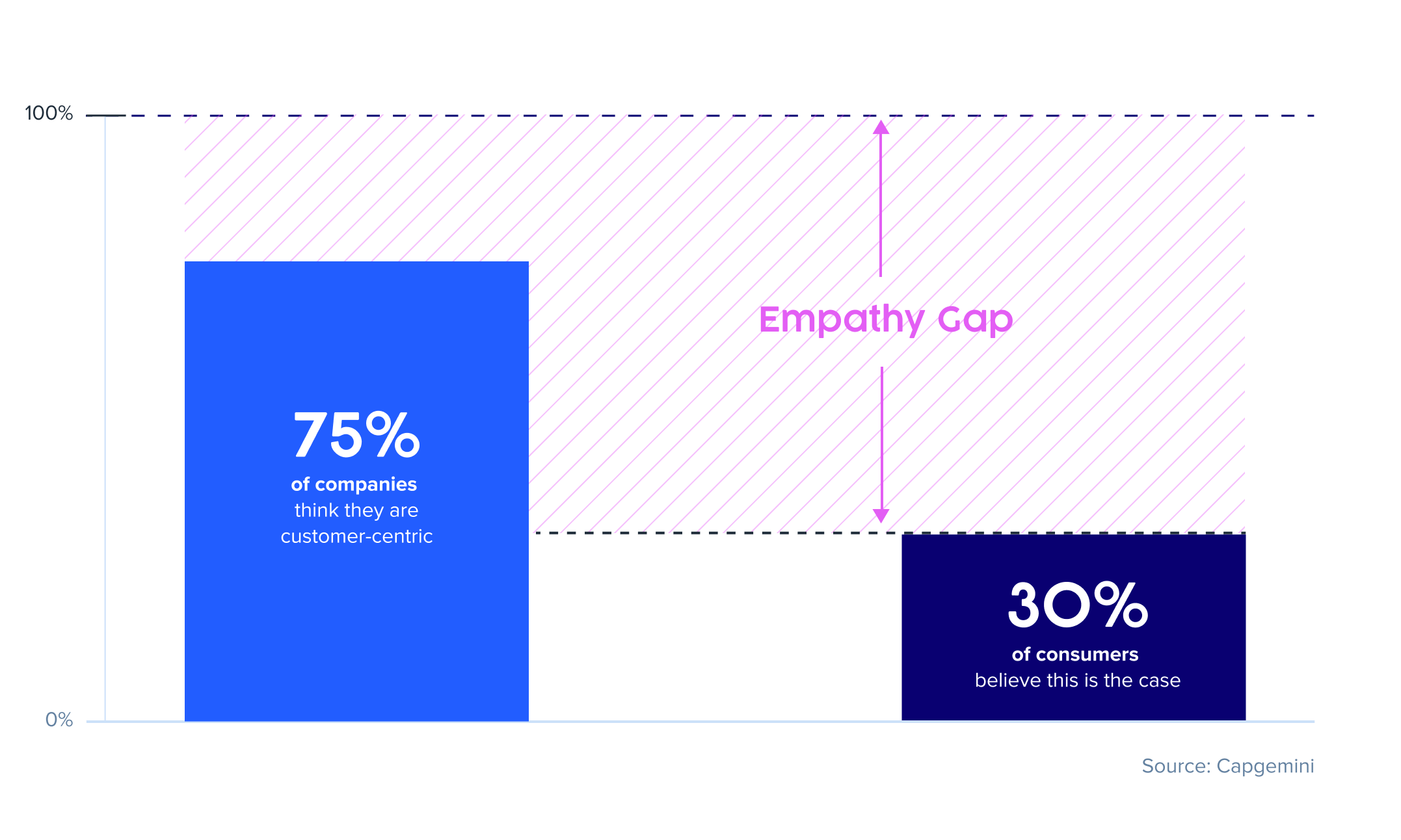 Why is being customer-obsessed so hard?
Adlin says it could be a couple of different things. 
First, it could be that you don't have executive alignment. And that could simply be politics and teams not trusting each other. "Data-driven personas will not solve the fact that the Chief Marketing Officer and the Director of Product can't stand to be in the room together," Adlin said.
The other reason is the organization hasn't done a good job of articulating its business goals. "I say this all the time," Adlin said. "When more than two executives are in a room and have a conversation, something shifts slightly and no one writes it down."
Whether you're a marketer, UX practitioner, or project manager, you should be working to match what you do with measurable business results. 
"If we do that," Adlin said. "Then we start speaking the language of business. If it's in a spreadsheet, it can be exactly the same information, and they will listen to it. It has to have numbers in it. Go find some numbers. It could be a number of weeks. They could be numbers of dollars. They could be numbers of personnel. They could be numbers of subscribers. They could be numbers of candy bars in the kitchen. I don't care what they are. Go find numbers. And then propose changes to those numbers and show them to the executives."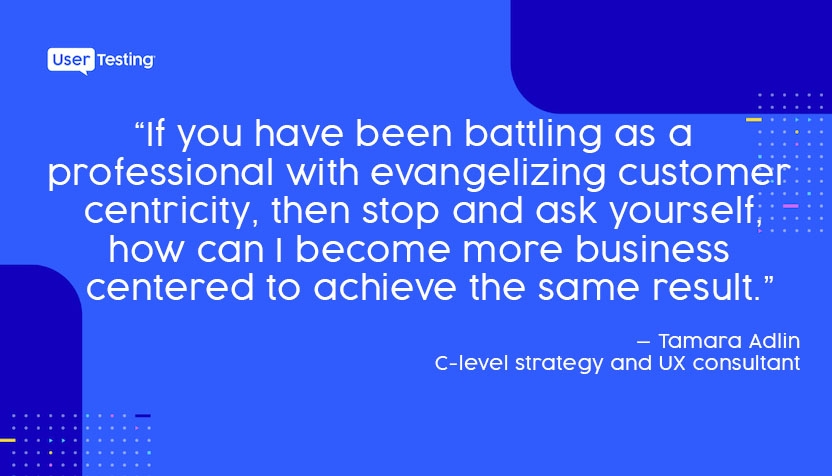 To close that empathy gap and become more customer-centric, she said, you need to know your customers. And in this case, your customers are your executives. And your executives speak in spreadsheets.
"Here's what I would evangelize. I would evangelize business centricity to customer-focused professionals. That's what's standing in your way. We've tried all the arguments about why it's so great to be customer-centered. We have to meet them where they are. We have to find the people who control the dollars," Adlin said. "If you've been battling as a professional with evangelizing customer-centricity, then stop and ask yourself, how can I become more business-centered to achieve the same result." 
She uses an analogy of building a tropical island called customer-centricity. And you're waving your arms to the people on the mainland, your executives, expecting they're going to see it and come over. But they're too far away. So you build a boat to bring them over. But that's too much of a risk for them, traveling all that way to some unproven island. So you build stepping stones all the way from the island to the mainland. Then you need to go to the mainland, take their hand, and walk them from stepping stone to stepping stone. 
"We have to do the work to get them to the island," Adlin said. "We're not doing that. We just keep saying, 'how can we make the island prettier?' That's not going to help us much at this point. Luckily, you already have every single tool you need to fix this."
Need more help on how to talk to your executives? Check out these two blog posts:
The startup's guide to user feedback
Learn why fast, iterative feedback is critical to any startup's success—from concept testing to prototyping, and more.
About the author(s)