What's growth hacking and how does it relate to UX?
Image
Growth hacking has been around for a decade or more. It can sometimes be viewed negatively, as if growth hacking is about using cheats or shortcuts to achieve goals rather than being a significant marketing discipline. In this respect, growth hacking has been misunderstood, perhaps because it's often presented as one-off hacks that helped a now famous company such as Airbnb grow quickly. Perhaps the name doesn't help, but growth hacking is a process of rapid experimentation that leads to improvements in product or marketing performance, with the ultimate goal of driving overall company growth as quickly as possible. 
Growth hacking was first introduced as a term by the entrepreneur and startup advisor Sean Ellis, the Founder and CEO of GrowthHackers, to describe an approach to marketing that seeks to acquire as many customers as possible as quickly as possible by using creative and low-cost tactics. 
As a practice, it is frequently associated with early-stage startups seeking fast growth with limited budgets, though the growth hacking framework can be applied to companies of all sizes. 
Growth hacking follows a lean philosophy rooted in the agile mindset, rapid experimentation, and testing in an iterative process. Growth hacking encourages marketers to test tactics that can be accepted or ruled out quickly. 
What's growth hacking?
Growth hacking is a subfield of marketing focused on the rapid growth of a company. It is referred to as both a process and a set of cross-disciplinary digital skills. The goal is to regularly conduct growth experiments, which can include A/B testing, that will lead to improving the customer journey, and replicate and scale the ideas that work and modify or abandon the ones that don't, before investing a lot of resources.
Examples of growth hacking
There are plenty of famous examples of growth hacking, many of which refer to the single hack that helped a company to break through. For example, the cloud storage service Dropbox had some competitors with deeper pockets, yet managed to outgrow many of them. 
The famous hack for Dropbox (from Hacking Growth) was the referral program which offered users extra storage space if they referred a friend to the service. It was a great offer and a huge success. Driven by these referrals, Dropbox grew from 100,000 users to more than 4 million in the space of 14 months. 
However, this wasn't just the result of one hack. It was a great idea, but was part of a process that began by surveying existing users, and also included raid testing and improvements to product messaging and the user experience. It wasn't just about a marketing hack, it was about optimizing the whole experience.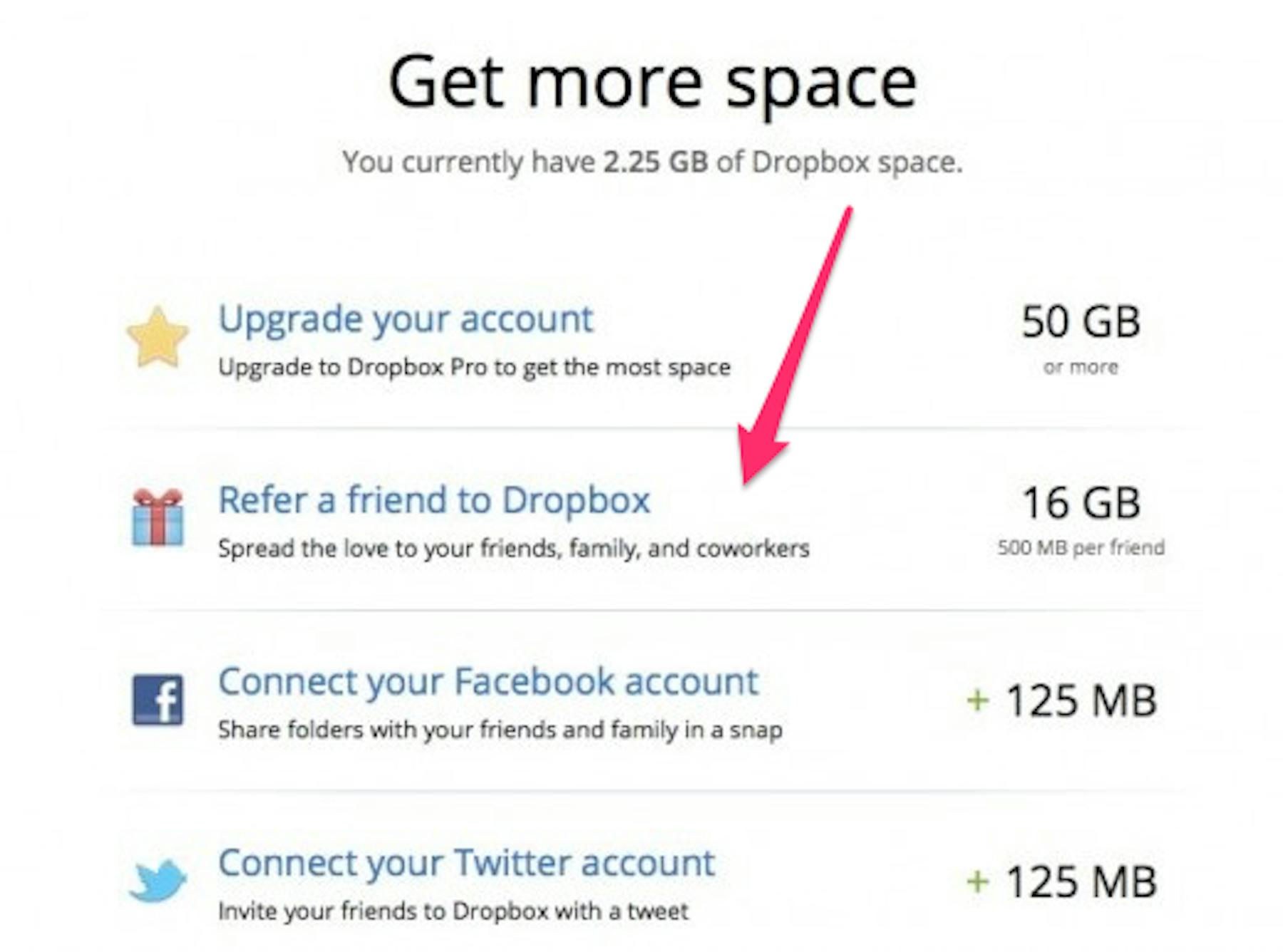 Dropbox utilized growth hacking to supercharge user growth.
Key characteristics of growth hacking
Data-driven. It is results-oriented, requiring analysis of data and customer feedback. It's based on data, not gut instinct. 
Technology-driven. Growth hackers use tools that enable them to test at scale, gather detailed data on customer behavior, or enable them to see how people use their products. 
Collaborative. Growth hacking touches all areas of the business and requires greater cooperation between teams toward common business goals. 
Experimental. Like UX, the process of growth hacking is based on frequent testing and experimentation. This may be experimenting with the product, website, or different marketing tactics, 
Speed. Speed of execution is key. Growth hackers will hypothesize and test innovative growth strategies and are prepared to quickly adopt or abandon them depending on whether or not they are successful. 
Similarities between growth hacking and UX
The goals of growth hacking and UX sit together reasonably well. 
The goal of UX is to improve the user experience and overall business performance. 
The goal of growth hacking is to drive sustainable growth, which means acquiring and retaining customers. This is achieved partly by creating a great customer experience and the user experience is a key part of that. 
A cycle of experimentation and evaluation
The day-to-day methods of UX and growth hacking are very similar. UX designers will see some similarities in the growth hacking cycle - the process of hacking, as outlined by Sean Ellis in his book "Hacking Growth: How Today's Fastest-Growing Companies Drive Breakout Success."
The four stages are: 
Ideate. Ideas for tests, having a hypothesis for each test. 
Prioritize. Tests are prioritized according to their potential impact on growth. 
Test. Carry out the tests. 
Analyze. Did the test work? If not, what can we learn from them? What caused it to succeed or fail? Every test should be a chance to learn more.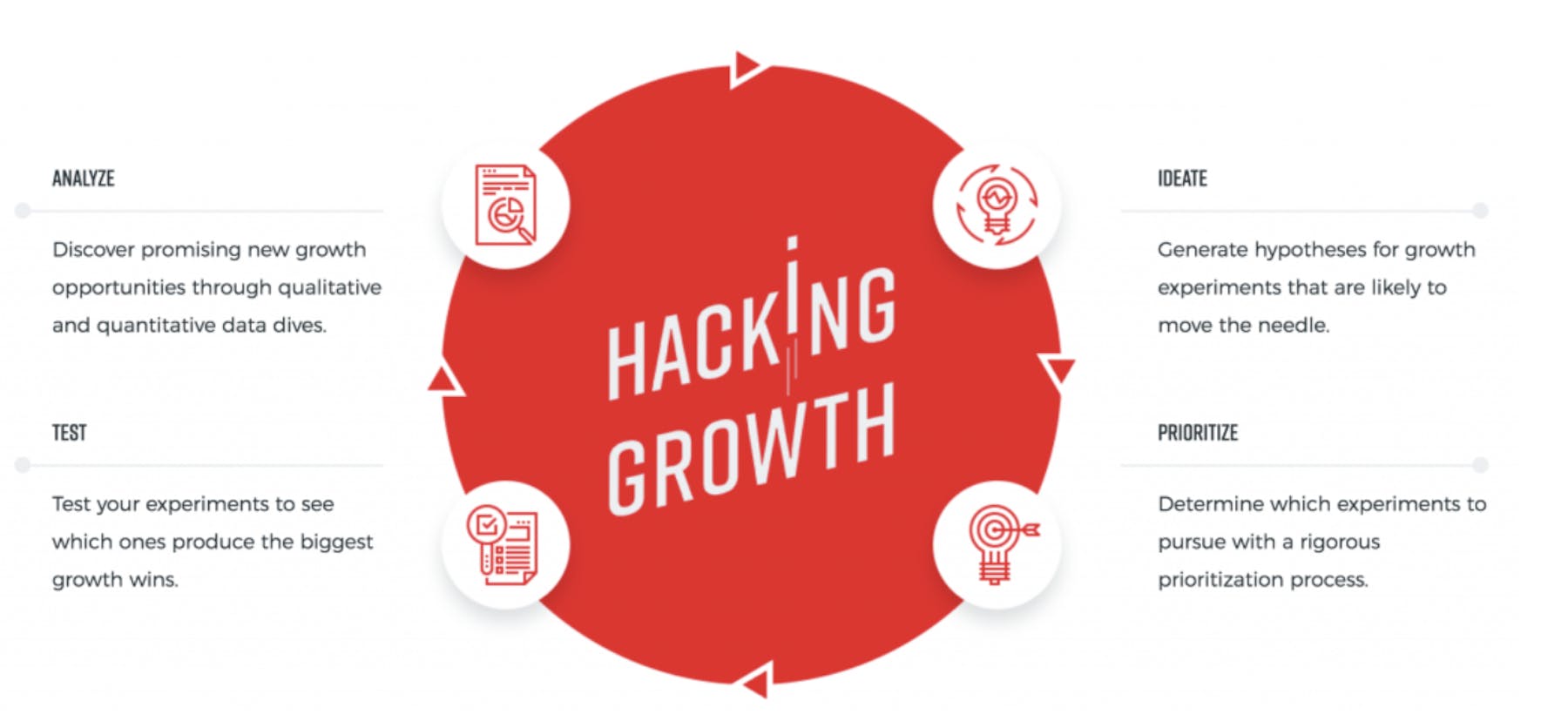 The cycle of growht hacking, as outlined by Sean Ellis.
A focus on the whole customer journey
The focus on the whole customer journey is another key similarity. Whereas many marketers are focused on acquisition, growth hackers are interested in the whole funnel. This is often referred to as the 'pirate funnel' - because of the 'AARRR'. 
Acquisition. Attracting new customers.
Activation. This is encouraging customers to use and see the value of a product. If they see the value, they're more likely to remain customers. 
Retention. Keeping customers happy and satisfied with the product. 
Revenue. Optimizing revenue, perhaps by ensuring the product meets their needs, adding new features/upgrades, etc.  
Referral.  Encouraging referrals, which means customers need to see the value in your product. 
This interest in the whole funnel, well beyond acquisition, is a recognition that the success of a product depends on the customer experience as a whole. Create a product or service that is valuable, and people will continue to use it, and even begin to act as ambassadors for it.
In this, the user experience is all important. The product has to be easy to use, users must be able to achieve what they want to do, and to enjoy the product. 
This requires a process of experimentation to improve products, and the use of data and surveys to understand customer thinking around the product–what works for them? Where are their pain points? And so on. 
A focus on the user 
In both growth hacking and UX design and research, it's essential to listen to users, whether this is data gathered from experiments, direct user feedback from surveys, or lab and remote tests carried out with users. 
This feedback from the user drives improvements in products, and changes that improve the overall user experience. 
Driven by data over opinion
Data beats opinion in both UX and growth hacking. If the results of an experiment prove that a certain design works best, then that's the one that is implemented. 
In both, it's about getting past gut instinct or the HiPPO and building and improving products based on what the data says. 
The need for stakeholder buy-in
Both approaches require some degree of autonomy in choosing the experiments to conduct and having the authority to make changes to products. 
For both, it's essential to have the backing of key stakeholders, but also to be able to communicate the benefits of growth hacking or UX to management and the business as a whole to continue to maintain this backing. 
In summary
Growth hacking has much to learn from UX research. The insights from expertise in testing, the tools and techniques that help to improve UX, and the ways of communicating results around the wider business are all areas where growth hackers can find ways to constantly improve their approach. 
Likewise, an understanding of growth hacking, and the growth hacking mindset that willingness to experiment to try new approaches, and to test and fail quickly - would benefit any UX professional. 
Insights that drive innovation
Get our best human insight resources delivered right to your inbox every month. As a bonus, we'll send you our latest industry report: When business is human, insights drive innovation.
About the author(s)