How to build an ecommerce website: tips and guidelines
Image
There's never been a better time in the ecommerce space. Thanks to the after-effects of the COVID-19 pandemic, and the prioritizing of convenience, more and more consumers are buying what they need online over going to a brick-and-mortar store. While there's a time and place for brick-and-mortar stores, ecommerce businesses allow customers to purchase items any time of the day or night—and allow international buyers to buy products from previously out-of-reach organizations. Online stores are growing rapidly, and any business owner should prioritize building an effective ecommerce store to help meet, and exceed, their customers' evolving expectations.
Our tips and guidelines will walk you through how to construct an optimized, user-friendly online shopping experience, and build an ecommerce store that'll stay competitive for years to come. 
Table of contents 
As we become a more digitalized world, it's no coincidence that ecommerce trends ebb and flow every day. Online retailers should be aware of the latest ecommerce statistics to make the best moves for their organizations and to thrive in an ever-changing industry. 
By 2023, ecommerce stores will drive 22% of global sales
Sales in ecommerce stores expect to reach 22% of global retail sales in 2023, compared to 14.1% in 2019. Changes in shopping trends and increased ecommerce businesses play a role in this growth. To leverage the consumer desire to buy right on the spot, build an ecommerce store. 
Mobile users generated $3.5 trillion in ecommerce sales in 2021 
Mobile commerce is rising, raking $3.5 trillion in 2021 from ecommerce sales. Anticipate further growth as mobile users continue to buy products on their mobile devices, and social commerce continues to popularize. 
In 2021, ecommerce revenue was $768 billion; over the next three years, revenue will exceed $1.3 trillion
Over the upcoming three years, ecommerce revenue is expected to exceed $1.3 trillion. Building an ecommerce site lets you get a piece of that pie, and benefits your customers. 
Suppose you don't have an ecommerce site. In that case, you may be hesitant to invest your valuable time and resources into developing one—rightfully so, as it's a major commitment for any organization, or individual, to tackle.The reasons to build an ecommerce website are plenty.  Based on the statistics and industry trends, it's evident that ecommerce sites are the future and serve as a bountiful investment for online retailers as they generate revenue and attract current and potential customers. 
1. Acquire more customers
There's an endless amount of people using the internet and digital devices. In general, brick-and-mortar shops serve only a fraction of customers compared to online stores since their locations limit their ability to attract customers worldwide. But, online stores can attract buyers from around the globe. You can reach hundreds and thousands of potential customers with the right advertising and digital marketing tools.
2. Improve your organization's brand awareness and recognition
When you perfect your search engine optimization (SEO), your site will rank higher on search engine results, resulting in more potential shoppers viewing your site—and becoming aware of your brand. To set this in motion, use specific keywords and phrases associated with your products and services for a higher rank on search engines like Google. 
Additionally, if your products are featured on common marketplaces, your brand typically won't be at the forefront—and shoppers may have a lower chance of finding out about your brand and other services. An ecommerce site ensures that you maintain control over the wording of your products, your user interface, and how you're perceived. This level of control goes a long way in cultivating brand awareness and recognition you may not usually receive in a marketplace.
3. Leverage email marketing
When you sell products on a marketplace—like Amazon or eBay—usually the buyers of your products are also customers of that marketplace. However, when you have an ecommerce site, you can be confident that those customers are all yours. Conduct email marketing by getting customers' and website visitors' consent in handing out their contact information—like their email addresses. This action greatly benefits marketing efforts because you have direct contact with current and prospective customers where you can offer them discounts and promotions, announce new products, drive traffic to your site, and improve sales. 
4. Increase customer retention
Offer excellent customer service to generate customer loyalty, and use prior knowledge about customers' past purchases to suggest products that align with customers' interests to garner increased customer retention. 
Building an ecommerce site may seem complex and confusing, but it can be easier than you think. In the subsequent sections, we'll walk through everything you need to know about building your ecommerce website, including:
Which ecommerce platform to use

Buying a domain name

Planning and building your ecommerce website

Choosing your ecommerce website's theme

Adding your products to your ecommerce website

Setting up payment and shipping options

Testing your ecommerce website 

Launching your ecommerce website

Post-launch testing of your ecommerce website
OK, let's get started!
1. Pick an ecommerce platform, host, and solution for your site
When deciding on an ecommerce platform, you have three platform types with various advantages and functionalities to compare. 
Open source
Open-source platforms are free and accessible. They're free to install and easily customizable; however, they require advanced coding knowledge. In addition, they fall prey to security breaches. This makes them more expensive, as you may need to hire someone to maintain the security if you decide to go this route. 
SaaS
SaaS, or software as a service, is a platform that runs on a subscription service. It's easy to install, security-compliant, and can handle logistical transactions like payment processes. The downside of SaaS is the lack of customization. These platforms leverage built-in customization templates, which are more convenient and accessible if you're not skilled in coding. Still, if you prioritize innovation and originality, this option may limit your amount of creative control.  
Headless commerce
Headless commerce is when the digital storefront, or the parts of your site that customers engage with—site design, fonts, images, etc.—is separate from the back end, the pages where you hold data like customer information and orders. The benefits are that organizations have more creative control, and can make customer-facing changes quickly. 
2. Ecommerce hosting
Now, where are you going to store all of your data? Choose your ecommerce hosting site carefully, as it'll hold private data. When you better understand your options, you'll be able to  choose the best host for your business to avoid problems such as a laggy website or a lack of security. 
On-premise hosting
On-premise or self-hosted hosting gives you control over your servers. Your software isn't accessible to anyone outside your network, offering increased security. This is a good option for large organizations with physical servers and data centers. But, if you're a smaller business or not advanced in IT, this option may not be ideal as it'll require more money and effort to maintain a secure network. 
Cloud hosting
Cloud hosting tends to be offered by headless commerce and SaaS platforms. Unlike on-premise hosting, cloud hosting is run by a third party, so your organization won't have to front the costs and demands of dealing with IT technicalities or maintaining your servers. It's more flexible and scalable, as cloud hosting can accommodate high demands, which can be more common during the holidays when ecommerce sites have more traffic and activity. 
However, cloud hosting can be less secure because a third party has control of your data, heightening the risk of security breaches. Be sure to ask for their security practices and procedures beforehand. 
3. What to consider when choosing your ecommerce solution
Ecommerce solutions are the products and services—like website builder tools, ecommerce platforms, mobile app builders, and more—that help ecommerce businesses thrive. To deliver the best and most seamless experience to your customers, there are several things you must consider when deciding on an ecommerce solution. 
Security
No matter what, your ecommerce platform must be secure, or customers may grow wary of entering their credit card information or other private data. If your platform isn't secure, customers may decide to purchase from a competitor. Additionally, your organization's data must be secure. Make sure your platform supports HTTPS/SSL, a certificate ensuring the security of an ecommerce platform. 
Mobile-friendliness 
More online shoppers are relying on their mobile devices for online purchases. If your platform isn't mobile-friendly or mobile-optimized, you may miss out on buyers. To avoid losing potential customers, look for ecommerce platforms that allow customers to easily shop and browse using their mobile devices.  
Scalability
Let's say you start your ecommerce site with few shoppers, but over time your customers increase. Your platform has to be scalable and ready to accommodate a rise in traffic. In the early phases, excess features aren't necessary because you likely won't utilize the services, but as your business grows, find platforms that can accommodate increasing demands.
If you need more information on which ecommerce platform to work with, here are some of the top ecommerce platforms. 
Squarespace is one of the best platforms if you prioritize creativity and customization. They offer various free and paid templates, and you're able to sell countless products. Their platform is intuitive and accepts different payment processing, from PayPal, Apple Pay, Afterpay, to  Stripe. A business platform with ecommerce features starts at $23 per month.
Shopify is easy to use regardless of how technologically advanced you are, and its themes are mobile-friendly. They don't provide a free plan, but they offer a free, 14-day trial with no credit card required, and their basic plan starts at $29 per month. For more features, it's more costly at $79 and $299 per month. However, the more expensive the plan, the lower your transaction and credit card processing fees will be, which you might find worthwhile. 
BigCommerce is scalable, so it's best for large and fast-growing organizations. They boost traffic by providing SEO and conversion tools. It offers 24/7 customer service support and multi-layered security. However, premium themes can become expensive, and plans don't include domain names. Plans start at $29.95 per month. 
2. Purchase a domain name
Your domain name, or URL, is your web address. It's what buyers will search to find your website, so it's imperative to choose a memorable domain name for overall brand identity and recognition. Here are some best practices to follow when purchasing and deciding on a domain name.
Make it relevant: Make sure your domain name is relevant and applicable to your products. Most commonly, it'll be the same name as your business. This alleviates confusion, and your customers will know what you sell upfront from your domain name alone. Avoid using generic names, as these can be forgettable and consumers could end up going to a similarly-named website, and not yours. 
Make it short and memorable: Aim for a short and catchy domain name that's 6-14 characters. A short web address helps customers remember your domain name and are easier to type. 
Avoid hyphens and numbers: Avoid adding hyphens or numbers to your name, as it may make it harder for customers to share your domain. Especially during verbal conversations, it's much harder for customers to say your web address without striking confusion. 
Check for trademark infringement: Before deciding on a domain name, make sure another organization doesn't have the same name or something similar trademarked. To combat this, do your research and use a

registered trademark lookup tool

.  
3. Plan and build your ecommerce website
Now that you've decided on a platform and a name, here are the components you need for the next steps. 
Logo and brand imagery

: Most, if not all, ecommerce platforms have built-in templates to design a brand logo. If you opt to create your logo and

not use any template

, you can use third party platforms like Canva or Adobe Illustrator. Remember that your logo represents your business and is the first impression users tend to have of your business. Make sure your logo is recognizable and well-designed. 

Detailed product descriptions

:

The first step to marketing your products is to let your customers know what your product is and why it's useful. Provide details about your product, like the size, the weight, and the material. To go a step further, add answers to frequently asked questions, use keywords in your descriptions to improve SEO, and encourage customer reviews (whether positive or negative). 

Provide product photos and videos

: Take pictures and videos of your product from different angles. Depending on the size of your business and budget, you may not have professional photography, which is fine! You can get creative and try taking high-quality shots on a smart device. 

About us section

: Curate a detailed "About Us" section, which entices people to support and learn more about your ecommerce business. Consider discussing the roots of your business and why you do what you do. Enhance the page with photos and videos to help tell the story of your brand. 

Detailed customer service pages

: Great customer service entices any customer purchasing from a business. Create a customer service email, or phone number, and make sure it's easy for the consumer to find. Additionally, provide detailed shipping rates and times on these pages. Add your returns and privacy policy to boost transparency and limit any confusion from your customers.  
Contact a developer to set up your ecommerce website
The benefits to developers are that they save plenty of time, are familiar with  the latest technological advances, and have unique design ideas. Developers allow your site to get set up faster so you can start selling sooner. If you decide to outsource to a developer to set up your ecommerce business, ask to view previous websites they've built. Early on, have conversations with your developer to ensure a unified goal for your site that you can accomplish within your budget. 
Or, create your ecommerce website by yourself
So, what if you're tech-savvy and want to create your site without the help of a developer? Consider building your ecommerce site yourself. If you desire complete control over the final result of your site without any outside influence, or believe you can accomplish this quicker yourself, this may be the best option. 
What if you still want to build your site but lack robust coding expertise? If you're not skilled in coding software like CSS or HTML, consider using pre-customized templates or a content management system (CMS). Pre-customized templates allow you to customize your site using pre-written code that you can fine-tune to perfect the user interface and meet business objectives. 
Whether you use a developer or construct your site yourself, you're taking the first step to building a quality website that'll elevate your business and generate new customers. 
4. Pick your templates
Perfecting your web design and layout is a crucial step to your ecommerce site. Although the products you sell are essential, your site should be user-friendly and pleasing to the eye, or you may lose a potential customer. 
Lean on templates to help construct a superb web design. Templates are pre-built pages that you can customize to align with your brand. Also, templates don't require you to have coding or design skills, which is beneficial if you're new to building a site. When picking a template, here are some things to keep in mind:
Customization options

: Choose templates with a variety of customization features. Some templates allow you to change the font, image size, colors, and other sections. This array of options is ideal when changing elements to match your brand's identity. 

Responsive ecommerce templates

: These templates allow you to adjust the layout of your site across different screen sizes and devices. Mobile users constitute a large portion of web traffic, so it's wise not to leave them out due to an unresponsive mobile site. 

Customer navigation

: Can your customers easily navigate through your website? If customers struggle to find what they want, they'll leave your site and find it elsewhere. Make sure you have a search bar, categories, and subcategories so people can easily find what they're looking for. Smooth site navigation is critical to ensure customers leave your site satisfied and with their needs met. 
5. 

Add the products you want to commercialize
Product pages tell new and current customers what you sell, why they should buy it, and why they need it. An effective product page with a stellar design and explanation entices customers to purchase products from your store. 
Product descriptions:

Product descriptions describe the ins and outs of your product, like the sizing, color, materials, usefulness, etc. Specific keywords and phrases help to boost search engine rankings and convince customers that they should buy your product. Avoid complex sentences and keep descriptions simple to enhance customer understanding. 

Product images

: Images portray products to customers and entice them to learn more about your product. Your image is the customer's first impression of your product, so take high-quality images that show your product from different angles. If you can, show your product in use to provide variety for customers and to boost customer engagement.
6. 

Set up payment methods, tax, shipping, and marketing tools
This step can vary based on which ecommerce platform you choose. Some platforms like BigCommerce or Shopify come equipped with payment processing, tax calculations, shipping label printing, and marketing tools. However, there are other platforms where you must integrate with third party sources to complete these tasks. 
Payment methods
There are three types of ecommerce payment gateways to choose from. Weigh the advantages and limitations of each and how secure they maintain payment information. 
Redirects

: Redirects take customers to another site to complete the transaction. Examples are payment platforms like PayPal and Klarna. It's a simpler process for business owners because you know your customer is processing their payment in a secure and convenient platform. However, it requires customers to do an additional step, and leave the current site, which may turn people away.

Checkout on-site, payment off-site:

In this gateway, you process checkout details, like your customer's name and address, then the transaction is completed off-site. Stripe is a prime example of this method. Similar to redirects, this gateway simplifies payment processing for you, but you can't control the entirety of the user experience. Ensure your site is encrypted correctly for a safe and secure transfer of information.

 

On-site payments:

On-site payments happen on your site. Larger organizations tend to use this gateway because they process more payments and can afford to maintain a secure network. 
Tax setup 
After setting up payment processing and a gateway method, configure sales tax rates to collect from buyers. Your sales tax rate will differ depending on your state and overall sales tax volume. All ecommerce platforms support sales tax collections and allow you to apply taxes to all products and orders.   
Shipping setup
Customers want their orders delivered promptly and without hassle. To streamline the order fulfillment process, incorporate shipping software with your ecommerce platform. This integration automatically connects orders to shipping software, allowing you to select shipping methods, print labels, and notify customers when their orders ship. Make sure to fine-tune your shipping settings so customers have a seamless journey from order placement down to receiving their package. 
Shipping policy:

What carriers do you intend to use to ship your customer's order? Decide if you're shipping orders for free, at a flat rate, or at a variable fee. Also, determine whether or not you offer international shipping. If you don't provide it, be transparent to avoid frustrating or confusing international customers at checkout. 

Decide shipping solutions

: Decide if you're going to pack and ship orders or if you intend to dropship. Dropshipping is an order fulfillment method where you don't keep products in stock and you sell your products to a third party supplier. Then, they ship your products to the customer, saving you some time and stress. 
Email and social media marketing setup
Some ecommerce platforms, like Shopify or BigCommerce, offer built-in marketing tools to connect more with customers. Email marketing is a marketing strategy where you create email lists to send promotions, improve user engagement, and promote sales. Meanwhile, updating your social media accounts about current and new product offerings helps expand reach and  boost customer awareness.
7. 

Test and publish your online store
It's the part you've been waiting for. You can finally publish your ecommerce store! But not so fast. For a satisfactory customer experience, ensure every element of your site is functional and intuitive. The last thing you want is a broken link or button to drive users away. To ensure site success, conduct usability testing before publishing your online store. Make sure you can answer "yes" to the following questions: 
Are buttons and links functioning and bringing customers to the next page?

Is your site mobile-friendly?

Is your site compatible on different web browsers, like Google Chrome or Firefox? 

Is the checkout process functional? Check to see if you can add products, purchase products, and if you receive confirmation emails. 

Are your store's settings set up correctly? Make sure the language, time, and other features are correctly appearing and functional. 
8. Post-launch testing of your ecommerce website
Now that you launched your ecommerce business, update and test your site regularly. Issues like slow page loading times or a poor user interface contribute to cart abandonment and reduced conversions. Continuously testing your e-commerce site and receiving feedback from your target users is essential for a successful ecommerce site and best experience for your customers. With the help of UserTesting, here are some segments of your site you should frequently update and test to ensure your site is running smoothly. 
Update product entries and descriptions

: Keep product entries and descriptions updated if you're offering new products and if there are any changes in current products. If you no longer sell an item, make that clear or delete the product from your site. Customers might become frustrated if it isn't evident that the product they intended to purchase is sold out. Providing clear and updated descriptions of what products are and aren't in stock helps prevent confusion and frustration for the customer. 

Check your site's performance often

: If your site is running slow, people may leave, so constantly check for any issues to ensure a high and speedy performance.  

Ensure your site meets security requirements

: Maintain a secure and reputable site by meeting current security requirements. Customers may be skeptical of providing their personal information and buying products from your site if it isn't secure or if you don't have a reputable history. To build trust with your customers, constantly check that your site has the latest security requirements, and remember that these can change over time. 

Stack your site against competitors

: Customers will always choose the online experience that best fits their needs. To deliver the best user experience to your customer, compare your site with a competitor to examine customers' reactions. During

competitor evaluation testing

, ask users to complete tasks on both your site and that of your competitors, and compare the results. By doing this, you can see what goes right and wrong with your online store and adapt to best practices from other sites. 
Above, we've examined the ins and outs of building an effective user-friendly ecommerce website to launch your ecommerce journey. If you still have any lingering questions, here are some frequently asked questions about ecommerce websites. 
How much does it cost to build an ecommerce website?
The cost varies depending on how many features you'd like to add, how much content you need to post, the amount of traffic you anticipate, and more. For a precise cost estimate, evaluate your action plan, and weigh different ecommerce platforms, tools, add-ons, and other features you need depending on your business. Depending on your needs, you can expect to pay up to thousands or tens of thousands of dollars. 
Can I make an ecommerce website for free?
There are options if you want to build a free ecommerce store. Platforms like Square Online are free but have strict limits and charge commission fees. And other platforms like Wix offer free trials for you to garner a feel of their platform before purchasing a plan.
How long does it take to build an ecommerce website?
The timeline differs depending on the complexity of your website. For more complex websites with advanced features, expect this to take three to nine months. If you opt for a more straightforward ecommerce store, this can take less time. However, remember that this process shouldn't be rushed and security, privacy, and usability, among others, shouldn't be sacrified for the sake of a quick launch. 
A final word 
With an almost never-ending variety of ecommerce websites to buy from, customers have higher expectations than ever. It's critical to continually test and optimize your site to provide an exceptional customer experience that meets them where they are. Gathering customer feedback before constructing your site and regularly during building and post-launch ensures that you make design decisions with a customer-centric mindset. Placing your customer at the forefront of your ecommerce business drives conversions, builds trust, and enables you to make design decisions confidently.
Guide
Access this free online guide to see how the top retail and ecommerce brands leverage the UserTesting Human Insight Platform to make better decisions to improve their digital experience and increase conversions.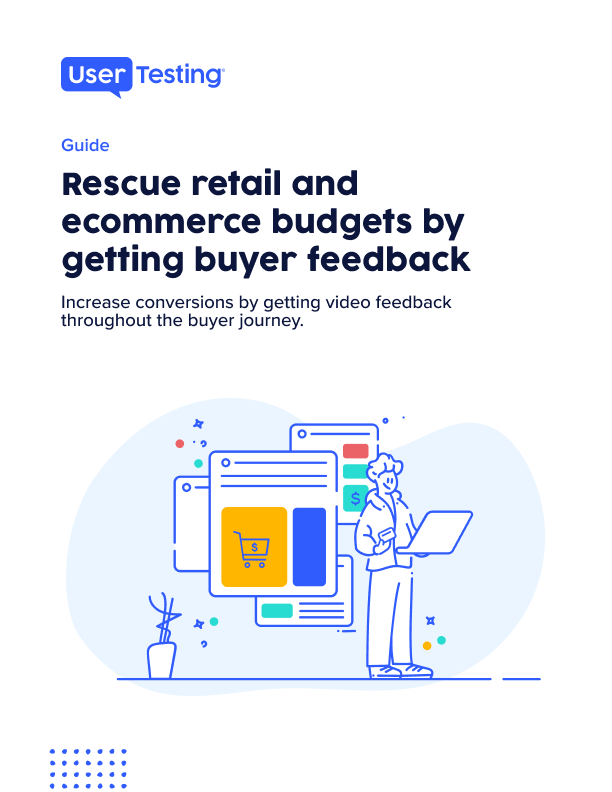 About the author(s)