How to teach kids about UX design
Image
By Becca Kennedy, Human Factors Psychologist
A user experience (UX) career is often full of outreach activities. We explain what we do. We teach other designers and developers on how to be more thoughtful, do more research, and adopt more human-centered processes.
Sometimes evangelism is simply part of the job, but sometimes we can volunteer our passion toward feel-good outreach activities. And what's more feel-good than preparing future adults to solve real UX problems?
A few years ago, I was invited to participate in a local half-day event in upstate New York called Girls in STEM. The event offers a selection of workshops encouraging middle school girls, aged about 10 to 14, to pursue their interests in science, technology, engineering, and math.
The Girls in STEM organizers asked whether my consulting company Kennason would be willing to host workshops on UX. Of course, I agreed! I loved the idea of working with kids to teach them about good design.
And then I scratched my head. I had no idea how to facilitate a UX workshop for this age group. I did some Googling and I did not find much, but I took a shot at planning activities. I armed myself with photos of design fails and figured that, at worst, those were a funny thing for the girls to laugh at even if I taught them nothing.
When the workshop day came, I was organizing sticky notes and markers as the first few girls filtered into the classroom and sat at their desks. While moving around the room, I casually asked, "So how did you all learn about Girls in STEM? Did you hear about it in school?" Silence. I looked up and realized the girls had fastidiously raised their hands. They were waiting for me to call on them to answer my question. (I'd forgotten what kids are like! Adults just talk without permission!)
The day was extremely fun, and we continued hosting UX workshops for kids—making some adjustments after each one. I'd like to share some of what I've learned.
Tips for explaining UX to kids
Don't talk down to them. Kids are smart and capable individuals who are building their identity in the world. It's great to introduce the basics of complex ideas. (At the same time, if you are flying over their heads, try to notice and modify how you are explaining things.)
Begin with a relatable example. I always start by talking about Norman Doors. Why do we often make fools of ourselves when trying to open doors? Aren't we smart? Well, of course we are! But sometimes even simple things like door handles are designed poorly.
Ask for examples of bad design in everyday life. Invite the kids to share stories about all the annoying devices and environments that they experience. I am always impressed that the kids understand this concept so quickly.
Hand out a paper packet. Throughout the workshop, take small breaks for the kids to write and reflect on what they are learning. I like to include simple questions in the handout like "In your own words, what does user experience mean?" You could also ask them to list examples of good and bad UX. Include your own picture examples too! The packet is something the kids can take home with them.
Create a brainstorming, sketching, or prototyping activity. For our first set of workshops, we asked the kids to come up with product ideas for a superhero we created who had specific goals and weaknesses. Although this activity worked out okay, it was a little too broad and fantastical. For the next set of workshops, we asked the kids to think of a real problem in their school or community and brainstorm app ideas to help solve it. We gave basic advice on menus and navigation and they sketched their ideas on paper iPhone templates. This activity worked out really well! (For our current set of workshops, we are switching the activity slightly and encouraging kids to brainstorm how to redesign a physical space: a doctor's waiting room.) It's a challenge to give some structure to the activity and make it relatable to kids, but when it works it's really fun!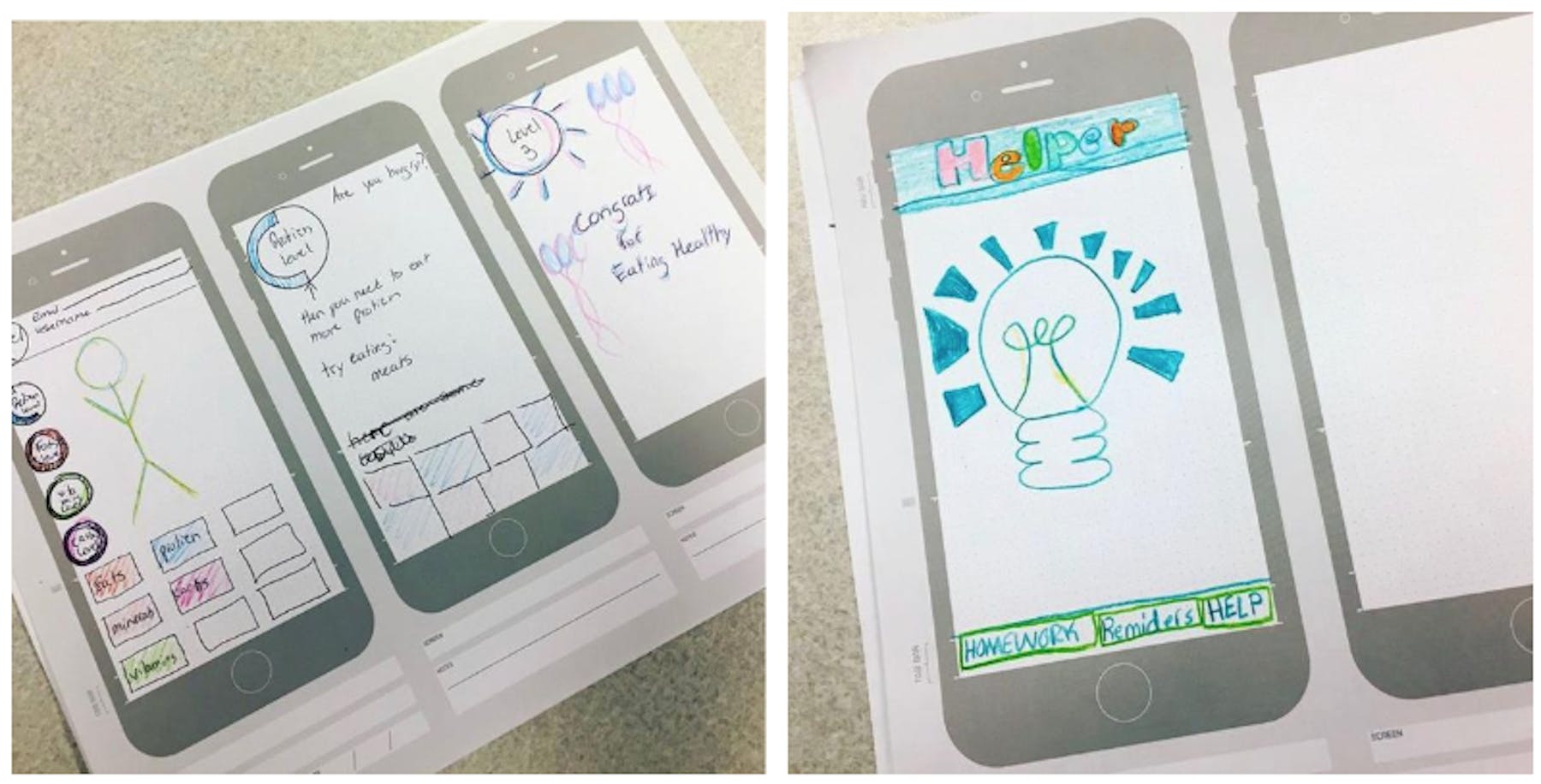 Kids come up with a lot of great app ideas when you give them a few prompts.
Leave time for sharing. No matter the activity, encourage the kids to share their ideas with the rest of the class and talk through their thinking process.
Remind them that it's not about artistic ability or perfect solutions. We are simply using sketching to communicate. Emphasize that in real life, we make changes to our ideas as we test them and learn more. Being an artist is not required!
The importance of UX outreach to kids
I hope that UX workshops and demonstrations become more commonplace for children alongside their learning about coding, robotics, and other similar topics. It's important that we help support a future workforce who understands that human wellbeing must be at the core of technology creation and use.
Developmentally, middle schoolers are in the midst of an interesting life phase. For girls especially, this is sadly the time when many begin to decide that science and technology are not for them. The can-do attitude of younger children is slowly replaced with self-doubt and worries. It's important to provide encouragement and representation to girls (or other underrepresented groups) that they belong in the STEM space if they want to be there.
I suggest we UX practitioners participate in kids' education events by collaborating with other organizations and nonprofits or hosting our own. Not all children have opportunities for hands-on science and technology learning but through outreach, we can find ways to inclusively expose kids to technology and related ideas, like UX.
I am optimistic that introducing kids to human-centered design can help some find a passion and career path. And for the children who eventually become engineers or take on other tech roles, their knowledge of UX will only help them be more compassionate and ethical professionals.
Insights that drive innovation
Get our best human insight resources delivered right to your inbox every month. As a bonus, we'll send you our latest industry report: When business is human, insights drive innovation.
About the author(s)