Concept testing: what is it?
Image
Bringing a product to market is stressful. Bringing a failing product to market is a feeling no professional should have to experience. That's where concept testing comes in. With it, you can get a sense of how well your product, campaign, or initiative will perform once developed. 
While companies typically validate their products by testing the product-market fit, how can you test something (product, service, experience, or campaign) that's only an idea in your head? 
What is concept testing?
The definition of concept testing is a method of research that involves getting feedback from your customers or target audience to validate a concept before bringing it to market.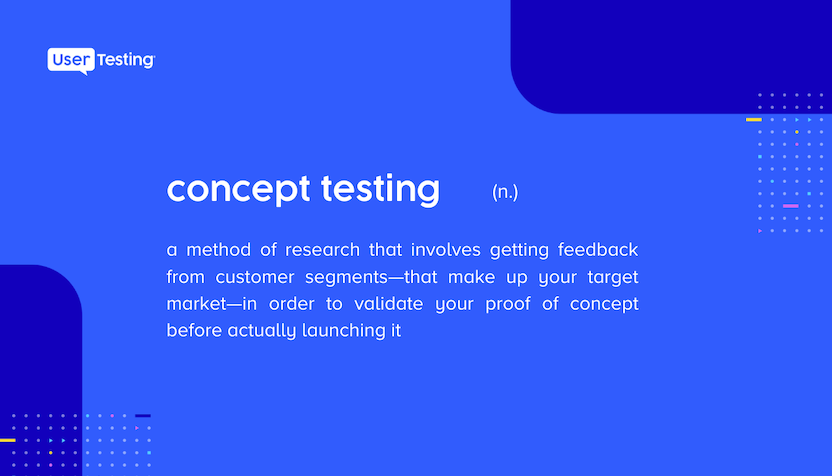 While ideas are a dime a dozen, concept testing saves teams (product, research, design, and marketing) time and money by helping them cipher out the bad ideas from the good ones before developing them further. Testing a concept can be as quick and easy or as iterative and sophisticated as you need.
Why is concept testing important?
Concept testing is crucial because it helps you predict the success or failure of a finished product early in the process. Whether you're in the early stages of vetting new products, redesigning a marketing campaign, launching a new logo, or starting a loyalty program, consider testing your concept. By doing so, you'll collect valuable customer insights and better predict whether or not you're investing in something no one will use. 
It's always worth remembering that you are not your user. With consumer trends changing more rapidly, the risk of investing resources into developing an idea that's already out-of-date is too costly. Instead, to build a successful product or experience, make sure that your ideas resonate with your current or prospective customer. 
What is an example of concept testing?
Imagine that your product team holds an 8-hour brainstorming session to develop innovative enhancements or a new product altogether. Afterward, there would be too many options on the table to feel confident about each one. 
To figure out which concepts are best, you can ask your audience the following questions:
Does the product solve a real problem for you?
Is there already something in the market that meets this need?
Would you buy my product vs. the competition?
How would this product fit into your life?
The answers to these questions will make it easier to choose which concept to go with, and they will ultimately help when developing the product.
Doing a concept testing project like the example above can feel like a delay to your start, but it will save your organization time and money in the end and prevent costly rework.
What are the benefits of concept testing?
By now, the benefits of concept testing might seem obvious, but it's easy to lose sight of them. As professionals, we often feel like we know what's best for our customers. While you might be right, this is when you need concept testing the most. After all, there's nothing wrong with getting your initial thoughts validated. However, the risk of moving forward with an untested idea is too high.
Here are a few benefits of concept testing:
Feel confident that you're working on the right thing at the right time
Businesses have the potential to fail for many different reasons, but there's one that's most obvious: unvalidated features will most likely miss the mark for meeting your customer's needs. Building a bad or wrong product can impact customer loyalty, engagement, and retention. 
Running quick concept tests with prospective customers will help you determine whether your idea will solve the problem that it's intended to solve and whether it's user-friendly. In addition, if you test throughout your development process, you can avoid spending more time, money, and people reworking a failed idea. 
Gain buy-in from stakeholders
Concept testing reveals customer insights that will help support and drive smarter, faster decisions. And it works both ways. You can test your hunches to prove or disprove if they will work. By showing internal stakeholders how your target customers respond to your ideas will certainly get them to listen.
Reveal features or enhancements you haven't considered
It's tough to admit, but you may be designing something your customers or target audience won't even like. Concept testing helps you focus on the problem that you're solving and the best possible solution. Through testing and gathering feedback, you might stumble upon a feature or enhancement that you never considered, and your customers would find extremely valuable. 
How do you conduct a concept test?
Concept testing can involve many different methods, so you must choose the one that makes the most sense for you. 
Quantitative concept testing
Traditionally, concept testing is performed in a survey format. This is because surveys are an effective way to get feedback from your target audience, especially if you need to reach many people. 
Because surveys are easy to create and distribute, they're a logical first choice for anybody looking to evaluate a concept. Quantitative data provides information like how many people agree you have a good concept or rating scales that relay satisfaction for the idea, which is useful for understanding if you're on the right track. 
However, it can only tell you part of a story. Despite knowing that you are (or aren't) on the right track, you won't necessarily understand why. Without "the why" behind your data, developing the concept further can feel like working in the dark. Plus, it's hard to recreate something that resonates when you don't understand why it resonates. 
That's why it's a good idea to pair your quantitative data with qualitative insights.
Qualitative concept testing
Qualitative concept testing opens the door for you to bring more color to the quantitative data mentioned above. Many of today's survey solutions are limiting. However, you can leverage usability testing software to test any concept—whether it's a visual, copy, in-person experience, or something physical like a package. 
This way, concept testing allows you to see and hear your target customers as they give perspective to your ideas. 
How to use concept testing in your role 
While product teams are all too familiar with concept testing, the framework and logic behind it can be used across an organization. 
Concept testing for designers
One of the most important tools in a designer's toolbox is feedback. While it's common to source feedback from your peers, designs should be tested with your users, customers, and target audience regularly too. Incorporate audience feedback throughout your design process to ensure that you're keeping pace with the changing trends. Getting feedback regularly allows you to see your designs from their perspective to either confirm that what you're doing is right or switch gears to something that will resonate. 
Concept testing for marketers
Most marketers will admit they don't get regular feedback from their target audience. Traditionally, it's been prohibitively expensive to test concepts, so many marketers do the best they can with what they have. In addition, they're used to measuring the performance of a campaign after it's been launched. 
Concept testing is a game-changer for marketers because it allows them to quickly validate marketing ideas before investing time and money in building out a marketing campaign that doesn't move the needle.
Concept testing for product managers
Product managers are the most comfortable with the idea of concept testing, but that doesn't mean there's no opportunity for growth. For best results, test early and often by incorporating fast feedback loops into your process. 
Concept testing for HR
Improving employee experience can yield big results for companies. They know that employees who feel an authentic connection to the brand they work for will transfer that connection to their customers. From optimizing open enrollment to bolstering inclusion, diversity, equity, and belong (IDEB) and social impact initiatives, concept testing can help HR teams better engage employees. 
A final word on concept testing
Consumer behavior, sentiment, and expectations evolve rapidly. It's safe to say that people and businesses that understand their customers meet their needs and provide a valuable experience will succeed.
By adding concept testing to your process, you can help close the empathy gap. 
Whether a physical product or a digital experience, you're more likely to meet and exceed customer expectations if you consider customer feedback throughout the development process—from concept testing to delivery. Then, create solutions and experiences that match what your customers are seeking. 
Guide
Learn why fast, iterative feedback is critical to any startup's success—from concept testing to prototyping, and more.
About the author(s)