It's stressful work bringing a new product to market—especially when there's seemingly a thing for everything. Many companies and entrepreneurs validate their products by testing for product-market fit. But what should you do when your product (or service or experience or campaign) is only an idea in your head? 
Big ideas are a dime a dozen. If you want to get it right the first time, qualitative concept testing can save you a lot of time and money—and it can be as simple and quick or iterative and sophisticated as you need.
What is concept testing?
Concept testing is defined as a method of research that involves getting feedback from customer segments—that make up your target market—in order to validate your proof of concept before actually launching it.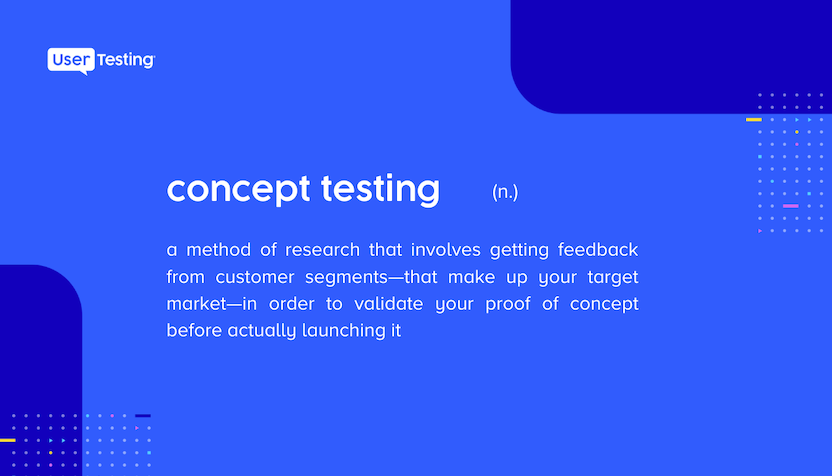 Whether you're in the early stages of vetting new product ideas, redesigning a marketing campaign, launching a new logo, or starting a loyalty program, you may want to consider testing your concept. By doing so, you'll be able to collect valuable customer insights that will help you determine if your idea will be successful (or not).
Quantitative vs. qualitative concept testing
Traditionally, concept testing is performed in a survey format. Whether you're evaluating a product idea, campaign concept, or something completely different, surveys are an effective way to get feedback from your target customers—especially if you need to reach a lot of people. Because surveys are generally easy to create and distribute, they're a logical first choice for anybody looking to evaluate a concept. The quantitative data it provides, like how many people agree it's a good concept or rating scales that relay satisfaction for the idea is extremely useful for understanding if you're on the right track, but it's also very limiting. Despite knowing that you are (or aren't) sitting on a good idea is great, but it's difficult to execute if you don't fully understand why.
Sure, you could ask open-ended questions that require participants to type their responses, but that puts a lot of effort on the participant. That's why it's smarter to pair your quantitative data with qualitative.

Qualitative concept testing opens the door for you to capture quantitative data like mentioned above but bring more color to it through qualitative methods. Many of today's survey solutions are limiting, however, you can leverage usability testing software that allows you to test any concept—whether it's a visual, copy, in-person experience, or something physical like a package. Concept testing in this way allows you to not only capture quantitative data but see and hear your target customers as they interact with your concept.
Why you should perform concept testing
Most people are big fans of their own ideas. But in the end, if you want to build a successful product or experience, you need to be sure that your ideas resonate with your target customer. 
As an example, imagine that your product team holds a day-long brainstorm trying to come up with innovative enhancements for your product. Or maybe even they're trying to come up with a new product altogether. Regardless of the situation, when the session is over, there are too many options on the table to be confident about which one should be executed on. Here are some questions that a product professional might want to know the answers to before diving into development:
Does the product actually solve a real problem?
Is there already a product in the market that meets this need?
Will people buy my product vs. the competition?
How will this product fit into your life?
The answers to these questions will make it easier to choose which concept to go with, and they will ultimately help when developing the product.
Doing a concept testing project like the example above can take some time but it ends up saving your organization more time and money on costly rework.
The benefits of qualitative concept testing
By now, the benefits of concept testing might be obvious. Nonetheless, it's important to spell it out for you. And it really comes down to two things:
1. Concept testing prevents you from choosing bad ideas
Businesses have the potential to fail for many different reasons, but there's one that's most obvious: building a product or experience that users can't figure out or don't need. However, overcoming both is directly connected to user research/concept testing. Running quick concept tests with prospective customers will help you determine whether your product is user-friendly and/or necessary and also help avoid costly engineering rework if it isn't.
2. Concept testing helps you gain stakeholder buy-in
At every company, there will always be lots of opinions. Concept testing reveals customer insights that will help support and drive smarter, faster decisions. And it works both ways. You can test your hunches to prove or disprove if they will work. By showing internal stakeholders how your target customers respond to your ideas will certainly get them to listen.
A final word on qualitative concept testing
Consumer behavior, sentiment, and expectations are evolving rapidly. So it's safe to say that people and businesses that understand their customers, meet their needs, and provide a valuable experience will succeed.
Whether it's a physical product or a digital experience, you're more likely to meet—and exceed—customer expectations if you consider customer feedback throughout the development process—from concept testing to delivery. That way, in every step of the process, you're creating solutions and experiences that match what your customers are seeking.