Scale customer insight with Quick Answer builder and template access control
Image
Customer insights are critical to making better business decisions that put the needs and desires of your customers first. Sometimes, however, customer feedback needs to be gathered quickly—leaving little time (and bandwidth) for research teams to carry out all the requests from the business.
You could add more experts, but that would only incrementally increase the ability to collect customer research. A better approach is to educate others within the organization about the value of customer insights. And increase the user research knowledge and skills of the people already involved in your organization's projects. 
With our latest feature releases—Quick Answer builder and template access control—you're one step closer to easily scaling research at your organization by enabling more teams to conduct their own studies and ensure customer feedback is at the heart of every business decision.
Building a suite of solutions to enable research at scale
We all know that research teams spend a lot of time launching studies and performing qualitative research at the behest of business teams. However, those requests are often simple and repetitive tasks (i.e. usability or preference testing). These take up precious resources that could be used for more complex studies, generative research, and/or more robust analysis.
Not to mention, researchers spend years building the skillset required to design sound research. 
Much of that begins with test creation, and knowing how to avoid bias, segment audiences, craft the ideal tasks, and much more. But what could you unlock if that knowledge was shared across your organization? 
That's why we've developed Quick Answer builder and template access control into the UserTesting Human Insight Platform.
Introducing Quick Answer builder
When we introduced Quick Answers in 2019, our goal was to help all teams collect fast feedback and make better decisions with real human insight.
While many customers found value in the Quick Answers included in Product Insight and Marketing Insight, we also heard from many who wanted to build their own Quick Answers—customized for their business, specific projects, and of course, their customers.

With the new Quick Answer builder, researchers can now design their own Quick Answers and easily deploy them to others within their organizations. The builder allows you to build a fixed test plan that ensures teams using it get unbiased feedback, introduce flexibility with placeholders so that the test can be adapted and reused in different situations, and customize the results page to make it easier and quicker to understand the feedback. And of course, they can also incorporate helpful hints and tooltips along the way to make it as easy as possible to launch a Quick Answer test.
In turn, the person launching the Quick Answer test can do so in just a couple minutes, especially if the researcher has also created Saved Audiences for them to use. Once results are returned, evaluating the feedback is simple. The most important questions to review are highlighted, saving the user time, and increasing the likelihood of identifying actionable insights. 
By enabling others, the Quick Answer builder saves researchers time and allows them to focus their resources on the most critical research projects while remaining confident that business teams are only using pre-approved test plans to capture valuable feedback.
Introducing template access control
Following the release of Saved Audiences and Saved Test Plans, we're excited to offer customers even more control and flexibility by providing the choice to share templates either narrowly or broadly. Enabling test creators to choose the level of guidance and control over templates is one additional step in helping you collect remote feedback fast.
With template access control you can be confident you are enabling anyone to gather the human insights they need to make better business decisions. Access controls apply to Saved Audiences, Saved Screener Questions, and Saved Test Plans and ensures that only those who need or want access to specific templates receive it. 
As part of this release, you now have new ways to classify templates. When saving a template you will see three new options:
Personal: the saved template is available to you only. Saving a personal template is best when you are the only one who will be reusing the work. The work stays in your dashboard and you can always choose to assign it to others in the future.
Workspace: the saved template is available to everyone in workspaces where the template is assigned. Workspace templates are great for organization, governance, and to ensure teams working on specific projects see only what they need—which increases productivity. You can assign a template to one or more workspaces depending on your needs.
Account: the saved template is available to everyone in all workspaces. This is especially useful if your organization uses complex demographics or screeners. Simply save your Saved Audience in the account and rest assured the best practices you have defined will be followed.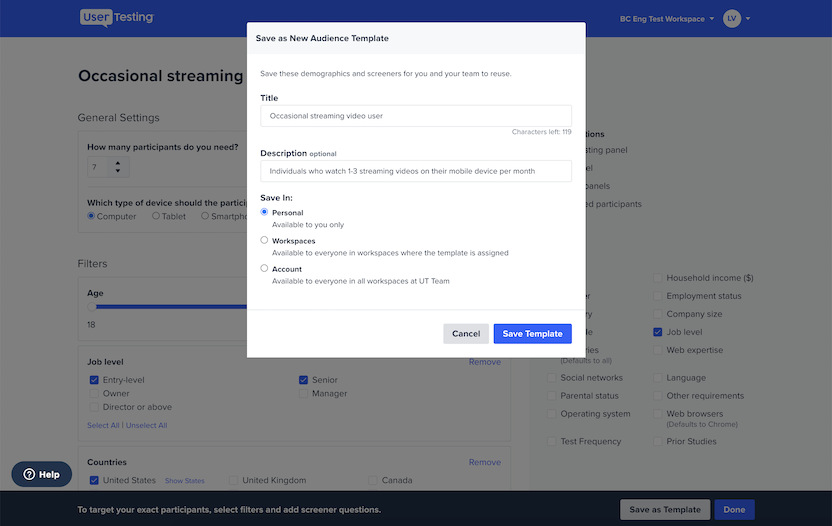 Why template solutions are useful for scaling customer insight
We know scaling customer insight across an organization can be a heavy lift that puts pressure on every department. By offering a spectrum of template solutions, we hope to put the power of customer feedback in the hands of everyone who impacts your business' customer experience—without sacrificing accuracy and confidence for the ability to scale.
When it comes down to it, our template solutions provide your research teams the flexibility and control they need to focus on big picture research, while empowering business teams to quickly and effectively collect the feedback they need to make customer-centric decisions.
Human Insight World 2020 Product Keynote
Watch our product keynote that shares our latest product and platform innovations.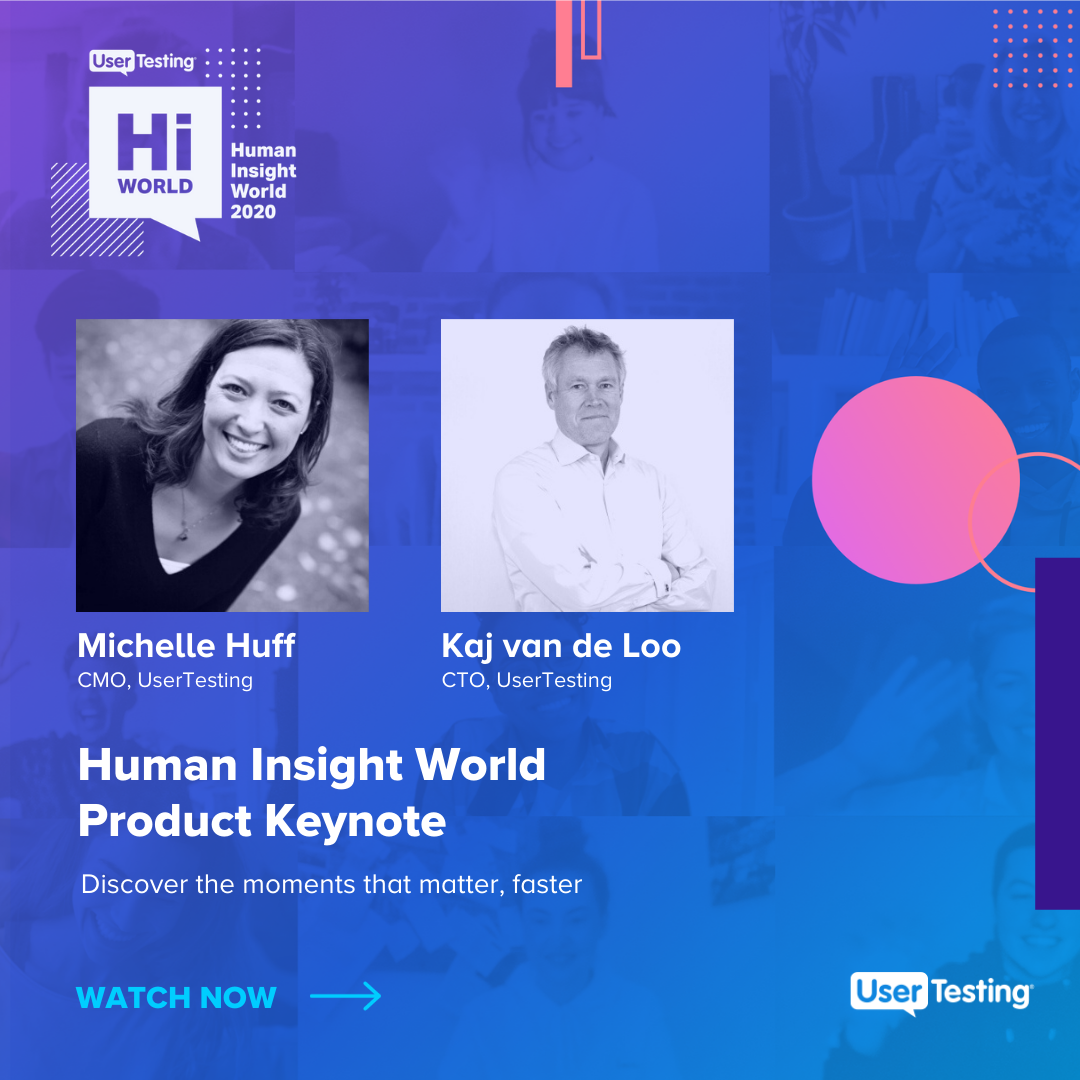 About the author(s)