How online banks can improve their user experience
Image
A focus on innovation, in terms of the user experience, has helped new banks like Monzo find a position in the market, which presents a challenge to the bigger brands. 
The online banking market in general has grown rapidly over the past decade, with ONS stats finding that 69% of people in the UK now bank online, almost double that recorded in 2008 (35%). 
Banking apps are a big part of this too, with 22m people managing their accounts via mobile in 2018. 
In this article, we'll look at what 'good UX' looks like in the online banking sector, and where banks can look to make improvements. 
Why does UX matter for online banking? 
UX is vitally important for banks, to ensure that potential customers applying for products, or existing customers trying to complete tasks through websites and apps, can do so efficiently and effectively without any unnecessary friction. 
It's also about the features that make online banking easier. Mobile banking has been a key area, and banks have brought in some useful features and functionality over recent years. 
From just being able to check balances and view statements online, people can make payments on the move, block and unblock lost cards, and transfer money between accounts. 
Some UX features are now hygiene factors, meaning customers expect their bank to provide them. The risk that customers may move to competitors for a better experience and more useful online banking means banks have to keep up with the best UX available. 
Banks can no longer rely on customer inertia too. It's now much easier to change banking providers, and this is partly due to the Current Account Switch service, introduced in 2013. 
More than 5.3m customers have switched accounts since 2013, and recent trends suggest more people are deciding to change providers than ever before. With switching easier, banks have to work harder to hold on to their customers, and user experience has a part to play here.
Key UX features for online banking
Let's look at some of the key features which improve the user experience on banking apps and websites. 
Many of these features are desirable for customers, but it's also important that they're usable too. 
Face and touch ID for mobile login
Security is important for financial sites, for obvious reasons, but passwords and passcodes can make logging-on time consuming. In addition, long passwords, and combinations of codes and passwords are easily forgotten. 
For mobile banking, technology has made it easier for logins to be secure, while also speeding the process up. 
Using either touch ID or facial recognition, many banking apps can now make login faster and easier than before.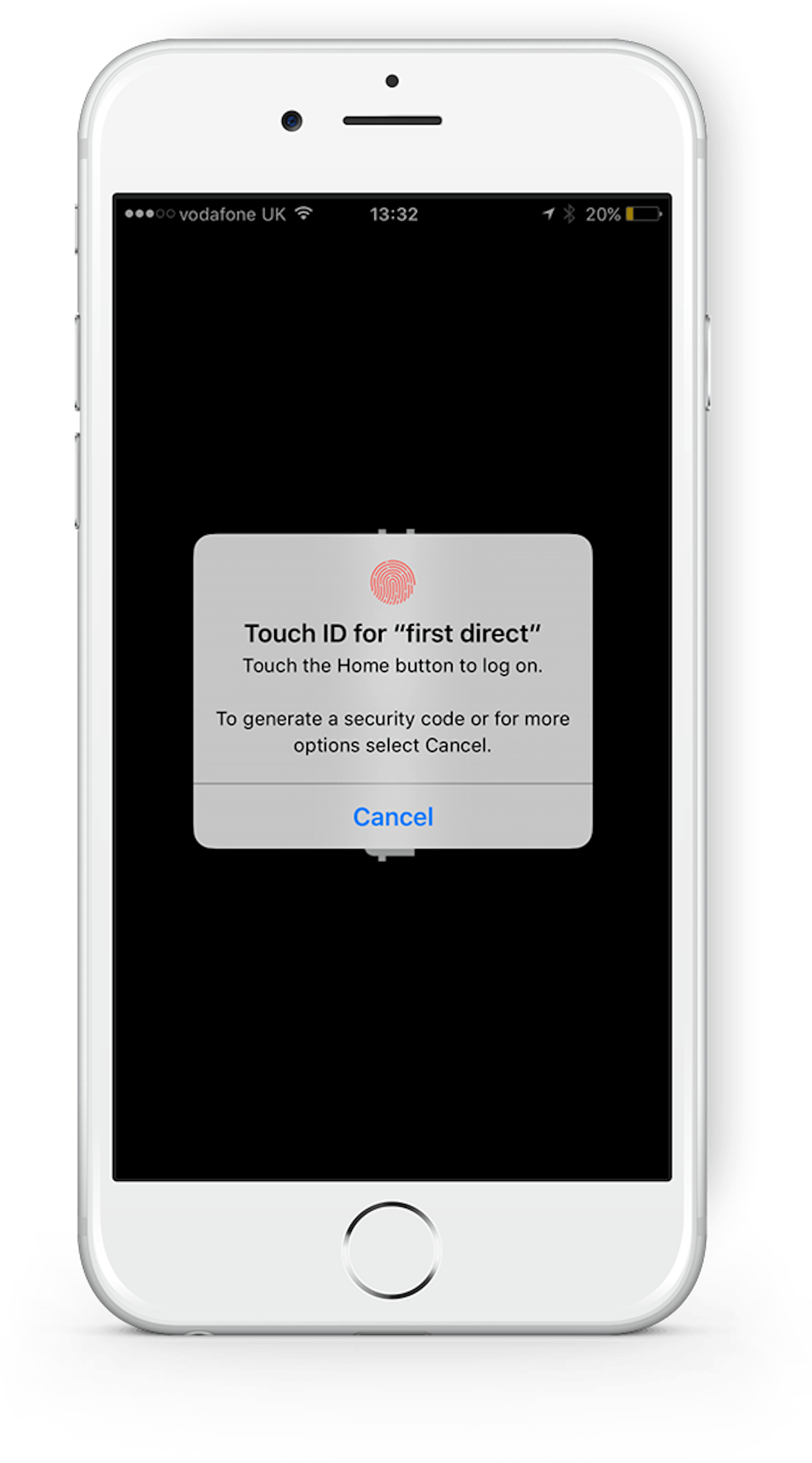 Card blocking and unblocking
One common feature consumers look for from online banking is the ability to quickly block cards. Being able to carry out this task online saves time spent calling customer services, and means customers can block cards as soon as they realise there's a problem.
The example below comes from Monzo, and shows the five step process for blocking a lost or stolen card and ordering a replacement. It can be achieved in a matter of seconds, much faster than a phone call.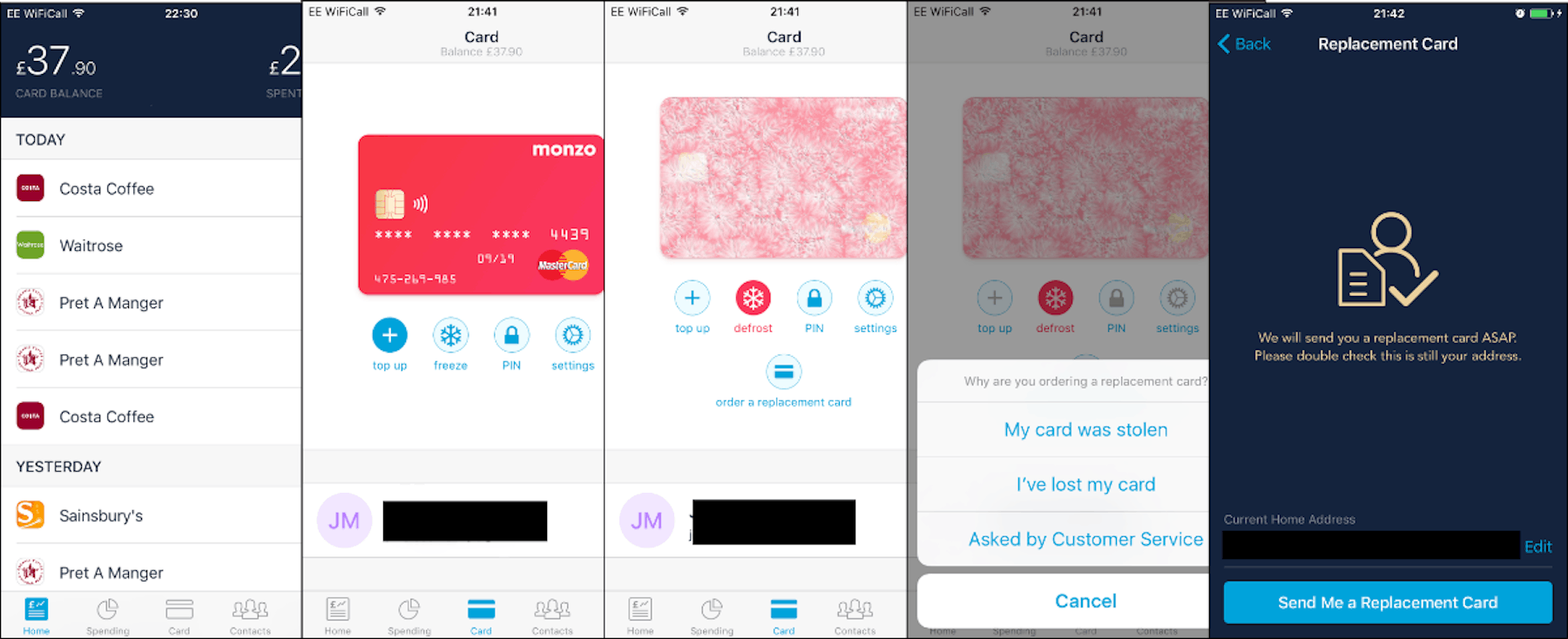 It's also important to understand and design for customer behavior. Many lost or stolen cards have just found their way to the back of the sofa, so the app makes it possible to unblock cards later.
Emergency cash
Another feature in a similar vein is Natwest's Get Cash feature, which allows users to withdraw cash from an ATM using a code if they've lost or forgotten their bank card.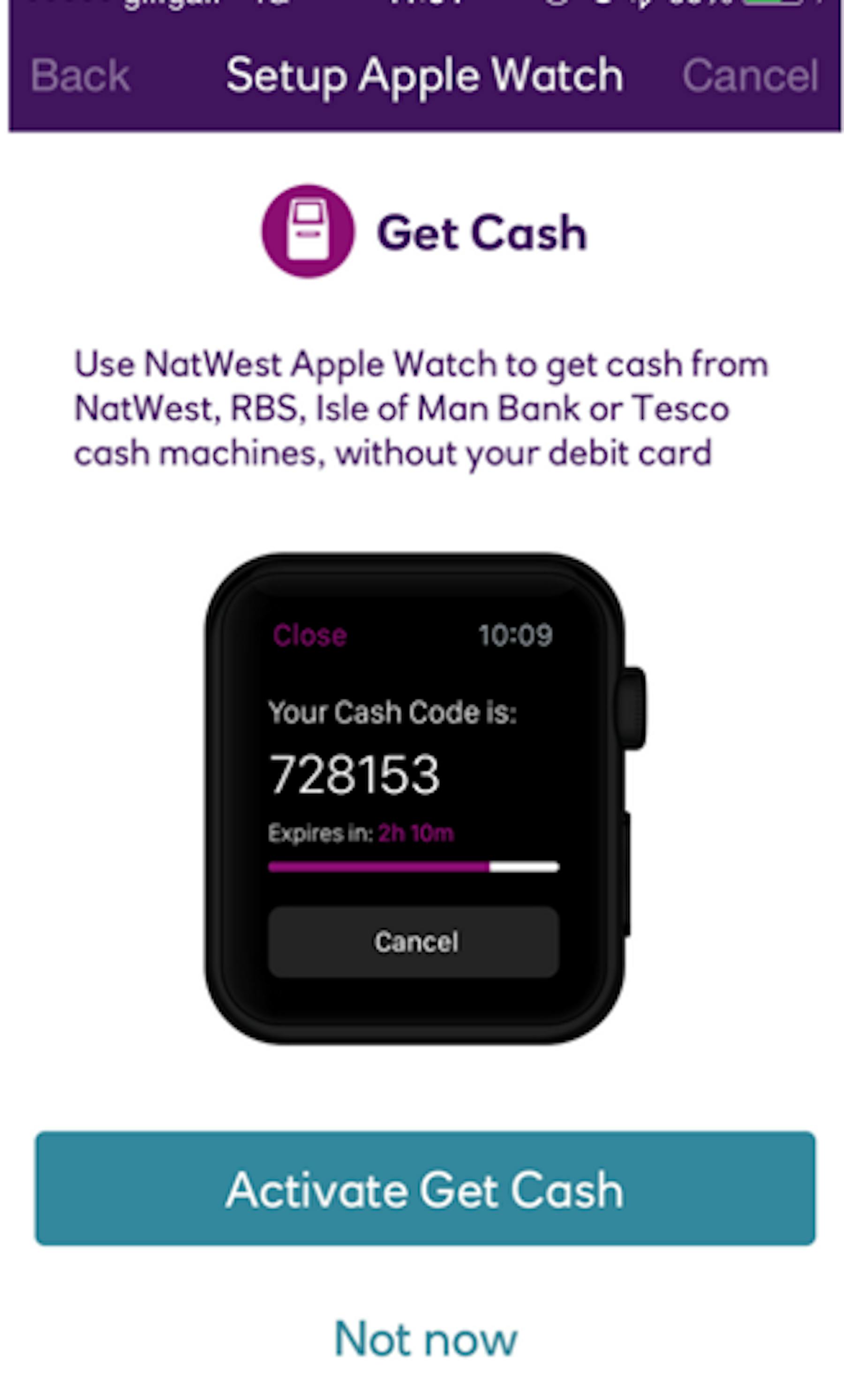 Managing payments and transfers
The ability to make payments and transfers is key for online banking customers, and banks have the challenge of making this process secure but relatively painless.
On the Lloyd's app, customers can manage all payments and transfers, adding new ones, or turning existing payments into standing orders.
Here on the Transfers page, customers have useful options to manage their payees, something which is lacking in other apps.
A manage button is located next to payment recipient's which enables customers to make a payment or delete that recipient.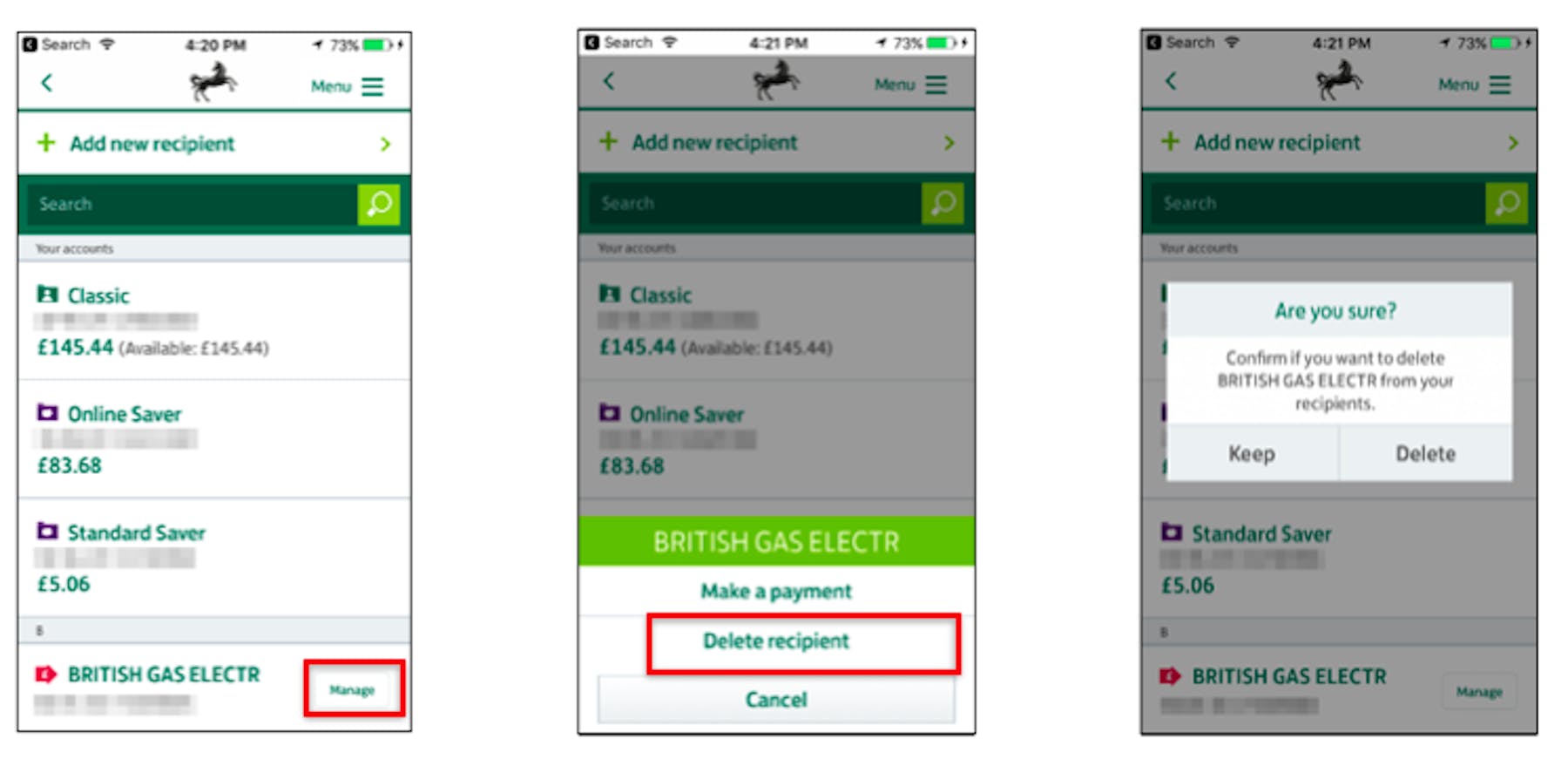 Budgeting tools
Money management tools are a key feature of many of the challenger banking apps, Monzo being a prime example.
They're incredibly useful features, with the best being very simple to use. The visual design of Monzo, and similar apps, stands out, making it very easy for users to scan and digest information.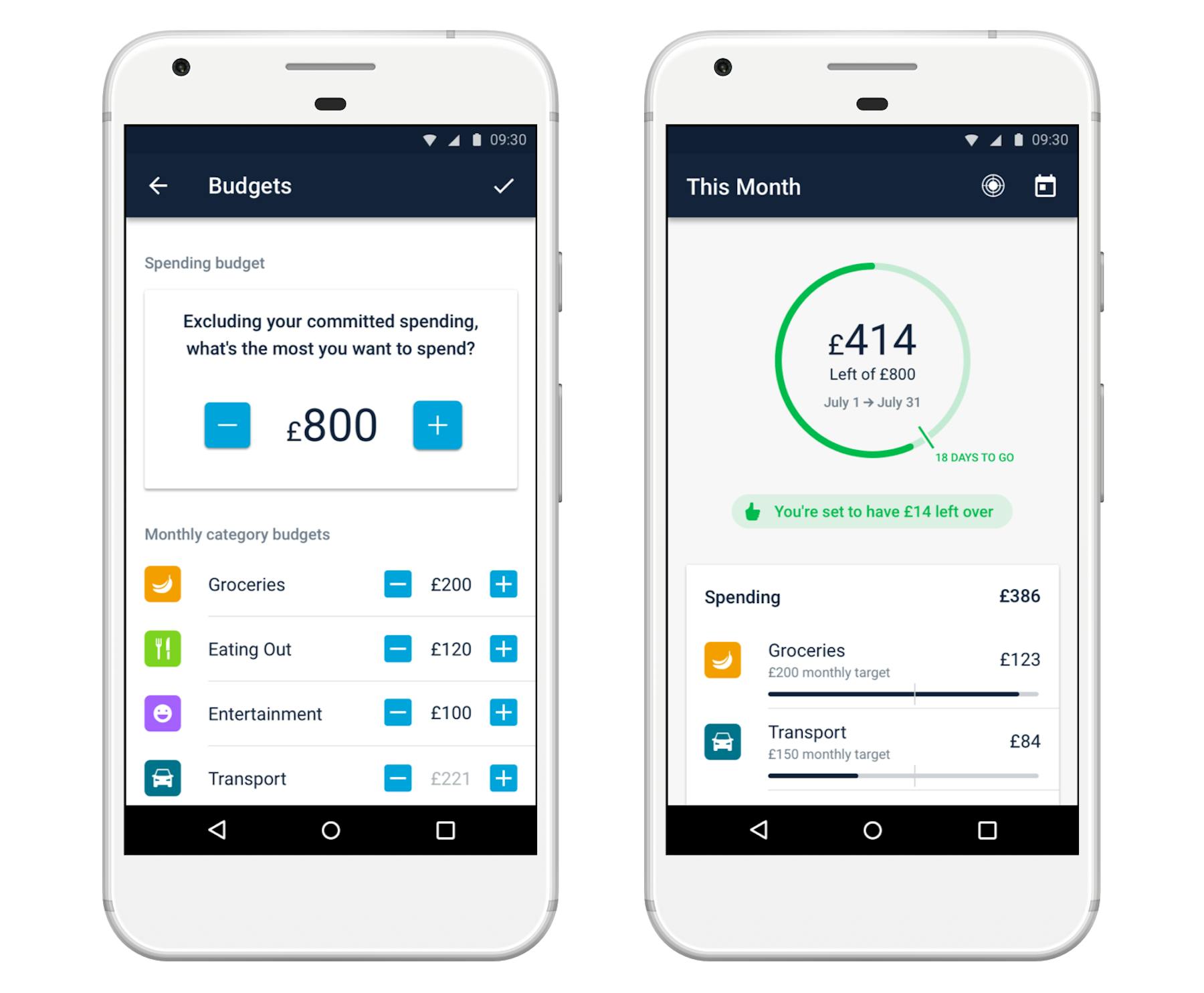 Then there are useful extras like text alerts, which highlight unusual spending patterns or offer reminders when customers are close to certain spending limits.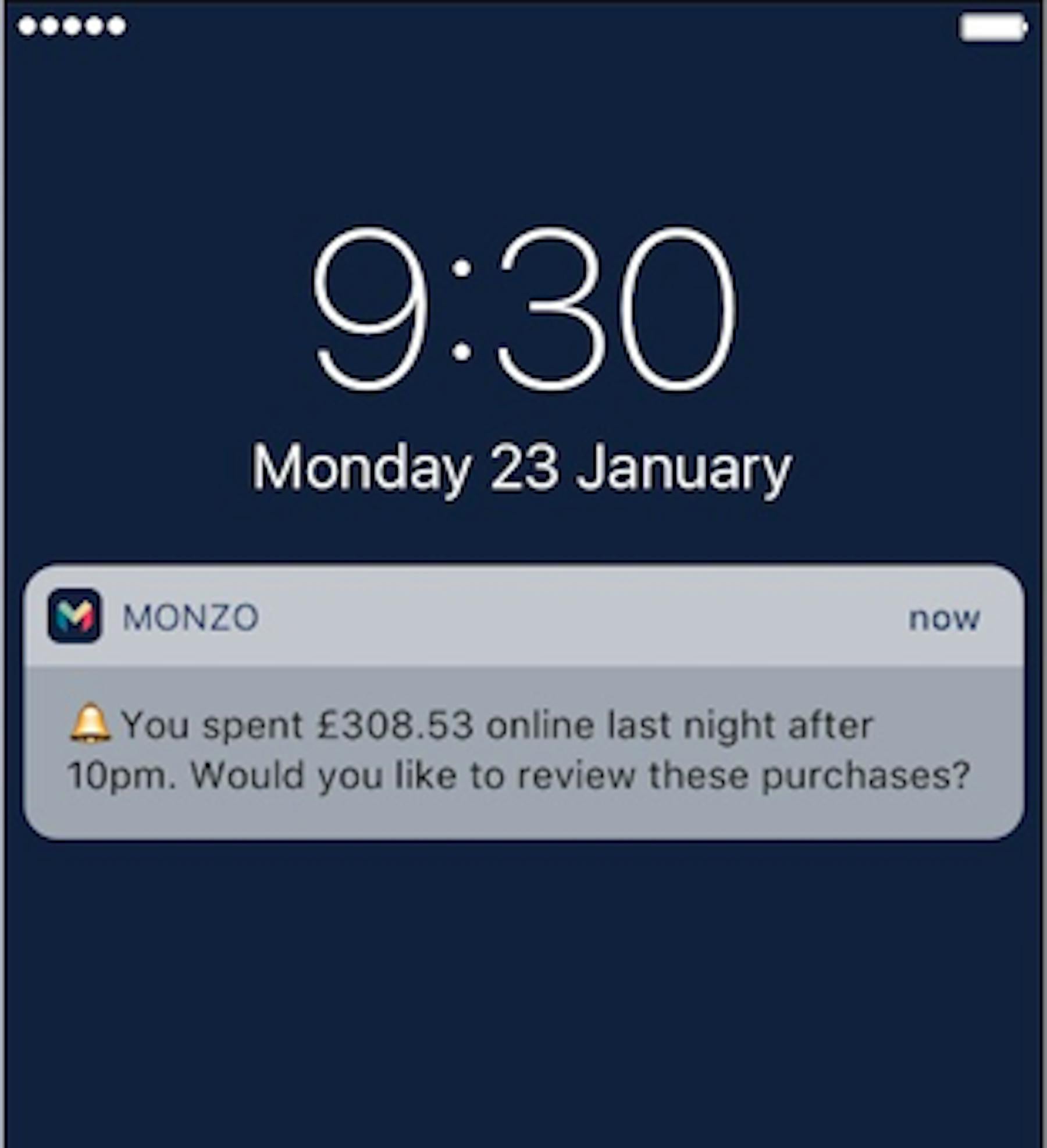 Geo-location features
Geo-location features on mobile can be used to help customers find the nearest branch, or perhaps an ATM which is close by.
It can also be a useful security feature, showing recent transactions and plotting them using mapping features. This helps to remind customers about the purchases they have made, or to alert them to possible fraudulent transactions.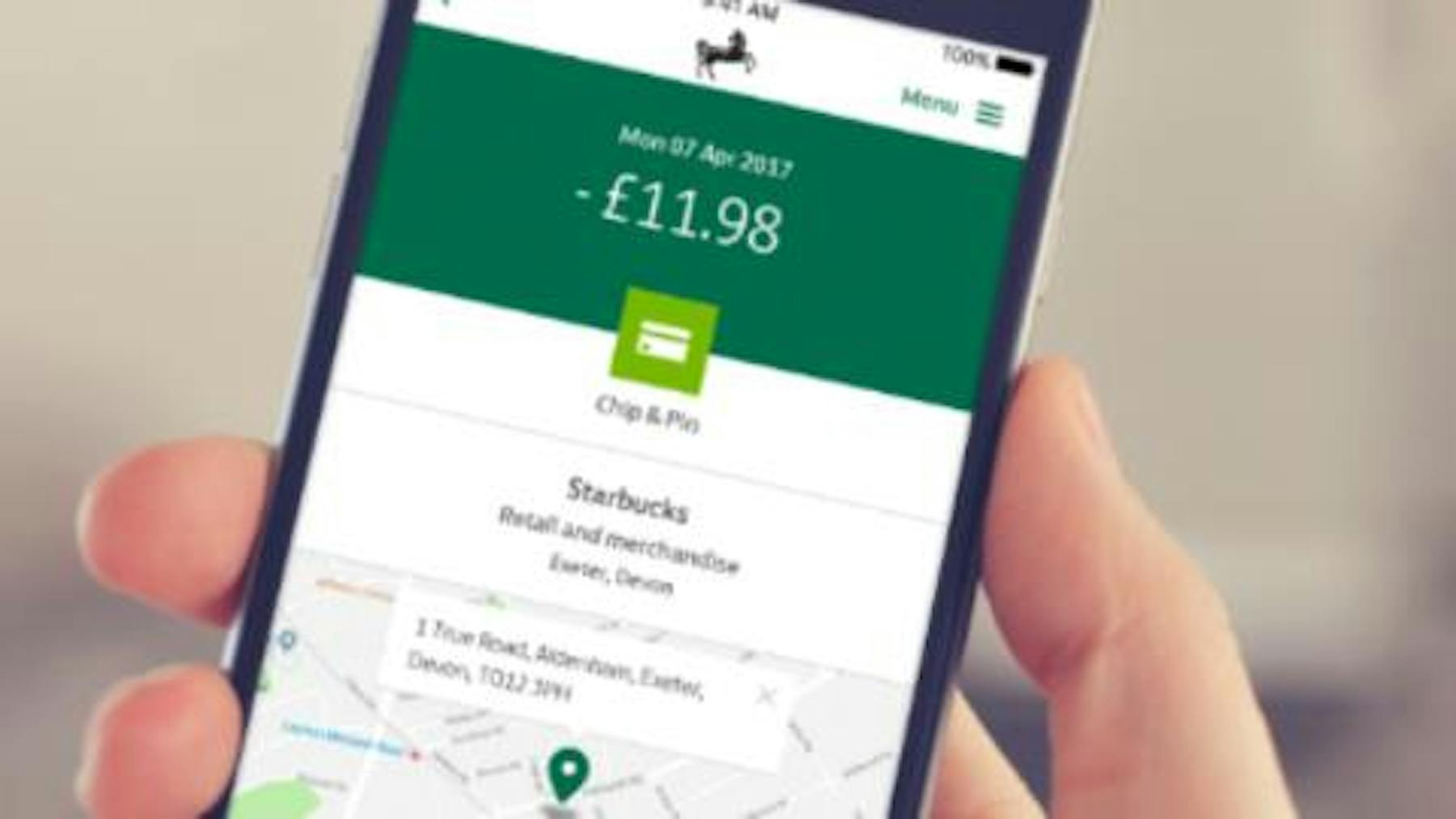 In summary
With more and more people banking online, and much of this activity happening on mobile devices, apps are where much of the UX innovation can be seen in the banking sector.
As shown by some of the features here, it's about making common tasks easily accessible for banking customers and making them very easy to carry out.
Insights that drive innovation
Get our best human insight resources delivered right to your inbox every month. As a bonus, we'll send you our latest industry report: When business is human, insights drive innovation.
About the author(s)