Social commerce: What it is and templates for testing
Image
Imagine a world where content truly meets conversion. When you're scrolling through Facebook or Instagram, see a post of a product you like, and within a couple of clicks, it's on the way to your door without disrupting your flow as you scroll through your newsfeed. This is social commerce, and it's already here.
The world of retail is changing, and digital innovations have made shopping more accessible than ever. Among the newest retail technologies—like augmented and virtual reality (AR/VR)—we're seeing the ways people research and purchase products evolve right before our eyes. Brands should maximize their social commerce strategy to generate revenue and provide a satisfying customer experience. Here, we'll cover the ins and outs of social commerce—from what it is to current statistics and trends, and we'll offer UserTesting templates to guide you in creating a customer-centric social commerce strategy. 
What is social commerce and why is it important?
Social commerce is the process of selling products through social media platforms. The entire user journey, from product discovery to checkout, happens on social media so users never have to leave the app. It's convenient for social media users because right after purchasing a product, they can resume browsing their feed. Unlike traditional social media advertising, where you view an ad on Facebook, and it redirects you to a different website, social commerce occurs through social media platforms like Instagram, Facebook, Pinterest, and Tiktok. 
Due to the recent rapid growth, there's no better time than now to amplify your social commerce strategy. About 59% of adults say they use Instagram daily. That's a significant outreach of people brands can market to on social media. The number of social media users is growing, and consumers are increasingly shopping online rather than in brick-and-mortar stores, so there's no doubt that social commerce sales will soar.
How does social commerce work?
Let's say you're casually browsing social media and spot an influencer wearing a crewneck and sneakers. You're immediately interested, and try to find more outfit details. With social commerce capabilities—like Instagram or Facebook Shopping—social media users can tap on the image and view outfit details with links to purchase the products all within the platform. You could buy the product on the platform, and right after, continue scrolling your feed. Social commerce creates a seamless experience where you purchase items all while staying connected with your followers.
Why should you focus on social commerce?
As social commerce becomes more rampant, take advantage of the opportunity to grow and scale your business. However, if you still need more convincing, here are some reasons you should focus on social commerce.
Shopping becomes a social experience

 
Traditional ecommerce shopping is typically unsocial, as buyers tend to browse and purchase products without input from others. Social commerce slightly resembles traditional brick-and-mortar shopping because of increased social interaction. Recall the last time you went to the mall with friends or family. You'll ask others for their opinions on an outfit, if they enjoy the smell of a candle or perfume, and get instant feedback from people about the products you're interested in purchasing. 
With social commerce, social media users may become influenced by a friend or influencers social media post or recommendation. Users can comment and review others' comments about a shirt they want to buy. Users can also interact with the brand selling the product. They have immediate access to the brand's DM's and comments, so they can deliver feedback about your products. The brand and the customer benefit, as the brand can obtain immediate feedback regarding its product and whether it requires further improvement, while the customer can share their opinions directly with the brand.
Frictionless buying
Social commerce removes extra steps during the user journey. If shoppers find a product on social media but the brand doesn't offer social commerce, they have to leave the platform, go to the brand's website, then find the product. These additional steps may be tedious and cause customers to avoid purchasing. Implement social commerce in your brand to reduce these extra steps, the risk of cart abandonment, and ensure customers have a frictionless shopping experience. 
Sell to your target audience
Most of your current and potential customers are likely active social media users, so you should meet them where they are. Social media allows you to produce creative content and engage with customers using your brand tone and voice, increasing brand awareness and recognition. 
Some social media platforms—like Instagram—have analytical tools to track users' buying behaviors. With these tools, market your products and social media content to appeal to users in your target demographic. Identify your target demographic to discern what social media platform you should focus most of your marketing strategies on. For example, if your target demographic is 35 and up, you may consider amplifying your marketing content on Facebook, not TikTok—as the demographic on TikTok tends to skew toward younger millennials and Gen Z. However, use all social media platforms to spread your brand, products, and services to more potential customers.
Social commerce trends
Social commerce has boomed in global markets, with China housing the most digital buyers, and other nations should follow in their footsteps. Although 30% of internet users make purchases using social platforms, there's still room for growth. To take advantage of this massive revenue opportunity, stay aware of social commerce trends as we enter the new year. 
Increased AR experiences
Expect AR—augmented reality—experiences to become more prominent, with the number of AR users to increase by 20 million by 2025. AR lets social commerce customers preview products or experiences before deciding to purchase. What if a customer wants to buy lipstick from your online store but is wary because they don't know if the shade will match their undertone and facial features? With social media filters, customers can easily find a product, and use the filter to see how it looks on, eliminating the risk of returns. 
Or, you can preview placement. When buying furniture or a television, shoppers can see what it'll look like inside their environment. AR improves conversion rates and reduces returns by allowing online shoppers to visualize how their products will look, reducing the possibility that it may not meet their expectations. 
More focus on video content
Video content has become a priority for most social media platforms. Instagram released Instagram reels—a new way to create short-form videos, and TikTok's video-only platform continues to grow exponentially. TikTok reached 755 million users in 2022, and further growth is anticipated. With the rise of video-focused platforms, more brands should use video to show their products and offerings. Shoppable videos enhance the customer experience, allowing customers to contextualize products by viewing them in action. You can tag products on Instagram reels and direct customers to your product page. Provide clickable calls to action throughout the video, prompting online shoppers to purchase your product. 
Micro-influencers grow audience reach
Influencer marketing is still on the rise and is an essential tool for brands. Micro-influencers are critical to growing audience reach, and if you're a small business, they're a cost-effective way to market your products. A micro-influencer with less than 10K followers on Instagram may charge $195 per sponsored post, but an influencer with more than 10K followers may cost you more than $1,200 per sponsored post. Unlike well-known influencers that may cost brands a hefty budget, micro-influencers tend to collaborate with brands at an affordable price.  
Generally, micro-influencers have a specific following, so choose a micro-influencer in a niche within your industry and ensure their followers are similar to your target audience. Find a micro-influencer that creates personable content, has loyal followers, and has a high engagement to increase conversions and build customer awareness about your product. 
UGC promotes authenticity and builds trust
UGC—user-generated content—are images, videos, testimonials, or any brand-specific content posted by your users on social platforms. Let's say a customer purchases a new phone and films an unboxing video on YouTube or takes a photo in their new suit and posts it on Instagram—this is considered UGC. UGC offers a more authentic way for potential buyers to interact with your products. 
Traditional ads may appear unauthentic and "salesy," leading customers to dismiss the ads or continue scrolling. However, UGC offers a way for buyers to engage with your products without feeling advertised. When customers post UGC, shoppers have the social proof needed before purchasing. When customers post your products, potential buyers see products on people similar to them, building trustworthiness and influencing them to purchase. If you implement UGC in your social marketing strategy, use branded hashtags to find customers and spread brand awareness. 
Social commerce market statistics
Social commerce is gaining rapid momentum, which is no surprise as social media becomes more integrated into our daily lives. Here are some statistics about the relatively new shopping experience that's changing economies around the world.
Examples of social commerce success
There's no one-fit-all approach to social commerce, because there's plenty of effective social marketing strategies brands should utilize to have the most customer reach. But, if you're still figuring out where to start to grow a successful social commerce business, we've highlighted some examples from brands taking advantage of social commerce. Any combination of these social media strategies should propel your organization forward and maximize results. 
Clinique
Clinique, a skincare and cosmetics brand, uses Facebook Live to showcase its products and teach its customers about skincare and cosmetics. During these lives, people can comment and ask questions in real time increasing engagement and Clinique offers valuable skincare advice and tips. Facebook Live has Live Shopping which allows you to show and link to products during the live stream, and you can insert timestamps so customers can easily find where you mention specific products.   
Clinique also uses an AI-powered chatbot personal shopper assistant on Facebook to help customers by recommending or finding products. Along with Facebook Live videos and a chatbot, they use shoppable photos so customers can purchase items directly through Facebook. 
Dollar Shave Club
Dollar Shave Club, a shaving and personal grooming brand, uses social proof and UGC to build trust and credibility. They have a Pinterest board dedicated to customer reviews where customers create unboxing videos and review their monthly subscription box. Dollar Shave Club gains valuable insights about its products from these reviews, and customers gain reviews about products they may consider purchasing—building trust and authenticity.
Beis
Beis, a travel and luggage brand, uses TikTok and Instagram to offer in-depth product videos demonstrating the functionality of its product. They show how to use it and its top features, and once they even cracked eggs in their product to show how easy the cleanup process is. Don't worry—you don't have to damage your product in your videos, but detailed videos help you stand out from your competitors and highlight how beneficial your product is to your customer.  Use various angles to show the different features of your product to explain to customers why your product is worthwhile. Not only does Beis leverage videos, but they use shoppable videos directing customers right to the product's link. 
What are some of the ways to test social commerce?
Continuously testing your organization's social commerce is imperative to ensure you deliver the right message to your customers. With UserTesting's Contributor Network, you can pinpoint your target audience and receive valuable feedback to test your social commerce strategy, and our Live Conversation feature enables 1-on-1 conversations with your target users. Through these conversations, you can identify where users faced difficulties completing tasks and where there are areas to improve, or users can offer suggestions that'll further enhance your social strategy.
Templates for social commerce testing
With UserTesting's pre-built social commerce templates, you can understand evolving shopper expectations, ways to expand to various social channels, and how to optimize your current experience across social media posts, stories, and video content. Designed by research experts, UserTesting templates provide out-of-the-box sample questions that can be used as-is or customized to fit an organization's exact testing requirements. These questions enable you to collect fast, opt-in feedback in the form of video recordings, allowing you to observe the nuances and emotions of your target user. 
If you don't have access to the UserTesting Platform, you can view our template gallery or jump straight to our social commerce template.
Leverage a UserTesting test template to elevate your social commerce strategy
To many, getting feedback from potential customers may sound time consuming, expensive, and only used for bigger initiatives, not for social media. However, that doesn't have to be the case. Social commerce is growing at a vast rate, and to outgrow competitors and drive customer reach, you have to optimize and frequently test your social commerce strategy.
We understand the importance of understanding how new technologies, trends, and market conditions impact customer behaviors. And social commerce is no different. 
Our templates will help:
Understand the customer's experience as they move from a social media post to an e-commerce website

Engage more authentically using feedback from customers to improve your social media posts, stories, and video content

Optimize digital channels for e-commerce (Facebook, Instagram, Pinterest, Twitter, TikTok, and WhatsApp)

Troubleshoot conversion pain points
When your organization knows the user journey and how users interact with your product, you can make the right direction in your social commerce strategy to continue to excel your brand. 
Why is social commerce the future
The days when businesses used social media as just an advertising channel are over. Now, social media platforms are emerging sales channels that drive product discovery and transactions—enabling shoppers to purchase at the moment of inspiration. But don't take our word for it. Social commerce sales are predicted to value $605 billion by 2027. 
Moreover, 91% of executives anticipate their company's social media marketing budget will increase over the next three years, and the majority expect it will increase by more than 50%. 
There are few places worse to find yourself than left in the dust. Depending on where you are in your social commerce strategy, you can better understand your customers' evolving expectations, expand commerce to your social channels, and optimize your current experience. 
From overall CX to testing messaging and content, there's always room to build more personalized experiences for your customers—especially on social media.
Learn more about social commerce in our FAQ section
So far, we've covered the importance and current trends and statistics of social commerce. Let's look at frequently asked questions from brands and retailers entering this new channel.
When did social commerce start?
Although social commerce may seem relatively new, Yahoo! introduced it in 2005 through online shopping tools like Pick Lists and user ratings. Through these tools, users gave recommendations to each other, and it became clear how powerful social media was in garnering trust between users. Now social commerce has evolved to include different social media platforms like TikTok, Instagram, Pinterest, and Facebook. 
What is the difference between social commerce and ecommerce?
Social commerce refers to selling products on social media platforms creating a frictionless shopping experience where everything from discovery to checkout occurs on social media. Ecommerce refers to selling products on an online store.
How can I be successful in social commerce?
To start, know your customers. When you understand your customer's needs and frustrations, you can finetune your social commerce strategy to resonate with your customer. Engage with your audience, respond to their questions and inquiries, collect feedback from your customers, and post enticing content to build a successful social commerce store. 
Wrapping up
Social media changed how we interact as we know it—from our personal life to how we shop. Now is the time to optimize your social commerce strategy to better scale as social commerce and your organization grow. Leverage social commerce to stay ahead of the competition and to stay connected with your customers. Combine this with our pre-built templates to collect customer-centric feedback, and you'll have a successful social commerce strategy that'll excel and improve your customer's experience. 
Rescue budgets by getting buyer feedback
Guessing what your shoppers want without asking them is risky. Learn how to increase conversion rates quickly.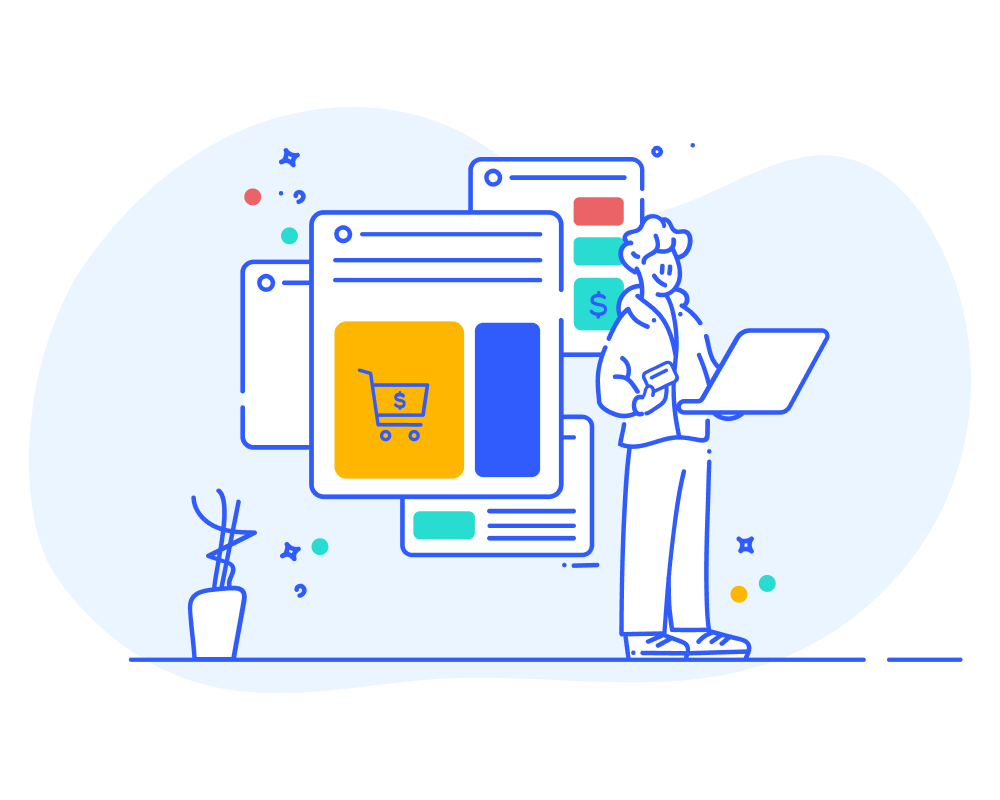 About the author(s)