Content testing and measurement: how to evaluate and what to use
Image
Getting feedback on visual elements is a fairly straightforward affair for many user experience (UX) design teams. Unfortunately, too many of them present visual elements that feature lorum-ipsum or rough-draft copy, without realizing that more meaningful content would alter the psychological framework of the test—and thereby alter the results. Without content testing, they essentially rob themselves of the opportunity to learn early on how users understand and react to various tones, word choices, and content structures. 
The smartest UX teams, on the other hand, begin content testing during the design stage of the UX process—they don't wait to create and test content until after interactive and visual elements have been finalized. That's because they know a user experience can't perform to its fullest potential if its content doesn't succinctly and efficiently resonate with the right audience. 
But gaining that kind of precise UX and copy insight doesn't come by guessing or intuition. It results from a holistic approach to the art of content testing.
Here's how to get started.
Table of Contents 
Content testing determines whether your target audience can find, understand, and comprehend your content. Done well, content testing exactly pinpoints to which words, phrases, and content people respond. It starts early in the UX process and reoccurs whenever new content is implemented.
Just like any UX team would create personas, content measurement and testing require putting words to those personas. What language do these personas use? Listen carefully to the words they use to describe the product or service in question, and think about the words they don't use—and why. From there, you can create value propositions and language to articulate the key benefits. Once you have that base point, you can begin actually testing the content with users to see if it makes sense.
From the homepage to product pages, navigation, error messages, and menu buttons, testing copy ahead of time will help you identify which copy approaches work best and which miss the mark, so you can amplify the strategies that pay off. You can know, for instance, if the content you create resonates with users, speaks directly to their pain points, and inspires them to successfully complete desired tasks—like filling out a form. You can find out if the keywords you use speak to your target audience's needs and interests.
You'll find out what works, what doesn't work, and most importantly—the why behind all of it.
There are six primary ways to evaluate content—usability, readability, searchability, navigability, accessibility, and tone and voice. Here's what to ask. 
1. Usability
Usability determines how easy it is to engage with content. 
Is your copy clear and succinct? 

Is it clear what you want the reader to do? 

Do our key phrases and our word choices for messaging speak directly to our audience's pain points?
2. Readability
Readability determines how easy it is to read and comprehend content. 
Are you using the same vocabulary as your target audience? 

Is the font easy to read? 

Does the reader have to read the copy multiple times in order to understand it? 

Are the calls to action clear and effective?
3. Searchability
Searchability decides how easy it is for people to find your website or product online.
Is your content optimized for search engines, so it appears in search results?

Does your product appear on the low end of search results or the high end? 
4. Navigability
Navigability determines how easy it is for a user to move through and navigate content in your UX. 
Can users find what they're looking for? 

Are you using a hub-and-spoke website architecture?

Does it take users a while or too many steps to get to where they need? 
5. Accessibility
Accessibility determines how easy it is for as many people as possible to find and use your product or app.
Is it optimized for search engines, so it appears in search results? 

Does it support multiple browsers? 

Can those with disabilities easily use it? 
6. Tone and voice
Tone and voice determines if the language used supports your company's brand identity.
Is the voice consistent throughout the copy and aligned with your brand identity?

Does the tone vary depending upon the context?
There are seven key ways to test content—card sorting, surveys, lo-fi prototypes, highlighter exercises, usability testing, search term mining, and A/B testing.
Rely on this method to ask users to organize topics you provide into logical "buckets." Whether you're stuck on how to organize a navigation bar on a website or redesigning an app, this method helps determine how users group information and where they expect to find it. 
Survey users directly to find out which terminology they would use to name, explain, or describe particular features and services, as well as which terms confuse them. This method is ideal if you're looking for information from a large sample of people—and need the results fast. 
3. Lo-fi prototypes
If you've created a product from scratch and want feedback before anything concrete is decided, consider a lo-fi prototype. Guide users through mock screenshots or webpages to identify where they trip up and which language confuses them. 
4. Highlighter exercises
This method makes it easy to quickly compare results from multiple users. While you might have done this during your school days, it can also be done digitally—ask users to highlight (on a screen or in a sharable document like GoogleDoc) words or phrases that confuse them, then use a different color to highlight words or phrases they like and that make sense to them.
This method creates tasks for users that enable you to assess if the content that's used is clear—and which content may need to be changed or improved. 
Consider asking a user to read content about a feature and have them describe what the feature does to measure their comprehension. It's also important to note that you don't have to wait to test until after you write. Conducting tests or interviews before you write content about users' needs can help form your writing process and form a vocabulary that resonates, especially if you listen to words users actually use themselves. This also doesn't have to be in person, there are plenty of platforms and tools available that enable remote testing and interviews. After just a few tests, you'll begin to see what resonates, and what doesn't and can shape your content based on those insights.
6. Search term mining
Use this method to identify the popular phrases people already use and any trends. Investigating Google Trends and keyword usage will guide your language to the popular phrases customers are already familiar with.
A/B testing offers users two variations of content to determine which one performs better, from higher engagement to sales. One of the most impactful uses of this method is A/B testing mobile apps before deploying changes to all users. But before you use A/B testing, you should realize what it does and doesn't tell you. While the data from an A/B test might inform you that users prefer a particular phrase or word, it doesn't tell you why. For that, you'd have to follow all the various methods outlined above. 
For example, after conducting an A/B test, you can schedule a live interview with users and ask them to explain why they chose one option over the other. Remember that A/B testing is simply a quantitative study and that their results should be considered carefully before making any subsequent decisions on how features and benefits are packaged and sold to users.
The amount of content testing tools that currently exist can be overwhelming. But don't worry, we've done the work for you. Here are the top 15 we recommend.
Ideal if you're targeting accessibility, this SEO tool lets you perform keyword research, competitor analysis, SEO audits, and backlink analysis. 
A versatile choice if you're looking for various tests from readability, navigability, accessibility, or UX, this platform helps with multiple facets of content testing. 
Testing for navigability, accessibility, UX, or A/B testing, this heat mapping software shows how users interact with a website. It also offers an A/B testing feature that lets you map a specific website action to a goal. 
Testing for accessibility, this free software offered by Google allows webmasters to optimize the visibility of their website.
If it's speed you're after, this proprietary tool helps you test the swiftness of your webpages and provides recommendations on how to increase. 
Target navigability, UX, or A/B testing with this tool, which lets you view website heatmaps, perform visitor recordings, view conversion funnels, and solicit feedback from website visitors.
Testing for accessibility, this free service tests your URL's compatibility with over 2,000 real browsers and operating systems.
If navigability and UX are your priorities, this tool lets you record website sessions in order to better understand how users interact with your site. Additionally, it can also create website heatmaps and conversion funnels. 
This A/B testing tool lets you compare two different versions of a webpage or mobile app against a variety of different performance criteria.
An alternative to Google Page Speed Insights, this platform lets you generate a detailed report about a website URL's page speed.
Target readability with this Chrome plugin that analyzes and edits website copy for grammar and style. It can also provide a line-by-line readability score based upon the Flesch Reading Ease Test.
Aim for accessibility with this SEO tool, which lets you identify keywords that will resonate with your audience, track keywords used by your competition, audit your blog for SEO fixes, and identify new backlinking opportunities.
Our own platform tests for everything from readability, navigability, UX, to A/B testing. Using software that records the voice, face, or environment of our test participants, UserTesting lets you watch and listen to test participants in your target demographic as they interact with your product, app, or website online. Our customers, from Pearson and Walmart to Adobe Photoshop, have relied on our platform to simplify user interfaces, boost mobile revenue, tackle pain points for newly launched features, and more. 
Test accessibility, navigability, speed, or UX with this tool. It grades your website from 0 - 100 based upon a variety of criteria, including page speed, security, SEO and mobile responsiveness.
This plugin targets readability, navigability, accessibility, and UX, allowing you to easily and efficiently manage SEO on Wordpress-powered websites.
Designing content for everyone
Content testing is a complex but important subject. It's an ongoing, living challenge that any design team should engage with—both during the design stage, and then after any content has been implemented. With this form of testing, you can leverage the opportunity to pinpoint which words, phrases, and content people respond to. This means better sales, engagement, and other important gains that directly impact your bottom line.
Want to learn more?
Check out the UX Writers Collective's course on Content Testing and Measurement to take a deep dive into testing and measuring your content for better experiences.
Complete guide to user testing
Learn how to plan, conduct, and analyze remote customer research with this comprehensive guide.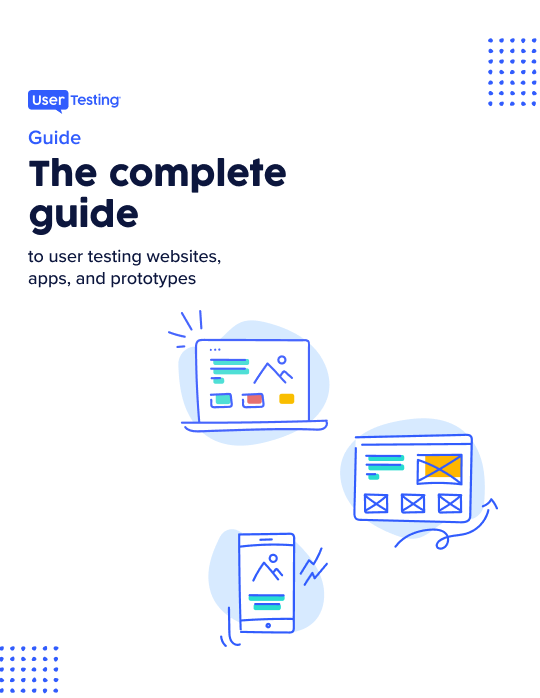 About the author(s)