5 top UserTesting templates for marketers
Image
As a marketer, you're naturally inclined to rely on data. Teams are driven by A/B test results, conversion rates, and even vanity metrics. But one of the most powerful sources of competitive insight a marketer has, is often overlooked: human insight.
Gathering customer feedback or conducting usability testing might not seem like something marketers do as a regular part of their role, but it should.
While the quantitative data we know and love can identify what's happening on your site or app, it won't tell you why. Your unsubscribe rate won't tell you the real reason your customer no longer wants promotional emails from you. Bounce rates won't give you insight into why a visitor immediately navigated away from your site, and those abandoned shopping carts will never reveal their stories. As a result, marketers are often left to guess what their audience wants and needs, leading to less confident decisions and, ultimately, branding, pricing, and marketing messaging that risks missing the mark.
Fortunately, insight from your target audience can easily become part of your regular data set and will help you benchmark and improve experiences over time. This is where usability testing and customer feedback can help.
Gathering insight from real people early in your campaign process can help guide your approach before anything is designed, written, or launched. And, by targeting your specific audience, you can further personalize your messaging to meet your exact audience's needs.
If you're new to gathering customer feedback, UserTesting has a suite of pre-built test templates to help get you started. Check out these top five experiences our marketing customers test the most, and the templates we've built to help you do the same.
5 top UserTesting templates for marketers
To better understand how customers feel about your marketing content, we've developed five pre-built test templates for you to design engaging experiences that drive conversions and revenue. And, with UserTesting's Contributor Network and Live Conversation interviews, you'll have rapid, authentic perspectives from your target users and receive instant feedback to shape your marketing strategy. 
Website conversions
Understanding what motivates your customer to take action (or not) on a website is a crucial insight that can make or break your site's experience. The last thing you want is for customers to abandon your site because of a poor customer experience—like a slow-loading website, poor visual design, or confusing messaging. 
Minimizes the risk of site abandonment by identifying users' pain points and where they face difficulty completing tasks. It also tests your competitor's site and based on those findings, it'll identify potential areas for improvement on your site. It reduces guesswork about what features of your site aren't resonating with your target customer—and enables you to create compelling website experiences that drive your user through the purchase funnel. 
Our website conversion template lets you gather insights about what motivates your customer to take action on a website.
Ad testing
Have you ever seen an advertisement that missed the mark and didn't land? Maybe the messaging wasn't timely, there were grammatical errors, or it was downright insensitive. Whatever the case, an advertisement tends to serve as the first impression to your organization, so it should clearly communicate your message and entice customers to do the desired action. 
Our ad testing template reveals your target audience's reactions to your ad, how well you express your tone and message, and if your visuals promote a positive or negative response from your customer. Remember to test your ads in the beginning stages to uncover feedback ensuring appropriate and well-received messaging before launching the final ad. 
Multichannel journey
With our multichannel journey template, you can evaluate how consistent the messaging and user experience is across different channels to ensure a seamless experience. These insights will guide your team on how customers interact with your product from various touchpoints—revealing any gaps between channels and opportunities to streamline experiences.
Website comparison 
Websites tend to go through several redesigns, optimizations, and phases. But to ensure you place the customer at the forefront of these design decisions, use our website comparison template. 
If your landing page conversions reduce after a site design, it may indicate that one of your new features fails to resonate with your customers. This template compares your new website design with an older one to validate design decisions or identify issues with your site's experience. It also stacks your site against your competitors to identify areas where they excel so that you can emulate them. Evaluating how your customers react to your competitor allows you to view a less biased perspective of who your competitors are, what areas they perform well, and their pain points. 
Mobile app comparison
Mobile apps are everywhere, and to remain ahead of the competition, you must continuously test your mobile app's experience. With our mobile app comparison template, you can compare your existing app with an old design, a competitor, or an app in any industry. To boost customer loyalty and engagement, test your app to ensure customers can complete tasks and that you design a satisfying mobile app experience. 
Mobile app comparison template
Give your marketing metrics meaning with human insight
Gather human insight to unveil the why behind their actions and to understand your customer deeper. This level of human interaction will allow you to design messaging that resonates with your customers, leading to more conversions and loyal customers.
Markter's guide to customer insight
Get this guide for insights and inspiration on all the experiences marketers can (and should) be testing with their target audiences.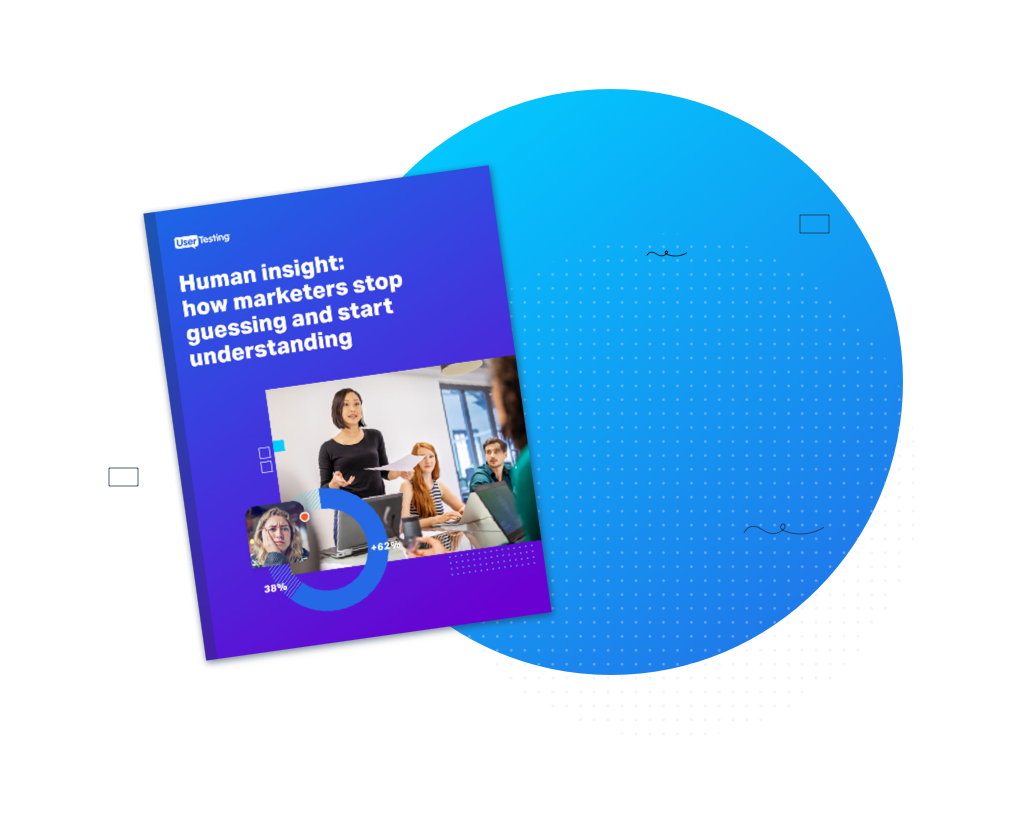 About the author(s)